5 Best Voice Generators to Create Walter White AI Voice in 2023
Walter White is an iconic character from the TV Series Breaking Bad. The Legendary Drug Dealer is known for his deep voice and serious personality. Many Youtubers want to mimic his voice but fail to do it because cloning someone's voice isn't easy.
However, with the help of the Walter White AI Voice generator, you can easily sound like Walter White in no time.
In this article, we will tell you the top 5 voice generators to create Walter White voice
Who is Walter White?
Walter White, aka Heisenberg, is one of the greatest characters in television history. He is the leading character of the hit series on Netflix, Breaking Bad. Walter is portrayed as a chemistry teacher in a high school who turns into a drug dealer and manufacturer after being diagnosed with lung cancer.
As the series progresses, he gets more involved in the criminal world, and his actions become dangerous for both himself and for those who are around him.
Actor Bryan Cranston plays this iconic character.
5 Best Walter White AI Voice Generator
We all know that the power of AI has brought almost all the fictional characters' voices to life. Like many fictional characters, Walter White from Breaking Bad is also someone that many people wants to sound like, and Walter White AI voice generator will help you achieve that goal.
Here are the top 5 Walter White AI voice generators available online.
1. HitPaw Voice Changer (Win & Mac)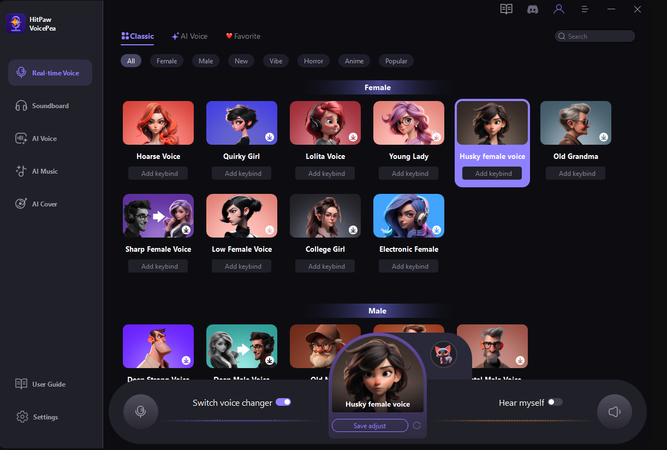 If you always want to say the famous lines from Breaking Bad in Walter White voice while streaming, then HitPaw voice changer is the best option for you that will help you fulfill this dream.
This program is one of the best AI voice changers that allows you to alter your voice into any fictional character, including Walter White. HitPaw has a huge library of voice effects and filters to choose from. These voice effects include the voices of celebrities, singers, cartoons, and more.
Further, this tool also allows you to add background music to your voice recording to enhance your voice recording. This tool also offers functions like TTS, voice cloning, Soundboard, Speed controller, and more.
Pros
Offers AI voice, Walter White
Integrates with many famous platforms such as Twitch, Zoom, and Discord
Famous among YouTubers and Gamers
Offers high-quality voice outputs
More features like TTS, Voice Cloning, Speed Controller, and more
There is a wide range of realistic voices like Jenne Ortega, Pop Smoke, etc.
Price: $15.95 Per Month
How to use hitpaw voice changer to change voice
Step 1:Go to "Settings", and click the drop-down button to select the input and output you are using.

Step 2:Choose the effects you prefer and click to apply it.

Step 3:Turn on the "Voice Changer", "Hear myself" and try to speak to your microphone to listen how your voice sound like. If the surrounding environment is noisy, you can manually activate noise reduction. Please don't set the noise reduction level too high, as it may filter out some sounds.

Step 4:After selecting the desired sound effects and previewing them, you can adjust the volume according to your preferences.

Step 5:Change Voice on Discord:Open "Discord", Click your "User settings" and go to "Voice & Video, Then select "HitPaw Vitrual Audio Input" from the drop-down list of input device.
2. 101SoundBoards (Online)
101 Soundboard is an important soundboard tool for content creators. This tool extracts the audio clips from the TV series and then uses the audio clip to clone the character's voice. If you want to clone AI Walter White's voice, then this tool is the best option for you.
With this tool, you can access hundreds of audio clips from different shows and then use them for various purposes like prank calls, projects, videos, and more.
101 also offers voice effects and filters of many celebrities, singers, and politicians.
Pros
It has a straightforward interface
Allows you to create your sound effects
You can save the audio clips in MP3 format and use them for various purposes.
It doesn't require any registration or installation
Ability to alter your voice in real-time
Cons
Some audio clips have low-quality sounds
Price: Free of cost
3. Fakeyou.com (Online)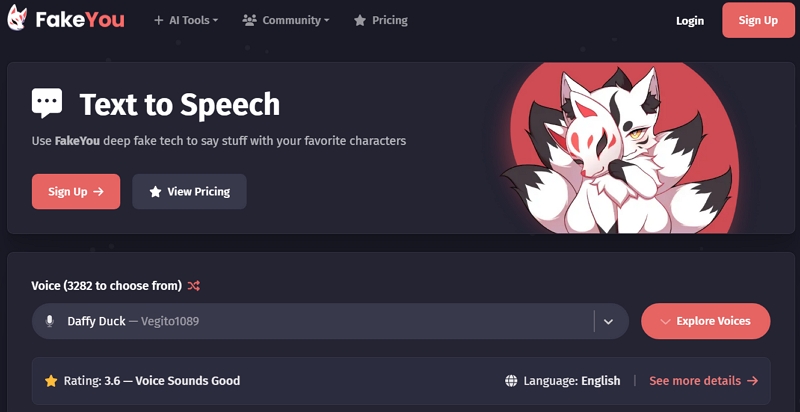 FakeYou is an online Walter White voice Text-to-speech program that will transform your voice into Walter White with just a few clicks. This program has an intuitive interface that allows you to transform your voice easily.
It offers a Text to Speech feature through which you can create speeches from just Text in any voice effect. Further, this tool allows downloading in MP3 format so that you can use the altered voice on various platforms. It has over 2400 realistic voice effects, including voices of Alien, Monster, Atari, Male Pitch, Female Pitch, and more.
Pros
Transform your voice into Walter White in no time
TTS feature to create speeches from text in any voice effect
Offer hyper-realistic voice effects and filters
Easy-to-use interface with amazing results
Allows downloading in famous formats such as MP3 and WAV
Web-based platform means no installation requires
Cons
Need a stable internet connection for better results
Price: $7.00 Per Month
4. Voice.ai (Win)
If you want an advanced Walter White voice generator, then Voice.AI is perfect for you. This tool allows you to alter your voice into any character with just a few clicks. It offers a wide range of voice effects that you can use while playing games, streaming, on calls, and more.
This powerful voice changer allows you to customize your voice according to your needs. It is not limited to altering your voice in someone else, but it can also change the style of your voice from real-human to robotic.
Pros
Change natural-sounding voices to robotic
Offers real-time voice modifications
Can change your voice while playing games and streaming
Free to use
Integrates with platforms like Zoom, Skype, Discord and Google Meet
Uses AI technology to retain emotions
Cons
Only available for Windows
Price: Free of Cost
5. Uberduck.ai (Online)
Uberduck AI voice generator Walter White allows you to convert your text into speech by using the voice of any character you like. This tool offers over 5,000 AI voices and a wide array of options to choose from.
The best part of this program is that it extracts the voices directly from the TV series. With this tool, you will get the voices of Walter White, Optimus Prime, Peter Griffin, and celebrities like John Cena, Kanye West, Taylor Swift, and more.
Pros
It offers unique features like Pitch Adjustment and amplitude modification
Amazing TTS feature to convert your Text into speech in no time
A leaderboard allows you to quickly search for the best voice effects
Offers a wide variety of voice effects
It has a User-Friendly interface
With this tool, you will get voices like Walter White, Optimus Prime, John Cena, and more
Cons
Sometimes, this program shows errors while transforming voices
Price: $9.99 Per Month
FAQs of Walter White AI Voice
Q1. What is the best Walter White voice changer?
A1. The best Walter White voice changer is that which offers a realistic Walter White AI voice. Above in this guide, we have explored the top voice changer with Walter White voice. All these voice changers have unique features and abilities, which make them the best Walter White Voice changers available in 2023.
Q2. How do you make Walter White's voice?
A2. The process of making Walter White's voice is not that difficult. First, you have to choose a voice changer and then launch the program. Now go to the settings and choose the input and output device. Go back and select the Walter White voice effect and click on the Apply button to change your voice in real time.
Final Thought
The Walter White AI Voice generators that we have mentioned above are the best programs available on the Market. These voice changers has the realistic voice effect of Walter White. Further, all these tools we have mentioned above are easy to use so that anyone can change their voice.
However, if you want our recommendation, then we will suggest you choose the HitPaw voice changer. HitPaw is the best PC voice changer because it has a wide range of voice effects and filters. Moreover, this tool is compatible with all PC programs that use a microphone.
Hopefully, this guide will help you find the best voice changer with Walter White voice effect.