Want to Do Arabic TTS? Try 6 Free Methods here!
Are you look for a free and online way to convert Arabic text to speech? As the Arabic language becomes more popular, the needs of using Arab is more and more common in daily life. No matter the use of Arabic TTS is communication, business needs or entertainment, you have come to the right place.
There are many tools in the market to turn Arabic text to voice. You may find its difficult picking the most suitable and free one. So after comparing their convenience and free trial, here we share 6 Arabic text readers free online.
Part 1:

What is Text to Voice Arabic Used for?

Firstly, let's figure out the purpose of text to speech Arabic AI.
Developing fans for channel:

If you are a YouTuber who creates videos such as learning and explaining contents, you may find that it's too expensive to change the voice language. So when you want to develop more fans in the Middle East, try to use text to voice in Arabic by third-party tool may be a better choice.

Business needs:

Since then the development of internet, the commercial connection between the US and the Middle East is closer. It's normal that we need to make some advertisement to those areas that speak Arabic. And using the voice of Arabic accent in advertisements or product demos is more effective for us to be accepted by locals.
Part 2:

6 Best Arabic Text to Speech Generators Free

Since we have known what the TTS Arab is used for, let's see what kinds of Arabic voice generators can help one by one.
2.1 Speechify (Chrome Extension)
Speechify is a text to speech chrome extension, available on any platform. It supports multiple formats reading such as docs, articles, PDFs, emails and so on. Just install the extension to your chrome, you can choose the Arabic language to output. The tool will read out Arabic as you wish.
Pros
Easy to install and use.
Completely free for Arabic text to speech.
Supports over 30 languages (including Arabic) and 130 voices.
Available on desktop and mobile devices.
Cons
Doesn't support downloading the Arabic voice.
2.2 Murf.AI (Website)
Murf.AI is an online AI voice generator that explores from text to speech. It's aimed for creating life-like AI voice to enrich your life. Using the tool as an Arabic text reader is good choice. Only paste the text to the website, and then you will get the desired Arabic voice.
Pros
Easy to convert Arabic text to voice online.
Free to use all voices of Arabic.
Can convert batch of text contents.
Supports exporting the text file for free.
Cons
Limited voices for free with other languages.
Should pay for the exporting video function.
It requires registration for free trail.
2.3 Text to Voice (Website)
Text to Voice is an online voice generator with the most simple interface. It can support multiple languages to generate by the related text. Type the Arabic text to the website, the tool can read out the text and turn it into an audio file.
Pros
No need of registration for free use.
User-friendly interface for Arabic text to speech.
Can download the audio version.
Cons
Limited text of 500 characters for free.
No emotional voice for free.
There are advertisements for free version.
2.4 Veed.IO (Website)
As an online AI video tool, Veed.IO also offers the service of AI text to speech Arabic video. The tool can convert text to speech in multiple languages, including Arabic and its various accent from different areas. The function is hidden in the comprehensive interface of video process. You can enter it in Audio→Text To Speech→Language to process the Arabic text and export video format.
Pros
Supports various accents of Arabic language.
Can export the video formats of Arabic text to speech.
Cons
Needs to sign up for trial.
Too complicated function on the interface.
Remains the watermark for the free video.
2.5 MicMonster (Website)
MicMonster is an voice over platform to offer text to speech service online. Except that it has a library of 600+ voice in 140 languages, it provide free Arabic text to speech service with 16 accents. The simple interface allows you to paste the text easily and it will generate voice after few seconds.
Pros
Clear interface and operation to use.
Free to convert Arabic text to speech.
Don't have to sign on for free trial.
Cons
Limited to 300 characters per text for free.
The output audio can't be downloaded.
2.6 Voicemaker (Website)
The last choice for Arabic text to speech is Voice Maker, an especial text to speech voice generator online. Different than previous ones, the platform allows you to try voice settings and almost all languages and voices for free. You can experience various languages and natural voice through it. Just need one step to enter your text and get the Arabic voice later.
Pros
Supports 750+voice in 120+ languages for free..
Can download the MP3 formats for the output voice.
Cons
Limited to 250 characters for free conversion.
Can't edit the voice effect for free version.
From now on, we have known 6 free methods to convert Arabic text to speech. But many of them can't download the audio or video for free. It's hard to pay for each platform.
So next here will share a robust Arabic text to speech software for you. And also you can use it to edit the audio or add it to you video.
Part 3:

Best Choice on Using Arabic Text to Voice

Worry about various paid platforms for the downloading service? Here comes an outstanding tool of HitPaw Edimakor with both recording and editing function.

HitPaw Edimakor, as an AI-powered video editor, not only offers Arabic text to speech, but also allows you to add text and music to your videos. Easy-friendly functions make your video more attracting even you are fresh to start the editing.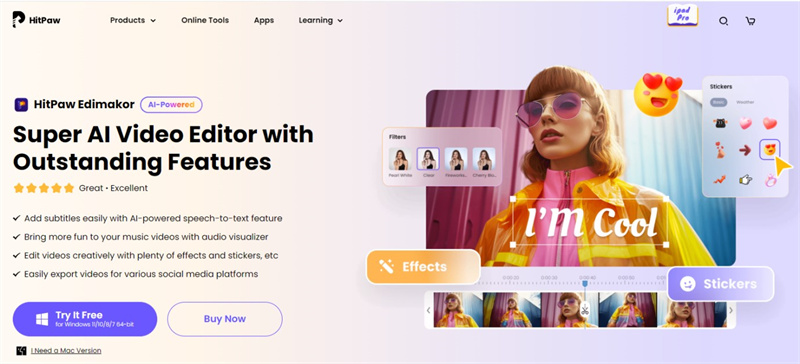 Reasons of Choosing HitPaw Edimakor
Supports Arabic text to speech function and other 14 languages and 100+ voices.
Offers editing function for saved Arabic voice.
Adds Arabic voice to your video or advertisement in Middle East.
Supports plenty of filters and stickers to make your video lively.
More attractive video editing tools like freeze frame, video stablization, animations and so on.
How to Use HitPaw Edimakor
Step 1:

Install the software into your PC.

Step 2:

Upload the video you want to add text and relevant voice.

Step 3:

Add the text or subtitles manually to the video.

Step 4:

Enter the text you want to convert to Arabic voice in the top-right position.

Step 5:

Then click "Text to Speech" to choose the "Arabic" language and voice. After choosing, click "Start converting".

Step 6:

Then the Arabic voice will auto generated in the Timeline. You can adjust the position and time as you want.

Step 7:

Lastly, after everything is settled down, you can click "Export" to save the video or audio separately as you want.
Part 4:

FAQs about TTS Arab

Q1. How to do text to speech Arabic free?

A1: Installing extension to you Chrome is a suitable way to do Arabic text to audio freely.

Q2. How to read out Arabic text online?

A2: Paste the Arabic text to the online website and choose the desired language and voice. The tool will read out the Arabic text automatically after few seconds.
In Summary
From the whole passage, we have mastered 6 various free ways to do text to speech Arabic. Most of them have some benefits and some limits for free. To further downloading the Arabic voice and editing the audio or video for business needs, HitPaw Edimakor is ideal to solve all your troubles with only one hassle-free tool.