Top 6 Free Online Tools For AI French Text To Speech
In terms of learning and communication, text-to-speech software provides a unique and informative way. You can enter the text which can be converted into audio which will help you in learning. You can also convert the required text into different languages for communication with other languages peoples.
The French text-to-speech is a helpful platform for educational institutions especially. It accesses the students to correct their reading difficulties. Moreover, French creators can use this text to speech French tool for making voice messages, audio clips, and many more.
Part 1: Creating French Text To Speech With 6 Powerful Tools For Free
There are a number of tools allowing users to convert text content in French to speech. If you want to get access to this service then we are here with 6 powerful tools having wonderful features and specifications.
(1) Synthesia
Synthesia is one of those platforms which have AI driver tools for making unique and realistic videos. It has an easy interface with a large number of different features and customization options. The videos created from synthesis are more unique and realistic than others.
Advantage
It has a large number of languages and voices.
Different styles awaited in templates are also provided in it
The easy interface is one of the most purposes of its popularity.
Disadvantage
As compared to other ones its animation feature is much low and simple.
(2) Micmonster
If you want to use a text to French speech online generator with an easy interface then Micmonsters will be a great choice. It is an AI-powered platform which comes with a large number of customization options for editing. you can also convert a large amount of text or script into unique voices easily.
Advantage
The voice pitch, speed, etc can also be managed.
It is also accessible for adding accents or effects.
You can also change the voice at the same time.
Disadvantage
If we consume a large amount of time using customization options.
(3) VEED.IO
No doubt it is also one of the most popular platforms used as a French text-to-speech generator. With its easy interface and real-time voice changer feature a large number of users get impressed at first sight. It is also used for converting long text into national-sounding videos with a collaborating option.
Advantage
A Collaborating option is also provided.
Users can convert long articles into natural hearing sounds.
It has a user-friendly interface.
Disadvantage
Most of the features are old and simple.
(4) Murf.AI
In the list of best French text to speech tools, murf.AI will be at the top of the list. It provides itself as the best French text-to-speech generator because of the large number of accents, voices, and languages. It is AI-based technology so that it can create unique videos in a limited time.
Advantage
You can convert that text-to-speech feature into a large variety of unique languages.
It also saves time as the processing speed is much faster.
A simple user with not even any special skill can also use it.
Disadvantage
Limited and simple editing tools are provided
(5) Narakeet
It is a unique platform used as a French text-to-speech generator which has an easy interface for making it acceptable for all types of users. You can also convert a large number of text, scripts, documents, or even PowerPoint into unique videos. You will also see an option for adding subtitles to the narration in the video.
Advantage
A large number of languages and voices are provided.
The speed of this platform is mind-blowing.
You will be amazed to know that the sound created will be natural.
Disadvantage
You will not see a large number of incredible tools for editing.
(6) PlayHT
PlayHT is another platform with an easy interface and unique editing tools which make unique videos from French text to speech. It is also a great place for showcasing your talent. It also has batch processing features which help in making realistic videos.
Advantage
It comes with a user-friendly interface.
The batch processing feature is one of its main features.
It is an option for converting text to sound in different languages.
Disadvantage
Most of the users are not just satisfied with its sounds and audio.
Part 2: Bonus Tip: Recommended Video Editor With AI Text-to-Speech Feature
Although the above-mentioned tool is exceptional we also brought a bonus tip for you HitPaw Edimakor is a well-known video editor that is now allowing users to take benefit of its text-to-speech feature.
HitPaw Edimakor
HitPaw Edimakor is a vigorous and instinctive platform for Ai text to speech French that enables users to look at themselves the way they had never done before. Frequently joining state-of-the-art technology with convenient tools, there are millions of opportunities that HitPaw spreads, providing a doorway to incredible video editing. Users are authorized to change their text into speech.
Features Of HitPaw Edimakor
This platform will be greatly helpful for you if you want to convert your written passage into an organic voice using the TTS feature.
You can create fascinating videos while using this platform even if you are a freshman and aren't a much talented editor.
You don't have to worry as there will be no charges to be paid to reach the available services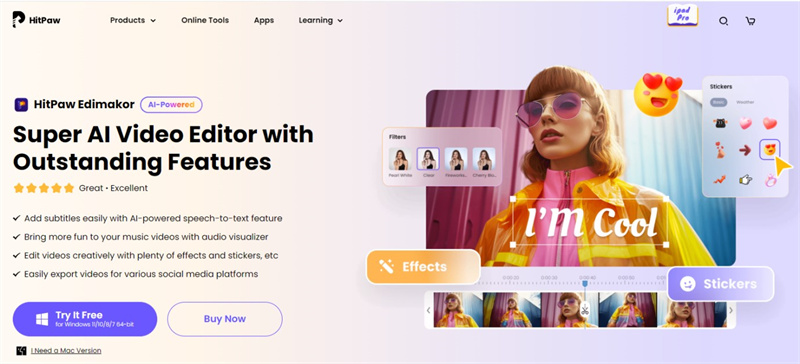 Part 3: FAQs About French Text To Speech
Q1. Which French Text To Speech Is Best?
A1. In the online market, you will see a large number of platforms which provide text-to-speech features. Each platform has its benefits and features. HitPaw Edimakor is also a unique and popular platform which comes with a large number of editing options. It uses AI-based technology with advanced features for making realistic and unique videos.
Q2. How To Do A French Accent?
A2. If you want to do a French accent then it's important to get yourself aware of all the pronunciation rules and phonetics of the French language. Try to listen to native speakers like from movies or tv shows to make it easy for yourself to go ahead with a French accent.
Q3. What Are The Applications Of French Text To Speech?
A3. There is a wide range of applications of speech to text in French. They are highly recommended by users who have visual impairments but want to access specific kinds of data. Moreover, people who want to improve their speaking and listening skills always prefer text-to-speech tools.
Final Thoughts
Conversion of French text to speech has become an easy task because of the amazing tools available in the market. These tools ensure that the results always will be of high quality and a great list of templates will be offered to users. Hence, whenever one finds a need to convert written text to speech, always consider one of the above mention tools or go ahead with HitPaw Edimakor, the most recommended choice.