Top 8 Free Online Tools For AI Korean Text To Speech
Korean text-to-speech tools play a role in addressing the needs of several language learners and people having visual impairments. A valuable resource has been offered by these tools so that users can improve their language skills as well as pronunciation.
A text to speech Korean tool never fails in assisting individuals with visual impairments in accessing written content. In this way, such people can also take part in education as well as other aspects of life without any restrictions.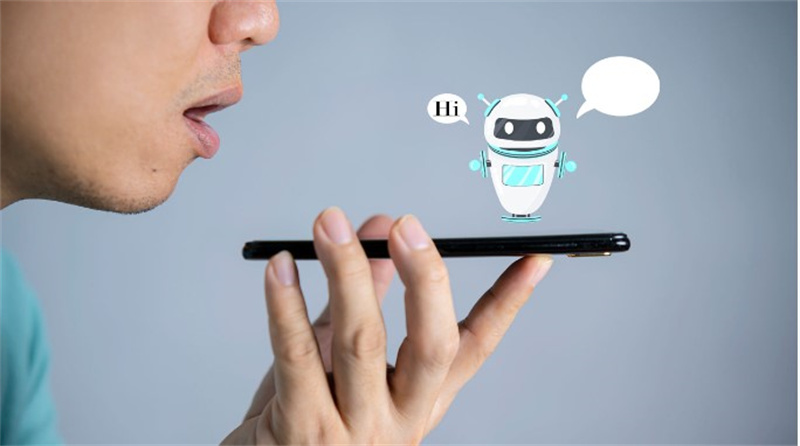 Part 1: Creating Korean Text To Speech With 8 Powerful Tools For Free
If you want to add some information to your video but only have its text form then Korean text to speech tools are here for your ease. We are going to discuss 8 perfect working tools having the feature of converting a simple Korean text to speech.
(1) Murf.AI
One of the most popular platforms is Murf.AI which is used as a Korean text to speech generator. It comes with a large number of languages and voices. It contains AI technology which makes the work more easy to use with fast speed also.
Benefits
It can convert text to speech in a variety of unique languages.
The processing speed of Murf.AI is very fast which saves time and effort.
It comes with an easy interface and high-quality voices also.
Drawback
It comes with limited and simple editing tools.

(2) Synthesia
Synthesia uses cutting-edge technology with AI-driven tools which access the user to generate realistic and unique videos. The use of AI-driven tools helps in using the Korean accent text to speech generator feature and making eye-catching videos.
Benefits
A large number of video styles and avatars are provided for customization.
It is used as a global platform as multiple languages, voices, and accents are also provided.
It has an easy interface for making videos in a simple way.
Drawback
The animation feature provided by it is not so good and does not look realistic.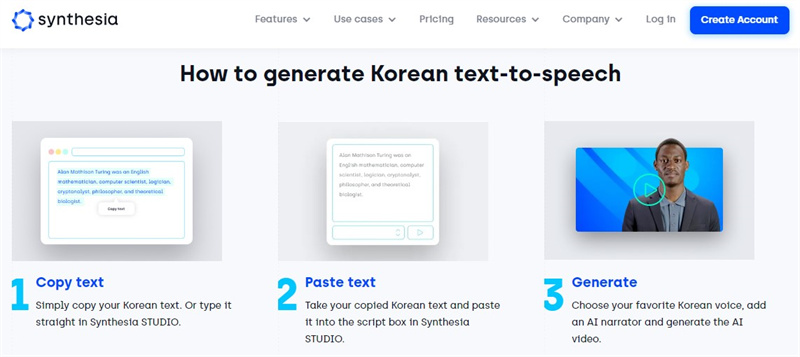 (3) Speechify
Speechify is an advanced platform used for converting text-based material into audio. This feature helps listen to long articles, documents, and even text also. It has different languages, voices, and accents with an easy platform. It has a multi-tasking feature and is highly time efficient,
Benefits
It is one of the most useable platforms for converting text to speech with an easy interface.
It provides itself as a helpful platform for businessmen, professionals, etc as it is a time-efficient platform which saves time and effort.
It is a multi-tasking platform as while using Speecify users can do other work such as exercise, etc which helps in investing time in a reliable place.
Drawback
You will see a lot of differences between the free and paid version based on features, functions, etc.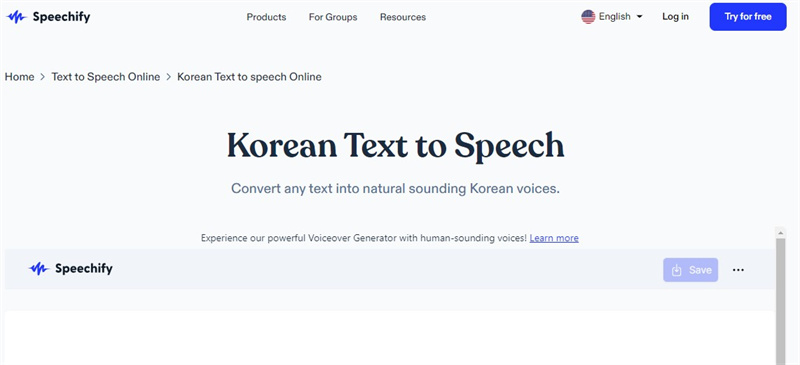 (4) Narakeet
Narakeet is an amazing Korean text-to-speech generator which is also used for adding subtitles and narrations to the video in a limited time. It is an easy platform as you can convert documents, scripts, and even PowerPoint to audio or video also.
Benefits
It has more than 80 languages and a minimum of 500 voices for text-to-speech features.
It is an amazing Korean text-to-speech converter with an amazing processing speed also.
It is one of the most unique platforms that has natural-sounding text-to-speech tools.
Drawback
There are limited customization options which result in simple editing.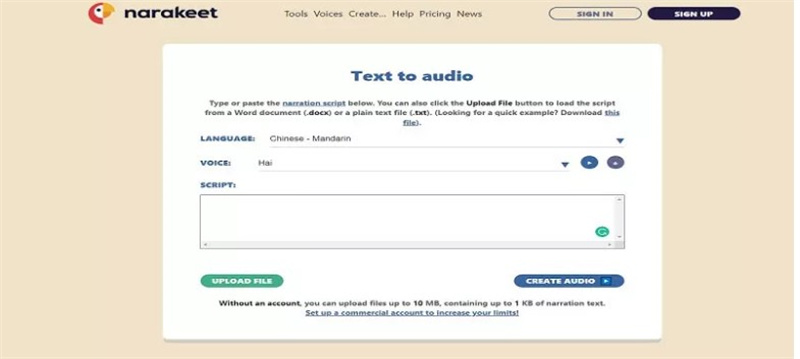 (5) Micmonster
An AI-powered platform that is used as a Korean text to speech online generator with an easy and unique platform is Micmonster. Text, script, and documents can also easily convert into voices or audio with a large number of customization options for editing.
Benefits
There is also a customization option for maintaining the voice speed, pitch, etc according to your desires.
A large number of video effects and accents is also provided for making the video more realistic.
A real-time voice-changing feature has been provided which results in an instant changing of the text voice.
Drawback
Some users report that they put time and effort into using the customization options.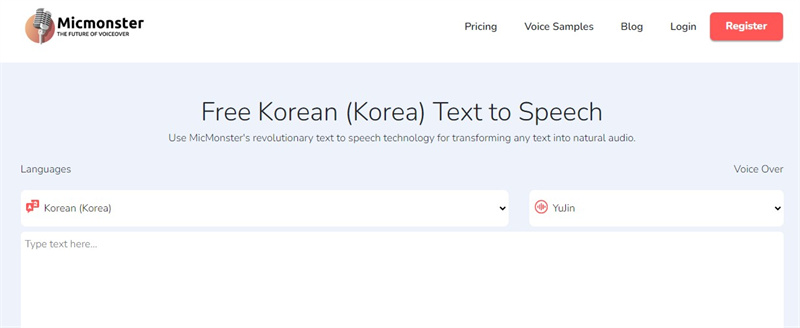 (6) VEED.IO
Another efficient working platform for the conversion of Korean text into speech content is VEED. IO. This platform can impress the visitor even at first glance because of its captivating interface and collection of templates. It is also used for adding effects and accents to the video. It also has a real-time voice changer feature.
Benefits
It comes with an easy interface.
It can convert long articles into natural-sounding audio.
Multiple users can use and convert text to speech at the same time.
Drawback
It has limited features and the necessary and advanced features are also not available.

(7) TTSMP3
Any content in the form of text can be easily converted into the form of speech by using TTSMP3, a perfect text-to-speech tool. You can use the speech to add to the presentation or any video and that will be very helpful for individuals with visual impairments.
Benefits
It has a large number of languages and voices.
The speed and pitch of the voice can also be controlled.
Users can use this platform without any registration.
Drawback
Unlike the other ones, the languages, voices, and features provided are limited.

(8) PlayHT
Last but not least, PlayHT is another text-to-speech tool that allows users the facility of the best Korean text to speech feature. This service not only helps people to understand the information but also offers them a great platform for enhancing their learning skills.
Benefits
It provides a large number of languages and voices.
It has a batch-processing feature.
It comes with a simple and easy interface.
Drawback
The voices or audio made by it do not look realistic.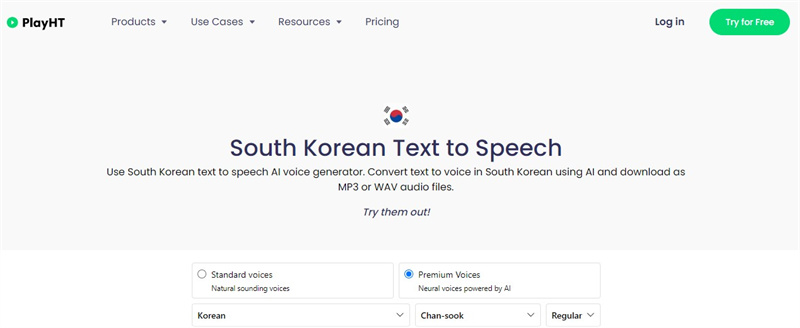 Part 2: Recommended AI Video Editor With Text-to-Speech Feature
HitPaw Edimakor is another recommended AI video editor that also provides user facility of text-to-speech feature. The given details about this tool will be helpful for you to understand its working more precisely.
HitPaw Edimakor
We all know that the industry is full of video editing tools ensuring the best services to the users but there are limited tools that have advanced features like text-to-speech and have the facility of artificial intelligence technology. HitPaw ai video maker is not only a recommended platform but also has advanced features to convert text to speech content using artificial intelligence technology.
Features Of HitPaw Edimakor
Users are allowed to convert any written text into a perfect speech hence individuals with visual impairments can take full benefit of this tool.
This platform is full of editing options that you can choose to create a stunning and attractive video for your project business or any social media platform.
You will never be required to pay any kind of charges to get access to the available services.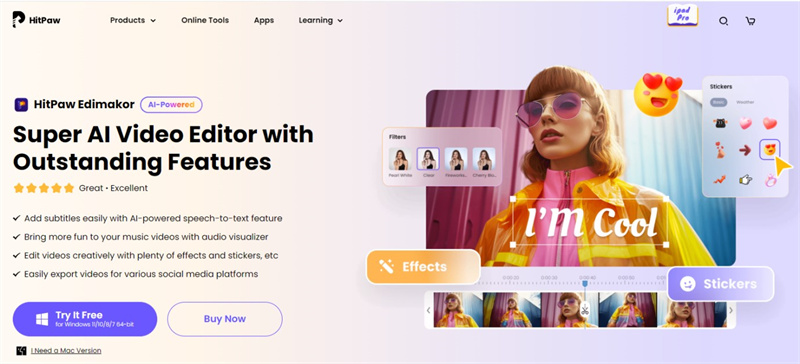 Part 3: FAQs About Korean Text To Speech
Q1. Can I Learn the Language with Korean text-to-speech?
A1. By taking help from text-to-speech technology, you can learn the Korean language perfectly. This is because this technology has the ability not only to improve the language skills of a person but also the pronunciation and in this way, it becomes easy for a person to learn the language without any restriction.
Q2. What Are the Practical Applications of Korean Text to Speech?
A2. The applications of Korean text to speech are numerous. Let us have a glance at a few of them:

●Language learning apps are taking full advantage of text to please technology and offering different language courses to individuals.
●Individuals with regional impairments can easily get access to digital content and can enhance their participation in different online activities.
●The integration of text-to-speech technology with audiobooks enables the learners to listen to any content in an expressive voice which makes the entire process enjoyable.
Closing Thoughts
Korean text-to-speech technology emerges as a blessing for users who want to get access to particular data but has visual impairments. They can take full benefit from text-to-speech technology and can also bring enhancement in their language skills. You can consider any of the above-mentioned tools for enjoying the facility of Korean text-to-speech technology.