Best Trump Voice Generator to Make Most Realistic Donald Trump AI Voices
Being one of the United States Presidents, people all over the world are fans of Donald Trump. If you are fond of this political leader as well as his voice, then there are many Donald Trump AI voice generators that can help you with this. These tools can be used to create Donald Trump voice easily and you can use it further for various reasons. Keep reading below to know more such tools.
Part 1.

Basic Info About Donald Trump' s Voice

Donald Trump, the 45th President of the United States, is known for his distinctive voice and communication style. Some characteristics of his voice include a deep and resonant tone, often described as authoritative. His speech is marked by a New York accent, reflective of his Queens upbringing. Trump's delivery is typically deliberate and emphasizes key phrases with a unique cadence. He often employs repetition for emphasis and uses simple, direct language in his communication. Additionally, his speech is characterized by a confident and assertive manner, reflecting his background in business and reality television.

Many people appreciate his voice but are unsure how to attain it. Not to worry, the following will introduce seven voice-changing software options to help you effortlessly achieve the distinctive Trump-like voice.
Part 2.

HitPaw Voice Changer - Best Donald Trump Voice Changer to Create Trump Voice

This section will introduce the best donald trump voice changer for you to get Donald Trump Voice efforlessly. Keep reading.

HitPaw Voice Changer stands out as a versatile tool for mimicking Donald Trump's distinctive voice, offering a range of impressive features. The software provides a real-time preview, allowing users to instantly hear and adjust their transformed voice for an authentic experience. With a high level of fidelity, it accurately captures the nuances of Trump's voice, ensuring a lifelike imitation. HitPaw Voice Changer allows users to customize details such as speech speed, tone, and more, providing flexibility for a personalized touch.
User-Friendly Interface: It offers an intuitive and user-friendly interface, making it accessible for both beginners and experienced users.
Diverse Customization: Users can tweak a variety of settings to achieve the desired voice modulation, providing a personalized experience.
Real-Time Application: The ability to preview voice changes in real-time enhances the user experience and facilitates quick adjustments.
Broad Format Support: The software's compatibility with various audio and video formats ensures versatility in voice-changing applications.
Here're the easy steps to show you how to get Donald Trump's Voice
1.Navigate to the left sidebar, click "AI Voice" and import your audio/video files

2.Scroll to the "Celebrity" part, then you will see the "Donald Trump" voice effects, simply click to apply it.

3.After selecting the Donald Trump Voice effects, you can adjust the volume according to your preferences. and then click to download your projects
Part 3.

Best Donald Trump AI Voice Generator & sAI Voice Changer to Make Trump Voice

This section talks about different AI voice Donald Trump tools that can be used easily by users. Have a look.
1. Trumped.com Online Trump Voice Generator
Trumped is one of the best AI voice generator Donald Trump tool that alters your voice to as that of Donald Trump. It is very easy to use and is available for free. All you need to do is to add the text into the textbox and the tool will read the words to you in Donald Trump's voice. To use this tool, visit the official website and add text in the textbox.
Easy and user-friendly interface
Free to Donald Trump AI voice with TTS
Add desired text and get an audio file having the familiar voice of Mr. Trump
Can be used for prank calls, online streaming, podcasting
2. Fakeyou Donald Trump TTS
Fakeyou is another popular Donald Trump voice AI tool that assists create many types of voices such as Donald Trump. It has a huge library that offers users much more range to select from. The tool has different sections that allow users to decide their needs for the voice, then automatically narrows down the search. To get the filter for Donald Trump, go to the Real People category and then Politics >> US Presidents to be more exact.
Personalize and adjust the generated voices as per your needs
AI voice generator that can create lifelike voice of Donald Trump
Different voice models to choose from different accents, tones, and styles
You can listen to the output of TTS
Comes with a search bar for terms that differs to different voices
Download the voice after processing in high quality
The tool takes less time to process text to speech
3. Clash.me AI Voice Donald Trump
Clash.me is a unique Donald Trump AI voice generator that is very fun to use. It enables users to add text up to 140 characters of their choice and convert it into a dynamic speech format. This is done with the help of a huge library of voices of an exceptional number of celebrities including Donald Trump.
AI algorithm to swiftly select the most suitable voice for every word
Huge data of celebrity voices categorized and broken down to the single word
Offers a fun mix of various celebrity voices selected randomly
Very quick to offer results
2. Voice.ai Donald Trump Voice Changer
Voice.ai software is one of the best AI voice changer that can be used to create celebrity-based sound effects including that of Donald Trump. Users also get more features to tweak the sound quality with this tool. This is owing to the enhanced AI that can detect human speech changes. Hence, the tool will detect and alter the users' voice to appear similar to Donald Trump or other sound effects after they make the changes. Next, the tool will enact similar intonations to sound like a real person.
Compatible with different platforms such as Skype, Discord, etc.
Advanced AI technology that changes and detects voice inflections
Multiple languages supports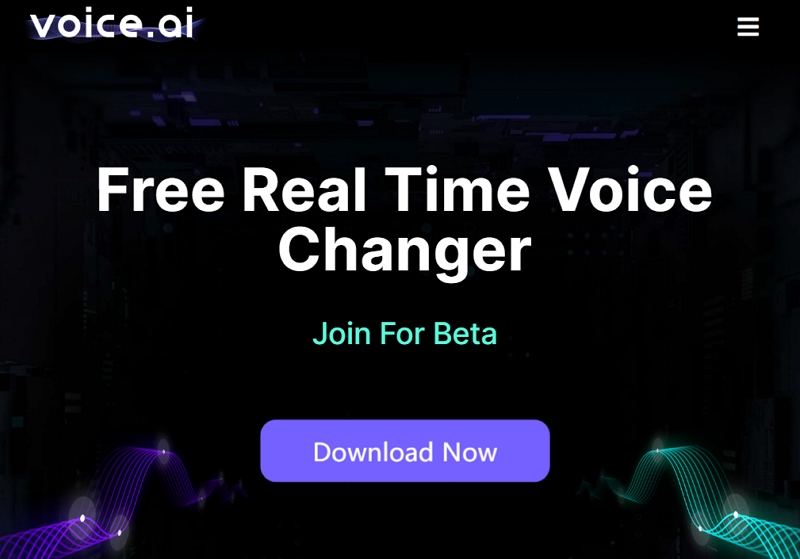 3. NyVox Voice Changer
NyVox is another Donald Trump Real-time voice changer that is powered by advanced AI algorithms for accurate change in voice. It is not heavily complicated to use, but it does need some additional steps to create the AI voice sound similar to Donald Trump. Users will get 32khz of voice audio quality support and have no functionality issues even while using a different language other than English.
Compatible with different GPUs
No subscription cost
Suitable for stable voice-modified conversations online
Part 4.

Best Donald Trump Soundboard to Download Donald Trump Sounds

This section talks about the different AI voice Donald Trump soundboards that users can use to suffice their needs.
1. Jayuzumi Soundboards
Jayuzumi AI voice generator Donald Trump soundboards provide unlimited sound effects from games, animations, TV shows, and movies. With a user-friendly design of its platform, users do not need to download anything. All they need is a single click to hear different quotes from Donald Trump.
Virtual sound boards for popular soundboards
Colorful and clear interface
Sound download is easy
A clear and simple description of every sound
A well-edited introduction offers users every info about a soundboard
2. Voicemod Tuna
Voicemod is a versatile Donald Trump voice AI soundboard that provides a huge range of voice effects, including that of Donald Trump. With this tool, users can convert their voice into the authoritative and commanding tone of Trump.
This soundboard comes with controller app
It is a popular soundboard for Windows
It has PGC platforms for users to download and upload sound effects
It supports shortcut keys to control the playback of voice changes and sound effects
Users can use it to personalize unique voice
3. Soundboard.com to Get Trump Voice
Soundboard.com is another soundboard that offers users with a lot of voices. With this tool, effects can be used on existing files as well. In addition to this, this soundboard comes with voices of girl, robot, alien, boy, echo, atmospheric, and many more.
Users can add background noise to change environment sounds
It provides different vocal effects like a girl, robot, boy and so on
Users can assign hotkeys to manage sound effects so that they will not be interrupted
Users can use it to add effects to audio file recordings
Conclusion
With that being said, we just had a look at Donald Trump AI voice generators, voice changers, and soundboard. These tools can be used by users anytime and anywhere, since they are online platforms. Almost all the option mentioned above offer the same range of features and any one of them is sufficient for you to suffice your needs of getting an AI generated voice for Donald Trump. HitPaw Voice Changer is the best tool for for altering and manipulating voices.