[Text to Speech]Top 6 Stephen Hawking Voice Generators
Stephen Hawking was a renowned physicist, cosmologist, and author who passed away in 2018.
While Stephen Hawking's physical presence is no longer with us, individuals can still hear his voice and feel inspired by it through the use of Stephen Hawking's Voice Generators.
Part 1: Who is Stephen Hawking and His Voice
Stephen Hawking was a brilliant physicist and cosmologist who has been widely recognized for his contributions to the fields of science and mathematics. Hawking's remarkable mind allowed him to delve deep into the mysteries of spacetime, black holes, and the origins of the universe.
Stephen Hawking's voice is as iconic as his academic accomplishments. His distinctive robotic voice, synthesized by a text-to-speech generator, became instantly recognizable worldwide.In the next section, we will review the 6 best Stephen Hawking's voice generators.
Part 2: 6 Best Stephen Hawking Text To Speech Voice Generator
Stephen Hawking computer voice generator continues to fascinate people, and for those looking to recreate it for their own use, there are many great software programs available. Check out the following 6 best ones.
VoxMaker
If you are looking for a reliable Stephen Hawking text-to-speech generator, look no further than UnicTool VoxMaker. This unique software is engineered to simulate the iconic sound of Stephen Hawking's voice and offer additional audio editing capabilities for Windows users.
Pros:
Over 3200 expressive voice effects and filters
Support available in 46+ languages
Offers cloning of Stephen Hawking's AI voice
All-in-one tool with powerful audio editing features
Cons:
Only compatible with Microsoft Windows operating systems
Woord
For an online Stephen Hawking voice generator, Woord is an outstanding option. This web-based platform offers comprehensive text-to-speech features alongside the ability to effortlessly convert your own voice into the iconic robotic dialect of Stephen Hawking.
Pros:
Wide range of voices and languages available for use (60+ voices and 10+ languages).
Free plan with a monthly conversion limit of up to 20,000 characters.
Easy integration across different platforms through its Chrome extension.
Cons:
Audio output customization options are limited
Fakeyou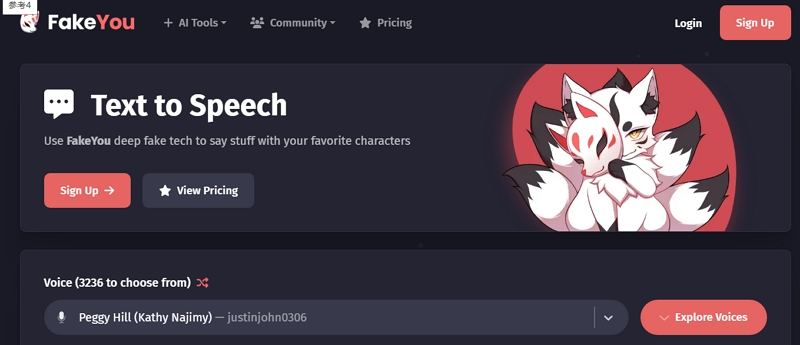 This platform offers a wide range of voice options, dialects, filters, and languages to create the perfect imitation of Stephen Hawking's computerized speech.
Between its various accents, multilingual competencies, AI-powered processing capabilities and dramatic transformation abilities. What's more, Fakeyou promises much value for those seeking innovation in synthesized speech technology.
Pros:
Incorporates Deepfake technology to help users replicate their own voices with high accuracy
Draws from the power of AI for more advanced processing capabilities
A large library of voices in different languages, dialects, and tones
Cons:
User interface can be confusing
Uberduck.ai
Uberduck.ai is a text-to-speech (TTS) software that utilizes artificial intelligence (AI) for creating natural-sounding voices. It boasts a custom voice-creation feature that can be used across various applications, including video narration, virtual assistants, or voiceovers.
Pros:
The AI technology is capable of recreating naturally sounding human speech.
Customization options make it possible to adjust the generated audio
User-Friendly interface for easy navigation
Cons:
The cost can represent a drawback especially if one uses it regularly
EaseUS VoiceWave
EaseUS VoiceWave is an AI-powered voice changer that offers advanced features, including over 100 unique real-time sound-changing effects and personalized settings. This software has become a standout option amongst many online voice transformers, thanks to its support of popular channels like Discord, Zoom, and Skype.
Pros:
User-friendly interface design makes EaseUs VoiceWave easy to use even without technical know-how.
Multiple character creation options plus custom offerings
The software's tonal editing tools enhance the audio output
Cons:
Occasional bugs or glitches
Voicemod
Voicemod is an excellent voice-changing software for Windows 10 that offers a range of top-notch tools and features to enhance the quality of your vocal sound. However, some users report seeing too many ads pushing paid products which could negatively impact on user experience if they are often encountered during use.
Pros:
Allows creation of AI-powered audio tracks, meme-based real-time broadcasting effects
The countless named features are free to use.
High-level integrations with systems as well as apps
Cons:
Ads promoting paid products
Part 3: FAQs About Stephen Hawking Voice Generator
Here are smome solutions to what you may have doubt with Stephen Hawking voice generator:
Q1. How did Stephen Hawking communicate?
A1. Stephen Hawking communicated using a speech-generating device, which is also called a voice output communication aid (VOCA) or an augmentative and alternative communication (AAC) device. The device generated artificial speech by synthesizing text input typed on a keyboard into spoken words.Due to his motor neuron disease, Stephen Hawking was almost entirely paralyzed towards the end of his life and could not move any part of his body except for his cheek.
Q2. How can I get Stephen Hawking's voice on my computer?
A2. You can get Stephen Hawking's voice on your computer through various Stephen Hawking text-to-speech voice generators or software programs that offer his unique synthesized speech style.Many of these software programs are easily accessible and can be downloaded from the internet, some for free and others requiring payment.
Q3. What is a Stephen Hawking voice generator?
A3. A Stephen Hawking voice generator is a software program that allows users to create a synthetic computer-generated sound similar to Stephen Hawking's distinctive robotic-sounding voice.This text-to-speech (TTS) programs use advanced speech synthesis technology, which converts typed text or pre-recorded audio files into audio using specific patterns of intonation and rhythm typical of his famous realization.
Q4. Are there any free Stephen Hawking voice generators?
A4. Yes, there are free Stephen Hawking voice generators available on the internet. Some of them are Voicemod, VoxMaker, Woord and Fakeyou.
Extra Tip: How To Add Stephen Hawking Voice To Video?
If you are looking to enhance your videos with music or audio tracks of Stephen Hawking voice generator online, HitPaw Online Add Music to Video could be the perfect solution for you.
Its numerous advantages, including being hardware-independent and easy-to-use yet still offering high functionality, make it a worthwhile alternative for video editing enthusiasts worldwide.
Features:
Completely free to use, with no hidden fees or charges
Allows users to add music or audio files to their videos online
No limitations on usage, no watermark, and no ads presented
Works on multiple systems, including Windows PC, Macs, iPhones, and Android devices alike.
Constantly updated features are made available monthly or quarterly.
Steps:
If you want to add Stephen Hawking's voice to your videos, here are the quick and easy steps using HitPaw Online Add Music to Video:
Add Voice Now!
Begin by visiting the HitPaw Online Add Music to Video tool and drag or drop your video file on the upload page. The process starts automatically from there.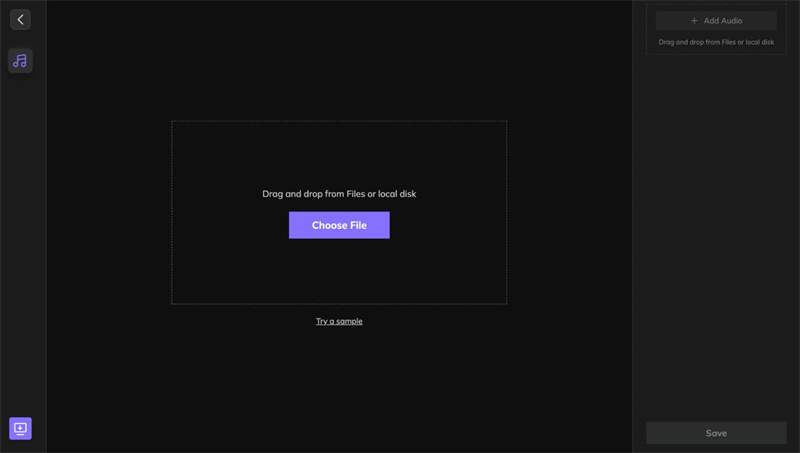 After uploading your video file, select the AI-generated Stephen Hawking voice. Once selected, trim it according to where it best suits the scene for editing.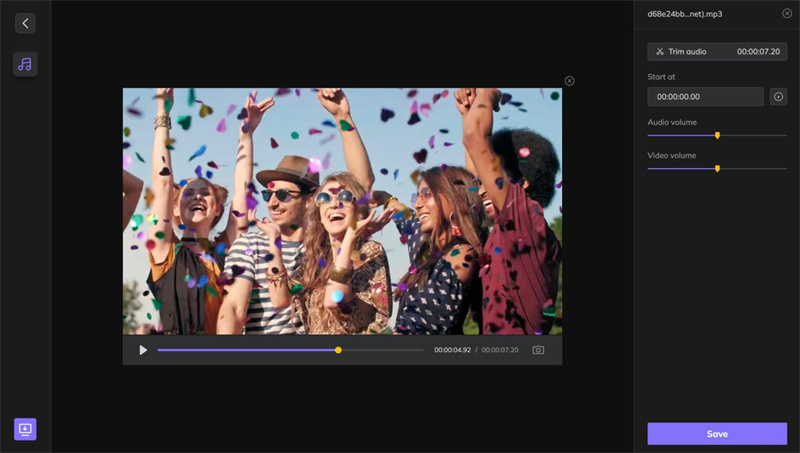 Click "Save," followed by an export of the edited video file under a new filename of your choice.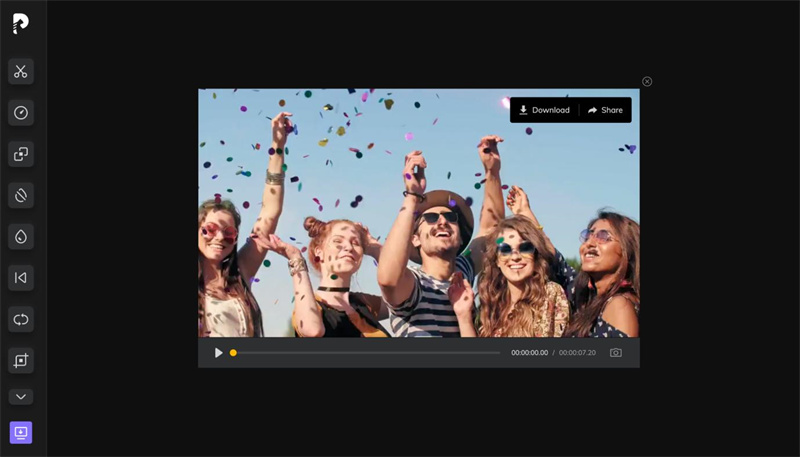 Final Thought:
Adding Stephen Hawking voice generator text to speech online could be a great way to enhance your content. Nowadays, various online tools like HitPaw Online Add Music to Video quickly produce AI-generated sound styles that can imitate the computerized vocal patterns of Stephen Hawking.
These platforms don't require sophisticated synthesizers such as hardware or software, and they are relatively inexpensive or free.