Top 9 Popular Celebrity AI Voice Generators in 2023
The use of artificial intelligence has rapidly expanded across industries and creative fields in recent years. One particular application of AI technology, the voice generator, has seen a surge in popularity as it provides an efficient alternative for producing audio content.
In fact, AI voice generators have now reached a high level of accuracy to the point where they can mimic popular celebrities' voices almost perfectly.
To give you an idea of what's currently available out there, we've compiled a list of the top 9 popular celebrity AI voice generators that you should know about in 2023.
Part 1: What is AI Voice Celebrity Generator?
An AI voice celebrity generator is a technology that uses artificial intelligence to mimic the voices of popular celebrities and create audio content.
It provides an efficient and cost-effective way to produce realistic-sounding celebrity voices for various purposes, such as audiobooks, podcasts, advertisements, video games, virtual assistants, and more.
Using machine learning algorithms and deep neural networks, AI voice generators analyze an extensive database of speech samples from celebrities and generate synthetic speech patterns that match their vocal characteristics.
Part 2: 3 Best Apps to Enjoy AI Celebrity Voice Generators
One of the most exciting aspects of AI voice celebrity generators is accessibility; with the help of mobile apps, anyone can enjoy creating customized audio content using their favorite celebrity voices.
In this section, we'll introduce you to two top-notch apps for enjoying AI celebrity voice generators.
Celebrity Voice Changer App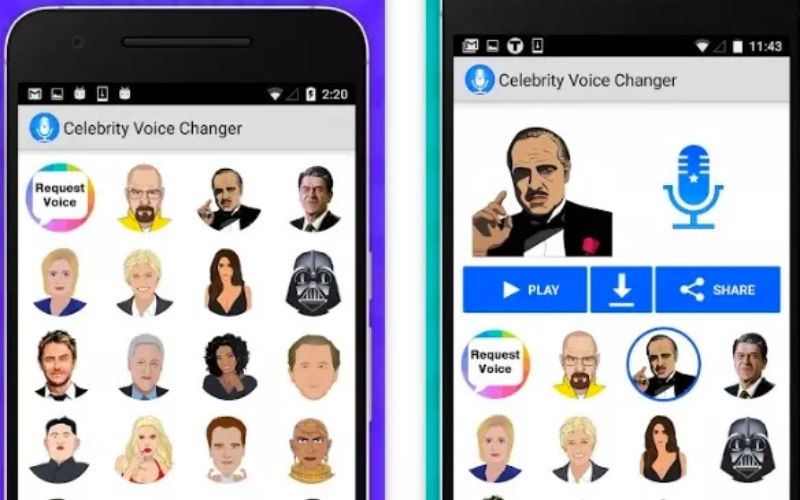 If you're an Android user looking to create fun and entertaining content with celebrity voices, then Celebrity Voice Changer Lite is an app that you don't want to miss.
With this voice changer app, you can emulate the speech of your favorite movie or TV stars with ease.
Once installed, Celebrity Voice Changer offers various voice filters that allow users to transform their own voices into unique impersonations.
Pros:
Tens of different celebrity voices.
Easy to use and simple.
Request voice feature to get your desired celebrity voice.
Cons:
Celebrity Voice Changer Parody [iOS]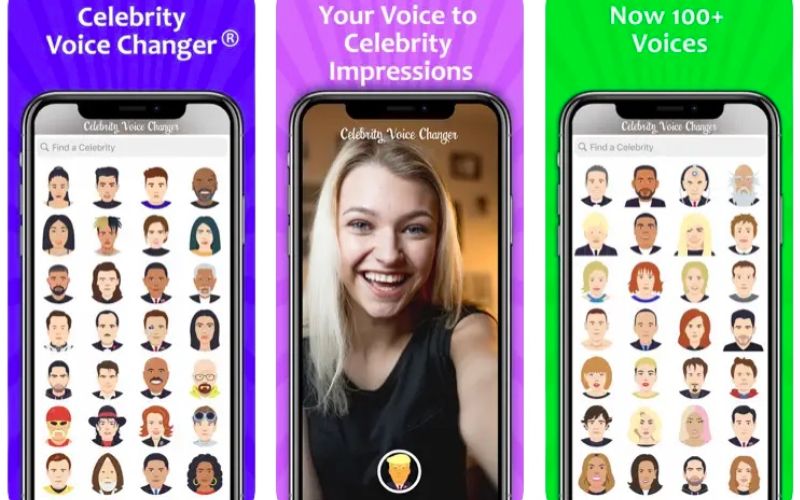 If you're an iOS user, then Celebrity Voice Changer Parody is the app to try out if you're looking for a high-quality and accurate voice generator.
Unlike other mobile voice changers that provide mediocre services, this app offers fantastic voice filters and recordings made with quality microphones.
With Celebrity Voice Changer Parody, you can easily transform your own voice to sound like any celebrity you desire.
Pros:
More than 100 different celebrity voices.
High-quality voice output.
In-built recording camera option.
Cons:
Not available on Android or Windows
Voicer Celebrity Voice Changer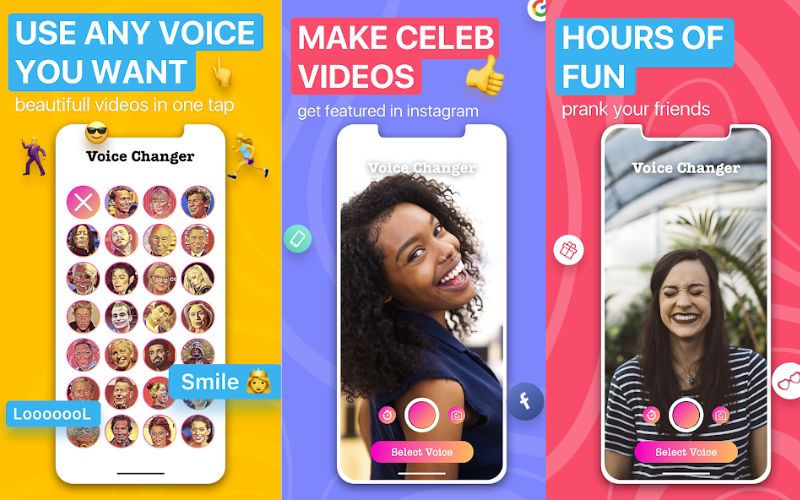 Voicer is a popular celebrity voice changer app available on Android devices that allows users to generate high-quality audio content in various celebrity voices.
The app provides an excellent opportunity for creating flawless ringtones for mobile devices without compromising on quality.
Pros:
Offers 10+ different famous actor and celebrity sound effects to choose from.
Regular updates guarantee improved features and new options regularly becoming available.
High-quality results suited for professional work or personal use.
Cons:
Only compatible with Android devices.
Part 3:7 Best Online Tools to Try AI Celebrity Voice Generator
If you're looking for an AI celebrity voice generator that's accessible from anywhere with an internet connection, online tools are your best bet.
In this section, we'll introduce you to seven fantastic online tools that allow users to create customized voiceovers using high-quality AI-powered celebrity voices.
Fakeyou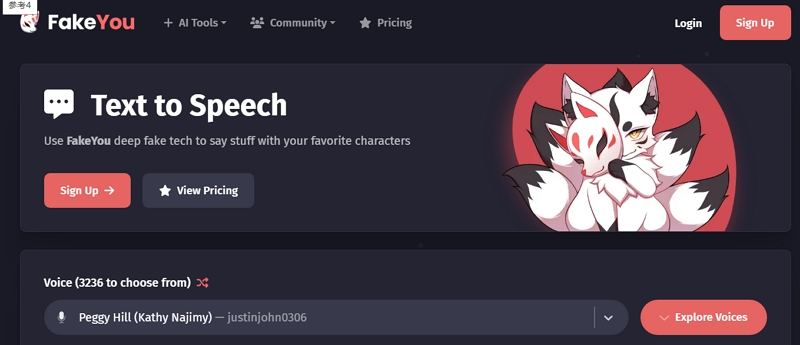 Fakeyou is an online text-to-speech celebrity voice generator that provides a multitude of characters to choose from. It's renowned for its high-quality speech synthesis technology, allowing users to quickly and easily modify speed, tone, and pitch preferences.
Pros:
High-quality speech synthesis technology
Vast selection of different character voices available
User-friendly interface
Cons:
Free version has limitations, such as waiting times for results.
Murf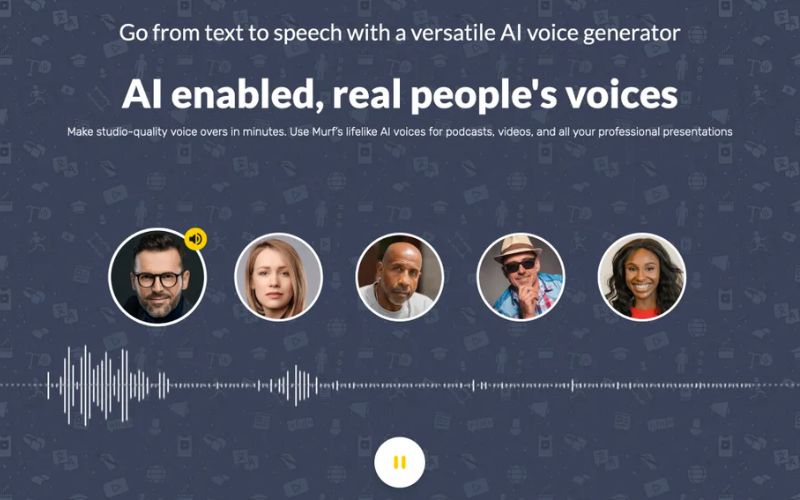 Murf.ai is a reliable online text-to-speech tool featuring customizable pitch and speed along with an impressive selection of natural-sounding voices. It's designed to be user-friendly, providing both efficiency and convenience for those seeking speech synthesis technology.
Pros:
Natural-sounding male and female voices
Simple and easy-to-use interface
Hosts a wide variety of 20 different languages
Cons:
Free version doesn't enable downloads
MagicVox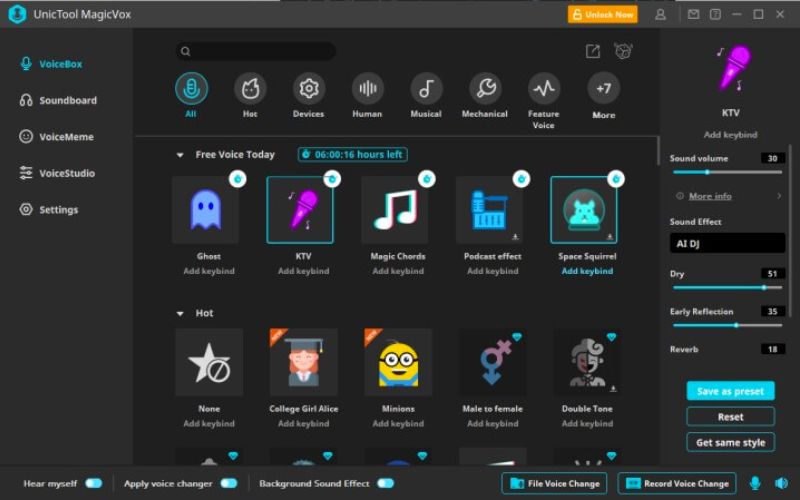 MagicMic is an efficient and user-friendly celebrity voice generator that allows for real-time audio transformation. It offers various voice effects, including a wide selection of celebrity impersonations such as Taylor Swift.
Pros:
Large library of sound effects with over 400+ voice alterations.
Real-time voice changing capability.
Includes natural-sounding AI voices from celebrities such as Donald Trump and Scarlett Johansson.
Cons:
Free version has limited features
Myinstants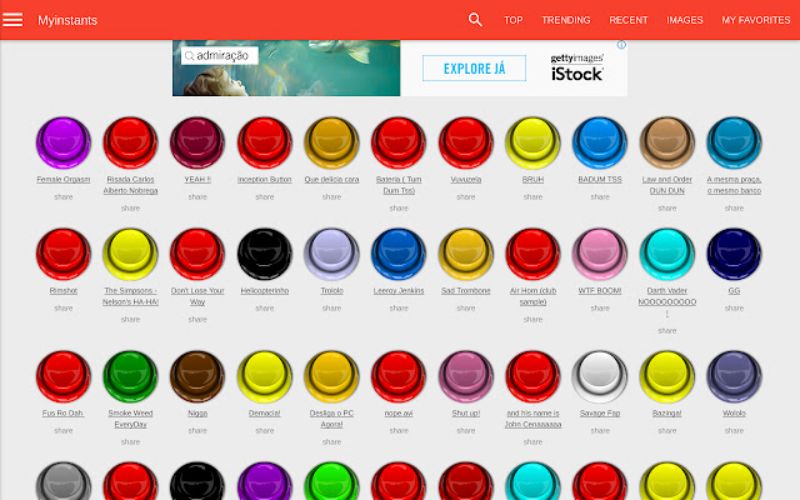 Myinstants is an excellent choice for adding hilarity to audio recordings with its plethora of funny effects. The official website and app feature popular memes that are readily accessible upon signing up. The voices contain several celebrities' short phrases.
Pros:
All voice memes and soundboard buttons are easily accessible on the app/website's screen.
Trends based on location allow users to participate in country-specific viral meme phenomena.
Categories and a search box make it easy to find specific memes or voices.
Cons:
Annoying ads emerge quite often, disrupting the user experience.
Jayuzumi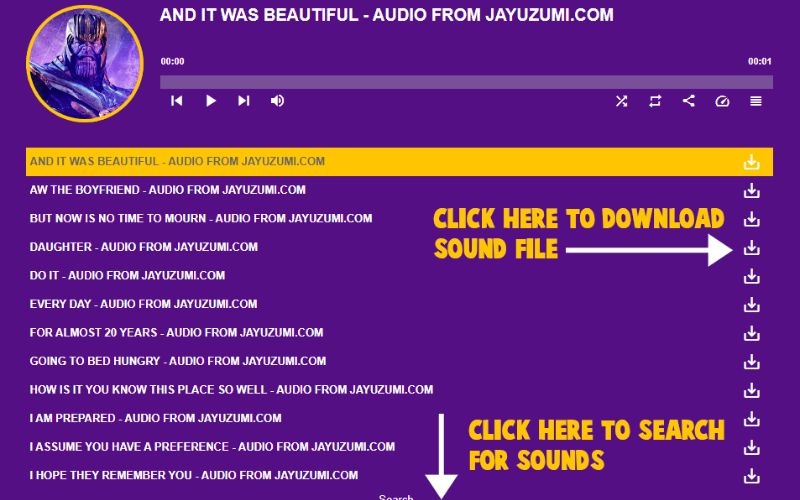 Jayuzumi is a popular soundboard for anime voices that's user-friendly and packed with impressive features. With its excellent design, the app certainly can provide you with the best entertainment experience while using it.
Pros:
Offers an excellent variety of sounds rather than just celebrity voices.
Separated categories help organize content, making navigation more comfortable.
Cons:
No option for parental control
Extra Tip: How To Add Celebrity AI Voice To Video?
If you want to add a celebrity AI voice to your video, HitPaw Online Add Music to Video is the perfect tool for the task. Completely free of charge and without requiring any application downloads, users can use this online tool with ease.
With HitPaw Add Music to Video online, adding audio content is quick and easy without having any limitations or watermarks. Additionally, it's ad-free - allowing for an uninterrupted mixing process.
Features:
Here are the features of HitPaw Add Music to Video Online:
Added customized audio content to your video.
Completely free service with no application downloads required.
No limitations, watermarks, or annoying ads to interrupt the process.
Works well on various devices such as Windows PC, Android, or iOS devices.
User-friendly interface that is easy for anyone to use without professional tech assistance.
Steps:
You can complete your audio mixing task with ease through three simple steps with HitPaw Online Add Music to Video:
Add Voice Now!
Start by dragging and dropping the video file of your choice onto the upload panel to begin the process automatically.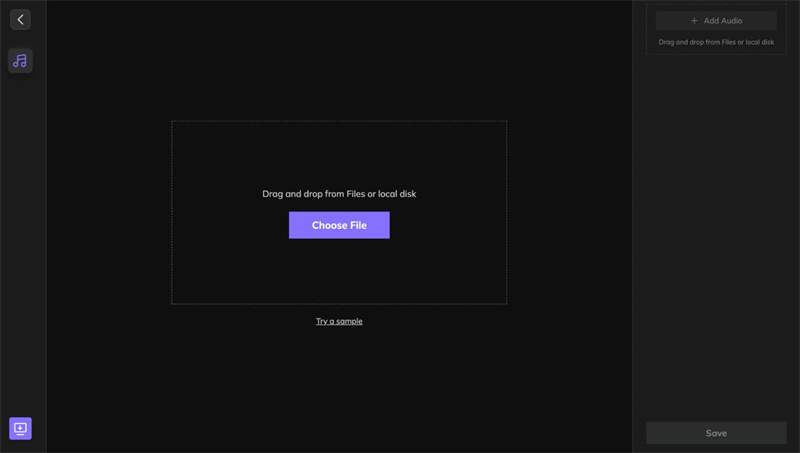 Choose a tune or song and trim it accordingly so that it syncs appropriately within the footage scene you have chosen.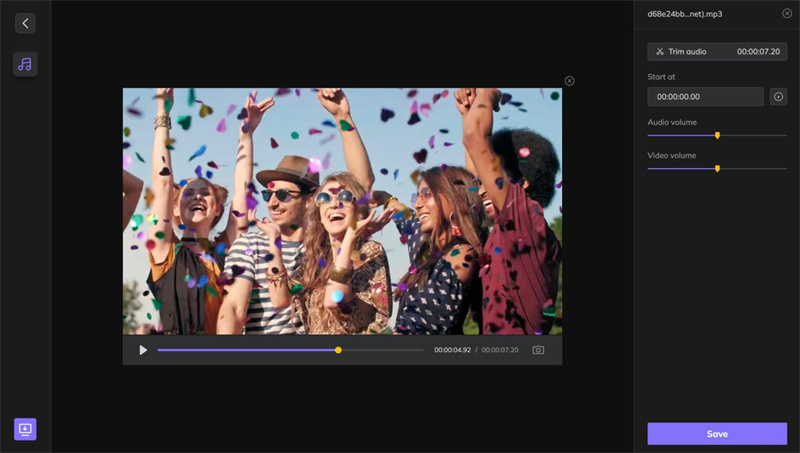 Lastly, once you've finished editing and are satisfied with your work, click on "Save" before exporting your newly edited video file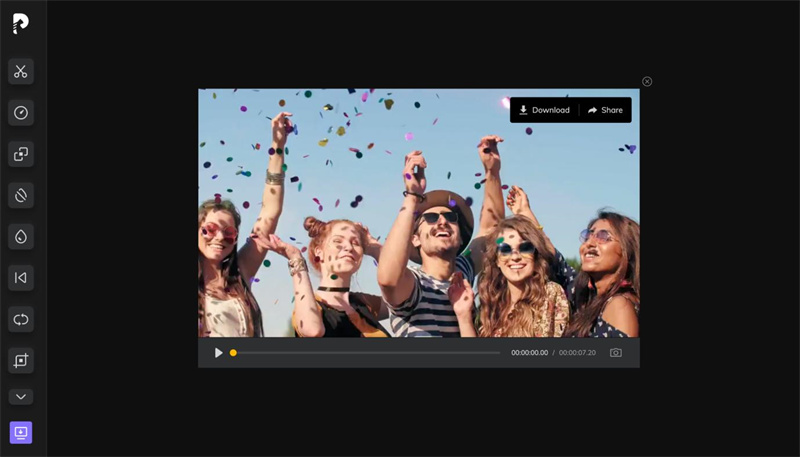 Final Thought:
The evolution of technology within the audio production industry has been tremendous in recent years, and there's never been a better time to start utilizing AI-generated celebrity voices for content creation.
By incorporating celebrity voices into your videos or audio projects, you can add personality and create engaging content for your audience.
If you're looking for more than an efficient tool that offers real-time voice changing, a variety of voice effects, easy integration with applications, and high-quality output. - then HitPaw Voice Changer is an excellent choice that we highly recommend.