Best 6 Optimus Prime Voice Changers to Imitate
Optimus Prime is one of the most iconic characters in popular culture, known and loved by generations of fans worldwide. As the fearless leader of the Autobots, Optimus Prime has become a cultural icon thanks to his heroic deeds and distinctive voice.
Many fans of the Transformers franchise have attempted to imitate this iconic voice, whether for cosplay, fan fiction, or just for fun. While some may be blessed with natural voice talents that allow them to mimic Optimus perfectly, others may need a little help from technology.
With text-to-speech Optimus Prime voice changers, anyone can transform their ordinary voice into something extraordinary. In this article, we've rounded up the six best options on the market to help you take your impressions of this beloved character to the next level.
Part 1: Who Is The Voice Of Optimus Prime?
Optimus Prime is one of the most iconic characters in movie and TV history, and his voice is instantly recognizable to fans around the world. But have you ever wondered who voices Optimus Prime?
The answer is none other than Peter Cullen, a veteran voice actor who has lent his commanding voice to dozens of popular animated shows and films over the course of his career.
Cullen's work as Optimus Prime began back in 1984 when he was cast as the heroic Autobot leader for the original Transformers animated series.
He went on to play a role in numerous spin-offs and adaptations, including Transformers: The Movie (1986), Transformers: Prime (2010-2013), and Bumblebee (2018). Despite having over 200 roles in his career, Cullen remains best known for his work as Optimus Prime.
Part 2: 6 Useful Optimus Prime Voice Changers
Whether you're a die-hard Transformers fan or just love experimenting with different voices, an Optimus Prime voice changer can be an incredibly fun tool to have on hand.
With the right software or device, anyone can transform their natural voice into the powerful tones of the legendary Autobot leader.
We've compiled a list of six useful Optimus Prime voice changers, ranging from affordable and easy-to-use programs to professional-grade software for serious voice actors. So let's dive in and explore our top picks for capturing the iconic voice of Optimus Prime.
Fakeyou
FakeYou Text to Speech is an innovative online tool that uses deepfake technology to generate a wide range of authentic-sounding voices for any text input.
With over 2,400 different voices to choose from, including celebrities voice activated Optimus Prime and fictional characters, as well as regular people, this tool provides a truly immersive experience.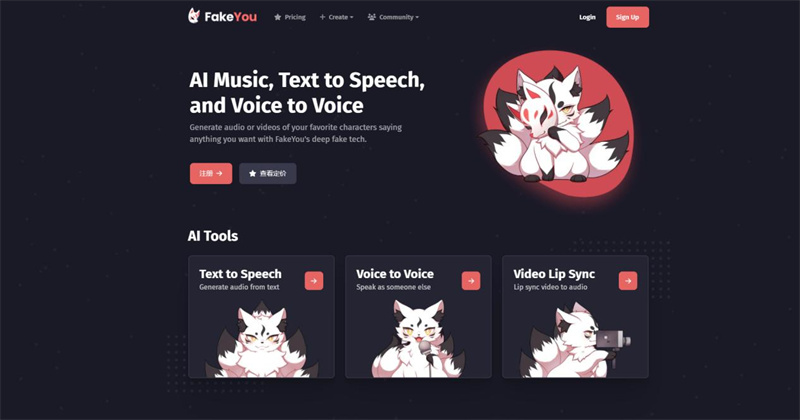 Pros:
Huge library of over 2,400 quality voices
Easy-to-use web-based interface
Advanced AI technology provides realistic results with each update
Customizability allows for precise fine-tuning
Free service supported by user donations
Cons:
No recording option available
Limited to text-to-speech conversion only
EaseUS VoiceWave
EaseUS VoiceWave is a versatile voice changer software compatible with Windows 10/11. It's an excellent choice for individuals who want to convert their voice into Optimus Prime's robotic sound or any other unique tone.
With over 100 voice effects, including robot, human, game, character, cartoon, horror, and more, users can tweak their voice to match any sound they desire. Moreover, this tool gives them the freedom to adjust volume, tone, timbre, and pitch when changing their voice to optimize the output.
Pros:
Beginner-friendly interface
High-quality noise reduction
Supports many online games and social media platforms
Customizable pitch variation to adjust voices
Cons:
The free version has limited filter choices
NCH Voxal Voice Changer
NCH Voxal Voice Changer is an excellent choice for those looking to change their voice into Optimus Prime's sound for streaming, gaming, or real-time chatting.
Compatible with both Windows and macOS, this tool provides users access to a vocal effect library filled with an expansive range of sound effects, such as Transformers, robots, aliens, monsters, and boys.
Users can personalize the existing voice effects through adjustments to produce more authentic results.
Pros:
Compatible with both PC and Mac  
Offers unlimited creation of custom voice effects
Has low CPU usage and doesn't interfere while running other applications
Seamlessly works with other running software
Cons:
Some audio filters may not work well and produce synthetic sound effects.
Voicemod
Voicemod is a popular voice-changing software suitable for individuals interested in transforming their voice into Optimus Prime or any other desired audio effect. It provides users with an extensive array of effects, such as aliens, babies, kids, and even ducks.
This tool is highly compatible with numerous online programs such as Fortnite, Google Meet, PUBG, Twitch, Zoom, and much more. With Voicemod, users can personalize and fine-tune their voices into distinctive sounds for online gaming or live streaming.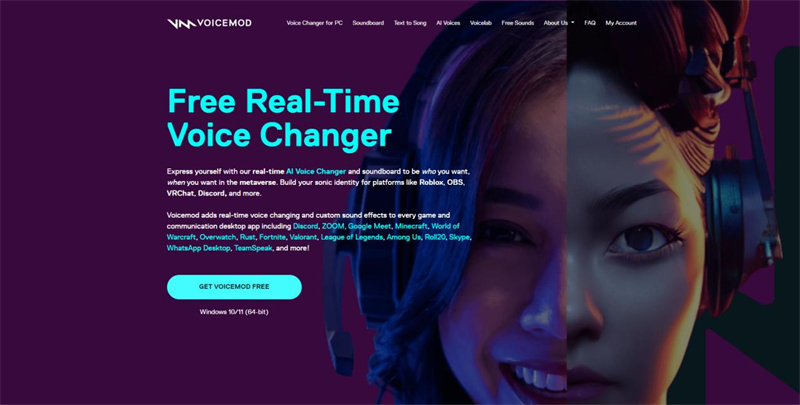 Pros:
User-friendly Interface
Routinely adds customized sound effects to improve user experience
High-quality professional-grade voice-changing filters
Enables creation of personalized sounds and addition of sound clips to the Soundboard
Cons:
Some users may experience technical irregularities depending on hardware specifications during use.
Super Voice
Super Voice is an Android app that provides voice-changing capabilities, including Optimus Prime and other similar animated characters. Users can adjust the pitched speed and other parameters to tailor their voice to a preferred tone.
Unfortunately, the platform comes with advertisements, which can cause disruptions.
Pros:
User-friendly interface.
No cost required before usage.
Efficient for basic voice changes.
Cons:
Advertisements can cause disruptions.
Limitation to Android users only.
Clownfish Voice Changer
The Clownfish Voice Changer is a Windows-compliant voice-changing program that has gained impressive user traction due to its efficiency at transforming voices in real time as required.
It offers diverse options, including unique voices such as Alien, Optimus Prime, Atari, robot, or Helium sounds, to name a few.
Moreover, this software comes with advanced audio control features through a music player and easy-to-use playlist management functions that enable users ease of access and efficiency in media file playback.
Pros:
Compatible with almost every Windows operating system.
Works effectively on Viber, Microsoft Teams, Discord, and other communication programs.
Ability to customize microphone settings based on individual needs.
Acts as an adorable baby voice changer that makes you sound cute
Cons:
Lagging reports with some users regarding performance.
Part 3: FAQs About Optimus Prime Voice
I'm sure you will meet some trouble, don't worry! The following will help you use voicemod more smoothly! Let's learn about them together!
Q1. Who's the voice of optimus prime?
A1. Peter Cullen has been the talented voice actor behind Optimus Prime since the character's inception in 1984. The voice of Optimus Prime, the iconic leader of the Autobots in the Transformers franchise, is an integral part of his identity.
Q2. How do I change my voice like optimus prime?
A2. There are several ways to change your voice to sound like Optimus Prime, Optimus Prime voice actor. One of the easiest ways is by using an Optimus Prime voice changer app or software.
Q3. Has anyone else voiced optimus prime?
A3. In addition to Peter Cullen, the original voice actor for Optimus Prime, a few other individuals have voiced him in various media and adaptations. In the 2000s, actor Gary Chalk provided the voice of Optimus Prime in several Transformers animated series, including "Beast Wars" and "Transformers: Armada."
Extra Tip: How To Add Optimus Prime Voice To Video?
If you're looking to add Optimus Prime's voice to your video content, there's an easy way to do it using HitPaw Online Add Music to Video.
This free online tool allows you to easily add background music or audio effects to your videos. Whether you're creating a fan montage of Optimus Prime moments or simply want to insert his iconic voiceover into your content, this tool makes it easy.
HitPaw Online Add Music to Video is completely free and has no limits, watermarks, or ads. It works on any device, whether you're using a Windows PC, Mac, iPhone, or Android device. The tool is also very easy-to-use and requires no professional tech.
Features:
Here are some of the main features of HitPaw Online Add Music to Video:
Free: The tool is completely free to use and requires no payment or subscription.
No Limits, No Watermark, No Ads: Unlike many other similar tools, there are no limits, watermarks, or ads when using HitPaw Online Add Music to Video.
Works on any device: You can use the tool on any device, including Windows PC, Mac, iPhone, and Android devices.
Easy-to-Use: The tool is designed to be user-friendly and doesn't require any technical knowledge or experience.
High-Level Security: HitPaw uses secure connections to ensure that your uploaded files are protected and only viewable and editable by you.
Steps to Use:
With  HitPaw Online Add Music to Video, adding Optimus Prime's voice or your chosen audio clip to your video is a seamless and straightforward process, taking only three easy steps:
1.Firstly, open the HitPaw Add Music to Video Online tool on your browser.

Add Voice Now!

2.The first step is to upload your audio by dragging and dropping it onto the platform.

3.Once the audio is uploaded, you can add tracks and adjust their length as desired with HitPaw's intuitive interface.

4.When you're happy with your edits, click 'Export' to process the audio and then download it.
Final Thought
Optimus Prime's iconic voice has been an integral part of the Transformers franchise and has won the hearts of millions of fans across the world.
Whether you're a content creator looking to add optimus prime's voice movie to your videos or simply want to emulate him for fun, using HitPaw's tools can be really beneficial.
HitPaw Online Add Music to Video offers an easy and hassle-free way to edit your audio files and add Optimus Prime's voice. With its intuitive interface and range of features, you can quickly transform your audio files into professionally-sounding content.