6 Best Tools to Create Juice Wrld AI Voice Effortlessly in 2023
This article is going to be a wholesome and juicy (pun intended!) treat for Juice Wrld fans. Juice Wrld obsession has been seeping through the hearts of many music lovers all around the world, especially after the singer's passing away in 2019, making adults and teens his fans alike. Some fan's obsession has reached the point where they seek different ways to imitate Juice Wrld's voice, sometimes to reflect their deep devotion and affection to the player or simply to amuse themselves with Juice Wrld's rapping prowess.
To satiate fans' desire to imitate Juice's voice, many different AI voice tools have included Juice Wrld AI voice transformation feature, which perfectly mimics his voice. The purpose of this article is to introduce you to 6 such awesome Juice Wrld AI voice generators to help you effortlessly produce Juice Wrld AI voice.
Part 1: Who is Juice Wrld?
Before diving into the discussion of how different tools can be used to create A.I Juice Wrld voice, let's first explore who Juice Wrld is and why he is so famous in the first place.
So, who exactly is Juice Wrld? Juice Wrld (late) was an American singer-cum-rapper-cum-songwriter who brought a revolution in American music because of his skillful ability to blend emo music with rap music, creating a new kind of music that touched the hearts of many music lovers. Juice Wrld's music is definitely one of its own kind, with perfectly tuned rhyme and rhythm and peculiar lyrics that pack emotions and thoughts in a wholesome way.
Juice Wrld's popularity can be attributed to a lot of factors: his ability to seamlessly blend two distinct music genres (namely rap and emo music), his ability to craft emotionally charged lyrics, his ability to incorporate catchy rhyme and rhythm into the songs, and so much more. Needless to say, he was not only a singer but a music icon in his own right, who managed to touch millions of hearts all around the world.
Despite his passing in 2019, Juice Wrld's voice continues to be a symbol of musical class and emotional depth, and fans are still very much connected to it.
Part 2: 6 Perfect Juice Wrld AI Voice Generators
Now that we've discussed a bit about Juice Wrld's popularity, let's get straight to the point: Juice Wrld voice generators.
Following is a discussion of the qualities, features, price, and pros and cons of 6 different Juice Wrld AI generators. Some of these tools will let you seamlessly transform your voice into Juice Wrld AI voice free of cost. So, what are you waiting for? Let's dive straight into it!
1. HitPaw Voice Changer (Win & Mac) - Best Juice Wrld Voice Changer
First on our list is HitPaw Voice Changer for Windows and Mac, which is undoubtedly one of the best voice transformation software for entertainment purposes. Juice World AI voice is one of the 100s of voice-changing features present in its audio library, consisting of dozens of voices, including those of fictional characters, movie characters, etc. If you want to sound exactly like Juice Wrld with his distinct pitch, voice quality, and rhythm, look no further than HitPaw Voice Changer!
Pros
Has a super versatile library of voices
It is extremely easy to use
Allows you to modify voice in real-time
Helps you to customize voice as per your needs
Works for both beginners and professional users
Can be downloaded on both Windows and Mac
Cons
It may not be compatible with certain operating systems
Price: The basic plan of HitPaw voice changer starts from $15.95 per month
2. VoxBox (Win & Mac)
VoxBox falls 2nd on our list of best Juice Wrld voice changers, which basically produces Juice Wrld text-to-speech voice. If you wish to convert your voice into Juice Wrld's voice with outstanding customizing features such as pitch changing, echo adjustment, direction reversal, and so much more, then VoxBox is your go-to software! It works seamlessly on tablets and smartphones alike. With the use of VoxBox, Juice Wrld voice transformation will be a piece of cake!
Pros
Has 3200+ voices in its audio library
Supports 100+ different accents
Allows voice modification in 46+ languages
Uses a simple text to speech module
Is extremely secure and supports multiple formats like mp3, WAV, etc
Cons
Voices may not be 100% accurate
Price: This is a free AI voice generator
3. Voicify (Online)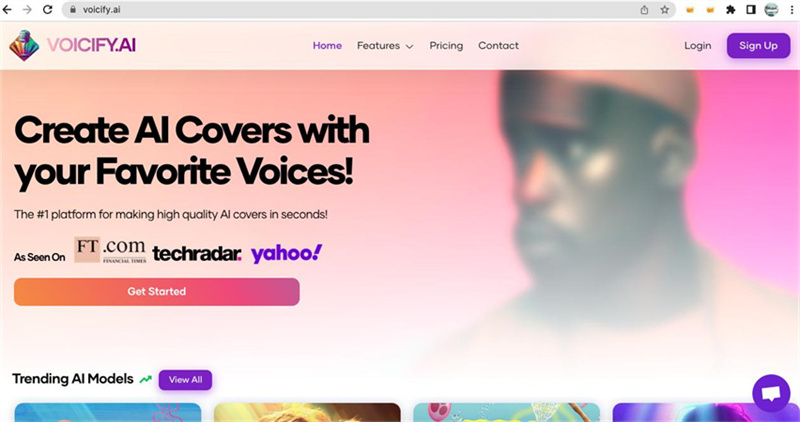 Voicify is yet another amazing AI-based voice generator that's being lauded by music enthusiasts all over the world, especially by those who create music covers. It's an amazingly innovative tool for producing Juice Wrld voice with outstanding precision, quality, and creativity. If you want to satiate the creative genius in you, then Voicify is exactly what you're looking for.
Pros
Offers very natural voice quality
Allows easy voice sharing across the Voicify community
Easily connects with various platforms and software
Cons
It may feel a little pricier to some users
Requires a smooth internet connectivity
Price: The credit plan costs $8.99 monthly and $0.299 per day.
4. FakeYou (Online)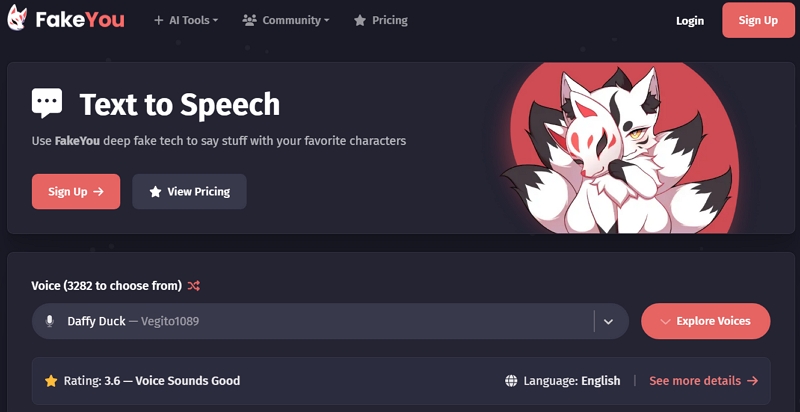 Juicewrld AI voice can also be created online, using the fakeyou online text-to-speech AI voice changer. This online tool is outstanding software for text-to-speech voice modification, allowing users to transform their voice into any of the 2400 voices available in its audio collection. For people who somehow can't download the 3 software mentioned above, this online tool will definitely be the best option to seamlessly produce Juice Wrld voice.
Pros
It's free and online, so it is preferred by most users
It's very easy to navigate
It's supported by most operating systems
Cons
Requires a stable internet connection
Works only on text-to-speech model
Price: FakeYou is free, but some sound effects are of $7
5. UberDuck (Online)
Another online-based voice converter is UberDuck, which is yet another AI-based voice generator. It has a very positive reputation among its users because of its ability to generate natural, quick, and seamless voice transformations. You should consider using UberDuck to produce Juice Wrld voice if you really want to be awestruck with the results.
Pros
It's such a user-friendly software
It offers various voice customization features
Its video library keeps getting updated with new and advanced effects
Cons
Some of the voice effects may be inaccurate
Price: It offers its voice effects at a minimum price of $9.99
Part 3: FAQs of Juice Wrld AI
Q1. How do you get the AI rapper voice?
A1. You can get the AI rapper voice by using AI-based voice changers such as HitPaw Voice changer, UberDuck, Fakeyou, Voicify, and Voxbox.
Q2. What was the story of Juice WRLD's death?
A2. Juice Wrld struggled with mental health disorders like anxiety and depression and had been very vocal about his struggles with drug abuse and addiction. According to sources, the reason for his death was a drug overdose.
Part 4: Final Thought
In conclusion, AI voice changers have revolutionized the world of voice transformations because of their ability to create effortless and accurate voice transformations, including Juice Wrld AI voice generator free. We recommend you use HitPaw Voice Changer if you wish to experience what a truly wholesome voice modification experience feels like!