How to Get Realistic Joe Biden AI Voice with Ease
Are you hunting for different tools to create Joe Biden AI voice? Famous for his political career, Joe Biden declared his bid in April 2023 for the presidency.

Even though being the most important person in the US, Joe Biden is one of the most popular figures on the internet and is always trending in different memes. And what could be a great reason to create AI voice of this celebrity? In this article, we will have a look at different AI voice generators that can help create Joe Biden's voice to suffice your needs. Stick to the article to learn more.
Part 1.

Who is Joe Biden? Is Joe Biden AI Voice Endorsed by Joe Biden himself?

Being the 47th President of the US, Joe Biden was in politics before being elected as the president. He earlier served under Barack Obama as the Vice President from 2009 to 2017. He was also a United States Senator for 36 years representing Delaware.
Till now, Biden has supported different issues such as LGBTQ+ rights, healthcare, and climate change.

Speaking of Joe Biden voice clips, the voice is generated with the help of large language models and deep learning techniques. These models are trained on huge datasets of Joe Biden's interviews, speeches, and public appearances. By learning and analyzing from this data, the AI model can create vocal nuances and speech patterns that resemble those of Joe Biden.
Part 2.

Best AI Voice Generator to Make Joe Biden Voice Clips

With that being said and without any further delay, let us have a look at some of the best Joe Biden AI voice generator tools.
1. Murf.AI Joe Biden Text-to-Speech
Murf.AI is a great tool to create Joe Biden deepfake voice and user can get AI-generated voices that sound really natural to Joe Biden. This AI voice generator comes with a deep learning algorithm that is precisely accurate at creating human-like voices such as Joe Biden. Users can surely use it to make Joe Biden's voice. In addition to this, with only a solo model, users can make different voices using this Joe Biden Weed AI voice alternative. This indicates users can create different variations of Joe Biden's voice.
Features:
More than 120 TTS voices in over 20 languages
Supports TTS, voice over video, voice cloning, and voice changer
Voice editing options such as reverberation, chorusing, and phasing
Different settings, including Pauses, Pitch, Emphasis, and Speed
Grammar and other editing tools to enhance your script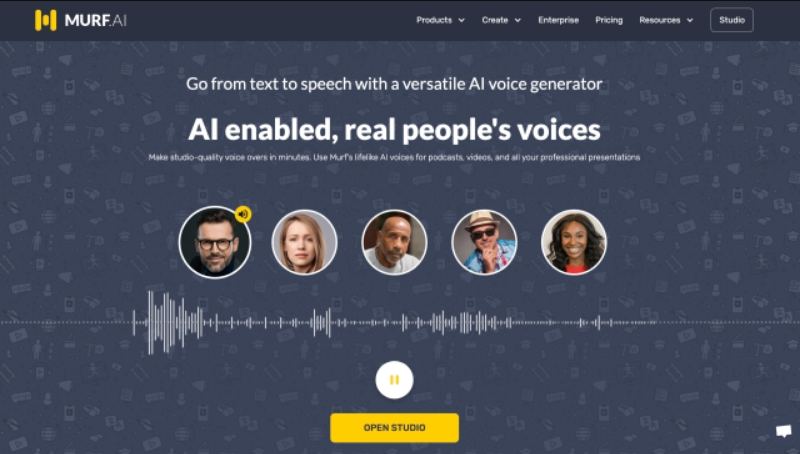 2. PlayHT Joe Biden Voice Generator With TTS
PlayHT is a Joe Biden voice AI voice generator and a cloud-based text-to-speech tool that creates text-to-speech content with no any help from humans. The tool utilizes the most enhanced machine learning algorithms to create precise text-to-speech outcomes via a highly optimized ML technique that has been trained for every language.
This Joe Biden voice AI Reddit software can convert any text into audio files as well as also offer different other features such as the pronunciation of words. If you are seeking for a voice that sounds similar to Joe Biden, then Play.ht is the one of the perfect tools for your use.
Features:
Full commercial & broadcasting rights
570+ AI voices and 57 languages
Create custom pronunciations
Expressive emotional speech styles
Custom pauses
Edit voice tones
Unlimited previews, revisions & downloads
Multi-voice feature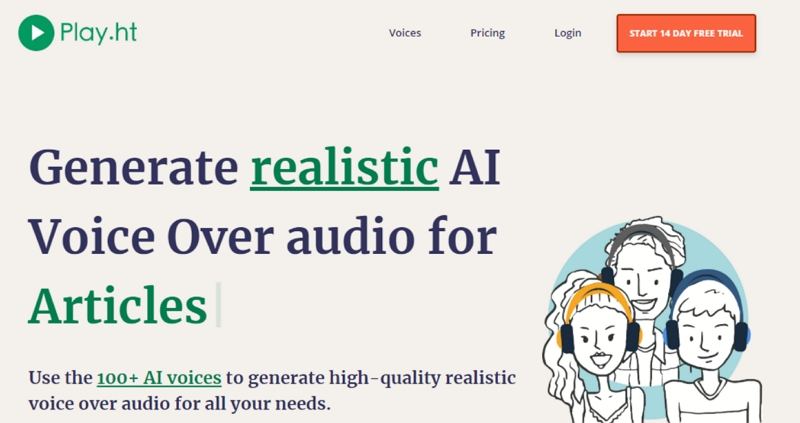 3. Resemble's AI Voice Generator
Resemble is another Joe Biden voice changer and a well-known text-to-speech tool. This tool permits users to convert text into speech, and that too with a good quality of the available AI voices. With this AI voice generator, users can easily make their own audiobooks, podcasts, and much more. This AI Joe Biden voice generator generates custom voices with the help of proprietary Deep Learning models that can create realistic Speech Synthesis.
It augments AI voice with real-time APIs and a text-to-speech AI voice generator to develop immersive experiences.
Features:
Adjust Speaking Rate / Pitch
API integration
Custom Lexicons
Audio Optimization
Multi-Language Support
Different Voice Choices
Synchronize Speech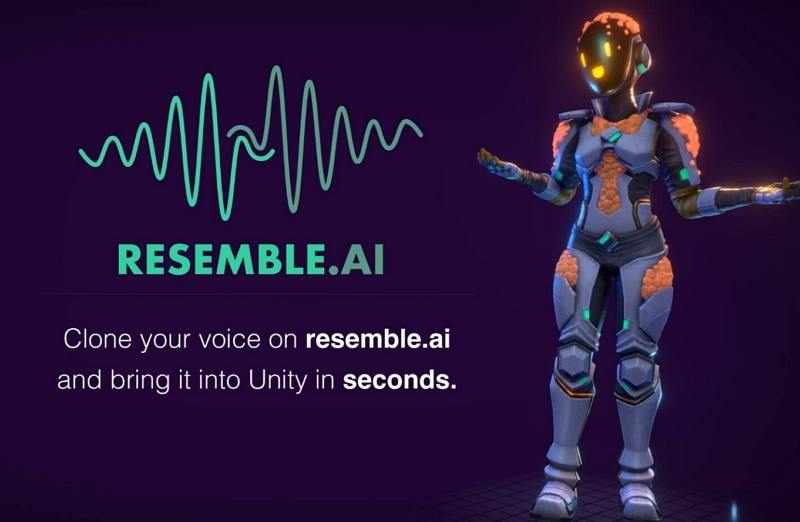 Part 3.

Best Joe Biden Voice Changer to Get Realistic AI Joe Biden Voice

In this section, we will have a look at different AI voice generator Joe Biden tools that can help get realistic AI Joe Biden voice.

With advanced voice-learning tech, HitPaw Voice Changer is one of the best AI Voice Changer you can consider. It offers a range of voice effects and filters that can be applied to the user's voice. With user-friendly interface, you can easily navigate through different settings and effects. It supports real-time voice modulation during live conversations, making them useful for online gaming, voice chatting, or voice-over recordings.

Features:
A wide range of voice effects and filters include , echo, reverb, robot, alien, etc.
Modify your voice in real-time for online gaming, voice calling, or streaming platforms
Customize and fine-tune voice parameters such as pitch, formant, resonance
Eliminate background noise and enhance the clarity of the modified voice
An intuitive and user-friendly interface that makes it easy to change voices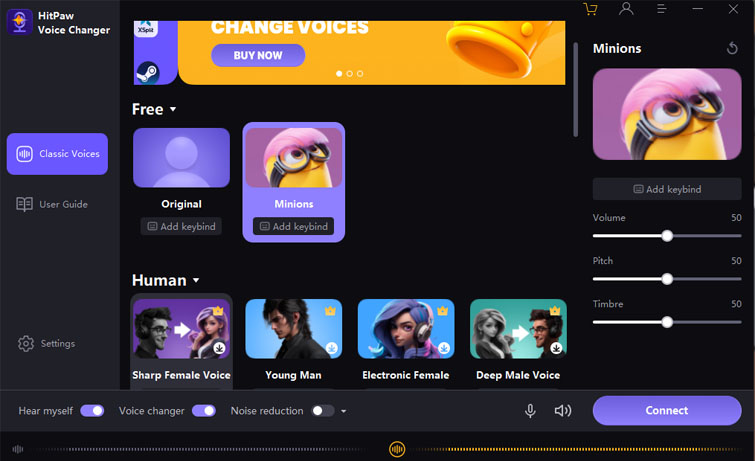 2. Voicemod -Real-time Joe Biden Voice Changer
Voicemod is one of the best voice changer tools and a great alternative to Eleven Labs Joe Biden voice that offers users with tons of different voices. These voices can be changed as per users' needs, as well. Users also get access to a soundboard. On the other hand, users will have to shell out money to use other advanced features. To add more, this Joe Biden voice generator helps users can design distinctive personas and voices. All in all, this tool provides a great user experience, advanced features, and allows users to change their voice to that of Joe Biden in real-time.
Features:
More than 100 customizable voice collection
Powerful soundboard for sharing and playing sounds in communication and chats tools
Comes with VoiceLab to generate custom voice such as that of Joe Biden by mixing effects
Work with all communication and games apps on the market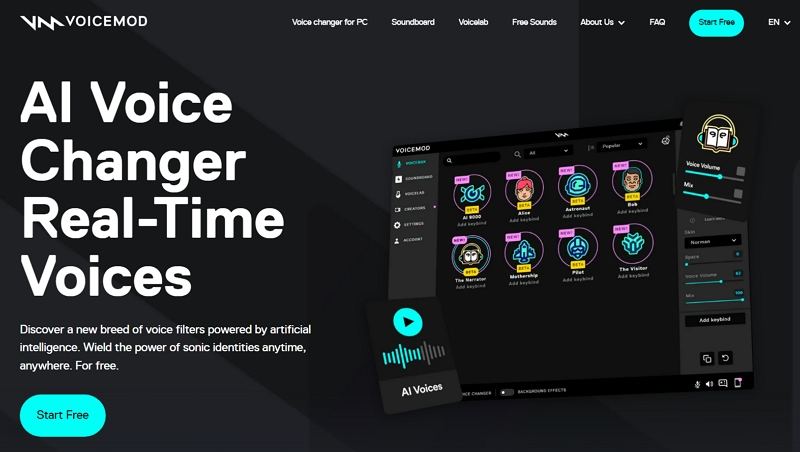 3. Clownfish Voice Changer - Free Joe Biden Voice Changer
This real time Joe Biden voice changer apps is compatible with different apps such as Skype, Team Speak, Discord, and so on. In addition to this, Clownfish Voice Changer has good feedback from the users, Moreover, it is free of charge if you are going to use it for non-commercial use. This voice AI Joe Biden generator is much more popular among the users since the end voice result is close to the real one. The tool is compatible with Linux, Windows, iOS, and Android.
Features:
Enhance your voice
Alter volume of your voice
Make your voice sounds older
Making your voice deeper
Masculine and feminine voice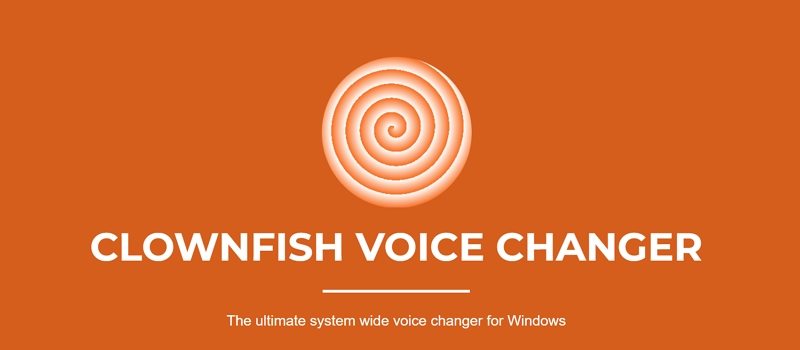 4. MorphVOX Junior - Joe Biden Voice Changer Free
MorphVox Joe Biden deep fake voice changer is possibly one of the most famous tool used these days. This tool can greatly improve and enhance users' experiences. It is used majorly by streamers, gamers, and YouTubers all over the globe. The tool is a real-time voice changer and offers a superior voice-changing experience with a background cancellation feature along with voice-learning technology. In addition to this, users can also make good use of the background sounds and the soundboard feature. Soundboard enables users to surprise their friends by sending them a prank sound such as that of Joe Biden.
Features:
Soundboard for adding instant sound effects
Optimized for popular online games
Voice Compare feature to locate the differences between voices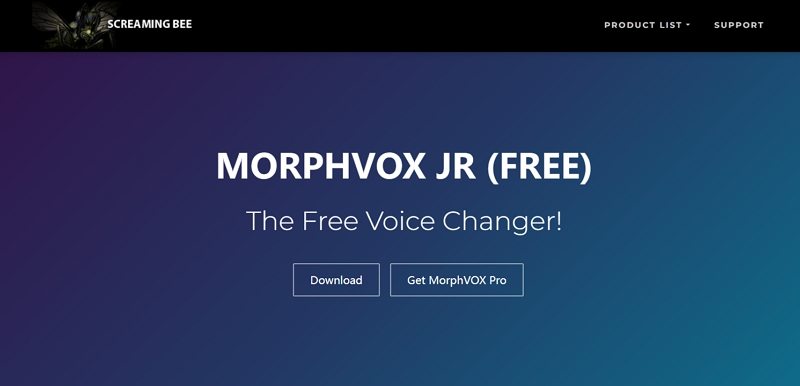 Conclusion
With that being said, we just had a look at different Joe Biden AI voice generators that can be used to suffice your needs. Feel free to use any one of the tools mentioned above such as HitPaw Voice Changer to prank your friends and explore your creativity and expressiveness in unique and engaging ways.