How to Get Justin Bieber's Voice with Voice Changers in 2023
Justin Bieber has been the talk of the town for many things. Whether it's about his singing or his marriage life, we all hear cool things about him. Just like us, if you are also a big fan of Justin Bieber's voice, then this article is for you. In this blog, we will guide you on how to get Justin Bieber's AI voice in 2023. We will introduce you to two of the best Justin Bieber AI voice changers that you can try to get Justin's voice. Let's see how these apps work and how you can use them.
Part 1: Basic Info of Justin Bieber
Justin Bieber is a famous singer born in 1994 in St. Joseph's Hospital, London, Canada. He is a Canadian singer and started his career in early 2007 when he was just 12 years old. He released his first song, "One Time" in 2009. Due to his amazing voice, he has millions of fans worldwide, and people love to go to his concerts. Apart from signing, he is a professional dancer and songwriter. Moreover, he also loves to watch movies; his famous movies include The Notebook and The Lion King.
Justin started his career at a very young age and gave numerous hit songs, including Baby, Boy Friend, Hold On, Favorite Girl, Sorry, Love Me, Stay, and more. His song Baby has around 3 billion views on YouTube and is still listened by music lovers worldwide. His net worth is around USD 300 million. Talking about his personal life, he married a famous model, Hailey Bieber, in 2018.
When it comes to Justin's health, he was diagnosed with a condition called Ramsay Hunt Syndrome, which attacks the facial nerve. Due to this virus, people face issues in hearing.
Part 2: How to Get Justin Bieber Voice Easily
Getting Justin Bieber's voice is easier now because of different Justin Bieber voice changer applications. So, if you want to add his voice to your projects, music albums, or other things, you can try these Justin Bieber AI voice changers mentioned below. With these apps, you can quickly get Justin's AI voice in no time. Let's discuss these apps and how they work.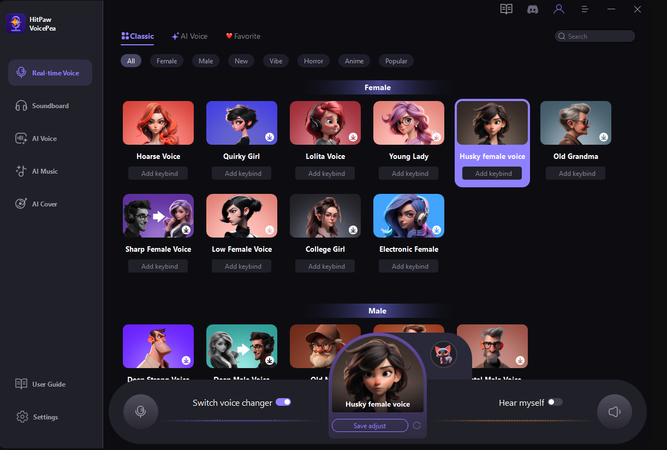 The first voice changer on our list is the HitPaw AI voice changer application. It is an advanced tool that lets you quickly get the Justin voice. The company has added a new feature in this tool, which allows you to upload audio and video files to change voice with AI. You can also get numerous voice effects, including Justin Bieber, Taylor Swift, Joe Biden, and more. If you are looking for an easy-to-use Justin Bieber voice changer, you should use this software.
Moreover, you can use the Justin voice text-to-speech feature to get the voice by typing the text only. The tool also offers many features, such as volume adjustment, pitch, and more.
Pros
The latest version uses advanced AI technology to generate Justin's voice
You can seamlessly change the voice and add it to your projects
It also offers a real-time voice-changing option
Users can upload videos and audio files to generate the voice
It is a perfect voice for beginners and experts
There is no need to hire voiceovers because it provides multiple sound effects
Users can try the free trial to check the voice quality
It can be integrated with other apps and platforms
Cons
Sometimes, the app lags while downloading the results
Should add more voice filters
Price: $15.95/Month
Compatibility: Win & Mac
How to use HitPaw Voice Changer to Get Justin Voice
Step 1:Go to AI Voice, and Click to import audio/video files you want to change the voice

Step 2:Then Choose the Justin Bieber AI Voice

Step 3:After select your prefered voice effects, you can adjust the pitch and voice similarity.After each parameter adjustment, you need to click 'Change Voice' for the changes to take effect.

Step 4:Then simply click "change voice" to change voice with AI, Free users can only process up to 30 seconds and cannot export, while members can process up to 10 minutes and can download.
2. Using Voicify.AI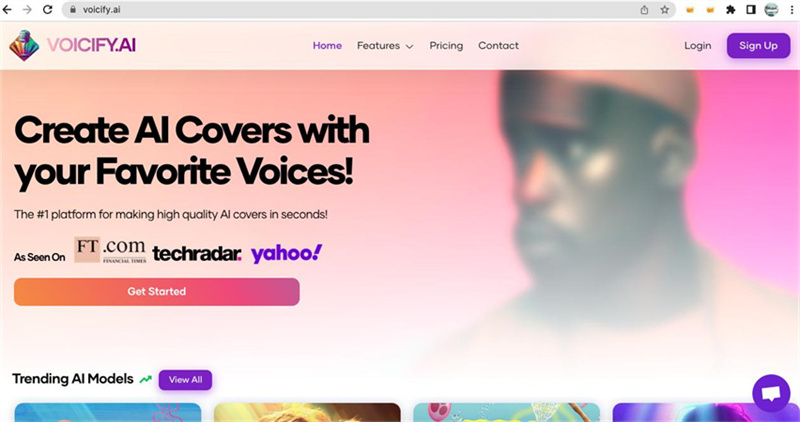 How do we get Justin Bieber's AI voice? If you are also looking for the answer, then try using the Voicify.AI program. It uses a text-to-speech feature to create Justin's voice. The tool is ideal for those who want to add Justin voice to their videos. It is a real-time voice-changing app that generates the voice in no time. It has a huge UGC voice library from where you can select the voice of your favorite celebrity like Justin Bieber.
Moreover, gamers can also use this application to add voice while playing games, streaming, and more. You can also use it to clone the voices by making some adjustments. This Justin Bieber AI voice changer is ideal for streamers, gamers, meeting calls, etc.
Pros
One of the best Justin Bieber voice changers available in the market
The perfect tool for content creators and songwriters
You can make soundboards within minutes
It has a huge library of voice effects, such as Justin Bieber, Selena Gomez, Taylor Swift, Ariana Grande and more
You can change real-time voice across many different apps, such as Discord, Zoom, Teamspeak, WhatsApp and more
The voice cloning feature is amazing
It has around 3000+
Cons
Sometimes, the live mode crashes the app frequently
You can only use it on browsers
Price: $8.99/month
Compatibility: Browsers
How to use Voicify to Get Justin Voice
1.Go to the official website of Voicify and click the "Get Started" button.

2.You will be redirected to models from where you can choose the voices. In the search box, type Justin Bieber, and the app will show you the results.

3.Now, choose the options available on the screen. You will see the Text to Speech mode, which you can use to generate Justin's voice. Also, you can paste the YouTube link of your favorite song by Justin Bieber. This tool also allows you to upload your audio file to get Justin voice.

4.Once you have pasted the link, it will show you the "Generate AI Cover" option. So, click, and that's it; you will get the Justin Voice in no time.

5.You can also use the Text to Speech option to get the voice. Click this mode, type the text, and choose the "Convert Text" option. The app will generate the results for you.

6.These are the steps that you can follow to get Justin Bieber AI voice. You can also select the accents and expressions in which you want the voice.
Part 3: FAQs of Justin Bieber AI Voice
Q1. How do you Change your Voice to Justin Bieber?
A1. Changing your voice to Justin Bieber is not a difficult task as you can now use different Justin voice text to speech tools to get his voice. Above, we have mentioned two apps, HitPaw voice changer, and Voicfy.AI, that you can download and generate Justin voice with ease. You can also use these apps to add accents, emotions, and more.
Q2. Why did Justin Bieber Cancel his Tour 2023?
A2. The 29-year-old singer canceled his tour because of his health issues. The reason behind his tour being postponed was facial paralysis, which happened after he was diagnosed with RHS, also known as Ramsay Hunt Syndrome.
Part 4: Final Thought
Justin Bieber is a famous singer and songwriter. He has sung many famous songs and is loved by people globally. So, if you are also a big fan of his voice and want to use it, then you can use different Justin Bieber AI voice changer applications, which will help you get Justin's voice in no time. Also, if you are looking for a reliable app, then you can download the HitPaw AI voice changer application, which offers multiple sound filters, including Justin Bieber.