A Detailed Guide to Generate Ronaldo AI Voice 2023
Do you want to generate Ronaldo AI Voice? If you are a big fan of Cristiano Ronaldo's voice and looking for a voiceover to get his voice, we got you covered. In this article, we have mentioned some of the best Cristiano Ronaldo voice changers that you can download and generate his voice in no time. Besides, you don't need to hire any professional voiceover or spend extra money. All these tools have free trials. You can try and get Ronaldo's AI voice. Let's discuss these amazing Ronaldo AI voice generators and how they work.
Part 2: Generate Ronaldo's Voice With 3 Great Voice Changers
If you are searching for the best Cristiano voice AI tools, we got you covered. In this section, we have mentioned some of the top Ronaldo AI voice programs that you can use and get the exact voice Ronaldo has. These software are perfect for getting Ronaldo's voice, and you can use them on your PC easily. Let's talk about these top programs and how to use them.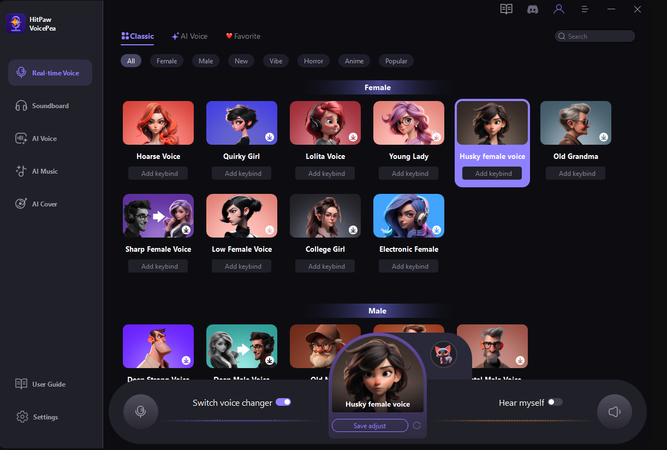 If you plan to get your favorite soccer player Ronaldo's voice, then this real-time voice changer should be your first choice. This software is ideal for beginners and non-technical users. Besides, with this application, you can easily get Ronaldo's voice as it has multiple voice filters. Let's see how you can use HitPaw Voice Changer to get Cristiano's voice.
Features of HitPaw Voice Changer:
Intuitive interface and easy to manage
Compatible with Mac and Windows
Offers multiple voice effects, including Cristiano Ronaldo's voice
Live Voice changer feature is perfect for streamers
Generate Cristino Ronaldo's Voice using HitPaw Voice Changer
Step 1:Go to "AI Voice", and click to import your audio/video files

Step 2:Select Ronaldo AI Voice and Click to Generate, after waiting for a few seconds, the file voice alteration process will be completed.

Step 3:After the audio/video files completed, you can adjust the pitch and voice similarity
2. Using Murf.ai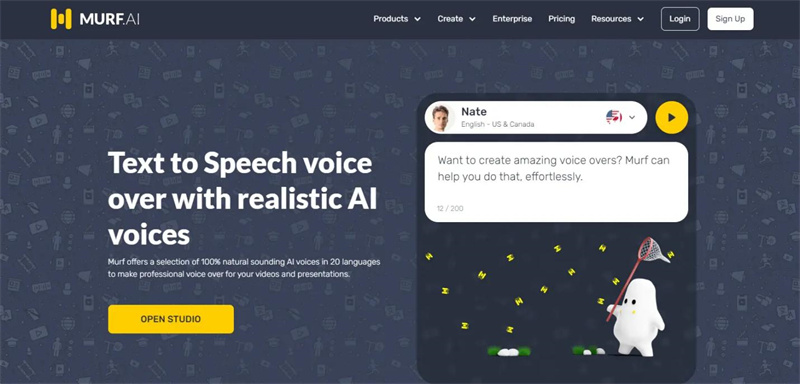 The next Cristiano Ronaldo Text-to-Speech tool on our list is Murf.ai. It is a user-friendly program that can easily convert text into voice. It has almost 120+ different voices, which are available in 20 different languages. If you are the biggest fan of Ronaldo's voice, this tool would be perfect for you. You can also add free background music, add natural voices, and more. Here is how you can use it to get the Get Ronaldo sound using Murf.ai.
1.Visit Murf Studio and download the latest version of it. Once you have launched the app, click the "Create Project" option. You will get the option to select the video or usecase.

2.Next, choose the "Add Media" option. You can also add your own video or use the Murf's own library. You can also import videos from different other platforms, such as Vimeo, Dailymotion, and more.

3.Now, type your text and choose the "Explore AI Voices" option. Murf has different options when it comes to voices, you can get them in multiple accents, languages, and more. Since you want to get Rolando's voice, so choose it.

4.Once you have added the voice, adjust speed, pitch, volume, pronunciation, and more. After adjusting the settings, the tool will change the voice to Ronaldo.
3. Using Fakeyou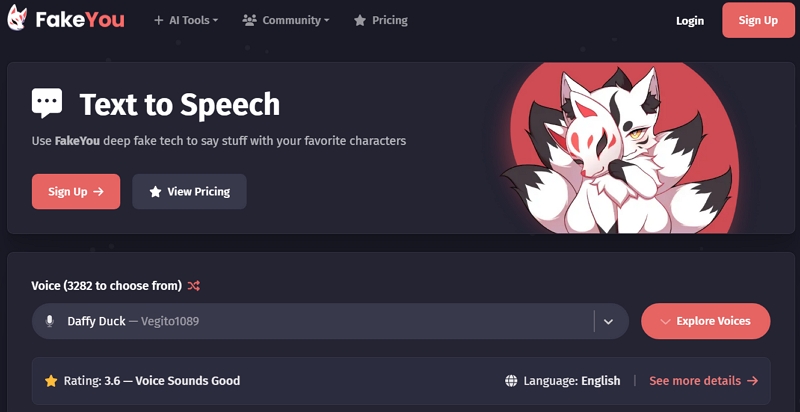 The last tool that you can use to get Ronaldo's voice is Fakeyou. It is a text-to-speech program and changes text into voice in seconds. It has three different features, including Text-to-Speech, Voice to Voice, and Video lip sync. You can also upload models and control the voices according to your preferences.Fakeyou offer various celebrity voice effects include Taylor Swift, Ronaldo, so you can get cristiano ronaldo ai voice effortlessly
Get Ronaldo sound using Fakeyou
Visit fakeyou.com and select the options available on the website. You can either choose from Text to Speech or Voice to Voice.
If you have chosen Text to Speech, type the text and convert the voice.
You can select a celebrity voice, such as Cristino Ronaldo, and click the "Generate" option.
Within a few seconds, you will get the voice of Ronaldo.
So, these were the simple steps you could follow to generate Ronaldo's AI voice using HitPaw Voice changer, Murf.ai, and Fakeyou application.
Part 3: FAQs of AI Voice Ronaldo
Q1. How do you get Ronaldo's voice in AI?
A1. You can use different programs such as HitPaw Voice Changer, Murf.ai, and Fakeyou to get the AI voice of Ronaldo. All these software are simple and will be perfect for beginners as well. You can download them on your PC and generate the voice in no time.
Q2. What is the relationship between Cristiano Ronaldo and Messi?
A2. Cristiano Ronaldo and Lionel Messi both are the most iconic and successful soccer players. They have been compared due to their amazing skills, and it won't be wrong to say that they have a relationship of competition, acknowledgment, and respect. Despite their competition, they have always shown respect and admiration for each other. Apart from that, Ronaldo has mentioned in different interviews that his son also loves to watch Messi play.
Q3. Who is No 1 Messi or Ronaldo?
A3. Some people think that Messi is the best player, while some love to see Ronaldo playing. Both the players are the best and have an extraordinary career. It won't be wrong to say that both are good in their fields and have different ways of playing the game. Since they have different styles, contributions, and strengths, who is the best can differ.
Part 4: Conclusion
In this article, we have mentioned some of the top voice changers that you can use to get Ronaldo Voice. So, you can try all these programs and add his voice to your videos. Whether you want to create short videos, advertisements, or other, these tools would be ideal for you. However, if you want to use a fast program, we recommend using HitPaw Voice changer because it is best and will generate the voice within minutes. You can also add different other voice filters if you want to any other celebrity voices.