Top 4 AI Spice Voice Tools to Experience Fun in 2023
In today's digital age, the way we communicate and consume information has evolved significantly. With the rise of virtual assistants and smart home technology, voice recognition, and AI-powered voices have become more prevalent than ever before.
One such rising star in this space is Ice Spice- a young rapper who has made waves on social media with her unique style and voice.
Many people now want to generate their own Ice Spice-like AI voices for various reasons- perhaps they want to stand out as a content creator or influencer, or maybe they just need a personalized voice for their podcast or video projects.
Part 1: Who is Ice Spice?
Ice Spice, or Isis Naija Gaston, is a rising American rapper who gained fame in 2022 with her hit single "Munch (Feelin' U)."
Born on January 1, 2000, in The Bronx, New York City, she started her music career in 2021 while studying at the State University of New York at Purchase. Her popularity soared after releasing other successful tracks such as "Bikini Bottom" and "In Ha Mood" before dropping her first EP 'Like..?' in 2023.
A collaborative track titled "Gangsta Boo" featuring Lil Tjay earned Ice Spice an entry into the US Billboard Hot 100 chart that same year. With PinkPantheress's remix single "Boy's a Liar Pt.2", she reached the top three.
Ice Spice voice unique style has brought critical acclaim from music critic Jon Caramanica of The New York Times and recognition from Time magazine as a "breakout star," solidifying her presence within the industry.
Part 2: Top 4 Ice Spice Voice Generators
If you've been inspired by Ice Spice and want to create your own unique AI-generated voice, look no further than these top 4 Ice Spice voice generators.
UberDuck.ai
UberDuck.ai is a revolutionary text-to-speech Ice Spice voice generator that utilizes advanced AI technology to create custom and unique voices. With real-time document uploading, users can transform their written content into spoken language in the tone of their choice.
Pros:
Advanced AI system for creating custom voices
Real-time document uploading for seamless text-to-speech conversion
Diverse studio with royalty-free voice effects
Open-source API and tools recommended by thousands of daily users
Cons:
UnicTool MagicVox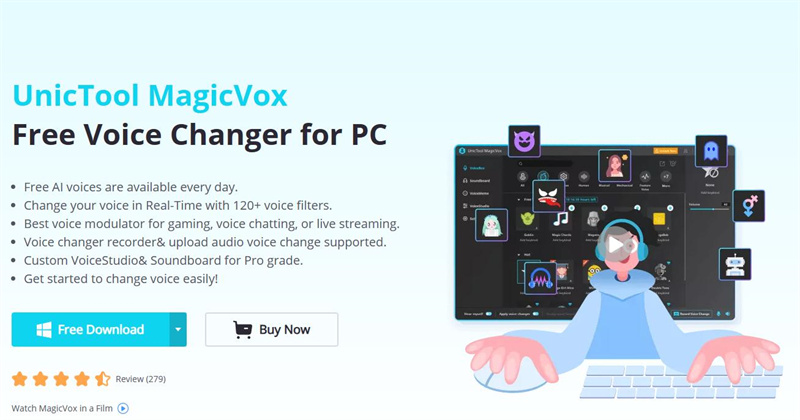 UnicTool's MagicVox is a cutting-edge real-time voice changer that enables you to modify the sound of your voice in real-time during live calls or while recording audio. With advanced features such as VoiceStudio and a collection of over 400 different sound effects and filters, users have access to a comprehensive set of tools for creating unique vocal identities.
Pros:
Allows for real-time voice transformation
Comprehensive suite of tools within Voice Studio
Huge library of over 400 sound effects, 150 voice memes, and filters.
Compatible with both Windows and Mac systems
Cons:
Clownfish Voice Changer
If you're looking to experiment with Ice Spice-like AI voices, Clownfish Voice Changer is a great choice for Windows or Mac operating systems due to its flexibility and versatility. It has quickly become one of the most popular options for individuals looking to enhance their online communication experience through voice changing.
Pros:
Compatible with multiple voice communication software
Can be used on any application that uses a built-in microphone
Simple and easy-to-use interface
Allows users to create custom keyboard shortcuts for ease-of-use
Cons:
Some of the sound effects can feel artificial or unnatural
Voicemod
Voicemod is an easy-to-use and powerful ice spice voice generator software that enables users to apply various sound effects to their voices in real-time. With built-in hotkeys, a range of compatibility with voice communication platforms like Discord and Twitch, users can experiment with different vocal identities during live conversations.
Pros:
User-friendly interface
Comprehensive real-time voice changing options
Compatible with multiple voice communication software
Cons:
Audio quality may be lower
Part 3: FAQs about Ice Spice Voice
Q1 : What is the best Ice Spice AI voice generator?
A1: Voicemod, UberDuck.ai, Clownfish Voice Changer, and UnicTool MagicVox are all fantastic options when it comes to generating ice spice AI voices. However, choosing the best one depends on your personal preferences and requirements. In terms of a user-friendly interface, comprehensive real-time voice-changing options, and compatibility with popular communication software, Voicemod is a great choice.
Q2 : Is Ice Spice AI Voice easy to use?
A2: The ease of generating an Ice Spice AI voice depends on the platform you choose to use. Some Ice Spice voice generators may be more user-friendly and straightforward than others, while some may require a steeper learning curve. For example, software such as Voicemod comes with a user-friendly interface and customizable hotkeys, which makes sound effects editing more seamless for everyday users.
Q3 : What platforms is Ice Spice AI Voice compatible with?
A3: Most Ice Spice AI voice generator software is compatible with a wide range of platforms and devices. For example, Voicemod (Windows and Mac) supports popular voice communication software such as Discord, Skype, and Twitch, among others. Similarly, UnicTool MagicVox is known to support different operating systems like Windows and Mac. Clownfish Voice Changer also works with various tools that use a built-in microphone, while UberDuck.ai utilizes web browser platforms when modifying audio files.
Extra Tip: HitPaw Voice Changer - Best HitPaw Voice Changer
With cutting-edge voice-learning technology, HitPaw Voice Changer stands out as an exceptional choice for those seeking a top-notch deku voice changer for PC. It provides an array of voice effects and filters that can be seamlessly applied to the user's voice. The interface is designed to be user-friendly, allowing effortless navigation through various settings and effects. Furthermore, it enables real-time voice modulation during live conversations, rendering it invaluable for online gaming, voice chatting, and voice-over recordings.
Features:
Change your voice with various voice-changing effect in real-time
Integrate perfectly with all popular games and programs
Perfect voice modifier for gameplay, content creator, Vtuber, or live streamer
Remove noise and echo while changing voices
Change voice effortlessly with high quality