Top 7 Scream Ghostface Voice Changers in 2023
When it comes to horror movies, Scream stands out as one of the most iconic franchises, featuring the chilling character Ghostface known for its recognizable voice. Thanks to technology, you can now replicate Ghostface's voice with various voice changers. To help you choose the right one, we've researched and compiled a list of the top 7 scream Ghostface voice changers for 2023.
Part 1: What Does It Mean by Ghost Voice Changer?
A Ghost Voice Changer refers to a type of voice-changing tool or software that allows its users to alter the sound of their voice. Usually, these ghost voice changers specialize in altering the user's voice into that of Ghostface - the iconic masked antagonist from the Scream movie franchise.
The main purpose of these scream Ghostface voice changers is to add an element of fun and excitement to any occasion. Whether it's Halloween season or you just want to pull off a good prank, these ghost face-changer can help add new depth layers to your experience.
Part 2: 2 Best to Enjoy Ghostface Voice Changer APPs
If you're looking to transform your own voice into that of Ghostface - it's easier than ever before with mobile applications. Here are two best Ghostface voice changer apps you can try out:
HitPaw Voice Changer - Best Ghostface Voice Changer
If you're searching for a way to get jigsaw voice to prank your friends in this halloween, the HitPaw Voice Changer tool might just be what you need. This free tool allows users to exprience various halloween voice effects like ghostface, jigsaw, venom and other type sound effects.
Features:
Offer Straightforward interface
Huge library of Horror voice effects like ghostface, jigsaw...
Seamless integration with Live streaming and Gaming platforms
Affordable Pricing as compared to others.
Compatible with Windows and macOS
Here're guide video and easy steps to show you how to get ghostface voice with hitpaw voice changer in this halloween
1.Navigate to the "Settings" menu, then click the drop-down button to select input and output settings.

2.Scroll to the "Horror" part, choose the sream voice effects like ghostface, Jigsaw, Devil and...

3.After selecting the desired sound effects and previewing them, you can adjust the volume according to your preferences.
Scary Voice Changer App (Android)
This well-designed app features a Ghostface and dark interface, adding to its overall functionality.
With several purpose-made scream voices to choose from, users can easily record their own voices and transform them using the custom frequency and pitch settings. Furthermore, this scary voice changer also allows you to edit your recordings and set monstrous ringtones for your phone.
While easy to use, it should be noted that the Scary Voice Changer does not change your voice in real-time - like some other similar apps offer.
Scary Voice Changer(iOS)
If you are an iOS user, you might be interested in trying out the Scary Voice Changer (Recorder). This is a free and easy-to-use Ghostface voice changer with a wide variety of spooky sound effects at your disposal.
With this app, changing your voice to mimic the screams of a creaking door or a spine-chilling animal has never been easier. As well as changing your pitch into anything that Goosebumps will look like a playful experience.
The app features numerous bone-chilling screams and voices to choose from - making it one of the largest collections of its kind available online today.
Part 3: 5 Best Use Ghostface Voice Changers Online
If you're hoping to scare your friends during this Halloween season or prank them with a Ghostface voice at any time of the year. In this section, we've rounded up the 5 best use Ghostface scream voice changers that are available online today.
WooTechy SoundBot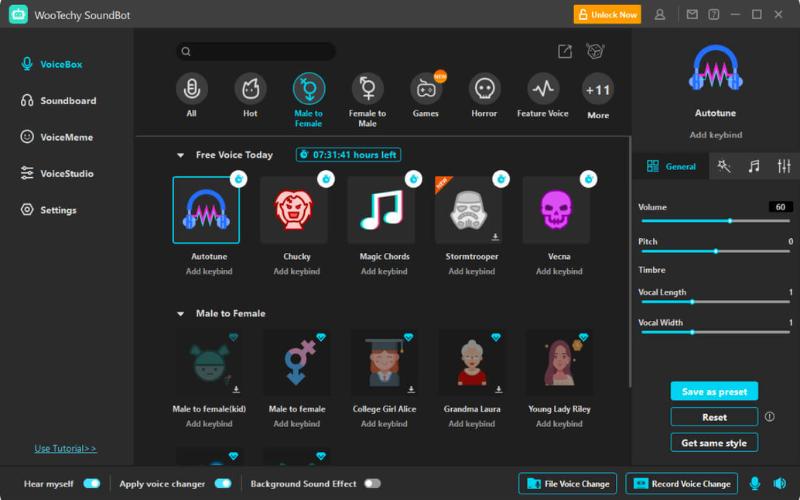 If you are a Windows user and in search of a scream Ghostface voice changer software, WooTechy SoundBot might be the perfect option for you.
With access to over 400 sound effects options and an easy-to-use soundboard, it allows you to create your own distinct screaming Ghostface voice that will have everyone terrified.
Great for use on apps like Skype, Zoom, or even game streaming platforms - this ghost face-changing software supports output sharing to other content platforms, including YouTube.
Pros:
Large library provides more than 400 sound options
Supports several real-time Voice Memes with 200 adjustment options available as applications
Included AI voice demos could assist in creating unique voices
Cons:
Limited capacity for file format modifications
Voicemod
Voicemod is a great Windows 10 voice-changing software that offers top-notch tools and features to help you optimize the quality of your vocal sound.
With advanced editing options, which include backgrounds and supporting sound effects, it becomes a great option for those who want easy access during online interactions or gaming sessions.
Pros:
Allows creation of AI-powered audio tracks,meme based real-time broadcasting effects
Includes countless advanced features offered are free to use
Provides high-level integrations with systems as well as apps.
Cons:
Ads promote paid products or completed version on various updates executed inside the tool itself.
EaseUS VoiceWave
EaseUS VoiceWave is an AI-powered Ghostface voice changer that boasts advanced functionality to make it a standout software among the options available online today.
With access to over 100 unique real-time sound-changing effects and personalized settings adjustment, this voice transformer offers support for popular channels like Discord, Zoom & Skype.
Pros:
Simple User interface design makes it easy to use
Multiple character creation options plus custom offerings
Tonal editing tools increase professionalism allowing users greater customization of output
Cons:
Support is limited primarily to Windows
MorphVox Voice Changer
MorphVox Voice Changer is an excellent Ghostface voice changer app designed exclusively for PC users. With this software, you can instantly get numerous real-time option changes to match and adjust your sounds to various levels of vocal features with ease.
The app provides a Soundboard with pick-list resources featuring essential templates available under key binds during activation.
Pros:
Use the Smart mode feature reduces the natural audio background as interference
Provisioning tools 'Keystroke' largely control tone modifications under critical standard mutations.
Integrate environmental effects in audio content during conversions
Cons:
Users require planned payment subscriptions to access advanced or full-set bundled features
LingoJam
LingoJam is a simpler and lighter online Ghostface voice changer alternative that requires nothing more than a few minutes of users' time.
Once access to your recording devices has been granted, it allows for either pasting or directly adding file storage locations from anywhere virtually in the world.
Pros:
Upload different versions online quick-dial checkbox system easy to use point-and-click options.
Privacy concerns met with data protection measures
The software delivers quality outputs via simple parameters which can be customized with relative ease
Cons:
The software might leave some static sounds noise in output
Final Thought:
If you're a Scream fan or simply looking to add some spookiness to your pranks, getting a Ghostface voice changertool can provide the ideal solution.
There are various choices available both online and offline that allow you to transform your voice into Ghostface's iconic toned speech for creating atmospheric effects in your content.
We recommend you use HitPaw Voice Changer. To find out more about how to get Ghostface voice changer, stay tuned.