[2023] The Secret Behind Elizabeth Holmes's Voice Change
Elizabeth Holmes's voice change was easily one of the most talked about topics, and everyone seems to know about the secret behind Elizabeth Holmes changing her voice.
The previous decade has debated the role Elizabeth Holmes played in scamming the world and how did Elizabeth Holmes change her voice. This post has all the information about Elizabeth and why Elizabeth Holmes changed her voice.
Part 1: Who is Elizabeth Holmes
Before examining how Elizabeth Holmes changed her voice, talking about her personality and ethics is important. Unfortunately, she has been a controversial lady for the last decade. She pretended in 2014 that she could detect diabetes, cancer, and other diseases courtesy of her newly introduced diagnostic technology.
The claim quickly helped her become a billionaire, and Forbes declared her the youngest billionaire. The Inc. magazine went too far, comparing her with Steve Jobs.
Elizabeth Holmes's wonderful voice also played a significant role in her success. After her fraud was caught red-handed, her company collapsed in 2018, leaving her in a difficult position. After going through various trials, the court sentenced Elizabeth Holmes to 11 years, added by 3 months.
Part 2: Why did Elizabeth Holmes Change Her Voice?
The million dollar question that keeps popping up is : why did Elizabeth Holmes change her voice? The fact that changing the voice helped her immensely is quite an interesting gig. There are the three following aspects that prompted the Elizabeth Holmes voice change.
Elizabeth's deep voice assisted her in making an authoritative and powerful woman, which is important for running any field or business destined to be run by men.
People tend to trust and believe others have a low-pitched voice, which has surely benefited Elizabeth Holmes to come in the good book of people.
She had a unique voice differentiating her from all other female entrepreneurs. After knowing the secrets behind Elizabeth change voice, you'd have wanted to make your voice like hers.
Keep reading this post to replicate your voice like Elizabeth Holmes.
Part 3: How to Make Your Voice Sound Like Elizabeth Holmes
After learning about the success Elizabeth Holmes enjoyed by changing her voice, many people intended to make their voice sound like hers to see how their voice sounded.
Surprisingly, you can change your voice manually or use the voice changer, and guess what? We will reveal a couple of fascinating methods to change your voice.
1. Voice Training
Making your voice sound like Elizabeth Holmes isn't difficult if you choose the right selections. Although doing vocal training could be difficult, especially when there are a lot of voice changers in the market, it is still one of the most effective ways to change your voice.
Here's how to do it
1.

Yawning might assist you to make the voice sound deeper. You can stretch the throat and mouth courtesy of the yawning.

2.

Coughing deliberately is another factor that could help you enhance your voice's pitch. Acting upon this exercise ensures that you can make the body organs get exercise, helping you to change the pitch of the voice.

3.

Humming deeply from the throat, with the chin pointed towards the chest and lips parted, helping you to warm up the voice immensely.
Singers and musicians opt for a remarkable warm-up season in the shape of Hum as it gives them the leverage to prepare better and accurately.

4.

You must not speak through the nose but speak through the mouth instead. A deeper voice sounding nasal is fine, but you must try to make your voice deep without the nasal quality. Vocal training could end up helping you to master the Elizabeth Holmes voice pitch and time.
However, you must remain consistent and work hard to make your voice sound like hers. Practicing four hours daily is paramount, so voice training isn't recommended. Thus, you can watch out for the best AI voice changer to replicate the voice of Elizabeth Holmes.
2. Use an AI Tool
Why would you go for the hectic voice training when you've got the best AI voice changer? With offering effortless user interface, and highly professional features, HitPaw Voice Changer makes changing your voice to sound like Elizabeth Holmes pretty easy and pleasing to the eyes. Besides developing several voice filters, the best thing about the HitPaw Voice Changer is its sound quality.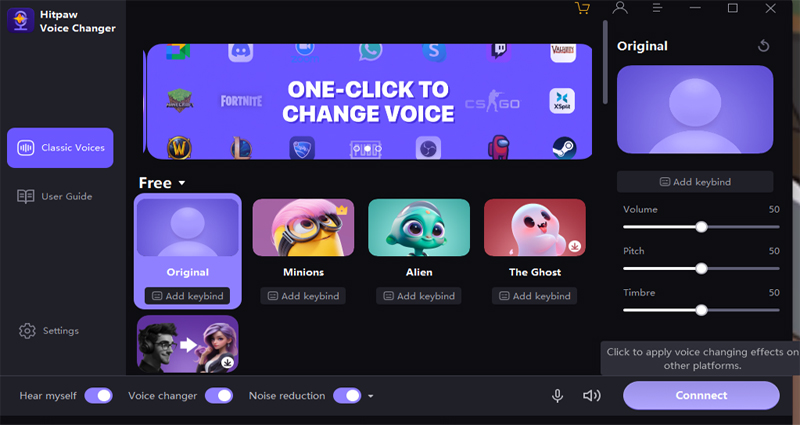 HitPaw Voice Changer isn't only a voice changer and a tool that can customize the audio in real-time, enhancing the gaming and chatting experience. Thousands of people have used the HitPaw Voice Changer and rated it as one of the simplest yet perfect and best voice changers replicating the voice of multiple characters quickly.
You can just sit back and see all the attributes of HitPaw Voice Changer, and one thing is certain you'll be surprised by the breathtaking and mesmerizing voice filters it offers.
Hence, when searching for the best voice changer to alter the voice, you must look within HitPaw Voice Changer as it is the most recommended and reliable option.
Features
Blesses you with the hundreds of AI voices
Allows you to change voice in real-time
It is compatible with multiple online streaming platforms
Helps you to customize the audio parameters of your voice
Comes up with the mind-blowing sound quality
Conclusion
You can note from this informative post why Elizabeth Holmes changed her voice. Although Elizabeth Holmes was a fraud lady who worked against humanity, making the lives of multiple people vulnerable, the Elizabeth Holmes Voice change remains one of the most talked about topics.
Replicating your voice like Elizabeth Holmes is also possible, but you must perform multiple exercises to serve your purpose. Luckily, you can go for the most recommended AI voice changer, HitPaw Voice Changer, to change the voice making it like Elizabeth Holmes.