Unlock AI xQc Voice for Immersive Experience with Ease
Millions of people around the globe intend to generate the voice of their favorite superstar. Since creating the voice of any online streamer or gamer has become possible, the fans of AI xQc voice don't want to hold back from looking for an xQc voice generator.
Get excited to know everything about the xQc AI voice, as we'll also reveal the brilliant tools to generate the xQc text-to-speech voice.
Part 1. Who is xQc?
Felix Lengyal, or the xQc, is a Canadian streamer on Twitch and Kick. He became one of the title players when it was released in 2016 and has been a popular overwatch player. Although xQC was quite famous when he played Overwatch, his career started to peak when he quit Overwatch and opted for Twitch streaming. Despite having some controversies next to his name, xQC has developed a huge fan following, and hundreds of people opt for using the AI xQc voice when speaking in real-time gaming.
The popularity of xQc didn't get restricted to the fan following, but he also became the most-watched content creator on Twitch in 2022. Before joining Twitch, xQC had enjoyed being one of the Overwatch players and got picked to play for Dallas Fuel, making him so popular around the globe.
Part 2. Why is AI xQc Voice being famous?
Despite being so comfortable and popular in Overwatch, xQC decided to leave and later joined Twitch to pursue his career. Surprisingly, he also went on to leave Twitch as Kick, a rival of Twitch, offered him xQC a & 100 million deal for two years, making him part ways with Twitch. He also represented Canada on the world stage, playing the Overwatch final in 2017 and making Canada proud.
The AI xQc became popular as it tends to assist live streamers and content creators in producing synthetic recordings of xQc, making the content top-notch. Since xQc has a unique voice when doing the commentary, everyone uses his voice to make the gaming videos.
Part 3. Best AI xQc Voice Changer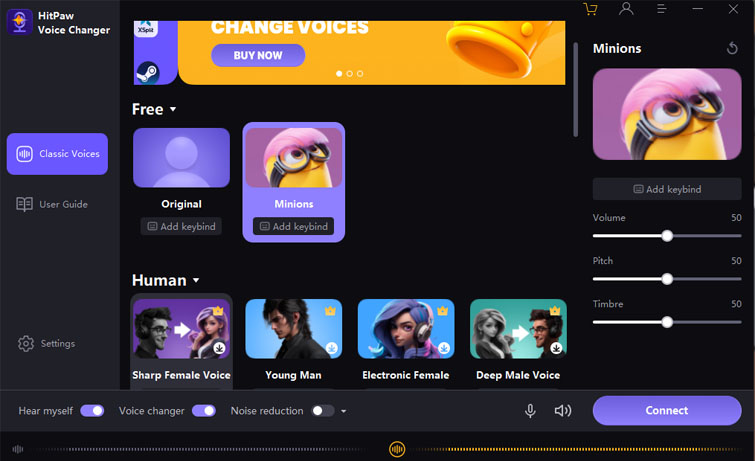 With advanced voice-learning tech, HitPaw Voice Changer is one of the best AI xQc voice changer you can consider. It offers a range of voice effects and filters that can be applied to the user's voice. With user-friendly interface, you can easily navigate through different settings and effects. It supports real-time voice modulation during live conversations, making them useful for online gaming, voice chatting, or voice-over recordings.
A wide range of voice effects and filters include , echo, reverb, robot, alien, etc.
Modify your voice in real-time for online gaming, voice calling, or streaming platforms
Customize and fine-tune voice parameters such as pitch, formant, resonance
Eliminate background noise and enhance the clarity of the modified voice
An intuitive and user-friendly interface that makes it easy to change voices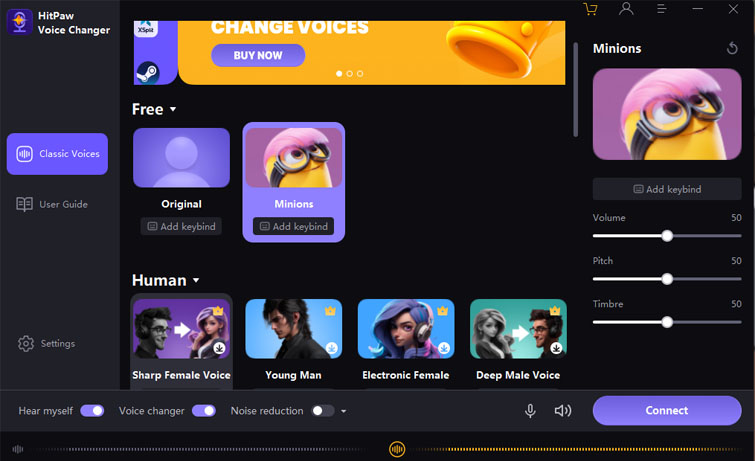 Part 4. Nice Tools to Generate AI xQc Voice
It's always great fun having the leverage to replicate the AI xQc, and this is what this part is all about. Let us introduce the three amazing websites to produce the xQc TTS voice.
1. Generate xQc AI Voice with tts. monster
TTS.monster comes into our minds when opting for the xQc voice generator. This mind-blowing xQc voice changer empowers you to produce the voice of xQc in different languages, including French, Spanish, English, and more.
Apart from customizing the voices, TTS Monster also enables you to generate the most realistic voices. Despite being an online AI voice generator xQc, it gives you complete control over the voiceover, helping you to adjust the pitch and speed of the voice.
Features :
High-quality voices
Custom AI text to speech
Customization options
Affordable pricing
Easy to use
100% safe
Offers the brilliant sound quality
Here's the step-by-step guide to producing the AI xQc voice through TTS. Monster
Navigate to the official website of TTS Monster and press on the Get Started icon. After registering with the personal credentials, you'll need to enter the prompt text.

Select the xQc AI voice from sound options, which will help you turn the text into speech. Preview the voice filter you selected and then download the generated audio to the desired location on the PC. That's all you've had to do to replicate the AI xQc voice.
2. xQc Voice Generator using voicify.ai
Voicify.ai is another tremendous xQc voice generator with plenty of mind-blowing voice options to make your audio content soothing.
This online xQc text-to-speech tool offers smooth working, allowing you to turn text into the voice of xQc in a couple of simple steps.
Features :
Easy to use
Offers the affordable premium package
Comes up with the realistic AI voices
Blesses you with the mind-blowing sound quality
Generate the voice in top-notch sound quality
Follow the instructions below to generate xQc voice via Voicify.ai.
After visiting the official webpage of Voicify.ai, you'll need to select the Text to Speech Mode. Now, you'll need to write whatever you'd like, which will take you to voice options.

Search for the xQc AI voice and then tap on it. After applying the AI xQc voice in the prompted text, you can download the audio file afterward.
3. AI xQc Voice Change with Resemble.ai
Resemble.ai is one of the best online websites to produce voice overs from the text prompt. With the ability to convert text into speech, this top-notch xQc voice generator offers mind-blowing sound quality. It also helps you to generate audiobooks and podcasts in your favorite artists' voices.
The best thing about this remarkable tool is that it offers a manageable user interface; all you require is to visit the official website of Resemble.ai to get things going.
Features :
Comes up with the multiple realistic voices
Offers the simple user interface
Download the generated audio files into MP3 or WAV audio formats
Blesses you with top-notch sound quality
Helps you to turn the text into speech in a few clicks
Here's the insightful step-by-step guide below to turn the text into xQc voice through Resemble.ai.
First, you'll need to navigate the main webpage of Resemble.ai and press on the '' Sign in''. The tool will ask you to log in with the Google account credentials to proceed.

Press on the ''Create icon'' to allow you to type in the prompt text. After typing the desired text, select the language type, voice title, and text you'd like to transform. You can also select the voice filter to turn the text into. After choosing the voice, you'll need to preview the voice.

If you're satisfied with the voice outcome, you must hit the '' Create all'' icon to download the generated audio.
Final Words
Getting access to high-quality AI xQc voice is still a challenge. Luckily, this guide has revealed the three eye-catching websites that assist you in producing the mind-blowing xQc AI voice in no time.
You can look at all the credentials of mentioned websites and see how it pans out for you. We hope this insightful guide will help you get the best xQc text-to-speech generator.