The Most Useful Info You Should Know About Facebook Creator Studio
Have you ever explored the potential of Facebook for creating content, promoting your videos and posts, and leveraging it for advertising? The management of content on Facebook has been transformed by the innovative Facebook Creator Studio, which is a potent tool for creators. Knowing the intricacies of Facebook Creator Studio is crucial for optimizing your reach and engagement, regardless of whether you're an experienced content creator or a beginner. Discover the functionalities of this tool and learn how you can utilize the Creator Studio Facebook features to elevate your content strategy.
Part 1. What is Facebook Creator Studio
1. What is Facebook Creator Studio
FacebookCreator Studio is a one-stop-shop for content creators to effectively manage and enhance their social media presence on the platform. The platform acts as a central location where content creators can upload, plan, and evaluate the effectiveness of their posts on both Facebook and Instagram. Facebook Creator Studio provides creators with a plethora of tools and analytics to help them make informed decisions and connect with their audience in a meaningful way.
2. Facebook Creator Studio Features
The Creator Studio on Facebook offers a wide range of tools that aim to streamline content management and optimize the workflow of creators. Content creators can manage their social media presence effectively using a unified dashboard. They can plan their posts, keep an eye on comments, evaluate their performance metrics, and generate revenue by utilizing Facebook Stars and Branded Content. With its user-friendly interface and powerful analytics, this tool is a must-have for content creators who want to enhance their social media tactics.
The Facebook com Creator Studio is a robust tool that provides a variety of functionalities aimed at assisting content creators in managing and enhancing their Facebook and Instagram presence. Below are some of the main characteristics of Facebook's Creator Studio:
1. Content Management:

Creator Studio allows users to manage and schedule posts across multiple Facebook Pages and Instagram accounts. It provides a centralized hub for content creation, publishing, and organization, streamlining the workflow for creators.

2. Performance Insights:

With Creator Studio, creators can access in-depth analytics and performance metrics for their content. They can track engagement, reach, and audience demographics to gain valuable insights into the effectiveness of their posts and make data-driven decisions.

3. Audience Collaboration:

Creator Studio enables collaboration with other page admins and content creators by providing access controls and permissions. It allows teams to work together efficiently, manage content approvals, and maintain a cohesive brand presence.

4. Monetization Opportunities:

Creators can explore various monetization options within Creator Studio, such as in-stream ads, fan subscriptions, and branded content partnerships. The platform provides tools to manage and track earnings, making it easier for creators to monetize their content and generate revenue.

5. Rights Management:

Facebook Creator Studio offers features to protect and manage intellectual property rights. Creators can monitor and control the use of their content across Facebook and Instagram, protecting against unauthorized use and ensuring proper attribution.

6. Messaging and Engagement:

The platform provides tools to manage direct messages, comments, and interactions with followers. Creators can efficiently respond to messages, moderate comments, and engage with their audience, fostering meaningful connections.

7. Video and Live Streaming Tools:

Creator Studio offers robust video editing and publishing tools, making it easier for creators to upload, edit, and optimize their videos for Facebook and Instagram. It also supports live streaming, allowing creators to connect with their audience in real-time.
3. Who Should Use Creator Studio?
Facebook Creator Studio is a valuable resource for various types of content creators and anyone can get facebook creator studio log in. Whether you are an individual influencer, a small business owner, or part of a marketing team representing a large brand, Creator Studio caters to your needs. It offers a comprehensive suite of tools to effectively manage your content, streamline your publishing process, and gain valuable insights into your audience's behavior. Regardless of your experience level, Facebook Creator Studio is a must-have tool in your content arsenal.
4. Facebook Creator Studio Pricing
The great news for creators is that www Facebook Creator Studio is free to use. There are no additional charges or subscription fees associated with accessing its core features. Facebook believes in providing an accessible platform for creators to thrive and connect with their audience. While there may be other paid advertising options available within the platform, the core functionalities of facebook creator studio desktop remain open and available to all.
Part 2. How To Use Facebook Creator Studio
To make the most out of Facebook Creator Studio, let's walk through the steps of getting started and using its key features effectively.
Sign in to Facebook and navigate to the Creator Studio homepage.

Familiarize yourself with the dashboard layout, which includes sections for content library, insights, monetization, and more.
Connect your Facebook and Instagram accounts to enable cross-platform management.
Utilize the content library to upload, organize, and schedule your posts. Take advantage of the scheduling feature to plan your content calendar in advance.
Engage with your audience by monitoring and responding to comments, messages, and mentions within the Inbox tab.
Dive into the insights section to gain valuable data about your content's performance, including reach, engagement, and audience demographics.

Explore monetization options such as Facebook Stars and Branded Content to generate revenue from your content.
Part 3: FAQs of Facebook Creator Studio
Where is the creator dashboard in Facebook?
To access the creator dashboard in Facebook, simply log in to your Facebook account and navigate to the "Facebook for Creators" website. From there, you can access the creator dashboard, which provides you with valuable tools and insights to manage and optimize your content.
Can I use Creator Studio for my personal Facebook page?
Yes, Creator Studio can be used for both personal and business Facebook pages. Whether you're an individual creator or representing a brand, Creator Studio offers a range of features and capabilities that can be utilized to enhance your content strategy and engagement on Facebook.
How many followers do you need to be a creator on Facebook?
To become a recognized creator on Facebook, there is no specific follower requirement. Facebook recognizes creators based on the quality and engagement of their content, rather than the number of followers alone. However, certain features and monetization options within Facebook Creator Studio, such as Facebook Stars, may have specific eligibility requirements that you can check on the Facebook for Creators website.
Part 4. How To Make Your Text-To-Speech More Funny?
With advanced voice-learning tech, HitPaw Voice Changer can add more fun to your AI generated voices. It offers a range of voice effects and filters that can be applied to the user's voice. With user-friendly interface, you can easily navigate through different settings and effects. It supports real-time voice modulation during live conversations, making them useful for online gaming, voice chatting, or voice-over recordings.
A wide range of voice effects and filters include , echo, reverb, robot, alien, etc.
Modify your voice in real-time for online gaming, voice calling, or streaming platforms
Customize and fine-tune voice parameters such as pitch, formant, resonance
Eliminate background noise and enhance the clarity of the modified voice
An intuitive and user-friendly interface that makes it easy to change voices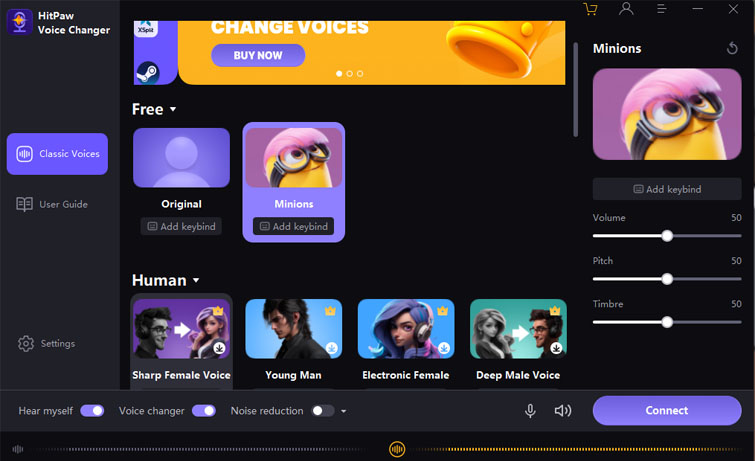 Conclusion
To sum up, Facebook's Creator Studio has revolutionized the way content creators can enhance their reach and influence on the social media platform. Its user-friendly interface and extensive range of functions make it the perfect platform for streamlining content management, scheduling, and analysis across both Facebook and Instagram. Facebook Creator Studio is a must-have for influencers, small business owners, and marketing teams alike. With its powerful tools, you can enhance your content strategy and connect with your audience in meaningful ways.
Feel free to explore the vast possibilities of Facebook Creator Studio and unleash its complete capabilities. And also remember to try HitPaw Voice Changer for more fun!