5 Useful Tools to Generate Pop Smoke Voice in 2023
Pop Smoke was a well-known rapper in the Music Industry; he was known for his distinctive voice and style. If you are a fan of Pop Smoke and want to bring his voice back to life, then you are in the right place. This guide introduces you to the top 5 Pop Voice generators that allow you to get natural-sounding like the rapper. But before diving into the voice generators, we will first learn about Pop Smoke and how he died.
Who is Pop Smoke, What happened to him?
Bashar Barakah Jackson, aka Pop Smoke, was an American Rapper born on July 20, 1999. He started his musical journey in late 2018 with his first single, "MPR (Panic Part 3 Remix)". He became famous by releasing his "Welcome to the Party" breakout singles and "Dior" in 2019.
Pop Smoke was at the peak of his musical career, but sadly, in 2020, the world had to hear the news of Pop Smoke death. He was brutally murdered during a home invasion in LA.
Despite his passing, his legacy continued with his debut studio album, "Shoot for the Stars Aim for the Moon", produced by 50 Cent and released after the death of Pop Smoke. This Album was at number one on the Billboard 200.
5 Best Tools to Get Pop Smoke Voice to Cherish Him
Many fans love his deep and commanding tone and want to copy the rapper's voice for their projects and assignments. Here are the top 5 best online tools to get the Pop Smoke voice to cherish him.
1. Voicfy.ai - Pop Smoke AI Model
Voicify.AI is our list's best Pop Smoke voice changer; this program uses AI technology to alter your voice into any character. It offers over 100 voices, which include iconic figures such as Pop Smoke, Ice Spice, SpongeBob SquarePants and even Donald Trump.
Voicify is an easy-to-use program that can use an AI cover in seconds without professional help. Furthermore, this program will offer advanced features like Text-to-Speech, Video Editor, High-quality changes and more.
Pros
Offers over 100 iconic voices, including the Pop Smoke voice effect.
This program has safe and secure data handling
Fives your lifetime conversion history access
Regular updates to introduce new AI voices
This program has over 1 Million Users worldwide
It has advanced features like TTS, Built-in Video Editor and more
Cons
No free version is available on Voicify
Compatibility
Price
Credit Plan for $8.99/month.
Creator Plan for $24.99/Month.
Power User Plan for $89.9/month.
2. Voicechanger.io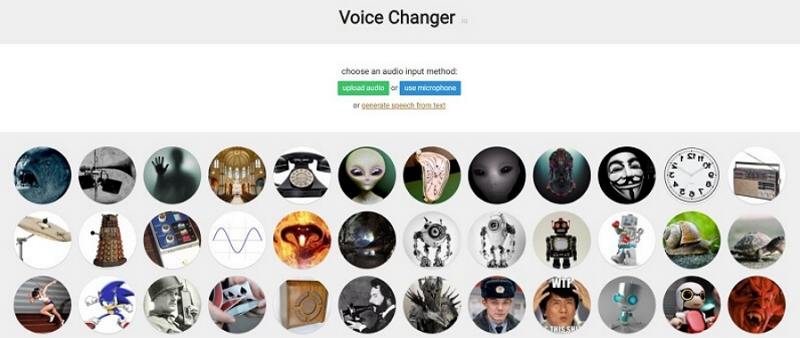 Looking for a voice changer with Pop Smoke AI voice? Then Voicechanger.io can be your buddy. This tool assists you in creating the voice of your favorite celebrities like Pop Smoke, 50 Cent and more. It has over 100 voice effects and 150+ voice memes already available in the Library.
VoiceChanger.io is an online web-based voice changer that lets you change your voice without delay. You can use this program to modify your voice in online classes, live chats, Live streaming, Meetings and more. The best part of Voicechanger.io is that it doesn't require registration or downloading.
Pros
Offers over 100 iconic voices, including the Pop Smoke voice effect.
100+ real-time voice effects
Offers celebrity's voices for free, including Pop Smoke
The online platform, which means no downloading is required
Offers 150+ voice memes
Simple to use
This program provides its services free of charge
Cons
Some voice effects available on this platform are not realistic
Compatibility
Price
3. Uberduck
UberDuck AI is an excellent speech synthesis tool that provides various dashboard options, including TTS, Custom voice cloning, rap creations and more. The best part of the UberDuck tool is that it features celebrity voices, including Pop Smoke AI, Mickey Mouse, Kanye West, Jay-Z, Taylor Swift and more.
Uberduck is one of the most popular voice generators available online. This tool allows you to create new voices and then add them to the voice library for others to use. Other than that, Uberduck is integrated with many famous programs and platforms such as Discord, Twitch, Zoom, TeamSpeak and more.
Pros
Offers over 100 iconic voices, including the Pop Smoke voice effect.
It offers excellent pitch and amplitude adjustments
One of the best Text to Speech tools available on the market
Offers famous voices like Pop Smoke, Kanye West and more
Integrated with platforms such as Discord, Twitch, Zoom and more
Offers a large selection of AI voices
Custom voice creations
Cons
To generate voices on this platform, you must sign up
Compatibility
Price
Creator Plan for $9.99 Per Month
Enterprise Plan for $500 Per Month
4. Fakeyou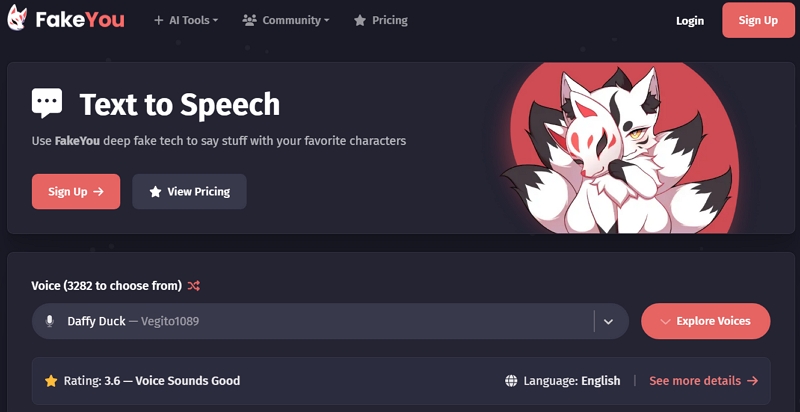 If you want to create AI Pop Smoke voices, FakeYou is the best voice generator available. This tool has the best voice effects, including Aliens, Robots, Monsters, and more. It is an online web-based program, which means no downloading is required.
This program will give you more than 2400 AI voice effects and filters. This program has a simple and easy-to-use interface; just pick a voice effect, input a text, record an audio clip, and watch the magic unfold.
Pros
Allows you to create custom voices by uploading your voice effects
Supports voice-to-voice audio creation
Offers high-quality voice changes
It has many voice effects, including Pop Smoke AI voice.
Online web-based platform
Cons
Some famous voice effects might not be available
Compatibility
Price
Plus Plan for $7 Per Month
Pro Plan for $15 Per Month
Elite Plan for $25 Per Month
5. VoiceMod
The last Pop Smoke Voice Generator available on our list is VoiceMod. VoiceMod is a voice-changing program that alters your voice into any character while playing games and live streaming. With this tool, you will get plenty of sound effects, including monsters, aliens, boys, males, females and more.
The part of this program is that it's compatible with almost every program that supports a microphone. If you want to prank your family and friends by sounding like a smoke voice actor, this program is the best option.
Pros
It allows you to modify your voice into male, female, robot and more
Comes with a high-quality microphone, meaning outputs are pretty clear
Easy to install and use
Enables you to explore various sound effects so you can easily get Pop Smoke voice
Cons
The free version has limited sound effects.
Compatibility
Price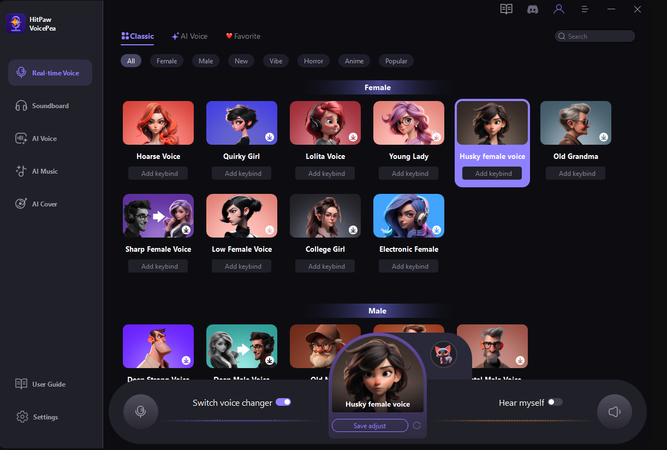 HitPaw is the best voice changer for PCs with a well-designed interface and best for singers. This program lets you modify your voice while playing games and live streaming. It offers top-notch voice-changing features such as TTS, Voice Editor, Cloning, Soundboard and more.
With this voice changer, you will get voices like Pop Smoke, Robot, Alien, Helium, Monsters and more. Further, it is compatible with all the popular services, such as Discord, TikTok Live Studio, Twitch and more.
Features
A wide range of built-in voice effects
Allows real-time voice transformation during live streaming
Offers features like noise reduction and more
Excellent soundboard to adjust volume and pitch of Pop Smoke Singer
Consist of background effects to enhance the experience
Uses AI to generate natural and realistic voices
FAQs of Pop Smoke Voice
Q1. What kind of voice does Pop Smoke have?
A1. Smoke voice actor has a deep, gravelly and commanding voice. His unique vocal style was famous among fans.
Q2. What rapper has the same voice as Pop Smoke?
A2. Dusty Locane has the same voice as the late rapper Pop Smoke. An interesting fact about this is that they both went to the same elementary school. But as we all know, no one can replace Pop Smoke.
Final Thought
In this post, we have introduced the best Pop Smoke Voice changer to help you generate realistic and authentic Pop Smoke Voice. In the end, we have also mentioned the best PC voice changer, HitPaw Voice Changer.