Get the Best AI President Voice Generator to Say What You Want
AI generators have become somewhat of a trend now a days. These tools are used by users all over the world to create voice of different celebrities, including some of the presidents of the US. And hence, President ai voices are in trend and being generated by a huge chunk of people all over the world. This article talks about the top 5 AI tools like HitPaw Voice Changer, Voice Ai that users can use to replicate the President voice using AI and use it for different recreational purposes.
Part 1.

Best President AI Voice Changer to Make President AI Voice

This section talks about the best AI President voice generator tools that can be used now.
1. HitPaw Voice Changer
HitPaw Voice Changer uses machine learning and different complex algorithm to study the vocal characteristics and speech patterns and generate AI-based president voices to suffice your needs. With technological advancement in the AI field has made it possible to generate voices for different US Presidents such as Donald Trump and Joe Biden using this AI voice generator Presidents.
Various voice effects and filters
customize and fine-tune voice parameters
Support real-time voice modulation
Background noise removal
Integration with popular communication platforms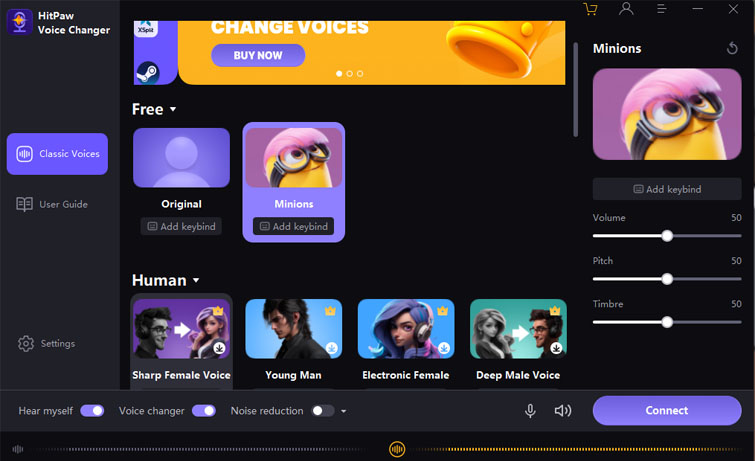 How to use HitPaw Voice Changer
2. Voice.ai Real-Time President Voice AI Generator
Voice.ai is a great AI voice changer that can help you learn how to make President ai voice. The tool provides features to create different types of voices, including the US presidents voices. This tool uses machine learning algorithms to create a realistic AI voice based on the text users input.
Voice cloning technology
Real-time voice changing
Downloadable file formats
Adjustable parameters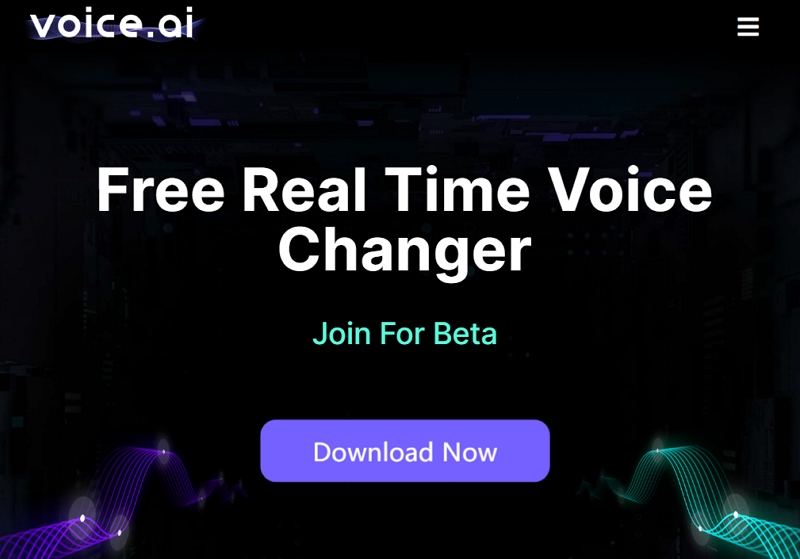 3. MagicMic President AI Voice Changer
MagicMic is one of the top President ai voices changer tools that works on both Windows and Mac computers. The real-time voice changing feature of this tool immediately changes the user's voice as per their needs, with a diverse range of available sound effects.
225+ different AI voice filters
200+ voice memes
600+ voice effects
Voice custom for unique voice making
Sound emulator for direct incorporation in games or other applications
Audio file voice change and voice recording are supported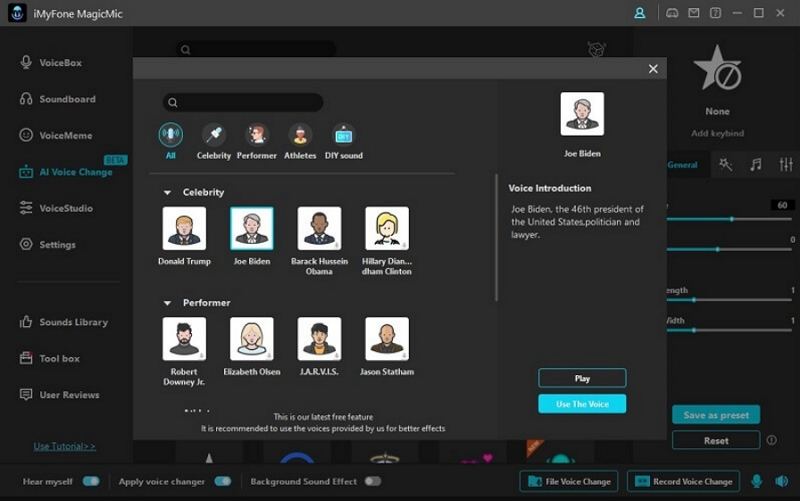 Part 2.

Best President AI Voice Generator TTS for Trump, Joe Biden and Obama

This section talks about some of the best President ai voice generator tools that can be used to create AI-based voice using TTS (text to speed) tech. Have a look.
1. Murf.ai for AI Voice of Presidents
Murf.AI is one of the best Presidents AI voice generator that offers users with a huge library to select from natural-sounding voices in many accents and languages. The audio quality of the end output makes it almost unrecognizable from human speech. The tool's voices can be tweaked with their speed, pitch, and tone tools. Due to this, the tool is compatible for different uses, such as podcasts, videos, and audiobooks, along with the generation of chatbots and virtual assistants.
It is easy to use and makes downloading and generating voice recordings a child's play. Users can preview the audio and adjust settings before knowing how to do President ai voice. In addition to this, the tool is part of a suite of programs to assist users generate better video content.
120+ text-to-speech voices in 20+ languages
Uncluttered and clean interface
Import articles, scripts, and large documents
Filter voices by tone, use case, age, gender, and more
Integrates for voiceovers with Google Slides
Library of templates to use as a starting point for projects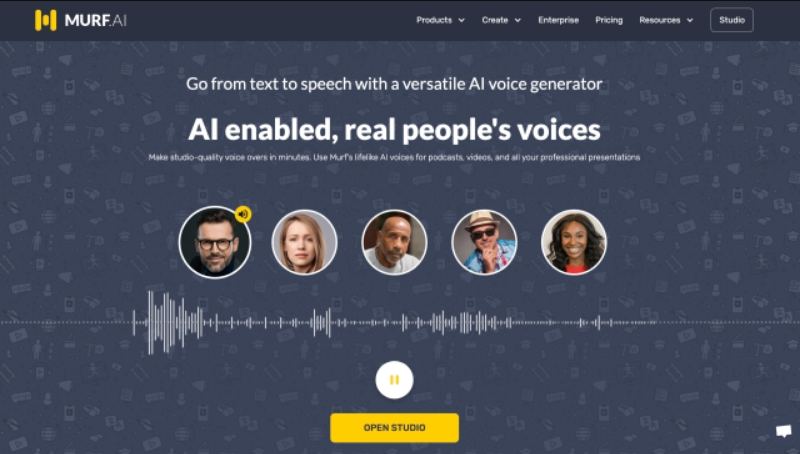 2. ElevenLabs.io AI Text to Speech Voice
With a complicated machine learning algorithm, ElevenLabs.io is an idea realistic President ai voice text to speech generation. Its TTS (text-to-speech) model has no limitations and boundaries. This President voice AI tool can voice anything from a one, short sentence to an entire page or even a whole book, with less time and the same high quality.
Clone your voice or voices from samples
TTS model with a machine learning algorithm
Options for customizing and editing voices
A generative model for generating entirely new voices
Accurate, fast, easy, and secure to use
AI voice generator model that laughs when needed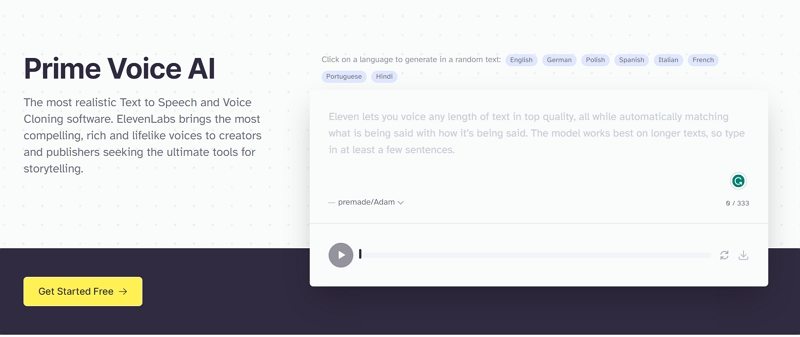 3. FakeYou Text to Speech
Fakeyou is another Presidents AI voice online platform. However, the unique thing about this tool is that it comes with a community-supported user base and the TTS is free. This makes it stand out of the box in comparison to other tools. In spite of being free, it is a reliable AI President voice TTS generator with a sizable library of famous voices. The voices are quite accurate and sound real. In addition to this, the tool processes the TTS very quickly. Users can turn their script or text or voice into any of the voices of presidents for their next project very quickly.
Unlimited generations
Effective outcomes
Provides voice conversation, text-to-speech, and video lip sync features
A straightforward and simple interface that's simple to use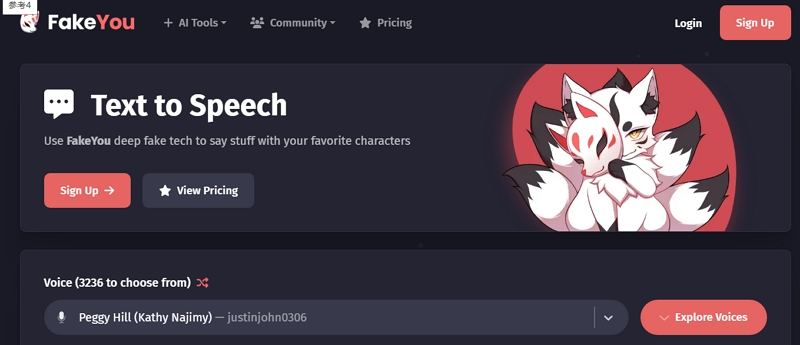 Part 3.

Frequently Asked Questions about President AI Voices

Q1. Can I use a Donald Trump AI voice for commercial purposes?

A1. No! Using a Donald Trump AI voice created by AI voice generators for commercial purposes, such as political campaigns or advertisements, might need obtaining proper permissions and licensing to use the voice of a real president.

Q2. Are there any ethical concerns related to using president AI voice?

A2. The legitimacy of using a President ai voice generator relies on how and where the voice is used. Normally speaking, using the AI voice for non-commercial purposes such as educational purposes and satire is likely to be defended under fair use laws. On other hand, using the voice to deceive people or for other unethical reasons is illegal

Q3. What is the best AI voice generator for Joe Biden?

A3. The tools mentioned above are some of the best options that users can use as AI voice generators for Joe Biden. However, to select any one of the above is entirely a subjective call and users need to see their needs and select from the list to suffice their needs.
Conclusion
All in all, we just had a look at the top President ai voice generator tools. The best one of these tools is HitPaw Voice Changer. You do not need any technical knowledge to use it. Even though it works on complex machine learning and AI algorithms, you do need to worry about how to use president text to speech tools. The AI does the hard job for you of generating the voice for you.