5 Powerful Alternatives of Elevenlabs AI Voice Generator 2023
ElevenLabs AI Voice is an advanced Text to Speech and voice cloning program which creates voiceovers. It is an AI voice generator that can also provide text reader features. The ElevenLabs free version is also available, but people find its premium packages expensive. So, if you are looking for the best ElevenLabs alternatives, we got you covered. In this article, we have mentioned some top tools that you can use instead of the ElevenLabs AI voice generator.
Part 1: What is Elevenlabs AI Voice Generator?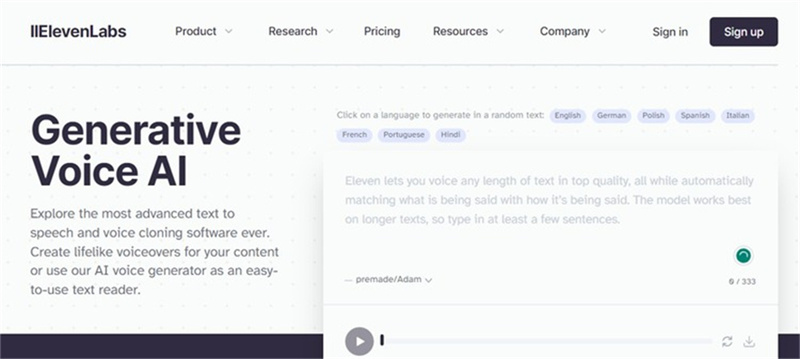 ElevenLabs is a versatile AI voice generator that delivers quality and engaging voiceovers for storytellers. It uses deep learning models to generate audio into different voices and styles. With this tool, you can create audiobooks, video games, chatbots, different news articles, and more. Moreover, it also has a text-to-speech feature that can turn your text into different professional audio. Using this app, you can save time as well as money. It also has a voice cloning feature that can clone any voice.
Features of ElevenLabs AI Voice:
Create voice in different languages with one-click
Best for content creators and storytellers
Users can create audiobooks, chatbots, videos, and more
Convert writing into professional audio using the Speech Synthesis tool
Has a huge voice library
How to Use it:
Go to the official website of ElevenLabs.
There you will see a box where you can type any text.

Once you have written your desired text, choose the required language and tone.

That's it! Now play the audio, and you are good to go. You can also test different other sounds available in the tool.
Price:
Free: $0
Starter: $5 per month
Creator: $22 per month
Independent Publisher: $99 per month
Growing Business: $330 per month
Enterprise: Custom
Part 2: 5 Best Alternatives of ElevenLabs
ElevenLabs text-to-speech tool is best for generating voice, but this tool is a bit expensive and not suitable for individuals. That is why we have mentioned some of the less expensive tools that you can try. Let's discuss these ElevenLabs free alternatives.
1. HitPaw Voice Changer - Best AI Voice Changer for PC
ElevenLabs text-to-speech tool is best for generating voice, but this tool is a bit expensive and not suitable for individuals. That is why we have mentioned some of the less expensive tools that you can try. Let's discuss these ElevenLabs free alternatives.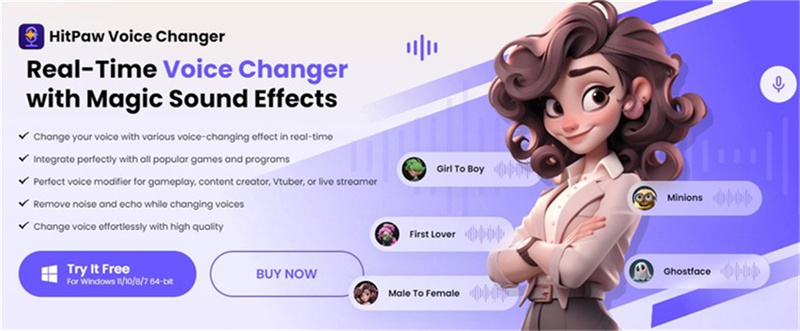 If you are looking for a fast AI voice changer, then what could be better than using HitPaw Voice changer? This software offers multiple sound effects and has vast voice-changing features. It can also remove noise and echo from your videos. Moreover, you can change your voice on all the platforms, including Discord, Zoom, Google Meet, etc.
Pros
Easy-to-use application with an appealing interface
Integrate it with different other famous platforms, including Skype, WhatsApp, Discord, etc
Live Voice changing option is also available
Ideal for gamers, streamers, and teams
Remove background noise with one click
Adjust pitch, tone, and speech
Cons
Developers should add more new features
Price:
Individuals:
1 Month Plan: $15.95
1 Year: $35.95
Perpetual: $65.95
2. Voice.ai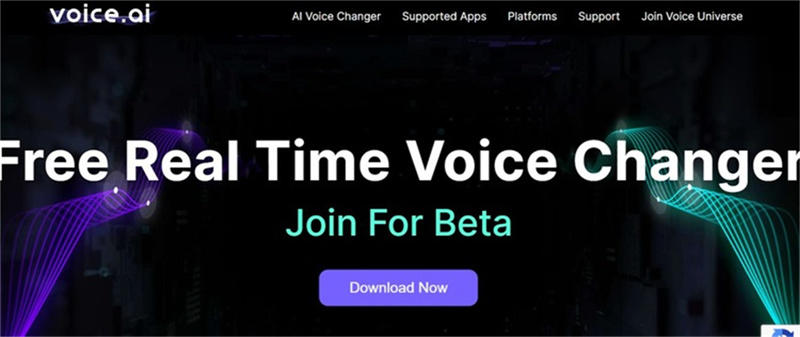 Vocie.ai is an AI voice changer that offers 15 million unique speakers so you can get the perfect voice of your favorite characters. You can download this app on your PC and generate voice in minutes. It can also create a new vocal identity and add different effects to make the voice appealing. This tool is perfect for gamers and content creators. It also has a huge voice library and offers 1000 unique voices.
Pros
Simple interface for beginners
The voice cloning feature is also available
Create voiceovers in minutes
The tool is compatible with different platforms, including Windows, Mac, iOS, and Android
Price: Free version is available
3. Murf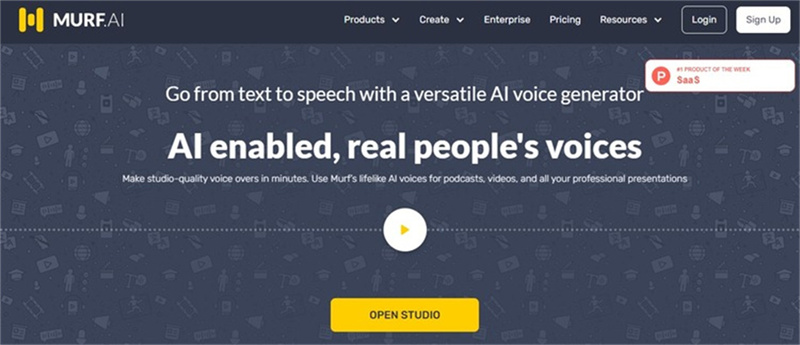 When it comes to voice-changing apps, it is important to have multiple options. That is where Murf comes in. It is an online program that has 100+ AI voices and provides a Text-to-Speech feature. Whether you are a customer support agent or an animator, this tool is for everyone. Moreover, it can also create podcasts, demo videos, and more. You can choose from around 120+ text-to-speech voices. It also supports 20+ languages. They also have a free version that allows you to generate voice for 10 minutes.
Pros
No need to hire a voice artist, as it has 100+ AI voices
Easy-to-use software
Create Spotify ads, IVR voices, and video games
Has a powerful Text-to-Speech feature
A free trial is also available
Cons
A bit expensive compared to other tools
UI needs improvement
Price:
Free: $0
Basic: $29 per month
Pro: $39 per month
Enterprise: $99 per month
4. Speechify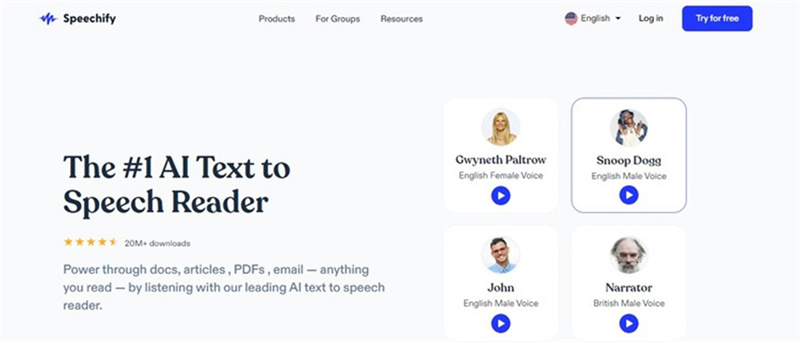 Speechify is a text-to-speech tool that uses Artificial Intelligence technology to convert text into audio format. It can convert long-form articles and blogs into audio. Apart from that, it can also turn your books into audio so that you don't have to read the whole material. It offers different voices, including male and female. Furthermore, it is available for different platforms, including iOS, Android, and the web. It also has a voice clone feature that creates human voices within seconds. You can also try its AI dubbing function to create videos. That means you don't have to use any other AI dubbing artist. Apart from that, you can also use 8000+ licensed soundtracks.
Pros
100% safe and efficient
Read the content faster than other tools
Users can try the free trials
Uses natural-sounding voices to generate results
Offers 24x7 customer support, including chat, phone, and email
Cons
Limited voice options are available
Mispronounce some words and names
Expensive tool
Price:
Free: $0
Professional: $59 per month
Enterprise: Custom
5. LOVO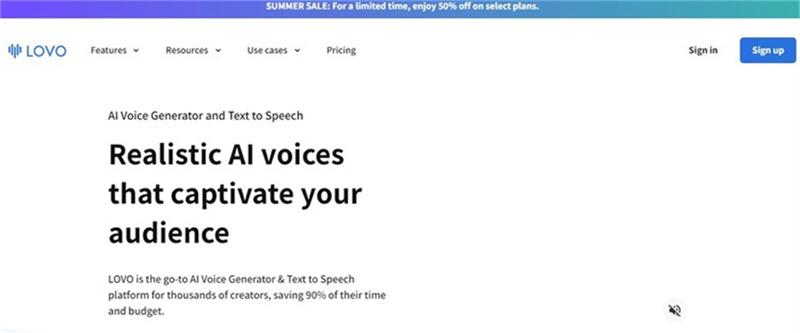 LOVO is a high-quality platform that creates voiceovers using the Text to Speech feature. It supports around 33 different languages and has 400+ voices with different styles. Those who want to add something different to their content should definitely use this application. Apart from generating voices, it can also generate human emotions and give a new look to your videos. You can also upload different scripts to make the voiceovers. So, what are you waiting for? Go download this tool and say no to robotic voices and get a natural tone in minutes. Users can create explainer videos, e-learning material, training videos, and more.
Pros
Offers 400+ voices with unique styles
Has an Intuitive yet full-featured UI
Create content in 100 languages
Save your time and budget
Cons
Can't integrate it with other apps
Some lines and words are not recognized by the tool
Price:
Free: $0
Basic: $25 per month
Pro: $36 per month
PRO+: $149 per month
Part 3: FAQs of Elevenlabs AI Voice
Q1. How much audio does ElevenLabs need?
A1. It doesn't matter how many audio samples you upload on the tool; what matters is the time of the audio. Users can create 2-3 minutes of audio at the start.
Q2. Is ElevenLabs free?
A2. Yes, it offers a free version as well, but you can't find all the advanced features in the trial version, so you have to purchase it.
Q3. How do I add voice to ElevenLabs?
A3. To add the voice, you first have to download the tool. Once done, launch it, and go to the Add voice option. Next, choose the Voice Design, and choose the accent, gender, and age. Now, you will be asked to adjust the accent strength. Once done, input the text and click the Generate option.
Final Thought
ElevenLabs Text to Speech tool is good, but it is quite expensive compared to other applications. ElevenLabs free trials are also available, but users are not satisfied with it. So, if you want to try less pricey tools, then you should definitely try the apps we have mentioned above. All these apps offer more features and are ideal for everyone.