How to Remove Audible DRM Protection in 2023
You may have noticed that when you download Audible audiobooks, you won't be able to play them on all the devices. This is how DRM protection works. DRM protection will prevent you from playing Audible audiobooks on most devices, and you won't be able to share these files with your friends.
The only way to be able to share the Audible audiobooks with your friends and make them eligible to play the audiobooks on their devices is to remove Audible DRM.
What You Should Know About Audible DRM Format AA and AAX
When you purchase a title on Audible and add it to your library, you'll have the option to download the file in Enhanced format (.aax) or Format 4 (.aa). However, Audible has ended its support for the .aa format, and the only supported file extension is .aax The data you store in the Enhanced file format is supposed to get encoded at 64 Kbps which is termed as having the quality of a CD.
Importantly, the Enhanced format is DRM encrypted, meaning you can't play or use the Enhanced formatted audio on every device. Thus, if you're to play the Audible audio, you'll need to remove the DRM protection, and that's what we've talked about in this piece of writing.
Part 1. The Simplest Solution to Remove DRM from Audible AAX Files 
Suppose you intend to remove Audible DRM as you'd have wanted to play Audible audiobooks on a particular device, and DRM protection restricts you from doing that. In that case, HitPaw Video Converter can be ideal for you.
Hitpaw Video Converter is the best Audible DRM removal software that empowers you to get rid of DRM protection quicker than you think. HitPaw Video Converter is an all-in-one solution to convert video and audio files including AA and AAX files.
HitPaw Video Converter Main Features:
Remove Audible DRM automatically
Convert AAX to DRM-free MP3 and M4B formats
Keep original Audible audiobook quality
Batch converting AAX files
120x faster conversion speed
How to Remove DRM from Audible through HitPaw Video Converter 
1.Free download HitPaw Video Converter to a Windows or Mac computer, and choose Audible Converter feature from the Toolbox.

2.Add Audible files (.aa or .aax file) to HitPaw Video Converter. If you haven't downloaded them to computer, please go to audible.com and download the desired files from Library section.

3. Now, you can select an output format. Both MP3 and M4B formats are DRM free after conversion.

4.Finally, we can click the Convert All button to convert all audible files. HitPaw Video Converter will automatically removes DRM from Audible files and convert them to MP3.
That is it. You will get DRM-free Audible files after conversion. HitPaw Video Converter can also removes protection from Spotify, Deezer and Apple Music.
Part 2. An Alternative Solution to Remove Audible DRM with iTunes
If you want to remove Audible DRM, burning the audiobooks to CDs through iTunes will help your cause. After doing it, you'll be able to remove DRM overdrive audiobooks.
Let's talk about DRM removal Audible through iTunes.
1. After launching iTunes, you'll need to add the Audible books you'd like to burn.

2 Now, all you need to do is insert your blank CD into the PC.

3 Once iTunes recognizes the CD, you'll need to right-click on audiobook playlists and select '' Burn Playlist to Disc''.
Part 3. Audible AAX DRM Removal Online 
If you have enough of using the software to remove Audible DRM and are looking for a reliable online tool that can serve your purpose, AudibleConvert won't be a bad idea. The best thing about this online converter is that you don't need to install any software on your PC. Instead, all you need to do is visit the official website of the tool, and then you'll be able to get rid of DRM from Audiobooks.
Pros and Cons of Online Audible Converter
No installation
Free to access
Easy to use
Doesn't support batch conversion
Slow conversion speed
Here's How to Remove DRM from Audible Audiobooks Online
Download audible audibobooks to computer
Visit audibleconvert.com, select "Choose file" to upload an AAX file
Click "Convert" button to start removing DRM from Audible AAX file
After conversion, a new link is presented with the converted audiobook. Click the link to donwload the Audible as MP3.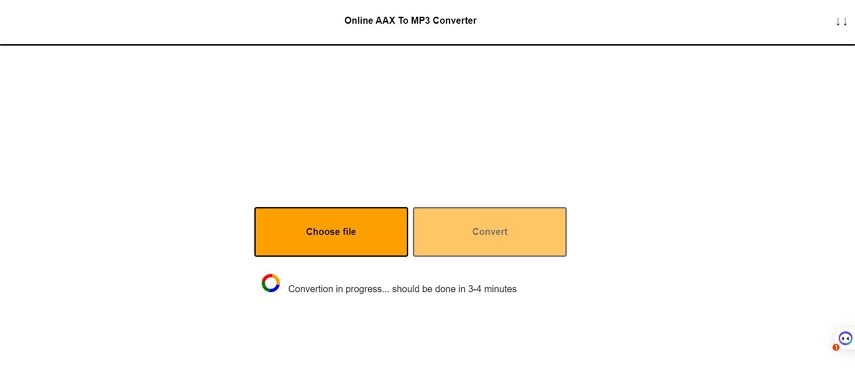 FAQs about Audible DRM Removal
1. Is DRM removal illegal?
It is definitely illegal if you use the converted file for commercial purposes. The methods we recommend are for personal use only, we do not recommend any conversions for commercial use.
2. What is the best way to remove DRM from Audible audiobooks?
HitPaw Video Converter is the best way to batch convert AAX to DRM-free MP3 format. It converts AAX without losing quality and keeps the original meta information. You can listen Audible on any devices you like after conversion.
Closing Words
Finding the best Audible DRM removal tool is not an easy task. However, you can take notes from this guide as we've introduced the most anticipated methods to help you remove Audible DRM protection.
All the tools mentioned in this post make total sense and add value. However, no one can beat the supremacy of the HitPaw Video Converter.
It is a terrific audio converter that removes DRM protection by converting Audible AAX into MP3 without losing quality.