What to Do When Audible App for Windows 10 Not Working
In the fast-paced digital age, audiobooks have carved a significant niche in the hearts of book lovers and busy individuals alike.
With the ability to enjoy captivating stories while on the move, audiobook platforms like Audible have revolutionized the way we consume literature.
Among the diverse range of devices and operating systems, the Audible app for Windows 10 has emerged as a popular choice, providing seamless access to a vast library of audiobooks. Unfortunately, the Audible app for Windows 10 cannot be used since July 31, 2022.
If you're facing a similar issue, this article will provide some simple solutions to help you get back on track.
Part 1. What Happened to the Audible App for Windows 10?
When the new Windows 10 operating system was launched back in 2015, it brought along with it a range of applications including the Audible app.
This allowed users to access their favorite audiobooks on the go, from any device that ran on Windows 10. But after a few years, Microsoft decided to stop supporting this service and removed the Audible app completely from the Windows store.
This left users with no option but to find alternative ways to enjoy their favorite audiobooks. Fortunately, there are still a few options available that can be used if the Audible app for Windows 10 not working is an issue.
Part 2. Alternative Ways to Listen to Audible on Windows 10
There are several options available for users who are looking for an alternative to the discontinued Audible app for Windows 10.
Here are out top 4 picks:
1. AudibleSync
AudibleSync is a dedicated app designed specifically for the purpose of downloading and listening to Audible audiobooks. With its user-friendly interface and a wide range of features, it provides a seamless and immersive experience for book lovers.
How to Use AudibleSync?
Step 1:

Download and install the AudibleSync app on your Windows 10 computer.

Step 2:

Once installed, launch the app and sign in with your Audible account.

Step 3:Locate the desired book in your library and simply click on the "Download" button.

Step 4:

Next up, connect a MP3 player that is compatible with Audible to your computer.

Step 5:To activate your device, simply click on the "Device" icon located on the left-hand side and select the option "Activate Device".

Step 6:Navigate to your "Library" and choose an audiobook. Next, click on "Copy to Device".
2. Audible Manager
Audible Manager is another great alternative to the discontinued Windows 10 app. It provides a sleek and simple interface for users to easily download, manage, and play their favorite audiobooks on any Windows-compatible device.
How to Use Audible Manager?
1.

Launch Audible Manager and navigate to the top-left corner. Click on "File" and then select "Add Audio Files".

2.

Next, you can effortlessly transfer the downloaded Audible files from your computer. Simply navigate to the designated location and select "Import" to complete the process.

3.

Once you've completed that, simply select any audiobook and immerse yourself in its captivating narration.
3. Audible Cloud Player
Audible Cloud Player is a great alternative to the discontinued Windows 10 app. It provides users with access to their entire Audible library without having to download any additional software or apps.
How to Use Audible Cloud Player?
1.

To access your account, simply navigate to audible.com using a web browser on your Windows 10 computer and log in.

2.

To access the content, first choose a title from the "Library" in the top menu, and then click on "Listen now".

3.

Additionally, you have the option to click on the "Download" button to acquire this audiobook and enjoy it offline at your convenience.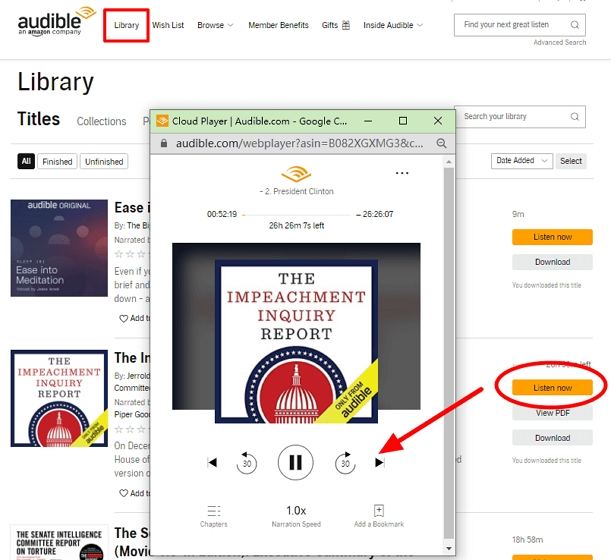 4. Windows Media Player
Windows Media Player is an age-old favorite for many Windows users and can be used to playback your audiobooks. Although it doesn't provide the features that are available with dedicated apps, it still provides a reliable solution for users looking to listen to their favorite books on the go.
How to Use Windows Media Player?
1.

Download Audible Download Manager.

2.

Launch it and select ''general settings'.

3.

In the general settings, you will find several options. Select Windows Media Player to automatically import files once they are downloaded.

4.

Once done, navigate to audible.com and log in. Once you have logged in, the audiobooks you select for download will be automatically imported into Windows Media Player.
Part 3. How to Listen to Audible on Windows 10 without Audible App?
While Audible books can only be downloaded and played on authorized devices, you can convert your Audible files to MP3 format to play on any device. For that there are several third-party tools available that can help you with the conversion process.
However, when it comes to the top-notch quality and ease of use, HitPaw Video Converter stands out from the others.
HitPaw Video Converter serves as a powerful tool for converting Audible files into MP3 format, thus breaking the limitation of playing Audible books on authorized devices only.
This software prioritizes preserving the quality of your audio files during the conversion process, ensuring that your listening experience is not compromised. Its user-friendly interface makes the task of conversion easy, even for beginners.
Additionally, the conversion speed is exceptionally fast, allowing you to enjoy your favorite audiobooks on any device in no time. With HitPaw Video Converter, the restriction of Audible files is no more a concern, thereby enhancing your audiobook listening experience significantly.
How to Use HitPaw Video Converter to Listen to Audible on Windows 10?
Step 1:

Download and install the HitPaw Video Converter from the official website.

Step 2:Once done, launch the software and select the Audible Converter feature from the Toolbox.

Step 3:Download the Audible books to computer, and add the downloaded Audible AAX files to HitPaw Audible Converter.

Step 4:Once the desired files are added in the converter window, you can select an output format: MP3 or M4B with chapters kept.

Step 5:Click Convert All button to start converting AAX files to MP3. The converted MP3 files can be located in the destination folder and can be transferred to any device for playing the audio.
The Bottom Line
Audible is one of the most popular audiobook libraries, and its discontinuation of the Audible app for Windows 10 has been a cause of disappointment for many users. Thankfully, there are several alternative choices that can provide an amazing listening experience for audiobook lovers.
From dedicated apps to third-party tools, this article has highlighted some of the best options for you to enjoy your favorite books on the go. So, be sure to explore them and choose the one that meets your requirements.
And if you'd like to take it a step further and have your audiobooks available on any device, then HitPaw Video Converter can help you convert Audible files into MP3 format with ease. It supports batching converting AA/AAX to MP3 files with fast speed.