[Guide] 10 Best Way Show How to Convert AAX to MP3
With nearly 200,000 audiobooks, Audible is the world's largest audiobook store. However, Audible's most common problem is the lack of ability to upload and transfer all downloaded Audible files to .MP3 players, iPod devices, PSPs, etc. Due to Audible's DRM protection, all of their audiobooks are in AA or.AAX formats. This can be overcome by cracking Audible DRM and converting Audible audiobooks to unprotected .MP3, M4A, M4B, or some other audio format. In this article, we are going to show you two ways to convert.AAX to .MP3 on Mac/PC. Here's how!
What You Should Learn About Everything about AAX?
The industry-leading audiobook platform Audible provides access to a comprehensive library. Audiobooks typically come in.AAX format. AAX formatted audiobook contains images, videos, links, and timelines.
An.AAX file is an audiobook format that combines music and text. Downloads from Audible.com or iTunes Store will come in the.AAX audio format. Auxiliary audio format.AAX is usually compatible with Apple devices and software, such as iPod, iPhone, and iTunes. Let's say you have other platforms and you do not own an Amazon Kindle. There is a possibility that being unable to play the audio version of your favorite book could be frustrating for you. DRM is the technology that Amazon uses to protect these files. Audible audiobooks can only be played back by authorized PCs and players due to this protection.
10 Ways How to Convert AAX to MP3 on PC/Mac?
AAX to MP3 converter is an excellent tool for playing DRM-protected.AA or.AAX Audible files. A lot of brands have free and paid versions available on the Internet. Getting a tool to convert AAC to .MP3 online can be difficult. That's why we are sharing today the top 10 tools. So you can easily satisfy your music craving.
1. TuneFab Audible Converter
TuneFab Audible Converter lets you remove DRM from your Audible books across a variety of platforms. Simply click the button and your files will be converted. There is no need to install any additional apps for conversion as it has been streamlined to avoid complex processes. A unique feature of the tool is its ability to be customized. Audiobooks can be split by chapter, time, or any other option with this free.AAX to .MP3 converter.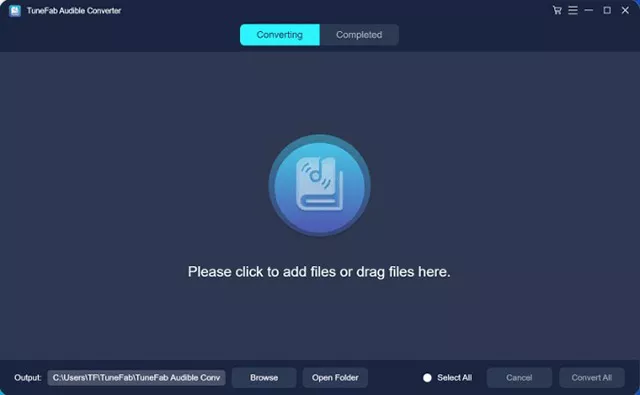 2. InAudible
This product converts Audible audiobooks too.MP3 over an AAC codec, so they are DRM-free. Besides that, the audiobooks are nicely separated into chapters. It is also extremely fast at converting Audible to MP3. However, The .AAX-to-.MP3 conversion process requires two software packages for InAudible. Like FFmpeg or inAudible-NG's tables. Unfortunately, it appears that the tool is only compatible with Windows and not Mac.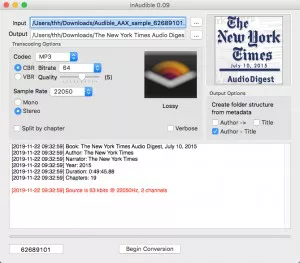 3. Ondesoft Audiobook Converter
A high-quality .MP3 can be converted from Audible AA/.AAX Audiobooks using the Ondesoft Audiobook Converter. The program supports five other audio formats as well: M4A, AAC, AC3, FLAC, M4R, AIFF, AU, and MKA. Furthermore, the converter is extremely fast at converting .AAX to .MP3.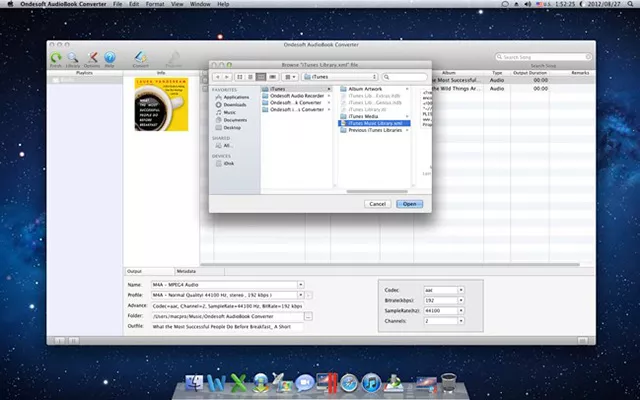 4. Macsome Audiobook Converter
The program is capable of preserving all audiobook features, such as the quality cover, chapter details, and many others. Apple Audiobook Converter for Mac has an awesome conversion speed. This Audible file splitter transforms large Audible files into smaller ones as it works like a big file splitter. File management becomes easier as a result. Despite its high price tag, the tool only has one downside.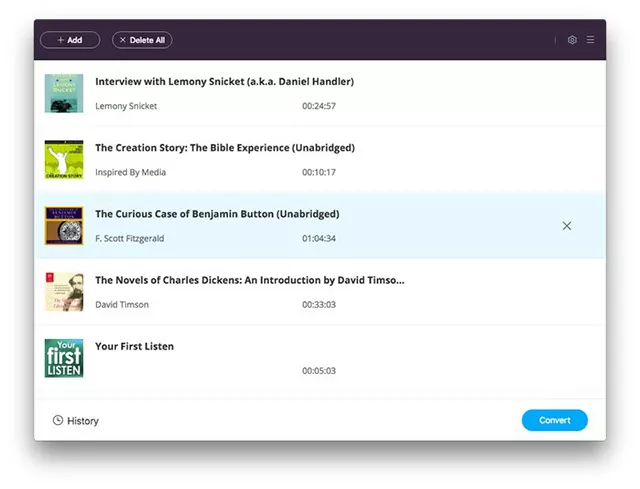 5. TunePat Audiobook Converter
The converter does not require an internet connection, as it allows you to save the files locally on a PC. The TunePat Audiobook Converter can convert AA and .AAX formats into .MP3, M4B, and M4A. This Converter provides the fastest conversion speed while maintaining the highest level of quality.
6. Convertio
Convertio offers a quick and easy way to convert.AAX/AA files into .MP3. It is easy to convert audio files from.AAX to .MP3 using best .AAX to .MP3 converter. It works on Windows and Mac as well as XLD on Mac. Convertio can be accessed through any PC or Mac.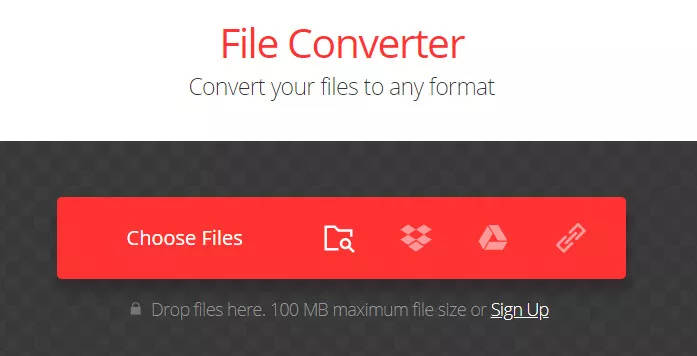 7. Epubor Audible Converter
Also popular is the Epubor Audible Converter, which converts .AAX to .MP3. The software removes the DRM from Audible, which results in a quality-preserved converted audio file. Even though it is a premium program, it offers a free, limited-time trial version for download.
8. Aimersoft DRM Media Converter
Aimersoft is one of the strongest DRM converters on the market. It is a converter that can download digital copyright-protected files from WMV, M4V, and ASF video formats. Despite restricted content, you can enjoy video or music wherever you want after converting. Moreover, it explains how easy it is to convert.AAX files to common .MP3 and MP4 formats. You simply need to import your desired file and click the converter button and your ..AAX or.AA files will be converted to .MP3 or WMA files.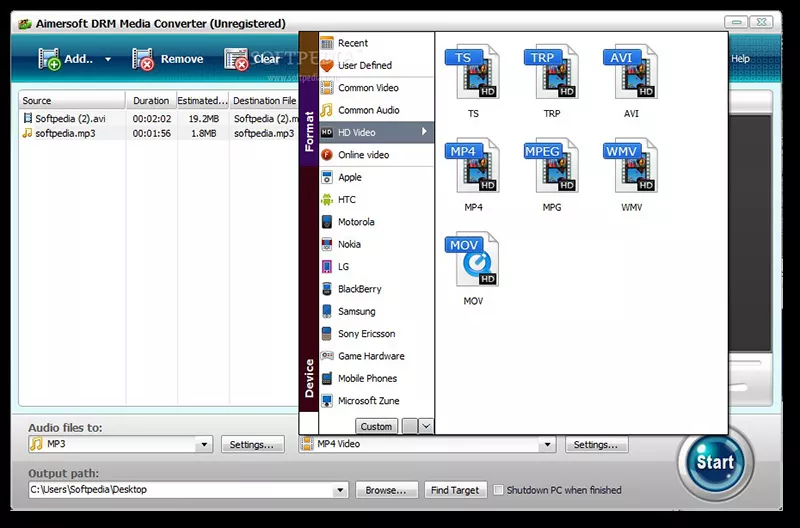 9. Burning to CD method
Windows Audials software is multi-functional and can connect with streaming, universal converters, music libraries, and media centers. Audials Worlds features 14 different functions altogether. The software will allow you to create a virtual CD burner on your computer after installation. To make .MP3 files from .AAX files, burn ( convert) the file to virtual CDs and then rip.
10. Any Audio Converter
Another useful converter on our list is Any Audio Converter. Using this converter, you can convert files such as AAC, M4A, WMA, WAVE, and OGG. You can also convert non-protected audio formats with the software. Similar to Audials, this is a web-based tool. The Audials come at a lower price, however.
The Best Tool to Convert AAX to MP3 on Mac /PC
Since all.AAX files are protected with DRM, A professional.AAX to .MP3 Converter is necessary to convert the downloaded Audible.AAX files to .MP3 on your Mac or PC. We recommend Using HitPaw Video Converter audio and video converter. With HitPaw you can convert.AAX files to.MP3s on both Mac and Windows. This tool enables you to convert Audible.AAX to .MP3 at super-fast speed while maintaining lossless quality by using an industry-leading decrypting technique. Stream yours.AAX converted files freely on your MacBook, MacBook Air, MacBook Pro, Mac mini, iMac, or iMac Pro, or save them for offline viewing.
Converting AAX to MP3 Using HitPaw Video Converter
Go to the official website of HitPaw or click the download button.

Open the software and click the video converter.

Choose AA/.AAX files from your Mac or PC by clicking the Add button at the left. The files can also be dragged and dropped directly into the main window.

You can add more files and choose .MP3 format by clicking Settings, and then use the audio parameters like bit rate, sample rate, channel, and encoder.

Enable hardware acceleration and click Convert All at the bottom and your AA or .AAX DRM protected files will be converted to .MP3. Then open folder and check them.
Frequently Asked Questions
Q1. Can I convert Audible files to .MP3?
Yes, while there are free and paid tools available online that can easily convert your Audible files to .MP3. We recommend using the HitPaw Video Converter It allows users to convert Audible audiobooks to .MP3 in a few clicks. Additionally, it outputs audio formats such as FLAC, WAV, M4A, M4B, etc.
Q2. Can VLC convert .AAX to .MP3?
Unfortunately, VLC is unable to play Audible.AX files, but it can play Audible.AA files. Due to Audible's move to enhanced (..AAX) format only now, audiobooks cannot be downloaded into aa format. You can play the audiobook on VLC despite it not supporting the .AAX format.
Conclusion
With HitPaw Video Converter, you can convert all DRM-protected audiobooks from Audible, including AA, .AAX to DRM-free audio formats, Such as .MP3 or M4B files that are compatible with the majority of popular media players, such as iPod, Kindle, Sony Walkman, iRiver, or other iOS, Android devices.