Top AAX to MP3 Converters You Should Know in 2023
It's no secret that audiobooks are now more popular than ever before, and the AAX is the audiobook format from Audible. The drawback is that the AAX format is DRM protected and isn't compatible with most audio players and devices, which makes it difficult to listen to your audiobooks on the go.
Thankfully, there are a number of AAX to mp3 converters that can help you easily convert AAX files into the universally accepted mp3 format. In this article, we'll take a look at some of the best AAX to mp3 converters available in 2023.
Part 1. Best AAX to MP3 Converters for Windows and Mac
There are a number of desktop software programs that can do the job. Here are our top picks AAX Converter for Windows and Mac users:
Top 1. HitPaw Video Converter (Best Pick)
When it comes to converting Audible AAX files, HitPaw Video Converter is top of the list. This software comes packed with features that make the conversion process simple and efficient.
Not only does it support converting Audible AAX/AA files to MP3 or M4B, but it also removes the DRM protection from AAX/AA files. Plus, it splits Audible books by time/chapters/segments and preserves all chapters and ID3 metadata info.
Plus, HitPaw Video Converter converts Audible books up to 120X faster speed and keeps the original sound quality 100% intact.
So if you want an easy-to-use yet effective solution for converting Audible books into MP3 format, then HitPaw Video Converter is definitely worth considering!
Pros and Cons of HitPaw Video Converter
Easy to use
Batch processing
Convert both AAX and AA files
Fast conversion speeds
Keeps original sound quality intact
Splits Audible books into chapters and segments
Removes DRM protection from Audible books
Preserves ID3 metadata information
Convert AAX to MP3 without iTunes
In addition to Audible AAX/AA files converter, but also HitPaw Video Converter supports videos, audio, and images converter, video editor, compressor, and even AI tools.
You have to purchase a license to use this feature
Top 2. TuneFab Audible Converter
Next on our list is TuneFab Audible Converter. This AAX to MP3 Converter is known for its powerful audio conversion capabilities and intuitive user interface, making it a great choice for anyone looking to convert Audible books into mp3 format.
Not only does TuneFab Audible Converter allow you to remove the DRM protection from your Audible books, but it also ensures that all the chapter information and ID3 metadata is kept intact.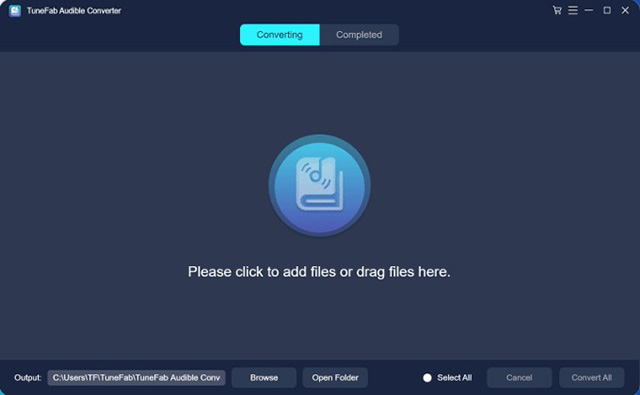 Pros and Cons of TuneFab Audible Converter
Convert Audible AA/AAX to MP3/M4A/FLAC/WAV.
Keeps chapter info intact during the conversion process.
Easy-to-use, intuitive user interface.
60x faster speed.
The free trial is only for 15 days.
Top 3. OpenAudible
Another great AAX to MP3 converter is OpenAudible. It's perfect for Windows, Mac, and Linux users who want more control over their audiobooks. It supports batch processing and can export book lists to formats like MP3, M4B, HTML, JSON, or spreadsheet.
OpenAudible stands out for its professional functions, allowing users to better organize their audiobooks with ease. It also supports a wide range of formats, including MP3, WAV, M4A, and AAC.
Pros and Cons of OpenAudible
Batch processing support.
Convert AAX to MP3, M4B, M4A.
Ease of use.
Works on Windows, Mac and Linux.
Limited editing options.
The conversion speed is a bit slow.
Need to install iTunes.
Top 4. Epubor Audible Converter
This powerful software makes it easy to remove DRM from Audible files and convert them into popular formats, such as MP3 and M4B. With Epubor Audible Converter, you can split a single Audible book into multiple parts by time or chapters and customize book covers and titles to your liking.
Plus, the converter works at an amazing 60X faster speed, so your audiobooks will be DRM-free in no time. With this software, you can also retain 100% original quality and parameters of your audiobooks.
Pros and Cons of Epubor Audible Converter
60X faster conversion speed.
Retain 100% original quality of your audiobooks.
Split audiobooks into multiple parts.
Customize book covers and titles.
The full features are only available for premium users.
Part 3. Top AAX to MP3 Converters Online
The market is full of free online AAX converters. But to get the best quality and highest speed, we recommend the following AAX Converters.
1. AudibleConvert
audibleconverter.com is a user-friendly online AAX to MP3 converter specifically designed for converting AAX files to MP3 format. With its straightforward interface and efficient conversion process, it provides a convenient solution for those seeking a hassle-free conversion experience.
Users can simply upload their AAX files to the converter, select the desired output format (MP3), and initiate the conversion process. The tool also offers additional features like adjusting audio settings and selecting specific chapters for conversion.

Pros and Cons of AudibleConvert
User-friendly interface with a simple and intuitive conversion process.
Requires no installation of third-party software.
Ads-free.
Doesn't support batch convert.
File size limitations may exist for larger AAX files.
Relies on internet connectivity for access and usage.
The conversion speed is slow for converting AAX files
2. AnyConv AAX to MP3 Converter Online
AnyConv is a versatile online file conversion platform that supports a wide range of file formats, including AAX to MP3 conversion. It offers a comprehensive set of conversion tools, making it suitable for various file conversion needs.
Users can effortlessly convert their AAX files to MP3 format by uploading the files, selecting the desired output format, and initiating the conversion process. AnyConv provides a user-friendly interface with straightforward instructions, ensuring a seamless conversion experience.

Pros and Cons of AnyConv AAX to MP3 Converter Online
Supports a vast array of file formats, including AAX to MP3 conversion.
Offers a user-friendly interface with clear instructions.
Allows batch conversion, saving time for users with multiple files.
The website has ads.
Conversion speed may vary depending on file size and server load.
3. Aconvert Audio Converter Online
Aconvert is a robust online conversion platform that covers a wide range of file formats, including AAX to MP3 conversion. This tool provides users with an easy and efficient way to convert their AAX files into MP3 format.
Users can upload their AAX files, select MP3 as the output format, and initiate the conversion process. Aconvert offers various customization options, including audio bitrate, sample rate, and even trimming audio files to a desired length.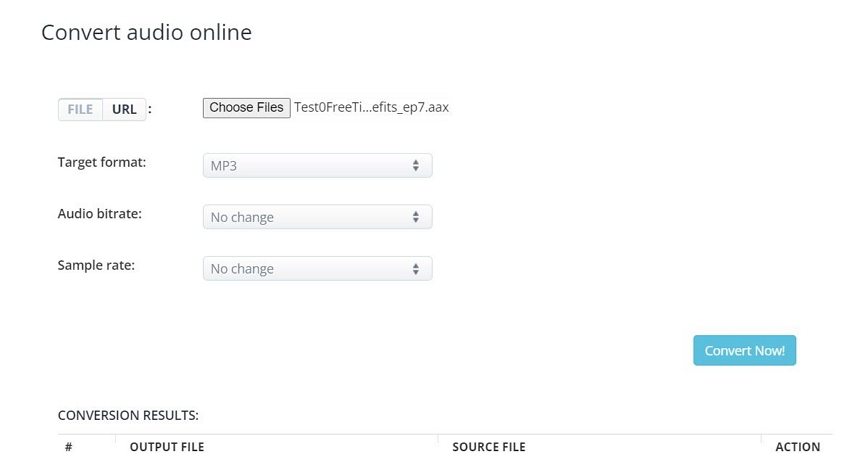 Pros and Cons of Aconvert Audio Converter Online
Convert AAX to MP3 free.
Provides options for adjusting audio settings and trimming audio files.
Allows batch conversion of multiple files simultaneously.
The user interface may appear slightly outdated.
Conversion speed may vary depending on file size and server load.
Part 3. How to Convert AAX to MP3 with HitPaw Video Converter?
Ready to get started? Converting your AAX files to MP3 is fast and easy with HitPaw Video Converter. Just follow these simple steps:
Step 1. Launch HitPaw Video Converter on computer and choose Audible Converter feature from the Toolbox.

Step 2. Now, you can add AAX files to this program. It supports importing multiple files at a time.

Step 3. MP3 is the default format. HitPaw Audible Converter also supports AAX to M4B which will split the audiobooks by chapters.

Step 4. Finally, click the Convert or Convert All button to convert AAX to MP3 in bulk. The conversion speed is super-fast. You can access to the downloaded MP3 files from the Converted tab.
And there you have it. In just a few clicks, you've gone from an AAX file to an MP3.
The Bottom Line
As the popularity of audiobooks continues to soar, having a reliable AAX to MP3 converter is essential for enjoying your favorite titles across various devices. HitPaw Video Converter's Audible Converter is professional AAX to PM3 converter that can deal with hundreds of AAX conversion with 120x faster speed. You don't need to worry about quality loss because HitPaw users the most cutting-edge technology to convert files without losing quality.