6 Programs That Can Help Read Text Out Loud for You
Software that holds the ability to read text out loud is an amazing technology of advanced artificial intelligence.
The read-out-loud text helps content creators, writers multi-task, and marketers to enhance productivity by improving the reading comprehension of the content.
So whether you're a student or a professional wanting to read text out loud, opting for the text-to-speech generator will be huge. This post aims to reveal the 6 stunning programs to read text out loud free.
Part 1: What do People Need to read out loud text Software
Further research has revealed that reading text out loud technology tends to enhance comprehension by allowing the reader to hear and see the material.
This aspect makes the TTS software an appropriate way for students to learn by e-learning and develop optimal knowledge retention.
1. TTS programs can read texts, PDF files, and websites
Text-to-speech tools can read text out loud free while highlighting the target text. Moreover, it also helps the users to listen to different web pages, including blogs or news.
TTS also holds the ability to extract other text files, including plain text, PDF, or Word.
2. Natural-sounding and Multilingual voices
Through advanced algorithms, digital devices might detect your database and convert the speech into picture-perfect sound. Then, through a few simple clicks, TTS technology tends to process the text prompt on the device generating distinct languages and accents.
Part 2: How to Choose Your read out loud text Software
While selecting the read-text-out-loud tools, you can consider the factors mentioned below.
Quality of speech The software you want to read out loud text should produce clear, natural-sounding, and simple speech.
Available languages
Ensure the TTS is compatible with the multiple languages
Compatibility
The software should support the operating system and various software you tend to select.
Customization options
Try looking for software that helps you adjust your speech's pitch, speed, and tone.
User interface
The text-to-read-out loud tool should contain a simple user interface to make it simple for newcomers to read out loud text.
Integration with other applications
If you intend to use the software with the other application, you must ensure that the read my text out loud tool is integrated with the other applications.
Extra features
Some software might offer additional features, including support for multiple voices, the ability to save audio files, and the capability to use custom dictionaries.
Part 3: Top 6 Read out loud text Software Available on 2023
Since read-text-out-loud tools are prevalent, finding the most reliable ones is difficult. Luckily, we have brought 6 amazing text-to-read-out-loud tools for you in this post.
1. Natural Reader
Natural reader is an easy-to-use and accessible text-to-speech tool for educational and personal use.
It has a mini-board feature to read articles, news, and documents, export audio files in MP4 format, and import emotion in free voices. With the ability to convert digital materials into audio, this read-out-loud text tool helped students having learning disabilities to get the information in multiple formats.
2. WordTalk
You can now transform the Microsoft Word document into a brilliant audio experience on the simple text-to-speech plugin, WordTalk. This text-to-read-out loud tool allows you to read entire documents before highlighting the texts in different colors.
Moreover, it gives the user complete control over the listening experience they tend to select.You have got the opportunity that turns the document into MP3 or Wav format for future use.
3. Synthesia
Synthesis uses English videos and text to generate realistic AI female and male voices within minutes.
Moreover, the voice cloning technology of Synthesia supports multiple languages converting the speech into practical voice. All you need to do is write the script, and the AI will start reading text out loud. It removes the need for voiceover artists, microphones, and custom recordings.
4. Descript
Descript is a mind-blowing tool to Clone realistic voices through overdubbed sounds. Re-recording the phrase or Word you missed during the podcast is daunting. But, Descript helps you to serve the purpose quickly.
This read my text out loud tool allows you to clone the voice naturally with a powerful pitch and tone in the sentence's middle. In addition, you've got the leverage to type some words in the transcript only to add them to the voice recording.
5. Murf
Murf AI creates studio-quality voices for podcasts, promotional videos, and e-learning presentations. With the packed studio feature of Murf, you've got the luxury to play with pronunciation, tone, and pitch to generate realistic voices.
In addition, this read-out-loud text tool allows you to tend to add a personal touch to the content by adjusting the speech parameters. By offering 120+ voice characters in 20 languages, the creators can take the opportunity to make their work creative and stunning.
6. Google Cloud Text-to-Speech
Google Cloud Text to Speech offers revolutionary technology that helps you generate lifelike speeches and precise intonation. The read-out-loud text offers a variety of natural voices with more than 50+ languages and 380 choices at the fingertips.
This service helps you to craft brilliant vocal expressions for the brand identity and helps you to engage customers dynamically.
Regardless of the type of text you've been looking to read Aloud, Google Cloud Text to Speech will only make your job look simple and flawless. Hence, you must not ignore the Google Cloud Text to Speech tool when looking to read text out loud.
Part 4: Best Voice Changer to Change the Voice When Reading Text
Here we got the best solution of voice changers, which easily changes the voiceovers to another funny sound and works with your TTS tools. With the arrival of HitPaw Voice Changer, applying voice filters to the audio has become simple. Luckily, HitPaw Voice Changer doesn't distort sound quality, offering a high-quality changed voice for your speech, chat or streaming.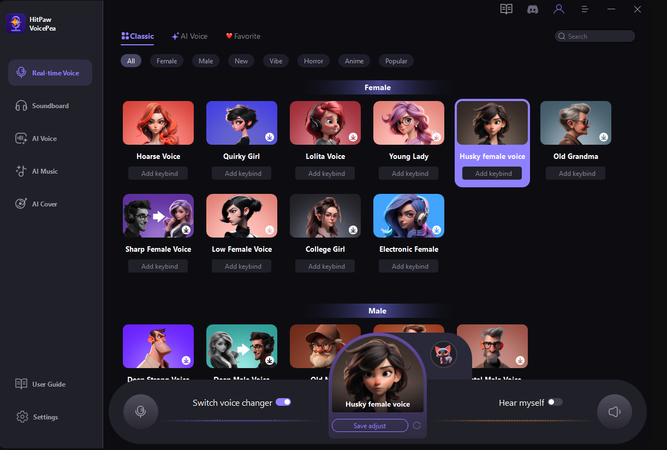 Helps you to produce the most realistic human voices
Offers the intuitive user interface
Integrated with the multiple online streaming platforms
Make your voice sound like the celebrities
Here're easy steps that how you can use HitPaw Voice Changer.
1.Go to "Settings", and click the drop-down button to select the input and output you are using. Then adjust to the volume you prefer.

2.Choose the effects you prefer and try speak into the microphone to listen to the transformed sound of your voice.

3.Adjust the sound effect in the sound settings,you can adjust volume, pitch, timbre of the sound. Then Turn on the "Voice Changer", "Hear myself" and "Noise Reduction" on the buttom.

4.After choosing the effect, simply click the "connect" to changer your voice on other platforms like Twitch, Discord, Steam, etc.
Conclusion
Before reading text-out-loud software, you must know some factors in this post. You can find out the 6 perfect ways to read out loud text after reading this post, as we've come up with the most exciting tools. All the tools we've mentioned for reading text out loud are worth your attention and will help you to read my text out loud in a few moments. And of course, you can use HitPaw Voice Changer for a try.