7 Amzaing Voice Changers for Google Meet You shouldn' t Miss 2023
Google Meet has taken the world by storm, offering seamless video conferencing for professionals and social users alike. But did you know that changing your voice can add a dash of fun or maintain anonymity in your calls? Whether for playful pranks or professional discretion, voice changers are the latest trend for Google Meet aficionados. We'll discuss some of the best voice changer for google meet in this article.
Part 1: Have you Used Google Meet?
If you haven't been introduced to Google Meet yet, it's Google's answer to video conferencing, allowing users to conduct virtual meetings with ease. From business discussions to catching up with friends, Google Meet's versatility is its strength. But why would someone want to change their voice during a call? Imagine hosting a themed virtual party, conducting a mysterious online quiz, or simply wanting to safeguard one's identity in a public webinar. The reasons are as diverse as they are exciting. Voice changer google meet can provide that extra layer of entertainment or security that many users crave.
Part 2: 7 Best Google Meet Voice Changers
In virtual meetings, Google Meet has emerged as a popular platform for both professional and personal interactions. To add a touch of fun or professionalism, many users are turning to voice changers. In this section, we will introduce seven of the best google voice changer that are compatible with Google Meet. For each tool, we'll provide a brief introduction, its price, compatibility, and a list of pros and cons.
An intuitive tool optimized for Google Meet, HitPaw Voice Changer lets users modify and manipulate their voice recordings with ease, ensuring fun and varied audio outcomes.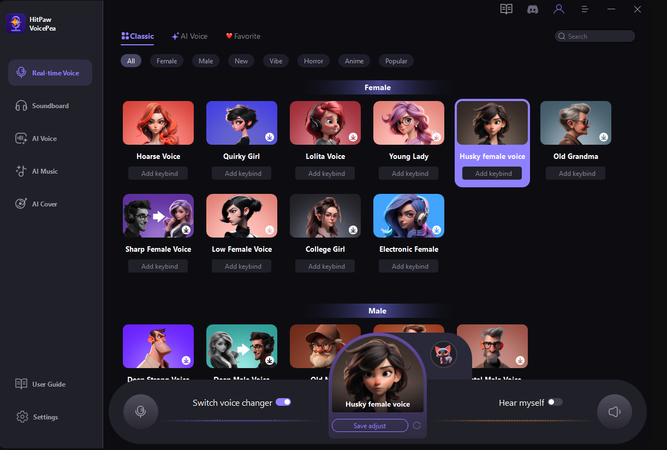 Price: Free
Compatibility: The voice changer integrates perfectly with popular games and programs including Discord, Zoom, Skype, and Google Meet.
Pros
Real-time voice changing with various effects.
Integrates seamlessly with popular games and programs.
Offers noise and echo removal.
Uses cutting-edge AI algorithm for realistic voice changes.
2. AV Voice Changer
Tailored for audio professionals and enthusiasts, AV Voice Changer offers a range of sophisticated features, allowing users to alter and enhance voice recordings for a variety of applications.
Price: $99.95
Compatibility: Works on Windows Vista/7/8/8.1/10
Pros
Allows modification of voice in real-time and in waveform editing.
Provides total control over age and gender of voice.
Features high-quality voice morphing algorithms for natural voice qualities.
Compatible with various online platforms and games.
Offers a batch file morpher for processing multiple audio files at once.
Cons
Requires a system with 1GHz compatible processor, 2GB RAM, and a full duplex sound card.
3. Voxal Voice Changer
With a user-friendly interface, Voxal Voice Changer facilitates real-time voice changing. Suitable for gaming, broadcasting, or pranks, it brings a creative touch to audio projects.
Price: Free
Compatibility: Designed for Windows PC.
Pros
Allows users to change their voice to various personas or creatures.
Features include changing voice pitch and timbre.
Can be used in real-time, enhancing any application or game that uses a microphone.
Offers the ability to apply effects to existing files and save/load effect chains.
Intuitive and simple interface with low processor usage.
4. VoiceMod
Popular among gamers and streamers, VoiceMod delivers a multitude of voice effects, ensuring lively and engaging interactions during live sessions or while chatting.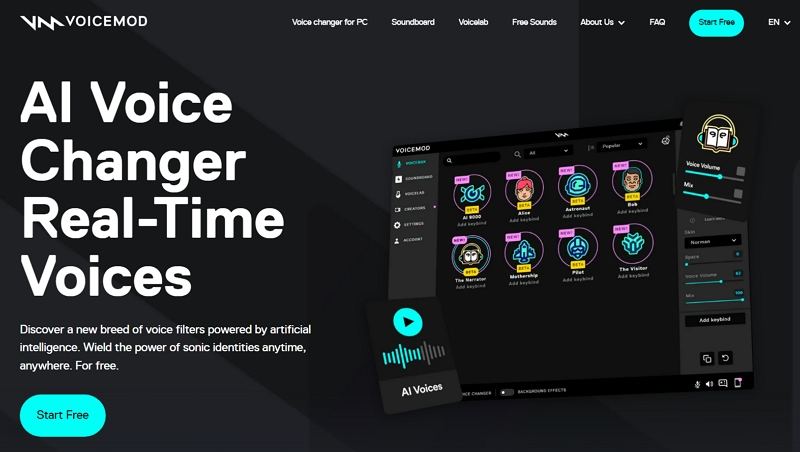 Price: Free (with premium features available for purchase)
Compatibility: Designed for PC and Mac. Integrates with Elgato Stream Deck, Streamlabs OBS software, Twitch, TikTok Live Studio, Audacity, Gamecaster, Omegle, and more.
Pros
Real-time voice modulation with a variety of effects.
Can transform voice to sound like a robot, demon, chipmunk, woman, man, etc.
Compatible with various online platforms, games, and applications.
Features a soundboard for adding sound effects to games.
Allows users to create custom voices with the Voicelab.
Over 90 different voices and effects available.
Optimized for performance, ensuring it doesn't affect game or app performance.
Cons
Might have a learning curve for beginners
5. Clownfish Voice Changer
An all-around voice changer solution, Clownfish is compatible with numerous applications, providing both fun effects and functional voice adjustments.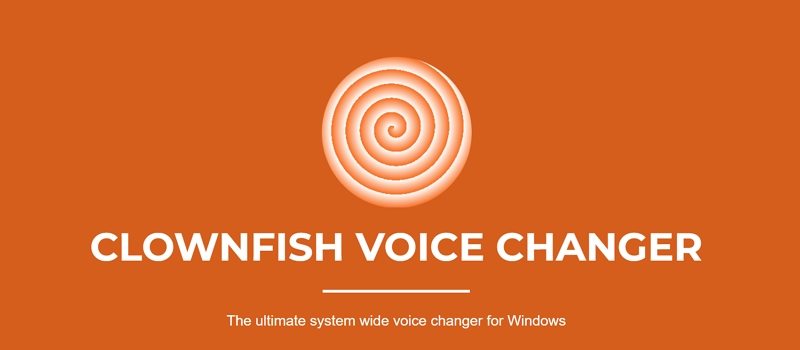 Price: Free.
Compatibility: Supported operating systems include Windows Vista, 7, 8, 8.1, 10, and 11. The software affects every application that uses a microphone or other audio capture device, including Steam, Skype, Hangouts, ooVoo, Viber, Ekiga, Jitsi, Ventrilo, TeamSpeak, Mumble, Discord, and more.
Pros
Offers a wide range of voice effects, including Alien, Atari, Clone, Mutation, Male pitch, Female pitch, Helium pitch, Baby pitch, Radio, Robot, and Custom pitch.
Features a music player with enhanced audio control and a playlist that supports various media formats.
Comes with a sound player with built-in sounds and management.
Provides support for Virtual Studio Technology (VST) plugins.
Easy setup and integration with various applications.
6. MorphVOX Pro
Built for precision and versatility, MorphVOX Pro offers high-quality voice changing capabilities, ensuring users can craft the exact sound or effect they're seeking.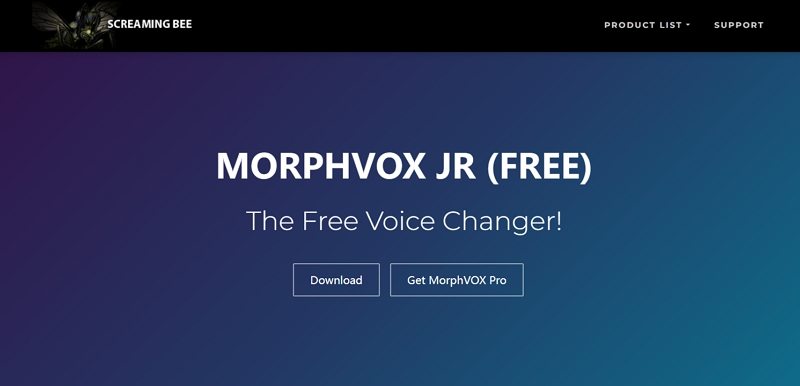 Price: $39.99
Compatibility: Compatible with most popular chat applications, including Skype, Facebook Messenger, Hangouts, and TeamSpeak. It can also alter previously recorded audio files.
Pros
Transforms your voice in real-time.
Offers a diverse range of voices, from children to robots.
Features a ten-band equalizer for sound effects and voice tuning.
Provides high-quality voice changing technology.
Integrates easily with online games and chat programs.
Low bandwidth and CPU usage.
Comes with high-impact sound effects and various voice packs.
Cons
Limited background sounds.
Some effects may be unrealistic.
7. Voicemeeter
More than just a voice changer, Voicemeeter is an advanced audio mixer that allows users to manage multiple audio sources, ensuring seamless audio output and recording.
Price: Voicemeeter is free to use, but users are expected to pay a license fee if they find it useful or for professional use.
Compatibility: Can connect and mix any hardware and software, including professional voice effects.
Pros
Acts as a real mixer, connecting and mixing any hardware and software.
Offers advanced sound morphing technology.
Provides high-quality voice changing capabilities.
Compatible with various online conferencing apps like Zoom and Skype.
Features a user-friendly interface and is easy to use.
Comes with a variety of tutorials, videos, and user guides.
Part 3: FAQs of Voice Changer for Google Meet
Q1. Can I use a voice changer in Google Meet?
A1. Absolutely! Several third-party applications are available that allow users to modify their voice in real-time during a Google Meet session. These tools can add a playful dimension to personal calls or provide an extra layer of anonymity during professional sessions.
Q2. How do I add Voicemod to Google Meet?
A2. Adding Voicemod to Google Meet is straightforward. First, ensure you have the Voicemod application installed on your device. When you launch Google Meet, go to the audio settings and select Voicemod as your microphone. This way, the audio from Voicemod will be used in your Google Meet session, allowing you to utilize various voice effects.
Part 4: Final Thoughts
Voice changers, especially for platforms like Google Meet, have been making waves in the virtual world. They not only infuse a dash of entertainment but can also be crucial tools for those looking to maintain discretion. If you're considering hopping on this trend, give the HitPaw Voice Changer a try. It might just be the game-changer you've been searching for.
Looking for a reliable voice changer for Google Meet? Don't wait! Try HitPaw Voice Changer today!