Discover the Best Upscaling 4K TVs for Stunning Picture Quality
With the rapid technological advancements, the television industry has seen a significant shift towards higher resolutions, offering viewers a more immersive and detailed visual experience. Among these advancements, 4K TVs have become a popular choice for many. But what is 4k upscaling TV and what sets apart the best from the rest? This guide delves into the world of best upscaling 4k TV, exploring their features and benefits and presenting our top picks to elevate your viewing pleasure.
Part 1. What is a 4K Upscaling TV?
4K upscaling is a technological process that enhances the original input resolution of the content. For this upscaling to take place, the input quality must be Full HD, which is 1920x1080 pixels. The upscaling process then elevates this resolution from 1920x1080 to a whopping 3840x2160, commonly known as 4K.
On the other hand, 4K native content means that the content's input resolution is already at 3840x2160. While both native and upscaled content provide the same resolution, native 4K has an edge as it contains more intricate details. It's essential to note that upscaling cannot add details that weren't there in the original content.
Part 2. Top 5 The Best Upscaling 4K TVs
Here we provide you a list of the top 5 best upscaling 4k TV so you can take your pick!
1. TCL 50S425 - 4K Upscaling TV
TCL, a Chinese multinational electronics company, has been making waves in the television industry with its affordable range of high-quality smart TVs.
FeaturesFeatures:
4K Ultra HD Clarity: Offers a resolution four times that of Full HD, ensuring clear and detailed visuals.
High Dynamic Range (HDR): Provides a lifelike picture with better contrast and color accuracy.
Roku TV: Offers smart functionality with access to over 500,000 movies and TV episodes.
Direct LED Lighting: Ensures excellent image quality.
Voice Control: Compatible with Alexa and Google Assistant.
Releasing Year: 2018
Pricing: $384.98
2. Hisense 55H8G - 4K Upscaling TV
Hisense, a Chinese multinational major appliance and electronics manufacturer, is steadily gaining recognition for its affordable yet high-quality televisions and appliances including a 4k upscaling TV.
Features:
Quantum Dot Technology: Provides vibrant colors for an enhanced viewing experience.
Dolby Vision HDR10+, HDR10, and HLG: These technologies offer improved visuals with better contrast and color accuracy.
Dolby Atmos: Ensures immersive audio quality.
Motion Rate Technology: Offers smooth visuals during fast-moving scenes.
Android TV: Easy access to various apps and entertainment options.
Game Mode: Reduces input lag for a seamless gaming experience.
Release Year: 2020
Price: US$609.98
3. Sony X900H - Best 4K TV for Upscaling SD
Sony, a globally recognized brand, has been at the forefront of technological innovation for decades. Known for its commitment to quality and cutting-edge technology, Sony has consistently delivered products that resonate with both critics and consumers alike. This model of Samsung is known to be the best 4k TV for upscaling SD as compared to others in the market.
Features:
4K HDR Processor X1: This processor ensures premium 4K visuals, rich in real-world detail and texture. The 4K X-Reality PRO further upscales everything you watch to near-4K quality.
HDMI 2.1: This feature, set to be available after firmware updates in Winter 2020 and Spring 2021, promises to maximize the potential of next-gen gaming consoles. With standards like ALLM, VRR, and 4K at 120fps, expect reduced input lag, increased frame rates, and ultra-smooth motion.
Smart Android TV with Google Assistant: Control your TV and smart home devices using voice commands, search for shows and movies effortlessly, get answers to your queries, and manage tasks seamlessly.
Bright and Clear Motion: The X-Motion Clarity technology ensures that on-screen action and motion appear clearer and more fluid than ever before.
Release Year: 2020
Pricing: $2598.19
4. Samsung UN65RU7300FXZA - HDTV Upscaler
Samsung, a global leader in technology, is known for its cutting-edge products and innovations in various sectors, including mobile phones, home appliances, and televisions. Samsung provides some of the best upscaling TVs.
Features:
4K UHD Processor: This powerful processor optimizes the TV's performance by upscaling every show, season, and scene with 4K picture quality.
Curved Slim Design: Provides an immersive viewing experience.
Works with Google Assistant/Alexa: Allows voice control and integration with other smart home devices.
Auto Power Off and Eco Sensor: Energy-saving features that enhance the TV's efficiency.
Releasing Year: 2019
Pricing: $1,599.99
5. LG HU70LA
LG, a renowned multinational electronics company from South Korea, is known for its innovative technology and high-quality products ranging from mobile devices to home appliances and televisions.
Features:
Pantalla IPS 4K Real: This feature ensures a wide viewing angle without any loss of color or detail, providing clarity at every moment.
Procesador 4K GEN 3: The a7 Gen 3 4K processor enhances both image and sound quality, offering AI-enhanced images, AI sound, and 4K upscaling.
NATIVO 120Hz: This reduces blur and sharpens details, ensuring smooth frame-to-frame transitions, especially for fast-action movies and sports.
Webs + LG ThinQ AI with Magic Remote: Offers Cinema HDR with Dolby Vision IQ and Dolby Atmos.
Releasing Year: 2020
Pricing: $2899.99
Part 3. Best AI Alternative of 4K Upscaler For TV
For many, investing in a 4K TV might seem like a hefty expense, especially when you're looking for a quick solution to upscale your existing video content. Enter the world of AI video enhancers. Among the myriad options available, HitPaw Video Enhancer stands out as a top recommendation. This software is not just another video quality enhancer; it's an AI-powered marvel that promises to revolutionize your viewing experience.
HitPaw Video Enhancer Features
AI-Powered Excellence.
Up to 8K Resolution.
Mature AI Technology.
User-Friendly Interface.
Preview Without Watermarks.
Automatically upscale video.
Enlarge low-resolution videos.
Expert noise reduction for videos to get rid of blur.
Exclusive designed AI to repair videos of anime and human face.
Flawlessly colorize black and white movies with high quality.
Steps To Use HitPaw Video Enhancer
Using Hitpaw Video Enhancer is easier than you think. The simple user interface has been designed to make it easy for beginners and experts alike.
Step 1. Download and Install
Begin by downloading the software from the official HitPaw website.

Step 2. Upload the Video
Once installed, launch the software and either drag & drop your desired video or click on 'Choose File' to import it.

Step 3. Select an AI Model
Depending on your video type, select one of the four AI models. Whether it's a real scene, animation, human face, or a black and white video, there's a model tailored for your needs.

Step 4. Preview & Export
After processing, preview the enhanced video. If satisfied, click on the 'Export' button to save your upscaled video.
For those looking to upscale multiple videos simultaneously, HitPaw offers a batch processing feature. Simply upload all the videos, select an AI model, preview each video, and export them all together.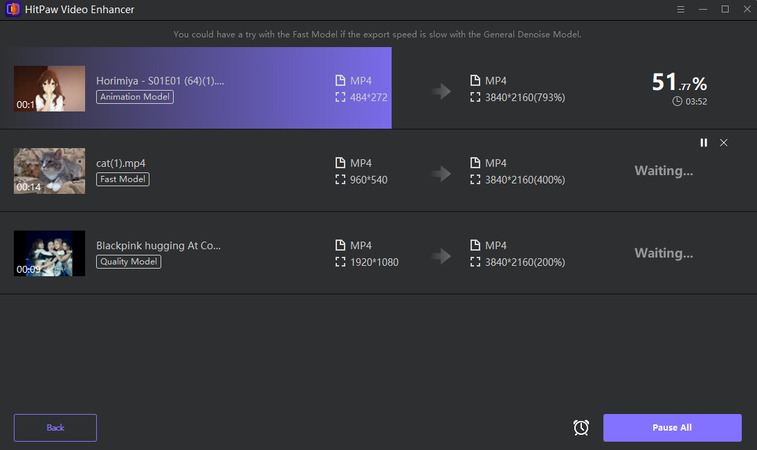 Part 5. FAQs of Best Upscaling 4K TV
Q1. Do 4K TVs upscale?
A1. Yes, there are TVs that upscale to 4k, They are designed to upscale content. Upscaling is the process of enhancing the original input resolution. For instance, if the input quality is Full HD (1920x1080), the TV will upscale or enhance this resolution to 4K (3840x2160). This ensures that viewers get a clearer and more detailed picture even if the original content isn't in 4K.
Q2. Does Apple TV 4K upscaling?
A2. The Apple TV 4K does have upscaling capabilities. The 2022 Apple TV with the A15 chip has sparked discussions about its upscaling quality, especially when compared to its 2021 predecessor. While Apple doesn't explicitly detail its upscaling techniques, users have noted that upscaling is crucial for 4K TVs when streaming content in 720p or 1080p.
Q3. Is 4K upscaling as good as 4K?
A3. While 4K upscaling and native 4K both offer the same resolution, native 4K provides a superior viewing experience. This is because native 4K content already has an input resolution of 3840x2160, meaning the picture contains more detail. In contrast, upscaling enhances the original resolution to 4K, but it cannot add more detail to the content.
Bottom Line
The world of 4k upscaling TV and upscaling technology offers viewers an unparalleled visual experience. We have provided a list of the best TV for upscaling SD. While native 4K content provides the most detailed and clear images, upscaling technology ensures that even non-4K content looks better on TVs that upscale to 4k. However, for those who find purchasing a 4K TV too expensive or cumbersome, AI video enhancers like HitPaw Video Enhancer come to the rescue.
With its mature AI technology, user-friendly interface, and watermark-free previews, HitPaw stands out as a top recommendation. If you want to elevate your viewing experience without investing in a new TV, try HitPaw Video Enhancer. The future of video quality enhancement is here, and it's powered by AI.