5 Most Realistic Text to Voice Generator You Can Try
Text to speech or text to voice is a latest and advanced technology that is used by many content creators and businesses for different professional and personal use. The major reason that people use this tech is because it is easy to use and is cost effective. Instead of shelling out money for professional sound and voice artists, people tend to use AI-based text to voice generators to suffice their needs. This article is shed some light on this technology and will list some of the best tools that users can use to get hands on this tech.
Part 1. What is Text to Voice?
Before moving to the actual list of some of the best text to voice generator tools, let us have a look at what this technology is. Text to voice is nothing but an assistive technology that reads out text. With different AI-based tools, users can use this tech to enter words and convert them into audio. The text to voice AI technology is very useful for people who struggle with reading. In addition to this, the tool can be used for editing and writing as well.
Part 2. The Benefits of Using Text to Voice Generator
Using a text to voice converter provides different benefits. Below are some of the advantages that users get:
1. Time-Saving
Text to voice free generators can greatly save time, particularly for tasks that consist reading huge chunk of text. Rather than spending hours reading, you can listen to the speech created using the AI-based tools at a quicker speed, which elevates overall efficiency and productivity.
2. Increased Engagement
With the help of synthesized free text to voice tools into websites, applications, or presentations, people can improve user engagement. It includes an interactive factor and can be used to represent explanations, instructions, or narrate multimedia content, leading to a more engaging and immersive experience.
3. Content Creation
Text to voice online generators can be utilized for creation of content. These tools enable users to convert text content into audio format, which can be helpful for video voice-overs, audiobooks, podcasts, or generating accessible versions of written content.
4. Cost-Effective Solution
Rather than hiring professional voice actors to convert text to voice, using such tools can offer a cost-effective solution. It gets rid of the requirement for extensive voice-over production and permits for on-demand audio creation.
5. Multilingual Support
Most of the text to voice generator free tools supports different languages, allowing users to convert text into audio in several languages. This feature is specifically helpful for language learning, international communication, or reaching a diverse audience.
Part 3. Free Text to Voice Generator to Convert Text to Voice
This section talks about different text to voice reader tools that can be used by people for their needs. Have a look.
1. Play.HT Text to Voice Generator
Play.ht is a free text to voice generator with more than 570 AI voices in almost 80 different languages. The tool is used by more than 7000 users all over the world. With this tool, you can instantly generate high-quality audios and download them in different formats. You can also get commercial rights for all the media you create, and that without any extra fee. This includes getting broadcast rights as well for generated voices in audiobooks, podcasts, and blogs.
The paid version of the platform comes with a cost of $19 per month and $14.25 per month (if opted for annual plan). The tool also has a free plan that can be used when you sign up. You can only test the basic features with the free version.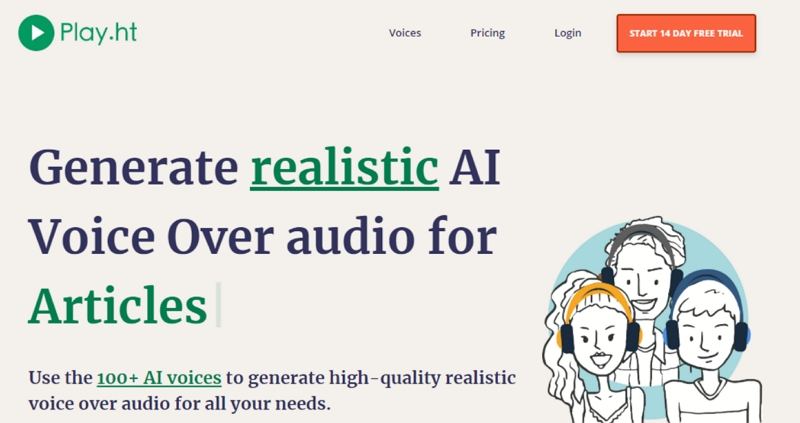 Pros
Personalized voice cloning to create powerful voice results
Revise the audio until you get the desired quality
Personalize pronunciations of significant words in their script
Set a different tone for every part of the script
Come with a cloud storage to save audio files
More than 100 realistic voices
Useful for teaching language classes
Cons
Costly for individual users
2. VEED.IO Text to Voice Generator
Many text to voice over tools are too complicated for people who are new to this filed. Even for experts, you still have to spend a huge amount of time to use tool before get to convert the text to voice. VEED.IO makes it simple for anyone with even basic computer knowledge to make great voice overs from the text without any experience or training in the field. You can use it to create impact content by customizing text and script. Users can even edit videos using this tool to add a different touch to the content.
Pros
Fantastic customer support
UI is very simple to use and makes using it pretty simple
Powerful AI text to voice generator
Great support service
Cons
Free version comes with basic features and advanced features are missing
The offline tool on PC and Mac is sometimes glitchy
The tool crashes every time on the timeline if users try to edit anything
3. Google AI Text to Voice Generator
Being one of the best text to voice tools, Google Cloud Text-to-Speech is yet famous AI-based TTS tool that converts text into voice. It provides more than 220 voices in different languages and can be integrated easily into your applications. On the other hand, it can also be costly for high usage and some people have reported less natural-sounding voices. The API offered by this tool is very simple to use and integrates easily. This does not need users to be an expert or something. On the other hand, to use those APIs, users will need some technical know-how.
Pros
Richer user experiences
Synthetic speech to offer differentiation in pronunciation
Good web interface for simple tasks
Cons
Costly for bulk processing
Not so realistic voice
Random error occurrence
APIs are not that effective
Not good for users who speak languages other than English
4. Text to Speech Voice Over
Murf.AI is an AI text to voice generator that is versatile and powerful. It offers you with a huge range of realistic voices in different accents and languages. The quality of the audio generated makes it almost unrecognizable from human speech. The voices can be tweaked with their speed, pitch, and tone tools. This makes it ideal to be used for podcasts, videos, and audiobooks, along with creation of chatbots and virtual assistants. The Ui of the tool is simple-to-use. Users can adjust settings before creating the end output audio file.
Pros
Trusted by industry
Easy to use
Many perfect AI voices
Cons
Excellent for teams, but pretty expensive for individual users
5. NaturalReader
NaturalReader is a text to voice generator that comes with AI voice generation for quality output to users. With this tool, not only can users easily convert text into AI-based speech, but it also has a drag-and-drop functionality that is compatible with Word and PDF files, as well as more than 20 other file formats. In addition to this, the tool also has OCR technology that can convert text to voice in scanned and images files.
One more interesting feature of the tool is its pronunciation tool. Users can adjust the pronunciation of any word and replace it with more phonetically right, or tweak the output word completely.
Pros
Available online, as well as on both Mac and Windows
Free extension on Chrom
Free for 20 minutes per day
WebReader Widget
Cons
Can sound stilted
Heavily used on YouTube
Extra Tip: Make the Most Realistic Voice with HitPaw Voice Changer
HitPaw Voice Changer is an AI-powered tool that utilize artificial intelligence technology to modify and alter the sound of your voice. IIt is able to transform the pitch, tone, and characteristics of a voice, allowing you to mimic different voices or create entirely new ones. If you need to generate highly realistic and natural-sounding voice, HitPaw Voice Changer will be a nice choice for you.
Various voice effects to change voices at your will
Speak and have voice altered instantaneously
Adjust various to customize desired voice output
Best for online gaming, streaming, or creating voiceovers for videos
Easy to use and no technical skills required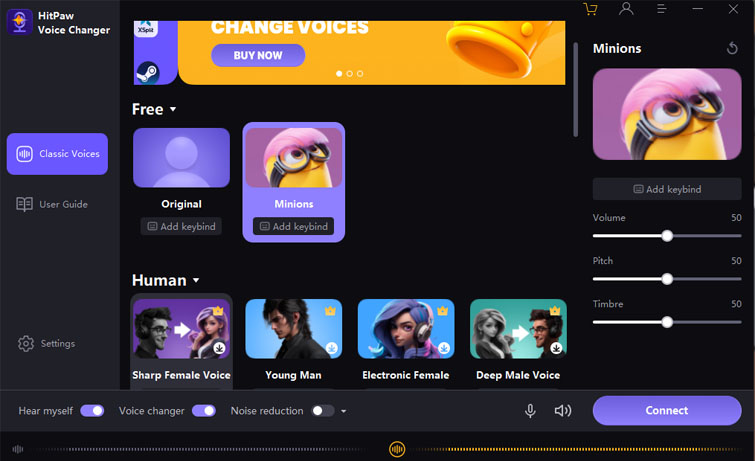 Conclusion
All in all, we just had a look at what text to voice AI technology and what are the advantages of using text to voice generators. We also had a look at different tools that can be a great text to voice converter. You can use any of the tools mentioned above to suffice your needs. You can also use HitPaw Voice Changer to generate highly realistic and natural-sounding voice.