Enhancing Gameplay Experience: Moonbase Alpha Text to Speech
Are you ready for a gaming experience combining humor, creativity, and robotic voices? Look no further than Moonbase Alpha, the game that takes text-to-speech to a new level. Developed by Army Game Studio in collaboration with NASA Learning Technologies, this simulation video game has captured the hearts of gamers worldwide.
With Moonbase alpha text-to-speech capability, players can make their characters say anything they desire in a hilarious robotic voice. But the story behind Moonbase Alpha's text-to-speech software goes beyond gaming. Join us as we explore the origins of this feature and how it has transformed gameplay into a comedic adventure.
Get ready to enhance your gameplay experience with Moonbase Alpha's captivating text-to-speech feature.
Part 1. Moonbase Alpha: An Overview
Moonbase Alpha is not your typical video game. It's a real-time simulation that allows players to experience the thrills and challenges of life on the moon. Released by NASA on the popular video game platform Steam in July 2010, Moonbase Alpha TTS aims to educate and engage players in the possibilities of lunar colonization, exploration, and research.
One notable feature of Moonbase Alpha is its incorporation of a text-to-speech program called DECTalk. Developed by Digital Equipment Corporation in the 1980s, DECTalk has a rich history and gained recognition through its association with the legendary physicist Stephen Hawking, who relied on the technology to communicate as his ALS progressed.
1. Purpose And Functionality Of Text-To-Speech In The Game
The text-to-speech feature in Moonbase Alpha serves a vital purpose. DECTalk brings the characters and the lunar environment to life as players navigate the game's challenging tasks and missions.
It converts written text into spoken words, creating an immersive player experience. Whether receiving mission briefings, communicating with fellow astronauts, or hearing alerts and warnings, the text-to-speech functionality adds a layer of realism and excitement to the game.
2. Benefits Of Incorporating Text-To-Speech Technology
The integration of text-to-speech technology in Moonbase Alpha offers several benefits for players. Firstly, it enhances accessibility by providing an alternative means of communication and engagement. Players with visual impairments or those who prefer auditory cues can fully participate in the game and enjoy its immersive elements.
Secondly, moonbase alpha text-to-speech technology adds a touch of charm and personality to the game. DECTalk's distinct robotic voice and nostalgic association with Stephen Hawking give Moonbase Alpha a unique and memorable character. It adds a sense of futuristic wonder and authenticity to the lunar environment.
Furthermore, the text-to-speech feature fosters a sense of teamwork and collaboration among players. As they work together to complete life-saving tasks and solve challenges, the ability to communicate through spoken words enhances coordination and ensures that everyone is on the same page.
Lastly, the utilization of DECTalk in Moonbase Alpha is a tribute to the advancements in assistive technology and its profound impact on individuals like Stephen Hawking. It highlights the potential of technology to empower and enable individuals with disabilities while also reminding us of the remarkable progress we have made in making communication more accessible.
Part 2. Implementation of Text-to-Speech in Moonbase Alpha
Inspired by the iconic DECTalk text-to-speech technology, famously used by Stephen Hawking, developers incorporated a version of the software into the game.
This allowed players to bring their words to life with synthesized voices reminiscent of the renowned communication device. It was a delightful addition that added a unique twist to the Moonbase Alpha experience.
Interacting With The Text-To-Speech Functionality
Utilizing Moonbase Alpha's text-to-speech feature was a breeze. All it took was a few keystrokes. Players simply had to type in the words they wanted the game to vocalize, enable the TTS setting for the text to be read aloud, and hit that enter key.
The game's interface made accessing and utilizing text-to-speech functionality easy, ensuring a seamless and enjoyable user experience.
Enhancing The Gameplay Experience With Text-To-Speech
The implementation of text-to-speech in Moonbase Alpha went beyond a mere gimmick. It significantly enhanced the gameplay experience by infusing it with personality and humor.
Whether hearing your messages transmitted across the moon's surface or engaging in lighthearted banter with fellow players, the synthesized voices brought a unique immersion and enjoyment.
Moreover, the ability to adjust the voice's speed and add special effects offered even more creative possibilities, allowing players to tailor the experience to their liking.
In addition to the in-game fun, numerous online guides are available to help players utilize the TTS engine more effectively. These guides provide instructions on maximizing the potential of the text-to-speech feature, including adjusting voice speed, adding special effects, and exploring synthetic voices similar to DECTalk.
The availability of these resources further enhances the experience and encourages players to dive deeper into the creative possibilities that text-to-speech offers.
Part 3. How to Creating Text to Speech Song Via Moonbase Alpha
Are you ready to unleash your inner musical genius and dive into the realm of Moonbase Alpha text-to-speech songs? Yes, you heard that right! Besides its conventional uses, the Moonbase Alpha text-to-speech feature has found a fascinating application in creating unique songs.
If you've stumbled upon the popular YouTube video by motdef and ABadFeeling, you've witnessed the strange yet oddly entertaining possibilities of creating songs with DECTalk. It's time to take it further and embark on your Moonbase Alpha text-to-speech song journey.
Thanks to the wonders of Typecast, you can bring your lyrics or words to life using a voice reminiscent of the Moonbase Alpha text-to-speech voice. This nifty tool allows you to type in your creative expressions and generate synthetic voice recordings perfect for silly, fun, and sometimes bizarre songs.
Not only can you compose your unique tunes, but you can also record and share them with fellow enthusiasts. Let your imagination run wild and create memorable melodies that blend the charm of Moonbase Alpha's robotic phrases and tones.
So, if you're up for a musical adventure that's out of this world, grab your keyboard and get ready to craft captivating Moonbase Alpha text-to-speech songs. Let the creative melodies flow and share your unique compositions with the world.
Part 4. Moonbase Alpha Text-to-Speech Alternatives
1. Text To Speech Online (Speechify)
Speechify is a user-friendly text-to-speech application that converts written content into auditory format. With advanced AI algorithms, it generates speech from the text in real time. Whether it's books, articles, or documents, Speechify allows you to listen to a wide range of content. It offers multiple languages, voices, and reading speeds to cater to individual preferences.
Pros
Ideal for individuals with reading difficulties or who prefer listening to content on the go.
Useful for people with visual impairments or reading-related challenges.
It can transform any written text document into an audiobook or audio story.
User-friendly interface for easy navigation and accessibility.
Cons
Lacks the ability to utilize emotional speech like other text-to-speech applications.
Limited customization options compared to some alternatives.
2. Murf.ai
Murf.ai is not just your regular text-to-speech tool but a versatile online video maker. With over 120 AI-powered natural-sounding voices in 20+ languages, Murf offers an extensive range of voices. You can select the perfect AI voice for your project, including French, German, Hindi, Italian, Arabic, and more options.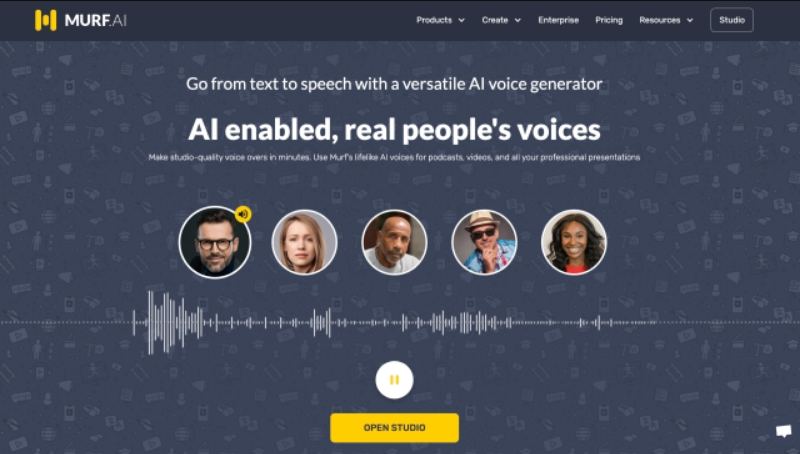 Pros
Provides an impressive library of 120+ AI voices in multiple languages.
The free plan is available for exploring all the features.
Allows customization of voice parameters such as emphasis, speed, and pronunciation.
Offers a sound library with over 8000 royalty-free music tracks.
Cons
Some advanced features may require a paid plan.
Limited to voiceover and video-making capabilities.
3. Voicemaker
Voicemaker is a powerful text-to-speech voice generator tool with a clean and intuitive user interface. It offers extensive customization options, allowing users to set pauses, volume, speed, and more with simple clicks. The tool boasts a vast collection of voices from different regions and countries, each with its unique accent.
Pros
imple and easy-to-use interface with clear navigation.
Wide range of customization options for voice settings.
AI voices feature for exploring voices based on region, language, and gender.
Quick file downloads.
Responsive customer support.
Cons
Interface design may feel slightly outdated.
Limited features in the free version.
Supports only MP3 file export.
These alternatives offer various features and capabilities for your text-to-speech needs. Whether you prefer a user-friendly interface like Speechify, the versatility of Murf.ai, or the customization options provided by Voicemaker, you can find a suitable tool to enhance your Moonbase Alpha experience.
Pro-tips: Upscale Your Experience with Voice Changer for Games
HitPaw Voice Changer is an excellent tool for gamers who want to add an extra layer of fun and creativity to their gaming experiences. It allows you to change your voice in real-time while playing games, enabling you to adopt different character voices, create hilarious moments, or maintain anonymity when interacting with other players online.
Here's how HitPaw Voice Changer can enhance your gaming sessions:
Role-Playing: In many online games, players take on various roles and characters. With HitPaw Voice Changer, you can immerse yourself even more into your character by speaking with a voice that matches their personality.
Pranking and Fun: Adding a touch of humor and fun to your gaming sessions is easy with HitPaw Voice Changer. Surprise your friends and opponents with unexpected voices, create hilarious moments, and enjoy a good laugh together.
Streaming and Content Creation: If you're a gaming content creator, HitPaw Voice Changer can be a valuable asset. It allows you to create unique and entertaining voiceovers for your videos, making your content more engaging and appealing to your audience.
Customization: HitPaw Voice Changer offers a wide range of voice effects and customization options. You can adjust pitch, speed, tone, and add various sound effects to achieve the perfect voice for your gaming persona.
Video Tutorial:
The Bottom Line
Moonbase Alpha's text-to-speech feature adds a fun and immersive element to gameplay and holds potential beyond the gaming world. This capability allows individuals to explore educational opportunities and enhance accessibility options in various domains.
The power of AI-based text readers and voice synthesizers allows us to embrace cutting-edge technology and stay at the forefront of innovation.
So whether you're a gamer looking for a unique and engaging experience or an individual seeking to elevate your content and reach a wider audience, embracing the versatility of TTS tools opens up a world of possibilities. You can even use HitPaw Voice Changer to enhance your gaming experience.