Top 5 AI Cartoon Voice Generator Text to Speech in 2023
It's no secret that cartoons like Mickey Mouse, Bugs Bunny, and others have become beloved cultural icons in our society. Their charm has captured the hearts of not only children but also adults who appreciate a playful and lighthearted perspective on life.
But what if we told you that these beloved characters could be brought to life in a new way using Artificial Intelligence (AI) and Voice Generators? AI-based text-to-speech (TTS) technology has advanced to the point where it's now possible to generate cartoon voices from text input.
In this article, we'll introduce you to the top 5 AI Cartoon Voice Generators that will be available in 2023.
So, whether you're a classic cartoon fan or just looking for a unique way to enliven your next project, you'll be sure to find something that fits the bill from this list.
Part 1. What is the AI Voice Generator for Cartoon Characters?
AI voice generators for cartoon characters are cutting-edge technological tools that utilize advanced artificial intelligence algorithms to convert text input into lifelike speech.
These innovative tools go beyond mere text-to-speech conversion by offering a remarkable ability to mimic specific accents, speech patterns, and tonal qualities unique to famous cartoon characters.
This intricate process involves applying deep learning techniques and neural networks, which are meticulously trained on vast datasets of speech samples from a wide range of beloved cartoons.
The outcome of this complex training is a synthesized voice that, although not flawless, possesses the ability to evoke the charm and distinctiveness of beloved animated figures.
The AI cartoon voice generators offer a novel way to captivate your audience, whether you're looking to add character to an audiobook, a video game, or any other multimedia project.
Part 2. Top 5 Cartoon Character Voice Generators
1. HitPaw Voice Changer
HitPaw Voice Changer is an exciting AI-powered software for PC and Mac to unleash your creativity by transforming your voice into a myriad of cartoon characters and whimsical personas. With a diverse selection of voice effects and presets, this cutting-edge tool allows you to step into the shoes of your favorite animated characters, making your voiceovers, chats, and recordings truly magical. generator.
Key Features
Cartoon Character Voice Effects: Immerse yourself in a world of cartoon charm with HitPaw Voice Changer's extensive library of voice effects. Whether you want to sound like a mischievous fairy, a wise old wizard, a heroic superhero, or any other beloved cartoon character, this tool has you covered.
Real-Time Voice Modulation: Change your voice in real-time while speaking, gaming, or recording audio. With instant voice transformation, you can seamlessly switch between different cartoon personas on the fly.
Customizable Parameters: Fine-tune your voice with adjustable parameters, such as pitch, tone, and more. Customize each voice effect to suit your unique interpretation of a cartoon character.
Integrated Functions: The software seamlessly integrates with various communication apps, gaming platforms, and recording software, allowing you to use the voice changer in any environment you desire.
How to Generate Cartoon Voice with HitPaw Voice Changer
Step 1:

Free install HitPaw Voice Changer to a computer, and launch it.

Step 2:

Launch the program, and click the Settings button. You have to select the input and output devices to employ this voice generator tool. Choose the microphone as input and headphones as output.

Step 3:

Now, you can select your preferred voice filter and speak into the microphone. You can check the changing voice in real time.

You can adjust the voice volume, pitch or timbre to get the most realistic sound.

Step 4:

Now, change your voice in various environments. HitPaw Voice Changer integrates with any platforms like Discord, PUBG, Skype, Twitch etc. Implement the voice changing action by following the below instruction.

1. Open the app you want to use the voice changer and navigate to its voice settings panel.
2. Choose the input device as "HitPaw Vitrual Audio Input" from the drop-down list.
2. FakeYou
FakeYou is a feature-rich desktop cartoon character voice generator that captivates users with its wide array of capabilities. Its intuitive interface allows even beginners to create unique and compelling character voices effortlessly.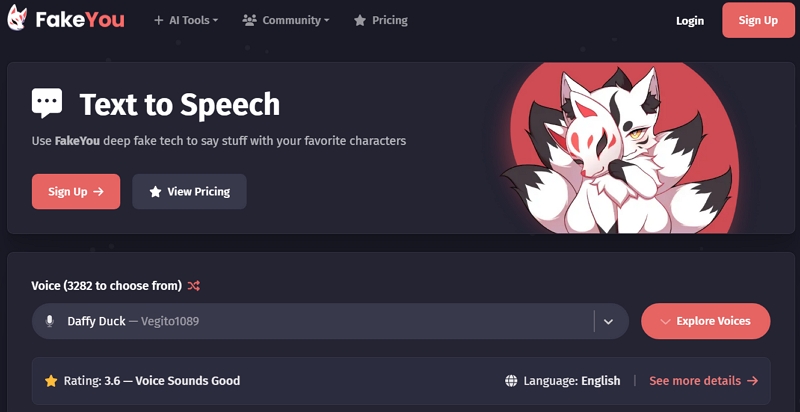 Overview of Features and Capabilities:
Extensive Voice Library: FakeYou boasts an extensive library of pre-recorded voices featuring various cartoon characters and impressions.
Custom Voice Creation: Users can craft their own cartoon character voices using the built-in voice customization tools.
Real-Time Preview: The software provides a real-time preview feature, enabling users to fine-tune their character voices on the go.
Strengths and Standout Aspects:
FakeYou sets itself apart with its vast collection of ready-to-use character voices and the ability to generate truly authentic and distinct vocal expressions. Whether you're creating animated videos, podcasts, or video game characters, FakeYou excels in providing high-quality results.
How to use FakeYou:
1.

Visit the official site fakeyou.com.

2.

Within the Create TTS section, choose Cartoons as the category. Then, explore the selection of text-to-speech cartoon voices to bring your characters to life and make them utter any desired phrases.

3.

Next up, you need to input your text in the provided textbox and click on the "Speak" button to initiate the generation process.

4.

Finally, you will find the outcome in the Session TTS Results section. You can either play the audio of the text-to-speech or download it.
3. Uberduck
Uberduck, a cutting-edge cartoon character voice generator, focuses on innovation and precise voice modulation. With its powerful AI-driven technology, it enables users to generate lifelike cartoon character voices that resonate with audiences.
Overview of Features and Capabilities:
Advanced AI Technology: Uberduck's AI-driven system delivers remarkably realistic character voices.
Emotional Expression: The software allows users to infuse emotions into their character voices, enhancing storytelling potential.
Multi-Lingual Support: Uberduck supports multiple languages, catering to diverse global users.
Strengths and Standout Aspects:
Uberduck's standout feature is its sophisticated AI technology, which produces remarkably expressive and authentic character voices. It's an excellent choice for professionals and hobbyists looking to create engaging and believable characters.
How to use Uberduck:
1.

Visit the official website of Uberduck and create a new account.

2.

Upload your script into the provided textbox and choose a preferred character voice from the list of available options.

3.

Utilize the built-in tools to customize your cartoon character's vocal expression, applying emotions and accents as needed.

4.

Finally, click on the "Generate" button to produce the audio file of your character's voice-over.
4. VoiceTooner (App)
VoiceTooner is a powerful cartoon character voice generator app for iOS and Android. It is designed with creative professionals in mind. Its customizable features and seamless integration make it a top contender in the industry.
Overview of Features and Capabilities:
Customizable Voice Modulation: VoiceTooner allows users to finely adjust pitch, tone, and speed for precise character portrayal.
Audio Effects Library: The software offers a vast collection of sound effects to complement character voices.
Seamless Exporting: Users can effortlessly export their voice creations in various formats for integration into different projects.
Strengths and Standout Aspects:
VoiceTooner excels in providing a comprehensive platform for professionals to craft unique character voices. Its audio effects library and seamless exporting options make it an invaluable tool for content creators.
How to use VoiceTooner:
1.

Download the VoiceTooner app from Google Play or App Store and install it on your device.

2.

Upon launching the program, you will be presented with a range of voice customization tools for tailoring cartoon character voices.

3.

Enter the script for the character into the provided textbox and tweak its pitch, tone, and speed as desired.

4.

Incorporate sound effects from the library to further enrich your character's vocal expression.

5.

Finally, click on the "Export" button once you've finished composing your character voice-over. This will generate an audio file that you can save and use for your project.
5. Voice.ai
Voice.ai is an cartoon character voice generator renowned for its simplicity and versatility. With an intuitive interface, it caters to both beginners and experienced users seeking fun and creativity.
Overview of Features and Capabilities:
Quick Character Generation: Voice.ai allows users to generate cartoon character voices swiftly and efficiently.
Realistic Vocal Range: The platform offers a wide selection of realistic vocal ranges to suit various character archetypes.
Cross-Platform Compatibility: Voice.ai seamlessly integrates with various devices and operating systems.
Strengths and Standout Aspects:
Voice.ai stands out with its user-friendly interface and seamless cross-platform compatibility. It is perfect for quick and hassle-free character voice generation, making it ideal for various multimedia projects.
How to use Voice.ai:
1.

Log in to your Voice.ai account on the official website.

2.

Choose a character voice type and enter your script into the provided textbox.

3.

Adjust any desired settings, such as pitch, speed, and tone, for the cartoon character voice-over.

4.

When you're satisfied with the output, click on the "Generate" button to produce an audio file of your character's voice.

5.

Finally, save the audio file and use it for your project!
The Bottom Line
In a world of captivating cartoons, having an effective cartoon character voice generator is essential for content creators. All of the generators mentioned above are great options for crafting unique and convincing character voices. HitPaw Voice Changer is the powerful AI-trained voice changer for computer users, and VoiceTooner is the reliable voice changer app for iOS and Android users.