Best Female Voice Changer to Make Fake Female Voice
In this digital era, changing voice is no more a big deal. People tend to change their voice for different reasons such as voice over for marketing or for prank calls. One of the popular trends is changing one's voice to female voice. And in order to do this, one should use female voice changer for enhanced results. This article lists out different voice changers that can be used by user on different platforms such as Mac, Windows, Android, iOS, and online. Keep reading to know more.
Part 1. Best Female Voice Changer for Windows and Mac
When it comes to voice changer female tools for Windows and Mac, the choice is pretty much simple. Users do not have to look through a list of voice changers since HitPaw Voice Changer is the only best option that users can get today. The tool is best used to change voice easily and effortlessly. Not only this, the tool also comes with different enhance features such as:
Ability to change voice in real-time using different voice-changing effect
Ability to get rid of echo and noise while changing voices
The end result is perfectly compatible with all popular programs and games
Ideal for content creator, gameplay, or live streamer
Ability to change voice easily with high-quality output
Follow the below steps to know how to use this best female voice changer.
Step 1: Download, install, and launch HitPaw on your device. On the main screen, choose main microphone as the input device.

Step 2: Search the library of voice effects and select the one you need. And adjust the sound effect in the sound settings to achieve the best effect.

Step 3: Now click the "connect" to change your voice on the platforms. Select HitPaw Virtual Audio as the input device in Settings. Now, you can change the voice in real time with the selected effect.
Part 2. Best Female Voice Changer App for Android and iPhone
This section lists the best apps that can be considered as best female voice changer for Discord. Have a look
1. Voice Changer by AndroidRock
Voice Changer by AndroidRock is a popular female voice changer app. With more than 10 million downloads on the Play Store, the app is highly suggested for people who have fun changing their voices for different reasons. Compared to other applications, this app has a very sleek and elegant design that makes it very simple to use. In addition to female voice change feature, the app offers more than 50 other features that users can use. Moreover, users can share their creations with their friends via social media or Bluetooth.
2. Voice Changer Plus
Voice Changer Plus is another female voice changes age app and provides users more control over their recordings by having a useful Trim option. By using this option, users can select from a list of voice-changing effects. Effects include staples such as Helium, Robot, and Echo. The app also has more interesting features such as Exterminator, Dark One, and Blane when it comes to effects. The most impressive feature of this app is that it enables users to import recordings from elsewhere. This fundamentally means users can download any audio recording of their voice and play around with it in the app. The app is developed for absolute convenience for the user, and its low cost makes it one of the best voice-changing apps.
3. Voice changer with effects
If you wish to change your voice to a female version for free, then this is another app called Voice changer with effects that you can try. You can use 40+ voice filters to make voice changing more enjoyable and fun. The app offers effects such as a prolonged husky robot voice, raspy zombie voice, a seductive woman, and a cute baby's voice, among others. Moreover, the app also allows users to create voice from the text. In addition to this, the app enables users to share their recordings via different platforms.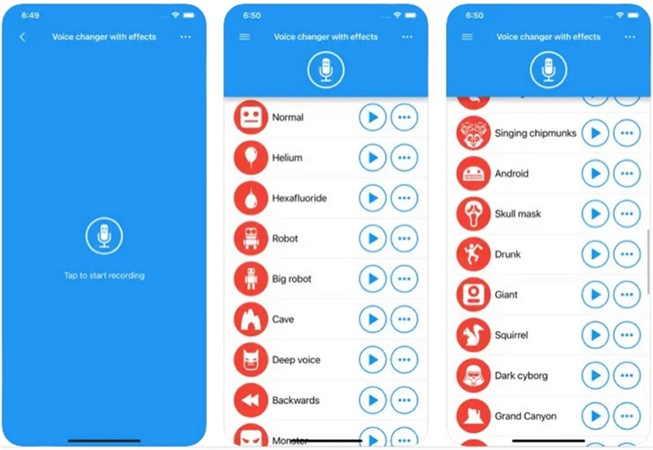 Part 3. Best Online Female Voice Changer and Modifier
This section lists the best female voice changer online platforms that users can use. Have a look.
1. Voice Changer.IO
If you are one of the users who do not have sufficient space on the PC but still wish to change voice, Voice Changer.IO is the perfect option for you. It is a web-based voice changer that enables users to change their voice without downloading any tool. On the other hand, it does not enable users to change the voice in real-time. However, it can alter users' pre-recorded audio voice. In addition to this, users can also speak on the microphone and change their voice. With this tool, users can turn their text into speech easily and the tool comes with different flawless sound effects.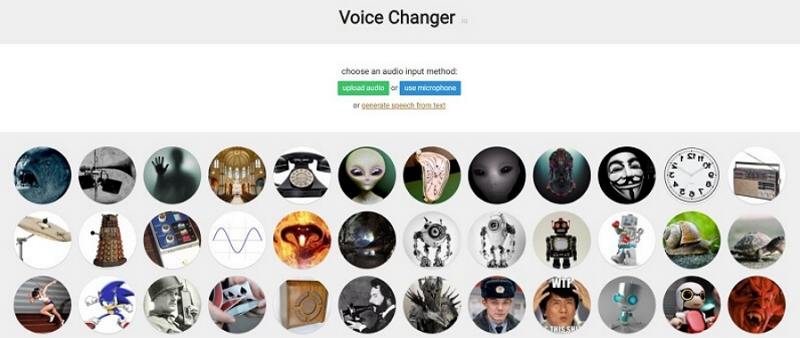 2. LingoJam Girl Voice Changer
LingoJam is a free voice changer female online tool that can help you change your voice from female to male or from male to female. The tool requires no download. All you need is just to input an audio clip, then tweak the voice settings as per your needs, and then you can easily get a voice-changed output. If users are happy with the changed audio, they can tap the download option to save it to your device.
Conclusion
All in all, we just had a look at some of the voice changers for different platforms. Amongst them, the best female voice changer is HitPaw Voice Changer since it can easily change voice and that too without any efforts. After changing the voice, users can share it on different social media platforms such as Twitter, Facebook, and Instagram.