A Detailed Guide on How to Make Your Voice Sound Better
How to make you voice sound better? Like your physical appearance, your voice is an essential part of you. If you have a good voice, that means you have full control over your vocalizations.
Many people aren't born with an attractive voice; however, sounding good is a skill that can be achieved with proper practice.
If you are looking for advice on how to make my voice sound better, keep reading this guide till the end. In this guide, we will introduce ways to improve your voice.
Traditional Way to Make Your Voice Sound Better
To help you how to make voice sound better, follow these simple steps that will help you achieve the attractive voice that you desire.
1. Practice Vocal Techniques
Practicing Vocal Techniques is one of the quickest trick to make you sound better. Record and listen to your voice as many times as you can and note the flaws in your voice.
Then, try different tone types and refine the one that suits you the best. Next, you can determine your voice type and then discover the vocal weight of your voice, whether how heavy or light your voice is, and then train your vocal chords according to it.
2. Stay Hydrated
Hydration doesn't only affect your body but it also affects your voice. To make you sound better, you must stay hydrated throughout the day. Avoid things like alcohol, smoking, etc.
Also, don't eat foods that may cause indigestion and heartburn because these issue can cause problems like burping, which can be embarrassing while delivering a presentation or simply talking to someone.
To keep hydrated, drink plenty of water throughout the day. It will help you on how to improve voice quality.
3. Warm-Up Exercises
A Warm-up exercise will allow you to sound better while keeping your voice protected and healthy. It is best for anyone who delivers public speeches and speaks on podcasts.
The yawn-sigh technique is a simple vocal routine exercise that will help you relax your vocals to sound better. To perform this exercise, simply breathe in as if you are yawning. Then, slowly breathe out. Perform this exercise by adding different vowels to it, such as "oo," "ee," and "ahh" as you breathe out.
You can also add hanging jaw technique to make you sound better. Simply drop the jaw and make ah and oh sounds to perform this exercise. This exercise will look weird, but this exercise will help you lower your jaw tension.
4. Healthy Lifestyle
Maintaining a healthy lifestyle is hard, but it can affect many things in your body, including the quality of your voice. A sleeping schedule plays an important role; you should have at least 8 hours of sleep daily; otherwise, you will sound dull. Take naps of 30 to 35 minutes in the afternoon as well.
Maintain your diet by eating healthy foods that will not affect the quality of your voice, like you can eat fresh meat, fruits, and vegetables.
Stress can also fatigue your vocals; when we experience anxiety, our voice can sound higher and weaker. Ensure to reduce stress from your life to make your voice sound better.
A More Convenient Way: Use Voice Changer
How to make your voice sound better via a voice changer? As we all know, using traditional ways to make your voice sound better takes a lot of time. However, with the help of a voice changer, you can quickly convert your voice into any character. Below, we have mentioned the top 2 voice changers that allows you to sound better quickly.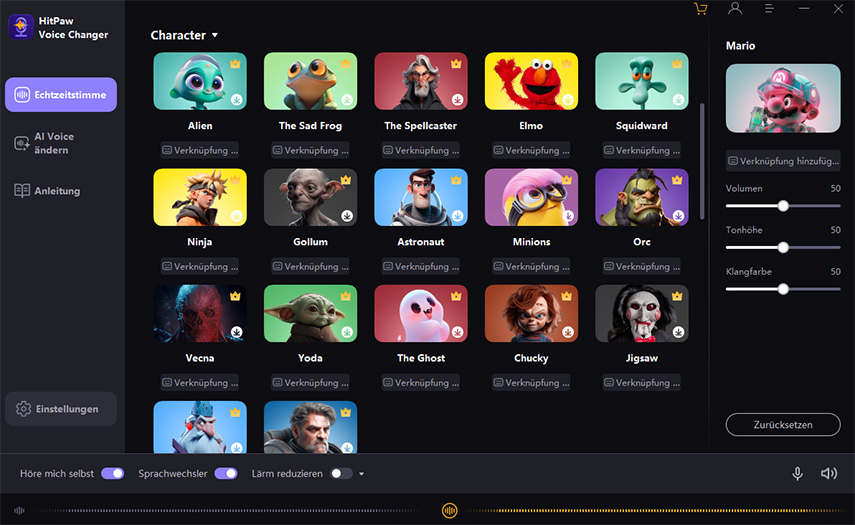 HitPaw voice changer is a powerful AI tool that allows you to change your voice into any character. We have told you before that making your voice sound better using traditional ways takes time. However, with the help of this voice changer, you can transform your voice into a girl, boy, alien, and monster without practicing.
This voice changer modifies your voice in real-time during live streaming, conversation, and more. It supports various platforms, including Skype, Zoom, Twitch, TeamSpeak, Omegle, etc. With the help of this voice changer, you can also transform your voice while playing games. It supports 100+ PC games such as COD, Valorant, Fortnite, League of Legends and more.
The Background Noise removal feature allows you to eliminate unwanted background noises. Its simple and user-friendly interface makes it easy for beginners to navigate and operate this program.
You can also preview the voice effects before applying. In Simple words, if you are looking for how to make your voice sound better when recording, then the Hiptaw voice changer is the perfect answer.
Makes your voice sound better quickly without practicing the traditional ways
Offers a wide range of voice effects to choose from
Simple and User-friendly interface, making it easy to navigate and operate
Supports over 300+ PC programs and games, including Zoom, Skype, Discord, COD, Fortnite, and more
Background noise reduction to eliminate unwanted sounds
Available on macOS and Windows
Affordable pricing starting from $15.95/Month
Here're easy steps that how you can use HitPaw Voice Changer.
1.Go to "Settings", and click the drop-down button to select the input and output you are using.

2.Choose the effects you prefer and click to apply it.

3.Turn on the "Voice Changer", "Hear myself" and try to speak to your microphone to listen how your voice sound like. If the surrounding environment is noisy, you can manually activate noise reduction. Please don't set the noise reduction level too high, as it may filter out some sounds.

4.After selecting the desired sound effects and previewing them, you can adjust the volume according to your preferences.

5.Change Voice on Discord:Open "Discord", Click your "User settings" and go to "Voice & Video, Then select "HitPaw Vitrual Audio Input" from the drop-down list of input device.
2. Using Voxal Voice Changer
Voxal is one of the leading voice changers available on the market. With the help of this voice changer, you can add different sound effects in real time. It also allows you to create customized voice effects without limits.
Many gamers and content creators prefer this program because it is compatible with almost all games available on PC, including Fortnite, PUBG, Call of Duty, Valorant, League of Legends, etc.
Its Text-to-Speech feature allows users to create funny speeches with funny voice effects.
Moreover, you can use this program on both Windows and macOS.
How do I Make my Voice sound better with Voxal Voice Changer?
Follow the below instructions if you are bored with your natural voice and want to add some fun.
Step 1: Download Voxal Voice Changer
Open your Web browser and download the Voxal Voice Changer from its official site.
Once the downloading is complete, install the program on your PC.
Step 2: Launch the Program
Once installed, double-click on the Voxal program to launch it
Step 3: Select the Effect
On the left panel, a list of voice effects is available; click on the desired voice effect to apply it.
FAQs of Better Voice
Q1. Why does my voice sound so bad?
A1. There can be many reasons behind your bad voice, such as high tone, stress, dehydration, bad vocal techniques, etc. In this guide, we have mentioned the top 4 traditional ways to make you sound better. Follow them, and we assure you you will have a good voice.
Q2. Can I fix my bad voice?
A2. Yes, you can improve your voice by following the traditional way or by using a voice changer. However, we suggest you use a voice changer because it is easy to use and less time-consuming. To learn how to make voice better, we have mentioned the top 2 voice changers above.
Final Thought
If you struggle to have a voice that sounds good but don't know how to achieve that, read this guide thoroughly because we have made it quite easy for you.
We have mentioned top traditional ways how to make your voice better. Also, we have introduced 2 voice changers that will make your voice sound better quickly. However, we recommend you choose the HitPaw Voice Changer because it allows you to alter your voice on almost every PC program. It also offers a huge library of realistic voice effects to choose from.