6 Best Voice Changers for Omegle for PC & Mobile
Omegle is an anonymous chatting website that allows users to text and video call with others worldwide.
However, many users don't want to reveal their real identity on this platform to protect their privacy. If you are such a user and don't want to reveal your identity, a voice changer is the best program to help you hide your natural voice. These voice changers will change your voice into any character quickly.
Here in this guide, we will mention the top voice changer for Omegle. Read this guide until the end to find a suitable voice changer on Omegle.
What is Omegle?
Omegle is an online platform that allows users to talk to strangers worldwide. This website randomly matches people to talk with each other through text or video. It is free, and no sign-up is required to use this platform.
Due to its no privacy policy, many users are concerned about their safety. To make this platform safer, many people uses a voice changer to hide their identity by cloning someone else's voice.
4 Best Omegle Voice Changer for PC
Here are the top 4 voice changers for ome TV that will help you secure your privacy. With these programs, you can also make your Omegle chat more fun and interesting.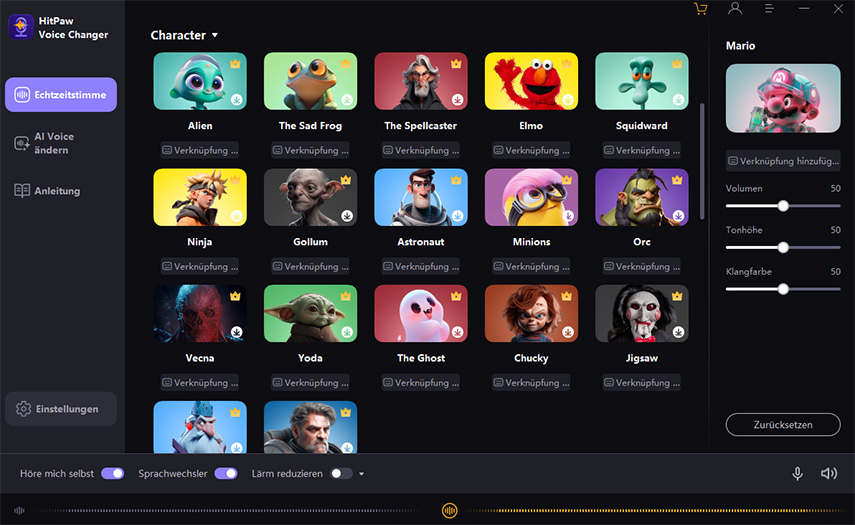 HitPaw is an amazing Omegle voice changer macOS and Windows. This program offers multiple features that will enhance your gaming and communication experience.
With its voice changing features, users can alter their voice into characters including boy, male, female, alien, monster, and more. This program integrates with many communication platforms, such as Omegle, Zoom, Skype, and TeamSpeak.
HitPaw has a user-friendly interface making it one of the most easy-to-use voice changers available.
This program also includes features like noise reduction, soundboard, option to adjust pitch and tone, etc.
Key Features
Allows you to transform your voice with various voice effects
Integrate perfectly with all communication platforms, including Omegle
Has a Straightforward interface
Remove noises from the background
Supports gaming platforms like COD, Fortnite, PUBG and more
Perfect voice changer for content creators, gamers, live streamers, etc.
Supported OS :Win/Mac
Price Starting from $15.95/Month
Here're easy steps that how you can use HitPaw Voice Changer.
1.Go to "Settings", and click the drop-down button to select the input and output you are using.

2.Choose the effects you prefer and click to apply it.

3.Turn on the "Voice Changer", "Hear myself" and try to speak to your microphone to listen how your voice sound like. If the surrounding environment is noisy, you can manually activate noise reduction. Please don't set the noise reduction level too high, as it may filter out some sounds.

4.After selecting the desired sound effects and previewing them, you can adjust the volume according to your preferences.

5.Change Voice on Discord:Open "Discord", Click your "User settings" and go to "Voice & Video, Then select "HitPaw Vitrual Audio Input" from the drop-down list of input device.
2. VoiceWave
The next ome TV voice changer on our list is VoiceWave. VoiceWave is an excellent voice changer with unique features. This program will give you 100+ voice effects in 18 different sounds. The most famous sounds available on this platform are minions, transformers, ghosts, female and male.
It supports 50+ messaging services, including Omegle, Zoom, Viber, WhatsApp, Skype, and more. Users can mix different tracks with its built-in audio mixer to make a new sound effect.
With the help of noise reducer, it automatically reduces the background sounds to improve the quality of the recording.
Key Features
Offers voice customization options to get unique sounds
Allows you to change your voice on platforms like Omegle, Zoom, and more
Includes extra features like noise reducer, Audio Mixer, and more
It has over 100+ voice effects and 18+ sounds
Best program for newbies and professionals
High-quality output sounds
Supported OS :Windows 10/11
Price Free of Cost
3. VoiceMod
Due to its interactive interface, VoiceMod has made it to our top 6 list. This voice changer ome TV is one of the best solutions for those who wants to hide their identities on platforms like Omegle, Zoom, Skype, and more.
This program provides features like Voice changing, cloning, TTS, Soundboard, and more. With this voice changer, users can sound like robots, minions, aliens, monsters, and more on Omegle.
The best part of this program is that it is compatible with all the PC software that supports microphones. With its Voicelab feature, users can create their own sound effects and filters.
Key Features
Supports all PC programs with a microphone like Omegle
VoiceLab to create your unique sounds
Offers over 100+ voice effects, including minions, monsters, aliens, and more
Straightforward interface with attractive design
Integrates well with PC games such as Fortnite, Call of Duty, PUBG, and more
Supported OS :Win/Mac
Price Starting from $45.00
4. Clownfish Voice Changer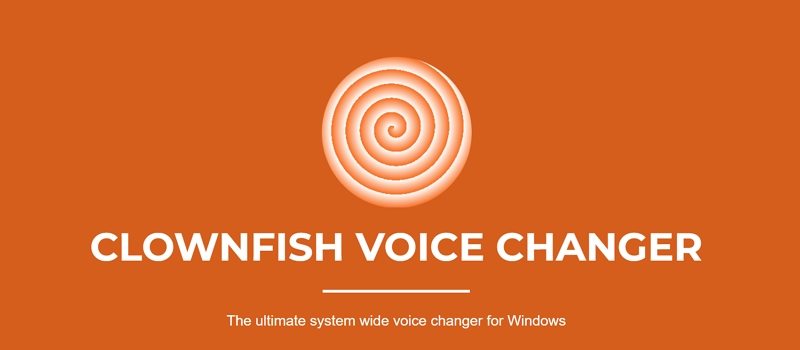 If you want a voice changer for Omegle Mac, Clownfish is the best choice. It is a free-to-use voice changer that allows users to alter their voice in real time. With Clownfish voice changer, user can modify their voice on platforms like Omegle, Zoom, Meet, and more.
However, this program provides fewer voice effects than others, but all the available voice effects sound realistic. With this tool, you will get voice effects like Alien, Atari, Mutation, Male Pitch, Female Pitch, and more.
With its Music Player, users can easily play music and voice effects while playing games or chatting.
Key Features
Voice Changer for Omegle Chromebook
Offers 14 voice effects to alter your voice in real-time
Voice includes Male and Female Pitches
Ability to remove background noise
Music Player to play sound effects while playing games
Free to use
Supported OS :Win/Mac
Price Free of Cost
2 Great Omegle Voice Changers Mobile
In the last part, we have explored the best Omegle voice changer extensions; unfortunately, they cannot support mobile devices. But don't worry because we have mentioned the 2 great Omegle voice changer Mobile below.
1. Voice Changer with Effects
Voice Changer with Effects is a voice changer for Omegle Android that allows you to alter your voice on your Smartphone for free. This App has the best voice-changing options. With this App, you will get voices like Alien, Old Man, Monster, Baby, and more.
This App also allows you to edit the pre-recorded audio clip in your favorite voice effects. Once you have modified your audio clip, you can also download the clip into your Smartphone in MP3 format.
Key Features
This app is the best Omegle voice changer Android
Offers voices like Alien, Old Man, Monster, and more
The app can be used on a platform like Discord, Twitch, Skype, and more
Built-in Voice Recorder, Voice Editor, etc.
Supported OS :Android devices
Price Free
2. Voice Changer Plus
The last voice changer for Omegle Mobile is Voice Changer Plus. This is an ideal App for iOS. With the help of this program, users can alter their voice using 55+ voice filters. The altered audio clip can be saved and shared.
The main feature of this App is that it allows you to edit and trim pre-recorded audio clips.
Key Features
Offers over 55+ voice effects in 12 languages
Can apply multiple voice effects on the same audio clip
Has a User-Friendly interface that is ideal for newbies
Bugs Free
Supported OS :iOS Devices
Price Free
FAQs of Omegle Voice Changer
Q1. How to change your voice on Omegle?
A1. To change your voice on Omegle, you must select an Omegle voice changer Chromebook first. Then, choose a suitable voice effect and click on it to Apply. The voice changer will automatically alter your voice on this platform.
Q2. Does clownfish work on Omegle?
A2. Clownfish is the best voice changer for Omegle Chrome extension. It fully supports platforms like Omegle, Zoom, Skype, and more.
Final Thought
In this guide, we have mentioned the top 6 voice changers for Omegle PC and Mobile. With these programs, you can add fun and excitement to your chat while protecting your privacy.
If you want the best voice changer for PC, choose HitPaw because it has all the features you need in an Omegle voice changer extension.