Wonder AI Art Generator Review, Guide, and Alternatives
Tired of staring at blank canvases or wrestling with complicated design software? Dive into a world where creativity knows no bounds. This review, guide, and alternatives compilation is tailored for those craving artistic expression without frustration.
We unveil the magic of AI-powered art generation through Wonder AI. But that's not all – if you're seeking options, we've got you covered with handpicked alternatives.
Uncover the secret to instant inspiration, transform your imagination into art, and wave goodbye to creative blocks.
Part 1. About Wonder AI Art Generator
Introducing the Wonder - AI Art Generator: Where innovation meets artistic expression! This ingenious platform harnesses the prowess of AI and deep learning to craft mesmerizing artworks across various styles.
Its creative algorithms dive into an immense pool of artistic techniques, styles, and compositions, mirroring human-like ingenuity. This AI can do everything from captivating paintings to enchanting illustrations and digital marvels.
The Wonder AI Art Generator offers a seamless experience. Select your preferred style, toss in your photos, or let the AI conjure images and witness the transformation into your chosen art style. While a few touch-ups could elevate user experience - like expanded text fields and smoother navigation - the core engine driving this cloud-based wonder stands unmatched.
Unleash your artistic flair and create jaw-dropping masterpieces with Wonder AI Art Generator, available on the App Store and Play Store. Yet, kindly note that the PC version isn't presently accessible via Microsoft Store, temporarily limiting its use on Windows PCs.
Part 2. Wonder AI Art Generator Features
After catching a glimpse of the mesmerizing Wonder AI Art Generator app, it's time to dive into its treasure trove of features that will leave you astonished.
This app isn't just your run-of-the-mill creative tool; it's a powerhouse of unique and sophisticated capabilities that bring your artistic visions to life effortlessly.
1. Creating Images from Word Sequences
Imagine typing in a simple word that encapsulates your thoughts, and a harmonious image materializes before your eyes. Thanks to the brilliance of Wonder AI Art Generator, expressing your ideas through visuals has never been this magical.
2. Designing Images from Song Lyrics
But that's not all – Wonder AI Art Generator takes creativity to a new level by transforming song lyrics into captivating images. Whether it's your favorite artist's name or a beloved song title, the app weaves visual tales that resonate with the music in your heart.
3. Crafting Fascinating Paintings
Unleash your inner artist using the Wonder AI Art Generator. This feature empowers you to paint with boundless imagination. Thanks to the app's superiority, you can see your art come alive in seconds.
4. Unique Digital Artwork with Art Styles
Crafting unique digital art is effortless. With just a prompt and the selection of an art style, the Wonder AI Art Generator conjures exceptional digital artwork. Its diverse styles cater to your individuality, ensuring your images reflect your essence.
5. Captivating Wallpapers at Your Fingertips
The wonder doesn't end here – the app's capability to design captivating wallpapers and lock screens for your phone is truly thrilling. Your device will don a personalized cloak of uniqueness, setting you apart in style.
Part 3. Is the wonder AI Art Generator Free?
Wonder AI has different plans for different people. You can try the service for free for three days before picking a plan. You can pay weekly for uninterrupted access to the app's creative tools. This is good if you use the app a lot for art projects.
There's a cool option for big fans of Wonder AI, who use it a lot. You can buy lifetime access for $29.99. This is a great deal, much cheaper than pro designers or expensive pictures online.
Wonder AI has a plan for you no matter how much you use or want to spend. This way, everyone can make amazing art easily.
Part 4. How to Use the Wonder AI App
Let your imagination run wild, and watch as technology transforms your ideas into captivating art! Here's a simple step-by-step walkthrough:
Step 1: Get the App and Input Your Idea
First, download and install the Wonder AI app from App Store or Google Play. Once it's ready, open it up. You'll see a box where you can type in a prompt or idea you want to turn into art. Think of something vivid and unique – the app understands better with clear details.lt:
Step 2: Choose Your Art Style
With your idea in place, it's time to pick an art style that matches your vision. The app offers a variety of styles to choose from. If you're feeling adventurous, you can select "no style" for an AI-generated style that fits your idea perfectly.
Step 3: Let the Magic Happen
After typing in your idea and settling on an art style, tap the "Create" button. This is where the app's smart technology comes into play. It combines your idea and the style to craft a unique piece of art.
Step 4: Save and Share
Once the app works its magic, saving your masterpiece is time. You can easily store it in your device's photo gallery. From there, the world is your canvas. Share your creation on social media, set it as your wallpaper, or even turn it into a tangible print to adorn your space.
Now, you're all set to dive into the world of artistic AI with the Wonder AI app.
Part 5. The Pros and Cons of Wonder AI Art Generator
Using the Wonder AI Art Generator has its advantages and drawbacks. Let's take a look at both sides.
Pros
Creative Boost: The Wonder AI Art Generator is a wellspring of ideas for artists and designers. It generates diverse artworks that can spark fresh creativity, breaking down creative barriers and paving new imaginative paths.
Time and Effort Saver: Crafting art from scratch demands time and effort. The AI art generator accelerates this process, allowing artists to experiment swiftly with different styles and concepts. This allows artists to visualize compositions before actual creation, aiding informed decision-making.
Art for All: AI-generated art isn't just for pros. Even budding artists can produce exquisite art pieces with the Wonder AI Art Generator.
Cons
Lack of Human Touch: Despite its unique creations, the AI lacks the emotional touch of humans. It can't replicate the emotional depth and nuanced decisions made by human artists, such as brush strokes that evoke emotions.
Copyright Concerns: AI art's origins raise copyright concerns, as it draws inspiration from real artists worldwide. The saying "Good artists copy, great artists steal" underlines the learning process in art, where imitating masters aids in understanding techniques and limitations.
Limited Artistic Expression: While it can emulate various styles, AI might need to grasp the profound meanings behind art. Unlike human artists, it might miss the intentions, affecting the depth of expression.
Part 6. Alternatives to Wonder AI Art Generator
1. HitPaw AI Art Generator for Windows and Mac
Experience the world of digital art with the all-new HitPaw Video Converter feature – the AI Art Generator. Seamlessly integrated into this desktop software, it empowers users to transform simple prompts into astonishing visual artworks.
Pros
User-friendly interface, easy to use
Generate stunning artworks from simple prompts
Text to image: generate two images from a prompt
Image to image: Upload a local photo and combine it with a prompt to generate a unique atwork
Various art styles support, create images of different styles
Other AI tools integrated: background remover, noise remover, vocal remover, speech to text, etc.
Cons
The free version only supports creating 2 images
How to Generate AI Artwork with HitPaw Video Converter
Step 1:Upon launching the HitPaw Video Converter, navigate to the Toolbox menu and select AI Art Generator. This opens the gateway to a realm of artistic possibilities.

Step 2:Provide a prompt or description of your artistic vision. To further fuel your creativity, upload an image from your computer. The AI engine then crafts an image in alignment with your inputs.

HitPaw Video Converter boasts diverse art styles, from lifelike sketches and oil-painting-like portraits to mesmerizing digital designs.

Step 3:After defining your prompt and customizing image specifications, such as size and resolution, click "Generate." Witness your text-based ideas metamorphosing into vivid AI-generated artworks.

Step 4:HitPaw Video Converter presents two art style variations. Preview by double-clicking on an image. Depending on image size and server speed, generation times vary. Upon satisfaction, download your chosen AI masterpiece to your computer.
2. Canva
Canva introduces an AI image generator fueled by Stable Diffusion technology, an open-source text-to-image model. This tech marvel empowers users to craft lifelike images for diverse purposes.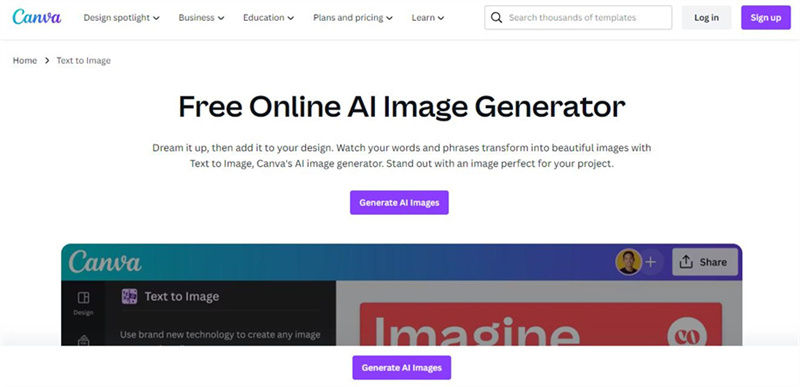 Pros
Choose from an array of styles.
Opt from three aspect ratios: square, landscape, and portrait.
Customize AI-forged images with ease.
Don't assert copyright over creations.
Cons
Images might possess lower resolutions.
Certain advanced functions demand a paid subscription.
3. DALL-E 2
DALL-E 2, an offspring of OpenAI, is an AI-infused image creator that crafts true-to-life visuals grounded in textual cues. Gaining stardom for morphing words into tangible images, it's back with DALL-E 2, an upgrade packing mightier features. These enhancements unlock even superior, finely detailed images of heightened resolution and realism, breaking past prior confines.
Pros
Generates art for commercial use sans licensing knots.
Tinkers with images based on prompts.
Free version available, extra credits for purchase.
API lends itself to integration with other apps.
Cons
Prefers surreal art and fumbles with photorealism.
Outcome quality hitched to prompt particulars.
The Bottom Line
In wrapping up our exploration of the Wonder AI Art Generator, it's clear that this app is a true marvel for artists and creative minds. Its astonishing range of capabilities left us spellbound, highlighting its immense potential. Crafting captivating art across various styles emerges as its core strength.
However, options like HitPaw Video Converter, Canva, and DALL-E 2 offer exciting pathways for those seeking alternatives. As we conclude, this AI-powered tool unlocks a treasure trove of artistic possibilities and inspires beginners and seasoned creators.