Top 6 Scream Voice Changer for PC, Mobile & Online
Pop culture is a cultural phenomenon that has emerged in recent years, and the scream voice filter is one of the most famous types of voices in pop culture. Utilizing a scream voice changer to play pranks on your friends can be incredibly entertaining, offering a remarkable experience.
If you're searching for a scream voice changer, you may be curious about the best and most suitable option for you. This article list 8 scream voice changer software, apps, and websites to help you. Let's dive in and explore!
Part 1 :What factors do we consider when selecting Ghostface Voice Changers?
When selecting a ghostface voice modifier, there are several factors to consider. Let's explore some key considerations:
| Factors | Considerations |
| --- | --- |
| User-Friendliness | Is it easy and simple for novices to use? |
| Customization Options | How many voice options can it offer? |
| Compatibility | Does it offer compatibility with popular platforms? |
| Price | Is it free? |
You can explore the following 6 recommended scream voice filters, keeping in mind the selection factors mentioned above. I believe you will be able to find the suitable scream voice changer you're looking for.
Part 2 : 6 Best Ghostface Voice Changers for PC, Mobile and Online.
1.MorphVox - Ghostface Voice Changer PC
MorphVOX Voice Changer is a real scream voice changer that allows you to apply various effects to your voice, enabling you to create a custom voice to resemble Ghostface from the Scream movie. With its simple and user-friendly interface, you can easily create your personalized voice filter by selecting an option and adjusting it according to your preferences until you achieve the desired result. Besides, it also can connect TikTok directly to change your voice in TikTok videos.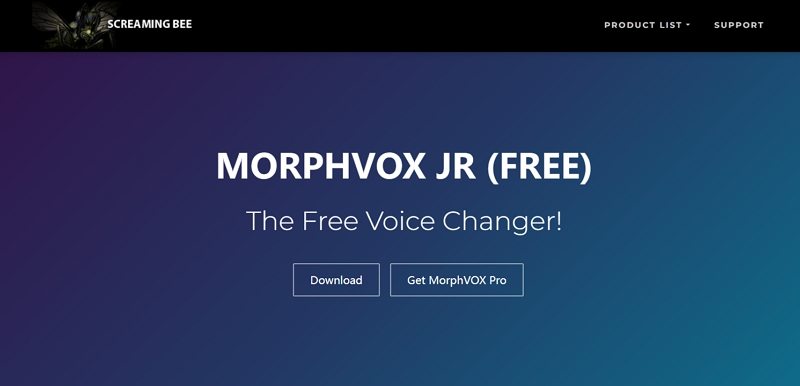 Price: Free
Compatibility:Compatible with common platforms like Zoom;discord...
Pros:
Offer various voice effects options.
Perfect combination with online game box chat program.
Simple interface and easy to use.
Cons:
2.VoiceMod - Real Time Scream Voice Changer
VoiceMod has gained immense popularity as one of the leading scream voice-changing software options for gamers. Provides a wide range of terrifying sound effects, allowing you to choose your preferred horror effects to disguise your voice in games and prank your friends during chats. It is truly a blessing for horror enthusiasts!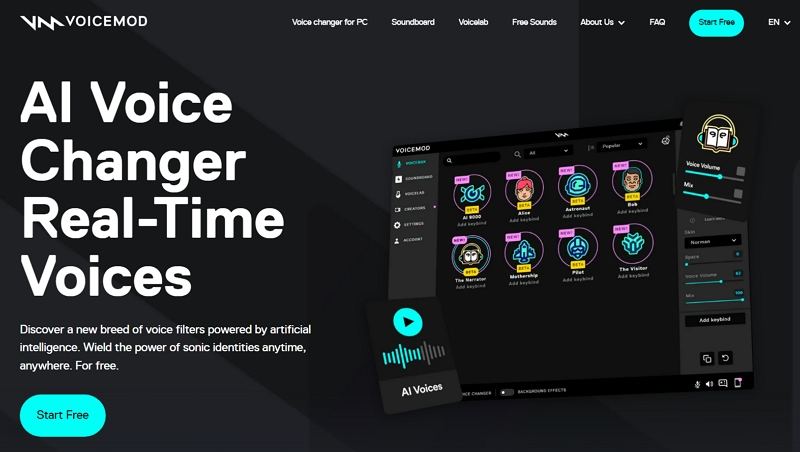 Price: Free
Compatibility:Compatible with common platforms.
Pros:
Easy to use.
Various voice effects.
Real time supported.
Cons:
Limited free version.
Didn't support Mac.
3.EaseUS VoiceWave
This scream voice modulator has more than 100 voice effects and over 18 types of sound which provide many kinds of scream voices, like Little Devil, Monster, Dragon, Ghost, and Zombie. More important, it is compatible with many conversation and game platforms like Dsicord, steam, zoom, and Minecraft.
Price: Free
Compatibility:Compatible with common platforms.
Pros:
Easy to use.
AI voice changer.
Support 100+ real-time voice-changing effects.
Cons:
Limited free version.
Didn't support Mac.
4.Scary Voice Changer- Ghostface Voice Changer for android
Scary Voice Changer, as the name implies, is an Android application that enables you to transform your voice into different well-known scary characters. Whether it's the spine-chilling voice of a vampire, the haunting laughter of a wicked witch, or the bone-chilling growl of a monstrous creature, this Android application offers a diverse range of options to transform your voice. Impress your friends during Halloween parties, create eerie sound effects for spooky videos, or simply have fun exploring the dark side of your vocal abilities. This real Ghostface voice changer provides an intuitive user interface, making it easy to select and customize your preferred scary character voice.
Price: Free
Pros:
Easy to use.
Offer various scary character voices.
Cons:
To much ads.
Outdated UI design.
5.Scary Voice Changer and Recorder - Ghostface voice changer iOS
If you are an iOS user in search of a voice changer for Ghostface, Scary Voice Changer and Recorder is a great option for you. It offers a range of spooky voice effects and allows you to record and modify your voice in real time. While mobile voice changers may not offer the same level of convenience as their desktop counterparts, Scary Voice Changer and Recorder ensures a seamless and enjoyable voice-changing experience on your iOS device.
Price: Free with in-app purchase
Pros:
Easy to use.
Offer various scary effects.
Cons:
To much ads.
Occasional stability issues.
6.LingoJam - Scream voice changer Online
If you prefer not to download or install any applications or software on your device but still require a Ghostface voice modifier, Lingojam voice changer online is a good choice. This online Ghostface voice changer allows you to effortlessly modify your voice into a haunting ghostly tone. With its user-friendly interface, you can achieve the chilling vocal effects you desire without the need for any additional downloads or installations.
Price: Offer free version
Pros:
Simple interface for user to use.
Convert very fast.
Cons:
Outdated UI design.
Limited Usage.
Part 3: FAQs of Scream Voice Changer
Q1. How do they change their voice in Scream?
A1. The scream Voice Changer is a type of audio equipment that Ghostface/Lakewood Slasher uses to mask his/her voice so that others can't figure out who it is under the costume.
Q2. Are voice changers illegal?
A2. Audio processors that modify the tone and format of voice using effects are legal and can generally be used everywhere. However, making use of a voice changer to commit crimes or engage in other harmful behavior is NOT legal.
Conclusion
In conclusion, the scream voice changer has gained immense popularity. It allows you to make prank calls and disguise your voice while gaming online, adding a tremendous amount of fun to your content. If you're a fan of horror culture and voice modulation, I sincerely hope that this article proves helpful to you.