How to Get Barbie's Voice Via AI Voice Changer in 2023
Almost everyone in their childhood wished to talk like Barbie, the iconic animated character loved by millions worldwide. If you have ever wished to sound like the iconic doll, then your wish can become a reality with the help of AI.
The Barbie Voice Generator AI allows users to quickly mimic Barbie's charming voice. So, if you are excited to sound like Barbie, follow this guide until the end because, in this guide, we will introduce multiple Barbie voice generators.
Who is the Voice of Barbie?
Kelly Sheridan voices Barbie in many movies, including Barbie as the Princess and the Pauper, Barbie in The Nutcracker and many others. She has voiced the iconic character in the film series from 2001 to 2010 and 2012 to 2015.
Kelly is a well-known Barbie voice actor who has portrayed her voice in numerous animated series such as Inuyasha, Starlight Glimmer in My Little Pony and more.
Barbie's full name is Barbara Millicent Roberts; she gained immense popularity because of her charm and elegance. Over the years, she had more than 250 careers, including Firefighter, journalist, astronaut and more. Barbie has inspired many women throughout the years.
In 2023, a New Barbie movie featured Margot Robbie as Barbie, Ryan Gosling as Ken and Will Ferrell as Mattel CEO.
Have you Watched the Barbie Movie in 2023?
Warner Bros Pictures released the Barbie movie on July 21, 2023. The director of this movie was Greta Gerwig, with a star cast of Margot Robbie, Ryan Gosling and many others.
This movie has become Warner Bros highest-grossing movie of all time with over $1.34 Billion Box office collection worldwide.
Who is the voice of Barbie in Barbie Movie 2023? Margot Robbie is the voice of Barbie in the movie.
Barbie's movie has elements of life, death, and body image. The movie inspired many women because the movie's main plot is that women can become whatever they want without comforting anyone. She showed many women that they are natural leaders; they can solve their problems and think independently.
She also portrayed that women can choose leadership in any field they want.
The Movies had many inspirational quotes for Women, such as "You're Beautiful" and "We Mothers stand still so our daughters can look back and see how far they have come." In the movie, she has also inspired Ken to look for his self-worth and identity.
How to Get Barbie's Voice?
Once we have learned about who is Barbie's voice actor, it's time to find out how to get the voice of Barbie. As we all know, hundreds of Barbie voice changers are available online. But not all of them give high-quality voice conversion.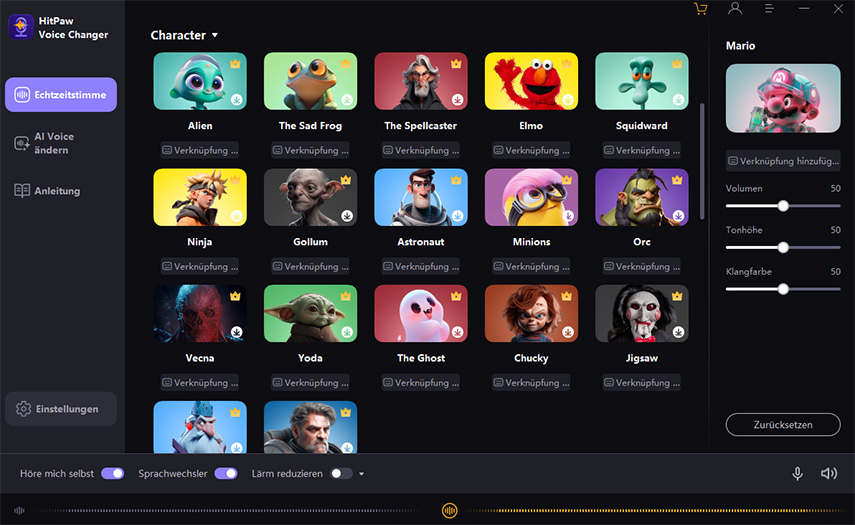 HitPaw is a real-time AI voice changer that allows users to transform their voice while live streaming and playing games. This is one of the best Barbie voice generator because it has a good quality of Barbie's voice and Margot Robbie's AI voice. With the help of this tool, you can modify your normal voice into a playful and high-pitched voice, just like Barbie.
HitPaw has an intuitive interface that makes this tool easy for newcomers. It also provides a vast library of sound effects, including chipmunks, monsters, aliens, and robots. With this AI voice changer, you can modify your voice in real time during online calls and video chats; it supports platforms like Discord, Twitch, Zoom, TeamSpeak, etc.
Further, it provides features like Noise reduction, TTS, Soundboard and Voice Controller to enhance your voice-changing experience.
Features
Hitpaw has a user-friendly interface
It offers high-quality Barbie Voice effects
Supports gaming and streaming platforms such as Discord, Twitch, COD, etc.
Offers features like Noise reduction, TTS, Voice Controller and more
Allows users to modify their voice into any character in real-time
Here're easy steps that how you can use HitPaw Voice Changer.
1.Go to "Settings", and click the drop-down button to select the input and output you are using.

2.Choose the effects you prefer and click to apply it.

3.Turn on the "Voice Changer", "Hear myself" and try to speak to your microphone to listen how your voice sound like. If the surrounding environment is noisy, you can manually activate noise reduction. Please don't set the noise reduction level too high, as it may filter out some sounds.

4.After selecting the desired sound effects and previewing them, you can adjust the volume according to your preferences.

5.Change Voice on Discord:Open "Discord", Click your "User settings" and go to "Voice & Video, Then select "HitPaw Vitrual Audio Input" from the drop-down list of input device.
2. VoiceChanger.io - Barbie Voice Online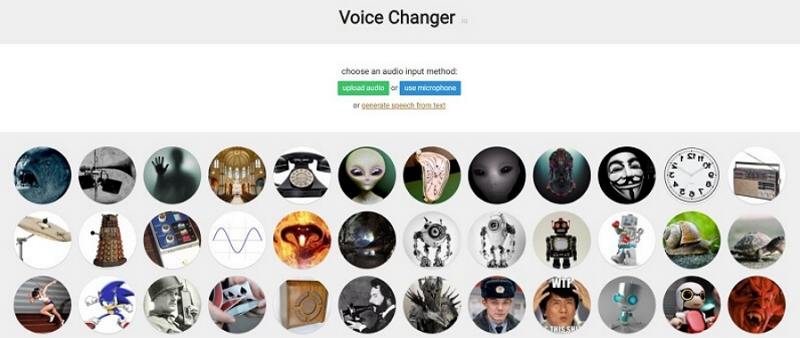 VoiceChanger.io is a Barbie voice changer online that allows users to transform their voice into Barbie's voice without any downloading or installation. This tool is famous among gamers because it allows them to alter their voice while playing games like COD, Fortnite, and World War.
This tool is free for now. It offers many realistic voice effects, including Alien, Robot, Monster, Child, Bane, and many more.
A single developer developed VoiceChanger.io as a hobby project, which is why this tool is free. It has a user-friendly interface, which makes it easy to use for a beginner. To alter your voice in real time, you just have to use your mic to record the Audio and select the voice effects.
Features
Allows you to convert your voice into Bane, Alien, Monster and more
It has a User-friendly interface
Support many online and offline platforms such as Discord, Skype, etc.
It is a web-based online tool, meaning no downloading is required
Free of cost, and no registration is required to alter your voice
How to get the voice of Barbie via Voicechanger.io?
Below, we have mentioned the simple steps to convert your voice into Barbie in real time via Voicechanger.io.
Open your Web browser and go to Voicechanger.io.
Click on the Upload audio option or choose the use microphone option.
Upload the Audio you want to convert or record the Audio clip
Now select the Barbie profile from the voice effects.
That's it. Now your voice will converted into Barbie voice in real-time
FAQs of Barbie's Voice
Q1. Who is Barbie's voice?
A1. Kelly Sheridan has voiced Barbie for over ten years. This Canadian voice actor has done more than 20 Barbie films. But now, in 2023, Margot Robbie has played the Barbie character in Barbie Movie.

This movie has become the most-grossed movie of 2023 with over $1.34 Billion Box office collection worldwide.
Q2. Why did Barbie's voice change?
A2. Many voice actors voice Barbie; Kelly Sheridan's voice as Barbie was one of the most loved voices by fans. However, later, her voice was replaced by Diana Kaarina. But the fan's reaction was not good. That's why, in 2012, Kelly returned to the Barbie movies.
Q3. How to make Barbie's voice?
A3. You must first select the Barbie Voice Changer App to make Barbie voice with AI. Above, we have mentioned the top two voice changers with Barbie sound effects. We will recommend you choose the HitPaw voice changer. Then, launch the program and select the input and output devices. Download the Barbie sound effect and click on it to Apply.
Final Thought
In this guide, we have covered all about Barbie and the voice actor behind her character. As we all know, she is the most loved animated character ever. For that reason, many fans want to use her voice in their projects or simply want to have fun in the voice of Barbie. To fulfil that goal, we have introduced you to the top 2 Barbie AI voice Generators available online, allowing you to sound like the icon character in no time. Both these tools are rich in features and have amazing sound effects.
But HiPaw Voice Changer is the best voice-transforming tool available in the market. This tool has hundreds of voice effects and filters, including high-quality Barbie voice effects. Anyone can use this tool because it has a straightforward interface that lets you change your voice in real-time. Use this tool to fulfil your imagination and enjoy the magical voice of Barbie.