[Detailed Guide] How to Generate Narrator Voice with Ease
Part 1. What is Narrative Voice?
Narrative voice is the perspective from which a story is told. It is the voice of the narrator, who is the person telling the story. The narrative voice can be first person, second person, or third person. The narrator is the individual who uses their voice to explain an event, tale, or anything in real time. Because the narrator is always a storyteller, separate the author's voice from the narrator's voice.
A narrator voice generator is software or a program that allows you to generate dramatic sounds based on the tale and its setting. Using a narrator voice generator will allow you to modify your sound with various effects.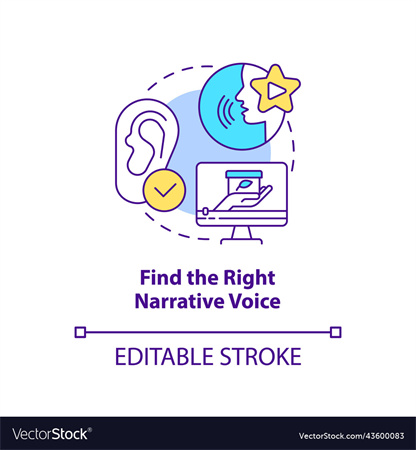 Part 2. Full Guide to Use 4 Wonderful Tools Generating Narrator Voice
In this comprehensive lesson, we will look at four amazing tools that may help you develop a professional narrator's voice. These tools utilize advanced narrator's voice TTS (Text-to-Speech) technology, which can transform written text into captivating spoken content.
1. Narrator's voice
Do you want to improve the quality of your videos, presentations, or even audiobooks? Take a look at "Narrator's Voice"! This wonderful tool, with tremendous powers and an easy-to-use interface, allows you to simply create captivating voice overs. You may use the Narrator's Voice TTS to generate compelling material by utilizing its key characteristics.
Key Features:
Text-to-Speech Conversion
Voice Customization
Wide Range of Voices
Background Effects
Save and Share
1. Download the Narrator's Voice app from the App Store or Google Play

2. Create a free account or sign in with your Google or Facebook account.

3. Choose a voice and adjust the settings.

4. Type or speak your text.

5. Click the "Narrate" button to generate the audio.

6. Share your narration with others.
2. Voice Narrator with Voices.com
Voice Narrator on Voices.com is a strong platform for finding the ideal voiceover artist for your projects. Voices.com links you with a varied choice of professional voice talents, whether you need a voice for commercials, videos, audiobooks, or any other media.
Key Features:
Extensive Voice Talent Database
Variety of Voice Styles
Custom Auditions
Secure Payment and Project Management
1. Create an account on Voices.com.

2. Post your project requirements.

3. Listen to the auditions

4. Shortlist and communicate with voice talents.

5. Finalize and hire the preferred voice artist.

6. Collaborate and provide feedback.

7. Release payment and receive the final files.
3. Narrators Voice with Murf-Intelligent Voice Creator
Murf is a narrator voice generator with artificial intelligence that specializes in voice narration. It can create realistic and flexible voices for a variety of purposes, including audiobooks, movies, and presentations. Murf provides a varied range of voices, including male and female alternatives, in over 20 languages and dialects. You may also change the pitch, tone, and strength of the voices, allowing you to build the ideal voice narration for your individual needs.
Key Features:
Realistic AI voices: Murf's voices are highly realistic and sound like real human voices.
Versatile voices: Murf offers a wide range of voices, so you can find the perfect voice for your project.
Customization options: You can customize the voices to change the pitch, tone, and emphasis.
Easy to use: Murf is easy to use, even if you don't have any experience with AI voice generators.
1. Go to the Murf website and create an account.

2. Select the voice you want to use.

3. Enter the text you want to have narrated.

4. Click on the "Generate" button.

5. The narrator's voice will be generated, and you can download it.
4. Narrator Voice Generator with Speechify
Speechify includes a Narrator Voice Generator, which enables users to create captivating audio recordings with a human-like touch, effectively adding the voice of the narrator to their material.
Key Features:
Natural-sounding voices: Speechify's Narrator Voice Generator uses artificial intelligence to create voice overs that sound just like humans.
Wide variety of voices: Speechify offers a wide variety of voices to choose from, including male, female, and child voices.
Customizable settings: Users can customize the speed, pitch, and volume of their voice overs.
Easy to use: The Narrator Voice Generator is easy to use and can be accessed from any device.
1. Go to the Speechify website or app.

2. Sign up for a free account.

3. Click on the "Narrator Voice Generator" tab.

4. Type in the text you want to be narrated.

5. Select a voice and listening speed.

6. Click on the "Generate" button.

7. Your voiceover will be downloaded as an MP3 or WAV file.
Part 3. Ultra-tips: Best Voice Changer to Make More Realistic Voice
In some circumstances, voice cloning may generate a voice that sounds similar to the original but has subtle deviations or artificial features. HitPaw Voice Changer may be used to change the voice to a more realistic one. It is well-known for its wide capabilities and usefulness as a Voice Changer program.
Features:
Create sounds that sound genuine and similar to real human voices
Real-time voice conversion to the most realistic and natural voices
Imitate renowned characters, celebrities, or memorable voices in an instant
Streamlabs OBS and other Streaming platform Integration
Include a user-friendly interface that is simple to use and navigate
Steps to Use HitPaw Voice Changer
Step 1: Choose Voice Effects
Click to download the voice effect you want.

Step 2: Adjust Sound Settings
Adjust the sound effect in the sound settings,you can adjust Volume,Pitch,Timbre of the sound.

Step 3: Choose Voice Effects
Toggle the button, you will be able to adjust global settings according to your preferences.

Step 4: Adjust Sound Settings
After adjusting the sound, now you can apply the effects on other platforms. Simply click the "Connect" button, then you can change your voice on other platforms.
Part 4. FAQs of Narrator Voice
Q1. What is the difference between narrator and voice?
A1. The narrator is the one who recounts the narrative. They might be a character in the tale or an outside observer. The narrator's point of view may have a considerable influence on how the tale is conveyed and how the reader understands it.
The term "voice" refers to the general tone and style of the tale. It is the manner in which the narrator recounts the tale, and it may be impacted by the narrator's personality, experiences, and point of view.
Q2. Is narrative a voice form?
A2. No, narrative is not a type of voice. Narrative refers to how a tale is told, whereas voice refers to the style or use of words in a story. A narrative may be told in a number of different voice styles, including first-person, second-person, and third-person.
Final Words
In this comprehensive guide, we explored the notion of narrative voice and presented a complete review of four important tools that may assist in establishing a narrator's voices for creative projects.
And we also recommend HitPaw Voice Changer to revolutionize your audio content creation.