Discover The Top 6 Stormtrooper Helmet Voice Changers
Do you know a Storm Trooper Helmet Voice Changer can modify your voice into your favorite character?
Star Wars series is one of those movies & shows with a huge fan base worldwide. Though this includes impressive heroes and villains, Stormtrooper is the most beloved character. So following the trend of changing your voices to favorite characters, Star Wars fans also look toward Storm Trooper Voice Changer for fun on chatting and streaming platforms.
Since finding a voice changer that offers the Storm Trooper Helmet effect is challenging, here are the top offline and online options. Let's begin!
Part 1. What is Storm Trooper Helmet&Storm Trooper Helmet Voice Changer?
Storm Trooper helmet has a communicator, a single power cell broadband communication antenna, two artificial air supply hoses, and an audio pick-up. It also contains an in-built filtration system for a breathable atmosphere.
With its motion sensors, the Stormtrooper can detect an enemy soldier. The unique thing about this is the fans love the fantastic voice of the Stormtrooper while wearing this helmet.
But don't worry; this helmet is available on Amazon as Storm Trooper Voice Changer for ages 8 and up. Being a part of the Black series collection, this electronic device offers collector-grade quality. Using this helmet, you can change your voice to Imperial Stormtrooper.
Part 2. Top 6 Storm Trooper Helmet Voice Changers For PC/Mac
Technological advancements have made it easier to change your voice on various communication and streaming sites. Below are the 6 best Storm Trooper Helemt Voice Changer for PC or Mac users with the pros, cons, and pricing plans:
Top 1. Best Storm Trooper Helmet Voice Changer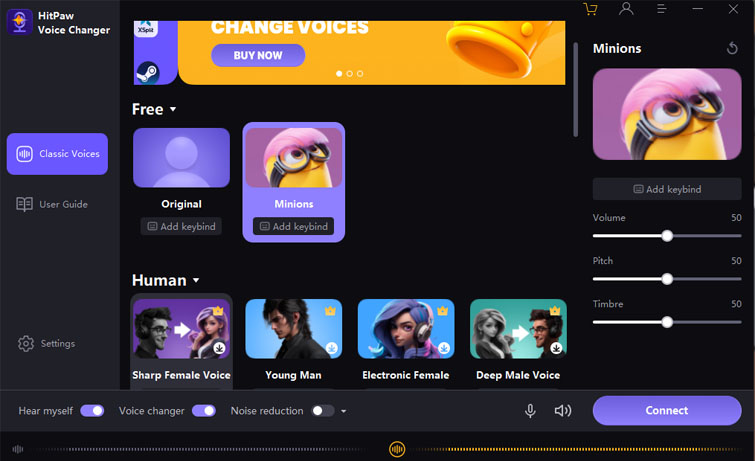 HitPaw Voice Changer is the leading one on the Storm Trooper Helmet Voice Changer list. Since it offers various magical sound effects, you can easily find and apply the Stormtrooper effect. Whether you are a live streamer, vTuber, gameplay, or content creator, this real-time voice modifier is ideal. This is because of its capability to integrate will all popular platforms.
Working over cutting-edge AI algorithms, achieving natural, lifelike voices became possible. Also, you can access its noise reduction and keybinds control feature. Even it lets you adjust the volume and pitch of the resulting voice. Not only will you get easy & quick processing but also high-quality output.
Top 2. Voicemod
Pricing: $18 per year, $12 per quarter, $45 for a lifetime
If you want to add customized effects to your voice on various desktop software, Voicemod is the ultimate solution. It does not only help you produce voice avatars but also voices skin for metaverse and multiverse platforms. You can add your effects to the sound effect library.
Moreover, this voice changer offers various options to quickly customize the Stormtrooper helmet voice and other AI voices. Even you can edit the voices as desired.
Pros
Provide voices of male, female, ghost, scream, etc.
Help you set up a voice modulator in just 5 minutes
Let you upload voice input in WAV and MP3 format
Cons
Offer limited functionalities in the free plan
Unable to work with unstable network connection
Top 3. Clownfish Voice Changer
Pricing: Free
Clownfish Voice Changer is the most user-friendly software with attractive features. Though you can pick the available effects, i.e., robot, baby pitch, atari, etc., it allows you to create personalized sound effects like Stormtrooper sound effects. However, you need to use the microphone or another capture device.
Along with supporting popular platforms, this Storm Trooper Helmet voice changer provides a music player with audio control features and an amazing playlist.
Pros
Work as a background music player
Assist you in converting text to speech
Produce static voice effects using the VST plugin
Cons
Work only on Windows
Offer only a few voice effects
Top 4. Voxal Voice Changer
Pricing: $34.99 (Home Use), $39.95 (Commercial License), $3.33/mon (Commercial License Quarterly Plan)
Whether you want to change or customize your voice on any app or game with an audio input device, Voxal Voice Changer must be your way. It helps you make unlimited custom voice effects using source files during live recording or streaming.
From girl to jellyfish to alien, this Stormtrooper Helmet voice changer offers a wide range of voice-changing options. You can also create character voices for audiobooks.
Pros
Compatible with existing gaming platforms
Help you with voice distortion and amplification
Offer hotkeys to control voice change
Cons
Come up with an outdated interface
A little complex for beginners
Top 5. Murf AI Voice Changer
Pricing: Free, $19 (Basic), $26 (Pro), $99 (Enterprise)
Murf AI Voice Changer is a remarkable software for modifying your voice to the Storm Trooper Helmet effect. Due to its AI technology-based processing, you can achieve studio-quality voiceovers. It offers over 120 text-to-speech voices in more than 20 languages.
In addition, you can play with the speed, emphasis, interjections, and pitch of the Stormtrooper helmet effect. Simply, it is suitable for those who need high-quality voice conversion.
Pros
Help you edit the voice quality
Let you remove pauses from the recordings
Record sound without any background voice
Cons
Record only 10 min in the free version
Need you to upgrade for advanced features
Top 6. Voice.ai
Pricing: Free
Voice.ai is a real-time AI voice changer that lets you access the universe of limitless voices. You can create a unique vocal identity on your favorite games. Since it is compatible with multiple platforms, you can also use it while streaming.
Also, its robotic sound quality helps you change your voice recordings easily. Even you can effortlessly make your soundboard by compiling all the customized sound effects and recordings.
Pros
Offer cutting-edge technology with intuitive UI
Help you add personalized sound effects
Provide easy setup with high performance
Cons
It does not offer the voice cloning feature
Beginners may find it complex to function
Part 3. Storm Trooper Helmet Voice Changers Online
Not everyone likes to download software on their system, so here are the key features and pricing of the several online Storm Trooper Helmet Voice Changer:
1.MyVoiceMod
Pricing: Free
MyVoiceMod is a leading online tool to offer fantastic voice changing effects. With a simple user interface, it is easy to operate for both beginners and professionals. You can also record sound via microphone or upload audio to apply the amazing voice effects.
It provides you with a range of options, including robotic, fast, evil, space, megaphone, etc. Even you can customize the effect if required. Lastly, it lets you preview the output file before downloading.
2. Voicechanger.io
Pricing: Free
If you are looking for a high-quality user experience, Voicechanger.io is the best solution. This voice changer offers more than 50 unique voice effects, along with the option to create a customized voice, such as the Stormtrooper helmet voice effect.
It helps you change your voice to various characters. Furthermore, you can import your recording or record with the microphone to modify your voice. Even the feature of generating speech from text is possible.
3. Lingojam
Pricing: Free
Lingojam is a basic choice for users who wish to convert text to a robotic effect. This voice changer requires you to enter the text and hit the Speak button to listen to the effect. You can save the voiceover to your device using the download button.
Also, it provides you the option to change the speed and pitch of the output file. You can even generate random sentences to check the sample beforehand.
Part 4. FAQs of Storm Trooper Helmet Voice Changer
Q1. Can Vader breathe without his helmet?
A1. No, Darth Vader is unable to breathe without his helmet. It's because his helmet is connected to a life support system. He can only breathe without this mask in a controlled environment during meditation. Also, it's the time when he can eat properly.
Q2. How much is an original Stormtrooper helmet worth?
A2. According to the news of The Hollywood Reporter, a prototype Imperial Stormtrooper helmet from 1976 is on sale, expected to fetch between $35K to $70K at the Star Wars auction. The iconic Darth Vader mask from "The Empire Strikes Back" was sold for $900K in September 2019.
Q3. Can you buy a Stormtrooper helmet at Disneyland?
A3. Yes, you can buy a Stormtrooper helmet at Disneyland from shopDisney. This shop has a shipment of First Order Stormtrooper helmets offering various sound and voice changing effects. This electronic helmet is capable of making your imperial dreams a reality.
The Bottom Line
No doubt, multiple Storm Trooper Helmet Voice changer are available in the market. The above guide has discussed the 9 efficient offline and online ones with their functionalities, pricing, pros, and cons. So, look at these to choose the one that fits your demands.
However, HitPaw Voice Changer is a superb Stormtrooper Helmet voice changing software. While changing voices, it also removes the echo and noise, bringing clear output. So why not give it a try?