Learn Everything About Voxal Voice Changer
Multiple situations exist behind masking your voice. Some people do it for fun, like online trolling, while others for privacy. Professional gamers also love changing their voices to interact online. No matter the reason, there will be a requirement for an efficient voice-changing tool. Voxal Voice Changer is one of them, but you must learn how to use it.
However, you may face some shortcomings while using this software, such as incompatibility with some microphones, low-quality output, bugs, etc. Hence, this write-up also covers some best alternatives with their pros and cons!
Part 1. What is Voxal Voice Changer?
NCH Voxal Voice Changer is a user-friendly real-time voice-changing software. It provides a limitless library of vocal effects, including male, female, robot, etc. You can also use or create custom voices for chatting while streaming and playing games. Even it allows you to change your audio recordings by applying the desired effects.
In addition, you can amplify or distort the audio projects and voiceovers via settings. With an intuitive interface, this software helps you add background noise to your existing sound files if required. Lastly, it works seamlessly with multiple apps, like Steam games, Discord, CSGO, Skype, and more.
Here is the pricing of Voxal Voice Changer in Limited Time Offer:
Commercial License: $29.99
Home Use Only: $24.99
Commercial License Quarterly Plan: $2.77/month
Part 2. How To Use Voxal Voice Changer?
Voxal Voice Changer works efficiently on both PC and Mac. Not only can you use it in chats, but also it helps you record the clips and convert text to speech. If you are prepared to change your voice, let's comply with the following steps on how to use NCH Voxal Voice Changer.
1. Launch Voxal Voice Changer
The first step involves downloading & installing this software on your system for free via its official website. Now, double-tap it to activate and access its voice effects. It lets you alter or create your effect.

2. Voice Effect Selection
Secondly, you need to choose the effect to use on your voice. From the left column of voices, double-click the chosen one to activate. Once highlighted, you can hit the "Preview File" tab to test the voice. However, you must not use any app with the microphone before selecting the voice effect.

3. Real-Time Voice Effects
If you need to apply a real-time voice effect, it is possible by clicking Menu > Tools > Options. You can select the recording and playback device as desired. Also, it lets you choose the Preview Mode for whether you want to talk usually and apply effect later or change the voice as you speak.

4. Choose the Software
After setting up this Voxal Voice Changer, it's time to launch the desired software, like Discord or Skype. It can be any other based on your demand, such as a meeting, phone calls, presentations, gaming, etc. Also, talk once into the microphone to ensure the voice tone.

5.

Start Using
When the microphone meter starts moving on the screen and displays the status of "Successfully processing", everyone can hear your voice. If you can't see this, your software isn't synchronized with the second software yet. Restart the second program after choosing Voxal as the voice source.
Part 3. FAQs of Voxal Voice Changer
Q1. Is Voxal voice changer safe?
A1. Voxal Voice Changer is undoubtedly user-friendly and safe since it claims not to use any of your resources. It assists you in changing your voice in real-time on the desired software for having fun moments with friends. You can mask your voice with the desired one from its library, such as funny, robotic, etc.
Q2. Is Voxal Voice Changer legit?
A2. Though purchasing a specific software or not is your decision, Voxal Voice Changer is worth buying. You can effortlessly alter your voice using this app on various platforms, primarily gaming. Since it ensures safety standards, you can use it without worrying. Plus, it is cost-effective, so you don't need to spend much for the desired results.
Q3. Does Voxal work on Discord?
A3. Yes, Voxal Voice Changer doubles your entertainment by working efficiently on Discord. For this purpose, you need to download both software on your system. First, finish the Voxal setup and launch Discord: open Settings, Voice and Video, and Voice Settings. Under the Input Device, change from default to Voxal Voice Changer.
Part 4. Best Voxal Voice Changer Alternatives
Though Voxal Voice Changer is a comprehensive software for masking your voice, you can also consider other voice changers to overcome its shortcomings, if any. So here are the 5 excellent alternatives, including their features, pricing, and pros & cons. Let's start!
Top 1. HitPaw Voice Changer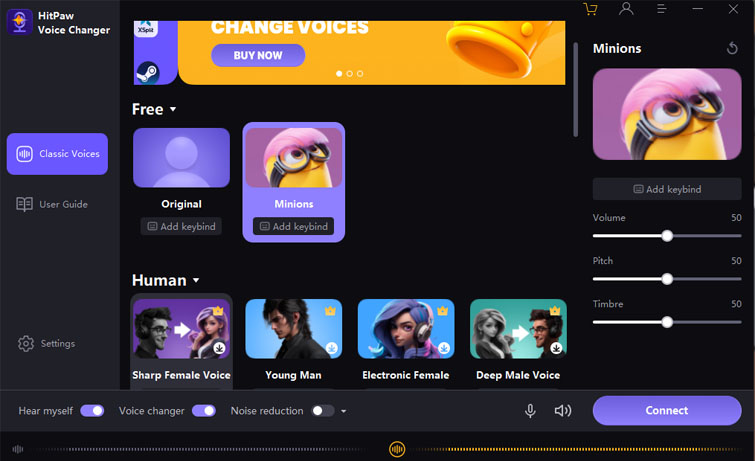 HitPaw Voice Changer is a superb real-time AI voice-changing software with various magical sound effects that will soon be available. It enables you to change your voice from male to female, girl to boy, or whatever you like. You can effortlessly achieve fantastic effects, like minions, first lovers, Ghostface, and more.
So this will be your perfect partner for live streaming, gameplay, and online meetings on Zoom, Skype, etc. In addition, you can quickly remove echo and noise while changing your voice. Lastly, thanks to its cutting-edge AI algorithm and voice-learning technology for bringing the ideal output sound quality.
Pricing: $15.95/Month, $35.95/Year, $65.95/Perpetual
Features
Offer an easy setup with keybind controls
Suitable for both amateurs and professionals
Work seamlessly with almost all famous sites
Let you change your voice on Discord efficiently
Provide you with impressive customization options
Top 2. VoiceMod
VoiceMod is a remarkable alternative to Voxal Voice Changer that offers the best real-time voice effects using advanced AI technology. These include chipmunks, aliens, whatnot, police, baby, and more.
Since it is compatible with various programs, like Skype, Twitch, VRChat, and Discord, you can change your voice while speaking on these platforms. Also, it supports multiple online games, such as League of Legends, PUBG, Fortnite, etc.
Pricing: Free + Pro ($32 for a lifetime license)
Pros
Support 90+ voice and effects
Let you add audio clips to the soundboard
No disturbance to apps or games functioning
Cons
Some users complain about low sound quality
Limited resources with annoying ads in the free plan
Top 3. Clownfish Voice Changer
Clownfish Voice Changer is the ultimate solution to Voxal Voice Changer for Discord if you want software that supports many apps and customization options. It enables you to change your voice on any app on your PC with a microphone or audio capture device.
Also, you can use any desired voice effect from its amazing collection, i.e., clone, female pitch, silence, mutation, atari, robot, etc. Even it offers a sound player with in-built sound management.
Pricing: Free
Pros
Offer an easy and quick functioning
Support for Virtual Studio Technology (VST) plugin
Provide you with enhanced audio control & playlist
Cons
It does not get updated frequently with time
Bring compatibility issue with microphone at times
Top 4. MetaVoice Studio
Whether you need to change your voice in a conference, a game, Discord, or any platform in the virtual world, MetaVoice Studio is a fantastic application for achieving studio-quality AI voiceovers. It offers seamless integration with various platforms to create engaging and lifelike voices.
Moreover, you can enjoy its one-click conversion technology. Even it ensures complete privacy of your voice. Even you can customize your voice without any hassle.
Pricing: $10 per month
Pros
Provide natural sounding voice over cutting-edge AI
Integrate with 800+ platforms to change your voice
Suitable for professional streamers & content creators
Cons
Offer only limited customization options
Come up with distorted voiceovers sometimes
Top 5. MorphVOX Junior
MorphVOX Junior is also a well-known voice changer with an extensive range of functionalities. This is a low-bandwidth voice changer, so it does not put a load on CPU usage. Its quick chatting technology and retaining high sound quality output make it stand out among relevant software.
Not only it offers integration with multiple sound effects but also background tracks. The unique thing is that you are allowed to record your voice efficiently.
Pricing: Free
Pros
Support Discord and online gaming
Give you a range of cool sound effects
Offer optimal sound quality output
Cons
Provide limited voice effects in the free plan
Not compatible with some platforms due to audio settings
The Bottom Line
The above guide has provided you with the features, pricing, and procedure of Voxal Voice Changer. You can also consider the 5 best alternatives with pricing, advantages, and disadvantages. So, it depends on you to opt for the desired tool.
However, HitPaw Voice Changer is the most recommended software that offers a wide range of magic sound effects. You will also experience the best output quality, along with removing noise and echo features. So why not try it once?