Everything You Need to Know About Mexican Alien Corpse
"Mexican Congress holds hearing on UFOs featuring purported 'alien' bodies." According to the recent news, Mexican lawmakers said that "we are not alone," and there is a possibility of non-human beings during the first congressional event on UFOs. This hearing was held on Tuesday, where two artifacts were shown by Mexican journalist and UFO enthusiast Jaime Maussan. These bodies were displayed behind glass and are reputed to be a millennium old. So, if you are also curious to know about Mexican Alien Corpse, continue reading this article, as here we will tell you everything about Mexican Alien and how you can also get Alien voices by using an Alien voice changer.
Part 1: Mexican Congress Displays Two Alien Corpses; Are Aliens Real?
Mexico is again in the news because of the fossilized bodies presented by journalist and self-proclaimed UFO scientist Jaime Maussan, which are claimed to be around 1,000 years old. These bodies were presented in front of the politicians. According to Maussam, these specimens can be aliens.
According to the reports, multiple DNA tests have been done, which show that these specimens are not part of the Earth and have not recovered from the UFO crash. It wouldn't be wrong to say that these are some kind of aliens that we mostly see in the movies. Apart from that, the skeletons have only three fingers on each hand and elongated heads, as per the reports. During the congressional hearings on UFO, they also discussed that the DNA was checked by the National Autonomous University of Mexico (UNAM) and used radiocarbon testing to find the age of these specimens.
It is not the first time that Maussan has come up with such news. In 2017, he claimed the unusual-looking mummies in Nazca, which generated a big controversy. However, after some time, it was revealed that the Nazca mummy was a child whose head was damaged in an ancient practice.
Undoubtedly, Aliens can be creepy and interesting at the same time because of their appearance and voice. We all have seen aliens in movies, but it is almost impossible to see them in real life. But don't worry if you are interested in hearing Mexican Alien voice; we've got you covered. There are different Alien voice generators available in the market that you can use to get Alien voices. Let's discuss more about what do Aliens sound like and how to use the Alien voice changer application.
Part 2: A Recommended Alien Voice Changer to Get Mexican Alien Voice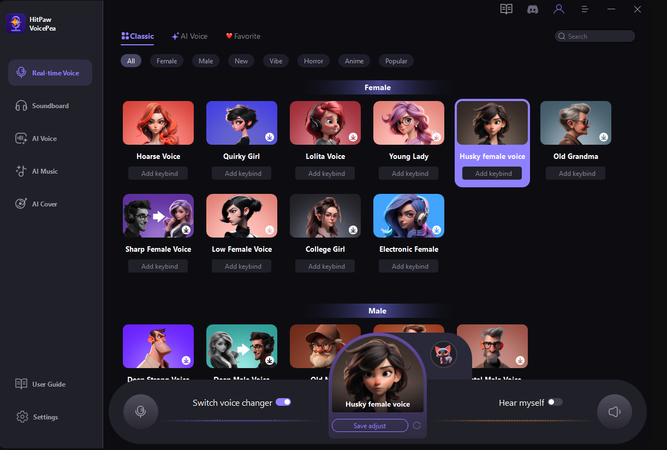 If you want to get a Mexican Alien voice and are looking for the best Alien voice changer, we've got you covered. In this section, we will tell you some about the perfect Mexican Alien corpse voice changer that you can use to get the Alien voice. Yes, we are talking about HitPaw voice changer application. With this app, you can easily get Alien voices and experience the same as you see in movies. This Alien voice changer app is simple and has lots of wonderful features that can change the voice within minutes. The app can be downloaded for both Windows and Mac users.
However, there is no mobile application available, so you have to use this software on your PC and Mac only. Do you want to know more about this app? Continue reading the features.
Key Features of HitPaw Voice Changer
Change your voice into Mexican Alien by following three simple steps
A real-time alien voice-changing option is also available
The interface of this app is attractive and easy to manage
Users can adjust voice, pitch, sound, and more with ease
It is a perfect voice changer for gameplay, content creator, Vtuber, or live streamer
Users can change their voice effortlessly with high-quality
It comes with Keybinds Control, which are perfect for adjusting your voice
Users can seamlessly change voices on all the platforms, such as Minecraft, Rocket League, Overwatch, etc.
It offers a free trial, which has different options, including the Alien voice changing option
Price of HitPaw Voice Changer
●1 Month: $15.95 per month
●1 Year: $35.95 per month
●Perpetual: $65.95 per month
●Business Plan: $109.95 per month
Here're easy steps that how you can use HitPaw Voice Changer:
Step 1:Go to "Settings", and click the drop-down button to select the input and output you are using.

Step 2:Choose the Alien voice effect and click to apply it

Step 3:Turn on the "Voice Changer", "Hear myself" and try to speak to your microphone to listen how your voice sound like. If the surrounding environment is noisy, you can manually activate noise reduction. Please don't set the noise reduction level too high, as it may filter out some sounds.

Step 4:After selecting the desired sound effects and previewing them, you can adjust the volume according to your preferences.

Step 5:Then you can change your voice on other platform like Discord, Steam, Twitch.
Part 3: FAQs About Alien Voice Changer
Q1. What is the Best Alien Voice Changer?
A1. HitPaw voice changer is one of the best Alien voice-changing applications. With this app, you can easily convert normal voices into your favorite Alien, such as Mexican ones. This software is available for both Mac and Windows users.
Q2. Are those Mexican Aliens real?
A2. It is difficult to say if those Mexican Alien corpses are real or not. However, they are still in the testing phase, and the government hasn't revealed more about those bodies. However, according to Maussan, those bodies are not human and not even related to Earth, so it is possible that they are Aliens.
Part 4: Final Thought
Mexican Aliens have added different questions in our minds about the Aliens and their existence. However, the Mexican government didn't add any further statements regarding those specimens, so we have to wait until the real truth comes out. If you are also curious and excited to add Alien voice to your games, platforms, and more, we recommend using an Alien voice changer like HitPaw voice changer. With this app, you can get the real Alien voice without putting any effort.