6 Easy Steps to Change Alexa's Voice in 2023
Amazon Alexa is a popular voice assistant in the world. Alexa takes your verbal orders & executes them on smart appliances and by searching info on the internet. Alexa has a stunning female voice throughout, which speaks to the users. However, people may get annoyed & tired of listening to the default voice of the voice assistant, and they might want to change Alexa voice. So, let us dive in & discover how to change Alexa's voice.  
What is Alexa's Voice?
Alexa is a voice-controlled virtual assistant. She can play audio, answer questions, control your smart home, & engage your favorite services to keep you informed, safe, organized, connected & entertained. As a product of Amazon, she is also your personal shopper.
Based in the cloud, Alexa is accessed by a growing number of smart speakers & other Alexa-enabled devices.
How to Change Alexa's Voice on a Smartphone
How to change on Alexa? Alexa has a new male voice option & a couple of celebrity voices you may identify. These features are accessible for all Alexa Echo Dots except if you use a first-generation model. This guide explains how to change Alexa voice in easy steps & set your Alexa in multi-lingual mode to listen & answer in multiple languages.
Before you try anything, confirm Alexa app is installed on your phone. For some cause, if you erased the app after first setting up your Echo Dot, no worries. You can always reinstall it & connect this to your Dot again. Confirm you are connected to a similar Wi-Fi as the Echo Dot.
Step 1-Open Alexa App
On your smartphone, open Alexa app & connect toward the Echo Dot to which you are trying to create alexa voice change.
Step 2- Click on Devices
On the bottom tab menu, choose Devices. It is the segment that permits you to control Alexa-compatible device. Then click on Echo & Alexa in the top right corner.
Step 3- Choose the device to change
After choosing Echo and Alexa, you will see a list of devices that meet that criterion linked to your Amazon account.
Step 4- Choose Settings
You will get a settings gear wheel in the topmost right corner of the Echo Dot's page. Tap on this image to get to the option for your Echo Dot.
Step 5- Scroll down toward Alexa's Voice
In the settings menu, scroll down till you see an option named Alexa's Voice, & tap on it. This option must be right below the option named Wake Word.
Step 6- Select Your New Voice
A variety of voice options are accessible.For the male options, select whichever language you like, and then choose the second one. When you tap on the options, it will play a model of the voice on your phone.
You can also change the speaking rate your Alexa will reply to you.each steps need one picture
How to Change Alexa's Voice with Echo Devices?
This even easier means to toggle among voices needs the Echo device itself. Go to the device & say, "Alexa, change your voice." Alexa will react by providing you with a few voices to select from. The device will play an example; ask if you want to choose that voice or try another one. When you find one you like, confirm your choice with Alexa & you are good to go.
How to use a celeb voice for selecting Echo commands?
Amazon has launched a handful of celebrity voices users can buy for use on just about any Echo-branded device. So far, accessible voices contain: 
Samuel L. Jackson
Shaquille O'Neal
Melissa McCarthy
1. Request for an introduction
Move to any of your Echo devices, or open the Alexa app & say, "Alexa, introduce me to [insert name of celebrity]." Alexa would switch to the "Celebrity Personality" you selected, & will clarify, in their voice, what they are capable of.
2. Validate your buying
If you want to continue using the voice for your Echo, you will be requested to confirm your buy of the Celeb Personality of your choice.
It is worth noting that all celebrity voices would work for the most common jobs. However, Amazon warns they can not assist with "shopping, reminders, lists, or skills.
3. Access your celeb voice
Once you have installed your Celeb Personality, you can talk to them precisely by using their wake word, "Hey, Shaq," or "Hey, Samuel" for instance. You can also allow the similar celebrity voice, at no extra charge, on any other echo device tied to the similar Amazon account by going to that device & saying, "Alexa, enable "Hey [Name of Celebrity]," depending on which voice you bought.
FAQs of Change Alexa's Voice
Q1. How do I change Alexa voice to a man?
A1. It will let users switch between Alexa's original voice & a new male voice. As per Amazon, users can reply to queries in both English & Hindi. Users can alter the voice commands by stating, "Alexa, change your voice" on their Echo device.
Q2. How do I add voices to Alexa?
A2. To add your voice toward your Alexa Profile, say, "Learn my voice," or follow these steps.
Open Alexa app.
Open more & select Settings.
Choose Your Profile & Family.
Choose Your Profile.
Choose Add Your Voice.
Q3. Can you change Alexa's voice to Jarvis?
A3. You can change Alexa voice with two simple techniques to make it like Jarvis or any chosen person's voice. The first is by Alexa device, while the second is by the Alexa app. For both processes, you must have the voice pack installed.
Bonus Tip:

Best Voice Changer to Make More Realistic Voice

In some cases, voice cloning may produce a voice that sounds close to the original but exhibits slight deviations or unnatural qualities. You can use HitPaw Voice Changer to modify the voice to more realistic voice. It is a popular Voice Changer software known for its extensive features and versatility.
Generate voices that sound realistic and like real human voice
Convert voice to the most realistic and natural voices in real time
Instantly transform voice to imitate famous characters, celebrities, or iconic voices
Integration with Streamlabs OBS and other Streaming Platforms
Feature a user-friendly interface that is intuitive and straightforward to navigate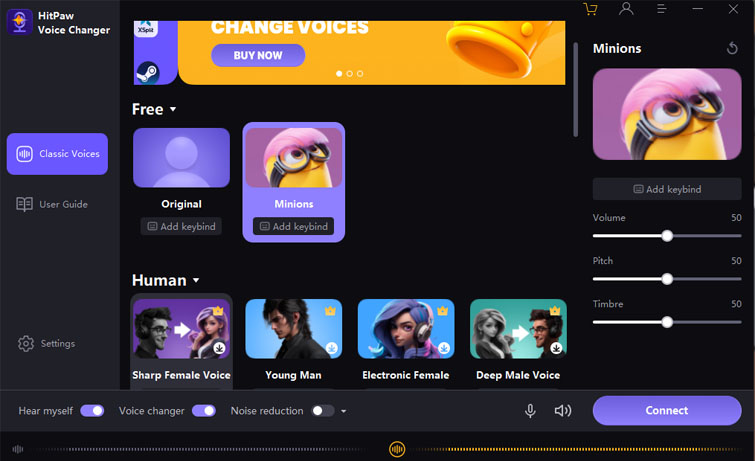 Conclusion
Hope you got answer of the question how do you change alexa's voice. You can easily modify Alexa's voice with several diverse options with just a bit of work.
There are many choices, including many excellent skills to get your creative juice flowing. By changing the language, tone, & accent, Alexa has further expanded its capability. It will be fun to chat with a celebrity & there are even several characters to select from.