How to Convert MP4 to AC3 with Easy Steps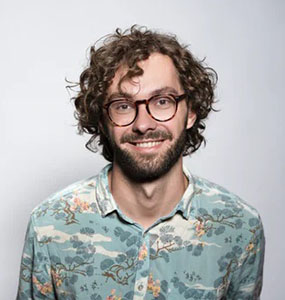 Many of you are familiar with MP4, the most popular sound format. But when you need sound for DVD, DTV media, HDT broadcast, or Blu-ray Discs, you need to convert MP4 to AC3.
You may be wondering what AC3 is. AC3 stands for Audio Coding 3, a sound audio file format. Do you know why people convert MP4 to AC3? Well, the reason is to enjoy premium quality sound. If you want to enjoy a cinematic sound experience, your search for the best solution, aka MP4 to AC3 converter, ends here.
Part 1. Best Way to Convert MP4 to AC3 in Highest Speed on Windows and Mac
When converting MP4 to AC3 on Windows and Mac, data loss is inevitable unless you opt for a top-quality converter. HitPaw Video Converter is your best bet when converting a video format. It lets you convert all kinds of video formats. The best thing about this converter is that you can process the conversion without loss. 
Using HitPaw Video Converter, you can get a lot of benefits. It supports multilingual file formats and lets you edit, merge, and crop without compromising the quality. You can also add a watermark to your video. It is fast, reliable, and very easy to use. HitPaw allows you to apply filters and effects to a video. On top of that, it preserves the 100% quality of the original video.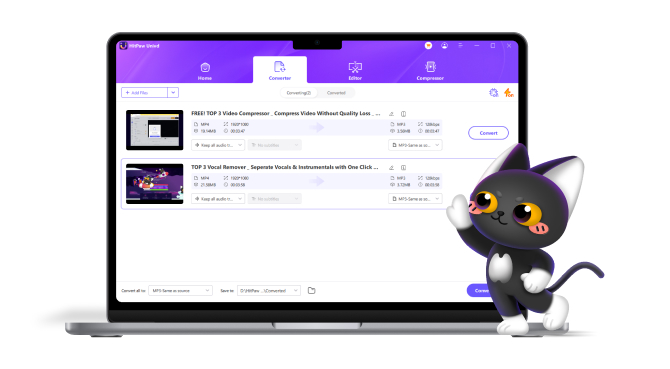 The Outstanding Features of HitPaw Video Converter:
Change MP4 to AC3 or AC3 to MP4 with 90X faster video processing speed.
You can do batch conversion and multiple video format conversions
Easily convert the file format of iTunes music, video, and audio.
Thanks to its support of 10,000 websites, you can download audio and video from many resources such as YouTube, Instagram, TikTok and Facebook.
Easily download YouTube playlist, videos and channels in bulk at amazing speed.
But how to convert MP4 to AC3 with Hitpaw Video Converter? Here are some steps you would follow to convert MP4 to AC3:
Step 02 Open the video converter and click on Add video to upload a video file.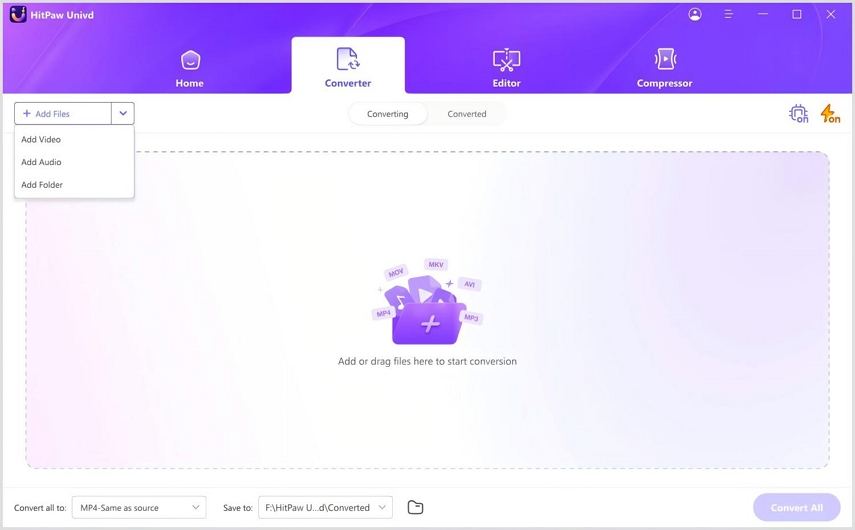 Step 03 Click on the inverted triangle icon to select the AC3 format. You can find this icon on the lower right side of every file.  If you have uploaded multiple files and want to convert them into one format, click on Convert all in the lower left corner.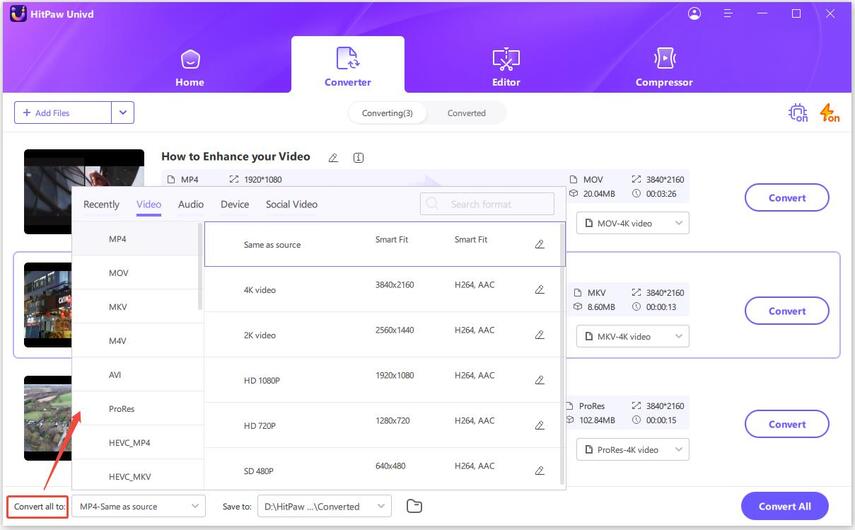 Step 04 Click Convert after choosing the target folder in the interface. During batch conversion, click on Convert all to convert all your MP4 videos.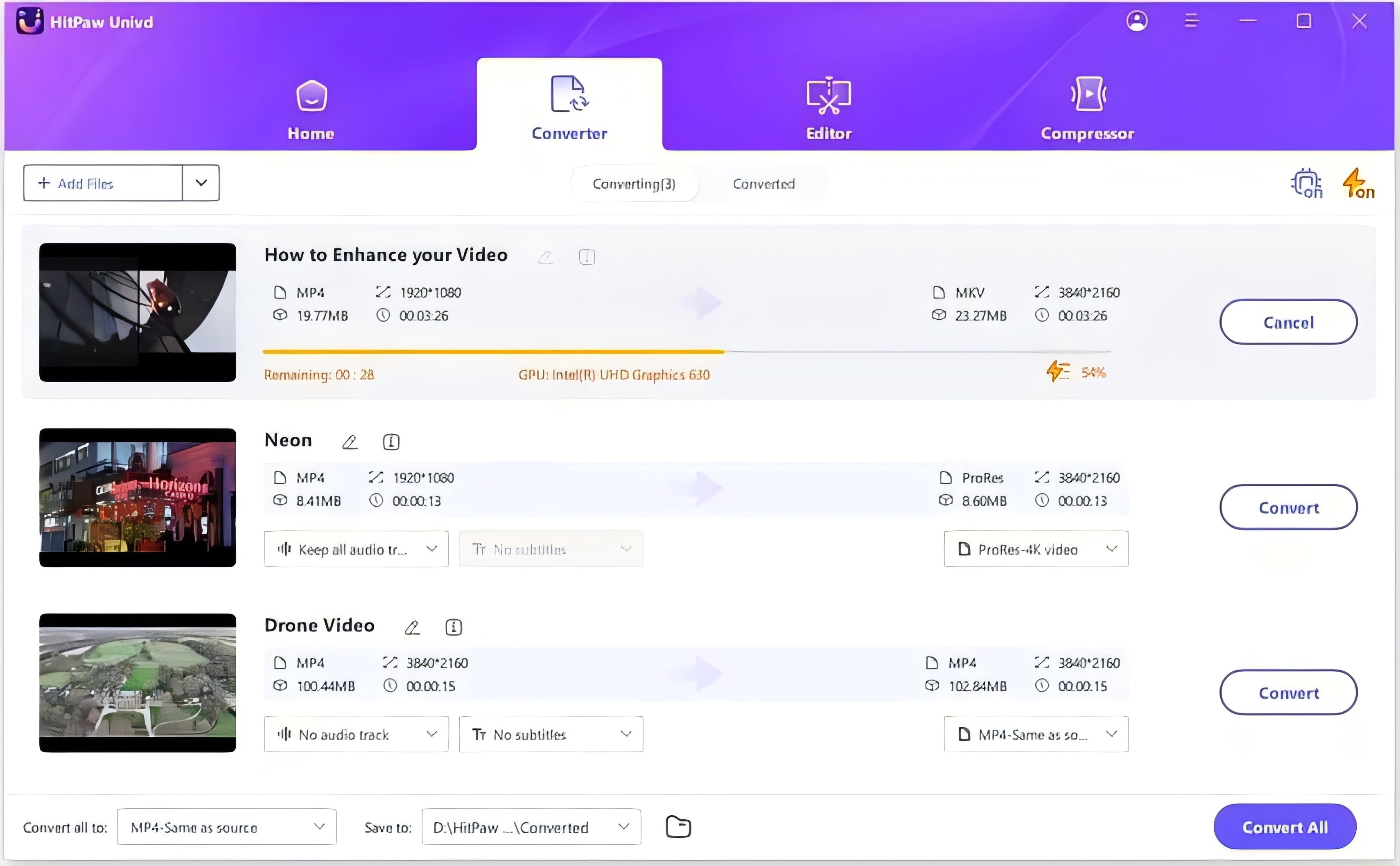 Step 05 Once the MP4 to AC3 conversion is done, access your converted file by clicking on the Converted tab. It unlocks all the converted files.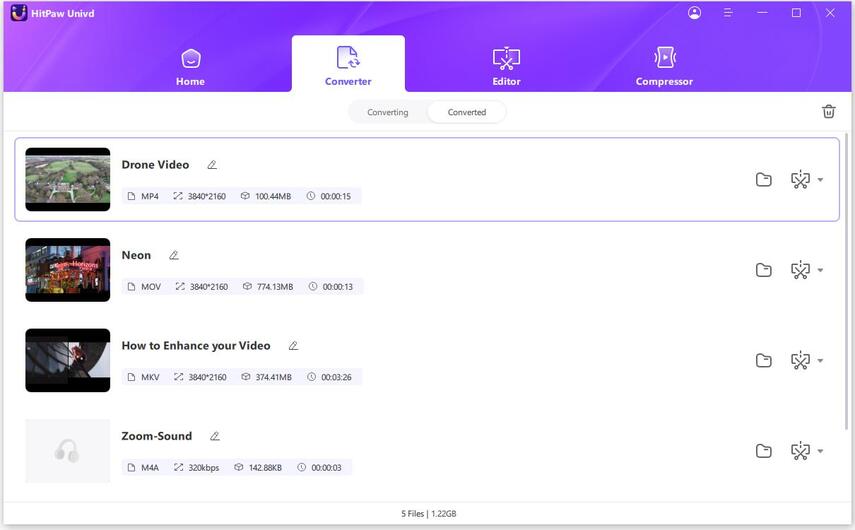 Part 2. Online MP4 to AC3 Converter for Free
For many users who do not want to download programs, online MP4 to AC3 converters have this incomparable advantage. For example, it does not occupy the space of the computer, and can be used anytime, anywhere, etc. You can try two online converters for this purpose. Here are these:
If you want an online MP4 to AC3 Converter, you can try Freefileconvert. You can use it online when you need it. This fast converter lets you enjoy conversion without any issues. Freefileconvert has a lightning conversion speed, and you can process multiple videos simultaneously. It's easy to use and provides you with 1000-plus file formats.
Here are the steps of how to convert MP4 to AC3 using Freefileconvert:
1

Upload your MP4 video. 

2

Select the AC3 as the output format.

3

Download and save the converted AC3 video to your computer.
Do you want to convert MP4 to AC3 online for free? If yes, then you should go with Zamzar, which has allowed every online user to do conversion fast. It is a dedicated MP4 converter. You can convert MP4 to other formats but not the other way around. Zamzar supports only six languages. It's easy to use, and you can choose 100s of formats for your video. It supports conversion happens in three steps and simple and easy to use. But unluckily, you can't convert AC3 to MP4 file format with that.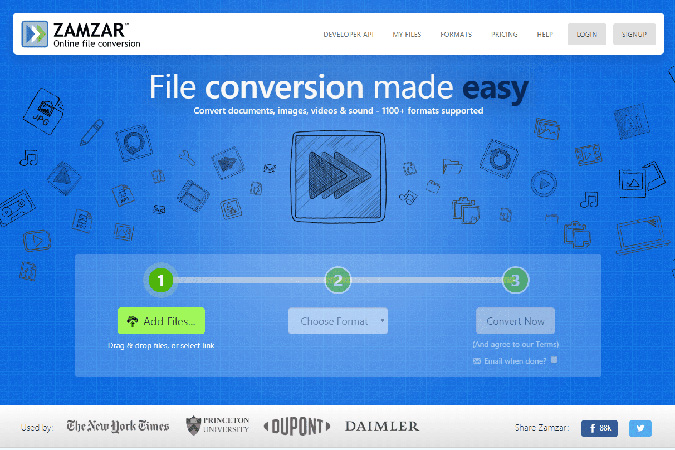 But how to Convert MP4 to AC3 online with Zamzar? Here are three easy steps you will follow.
1

Upload the MP4 file.

2

Click on the down arrow and choose the AC3 format.

3

Click on Convert now and agree to its terms.

4

Download the converted file.
Part 3. Convert MP4 to AC3 on iPhone  with Video Converter and Compressor
Do you want to compress and convert video on your iPhone? If yes, you should download the video Converter and Compressor from Inverse. AI. It is quick to use and supports all video formats. It has a resolution range from 4K to 240P.
It's easy to use and lets you Change the audio bitrate and resolution of a video. It is compatible with iPhone, iPad, Mac, and iPod Touch. It is easy to use, and supports batch processing and multifunctionality. But The application requires monthly subscriptions.
Want to convert MP4 to AC3 on your iPhone? Here are the simple steps you need to follow:
1

Download the application on your iPhone from the Appstore.

2

Open application, add and upload MP4 video.

3

Choose AC3 as the output format. 

4

Click on the Convert button and wait a few seconds for processing.

5

Open the converted file and download it.
Part 4. FAQs about MP4 to AC3
1. Is AC3 better than MP4?
AC3 is better than MP4 because it lets you enjoy Dolby sound quality. MP4 is a popular sound format, but AC3 is exceptional due to its cinematic sound. Due to its outstanding quality, the AC3 form is used in DVD videos, cinema, and video games. 
2. How to convert AC3 audio format to MP4?
Besides wanting to convert MP4 to AC3, I am sure you all want to convert from AC3 to MP4 too. HitPaw Video Converter allows you to convert AC3 to MP4 quickly. It is also the best AC3 to MP4 converter.
Here are how to convert AC3 to MP4 with HitPaw Video Converter :
1

Download the software.

2

Click on Add files to add your AC3 file to the software. Alternatively, drag and drop the file.

3

Choose the output format as MP4, output folder/location where you want to save the converted file, and resolution. And click on Convert all.
Part 5. Conclusion
Finally, you know how to convert MP4 to AC3 and vice versa. You can do it on your android device, iPhone, and computer. When you want to do batch processing, it's always better to go with a HitPaw Video Converter. It takes you a few minutes to download it; after that, you can convert any video file format to MP4 or any other file format. The batch processing is speedy with this video converter. It takes less time and conversion without any quality and data loss.