How to Convert MP4 to WebM in Easy Steps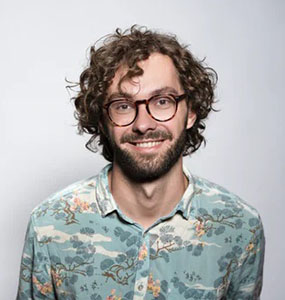 WebM is a superior video file format in terms of compression and video quality if you plan to post videos to the web often. The majority of popular browsers also support it. YouTube and other video-sharing websites have helped popularize WebM videos. Converting from MP4 to WebM might be difficult without the proper tools.
Part 1. Things You Want to Know about MP4 to WebM
1. What is WebM format and Why you need to convert MP4 to WebM?
Video data stored in the WebM container format is referred to as a WebM file. WebM was developed by Google as a free and open video format for use in web page embeds and is supported by all major web browsers including Chrome, Mozilla, Opera, etc. WebM is a container format developed specifically for online video streaming.
For greater compression and the highest quality real-time video streaming, many people choose to convert their MP4 movies to WebM before uploading them to the web.
2. Is WebM better than MP4?
There are benefits to both video formats. WebM and MP4 are two of the most popular video formats, but which one is better depends on the end user and the player they're using.
Even while WebM is great for embedded movies, it is only natively supported by a small number of operating systems and Android devices.
More video editing and streaming applications support MP4, making it a convenient format to work with. Both formats have about the same level of compression.
Part 2. Best Way to Convert MP4 to WebM on Windows and Mac
If you're not too tech-savvy or you just want to save some time, we suggest using a quick video converter application like HitPaw Video Converter to convert your MP4 files into WebM format. It is a MP4 to WebM converter free.
HitPaw Video Converter is top-notch software for converting videos, and it can convert MP4 to WebM also WebM to MP4 without compromising video or sound quality. It's definitely worth a try to give it a shot!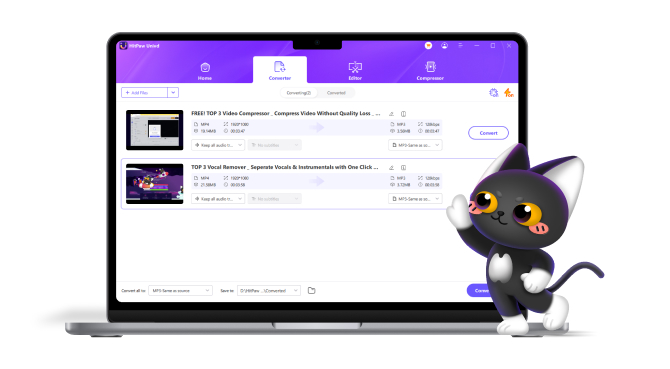 Here are the most popular features of HitPaw Video Converter:
It supports the conversion and downloading of over 10,000 audio and video files.
There are over 500 video and 300 audio formats it can play.
Boost the production quality of your videos.
60 times faster than any other video converter available today with GPU acceleration.
HitPaw Video Converter's step-by-step guide to convert MP4 to WebM:
Step 02 To import your files, launch the program and click the Add Video button.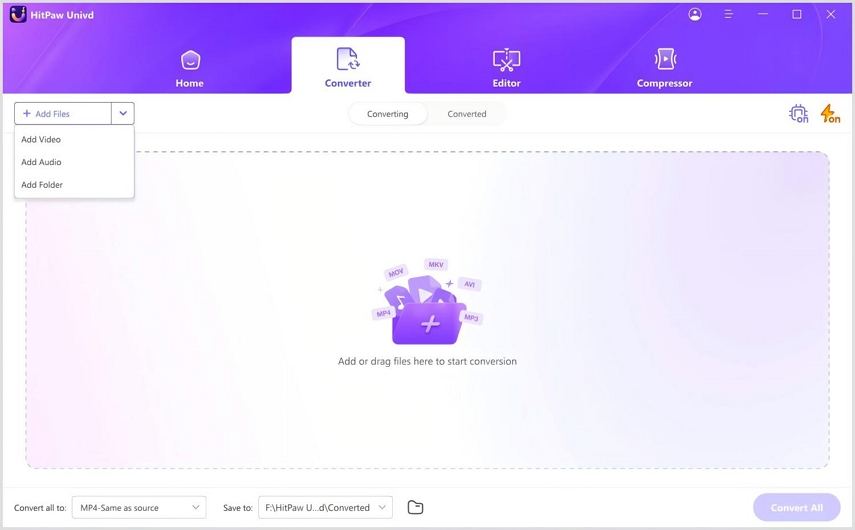 Step 03 Select the WebM format from the list on the left side of the Convert all to window, then click on the Video tab and set the required resolution.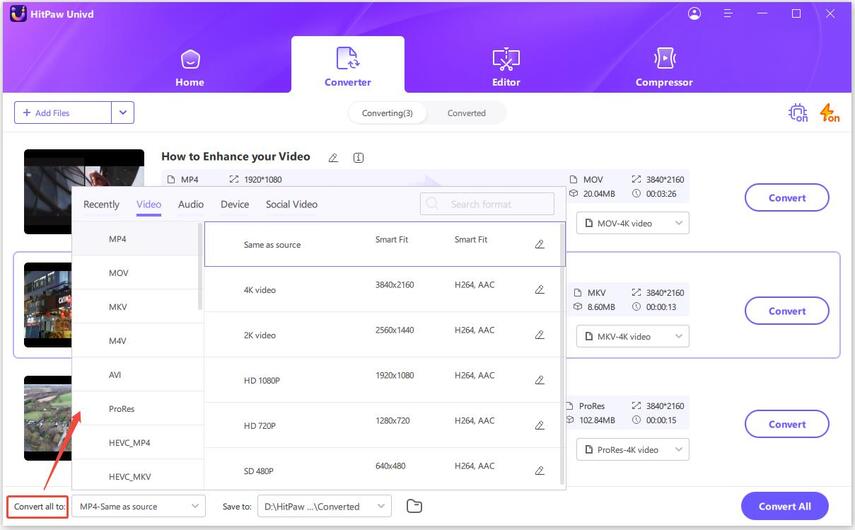 Step 04 To finish the MP4 to WebM conversion, press the Convert button. The converted WebM file will then be stored in your computer's Converted folder.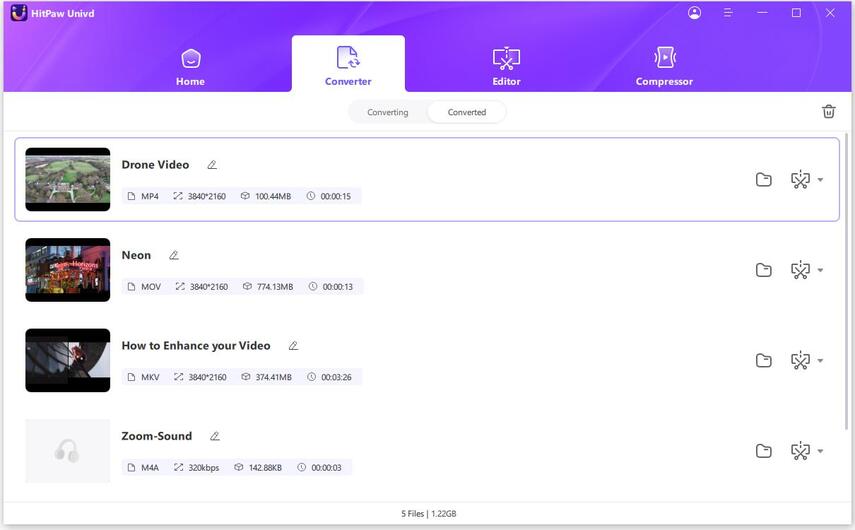 You can refer the video following if you also want to know how to convert WebM to MP4:
Part 3. Convert MP4 to WebM in Free Ways
We certainly understand that you might want to convert video in MP4 to WebM for free. Because paying may seem unreasonable to most people who don't yet know how the product works, here are some MP4 to WebM converter free for you.
1. HandBrake
When it comes to converting video and audio files, HandBrake is a popular choice. It's 100% open source and totally no cost to you. Anyone who needs to change the format of a video or audio clip can do it for free.
Almost every video or audio format may be converted using HandBrake. It has several options for converting MP4 to WebM. Although HandBrake is a great tool, there are several container formats that it cannot convert to.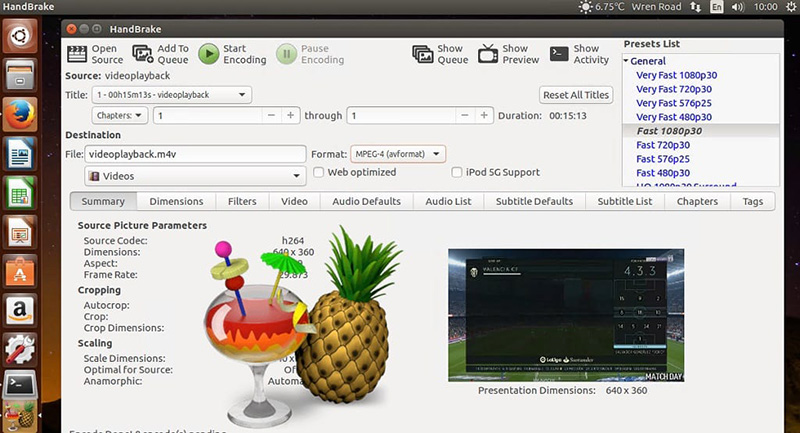 See below for an overview of using HandBrake MP4 to WebM video converter to make the conversion from MP4 to WebM.
1

Start up HandBrake on your device.

2

Simply click the "Open Source" button or drag the MP4 file onto the program's main window to load it.

3

If you're using the "Summary" tab, select WebM as the format. In the "Video" menu, choose the VP8 or VP9 video codec depending on your requirements. Ensure that the "Audio" tab's Audio Codec is set to either Vorbis or Opus.

4

To save a copy, fill the the "Save As" blank at the very bottom of the screen with the file's name and the location where it will be saved.

5

To start the conversion, click the green "Start Encode" button.
2. VLC
The VLC media player has a great reputation. Due to its support for a wide variety of media file types, it may also serve as a straightforward converter. VLC has many presets for converting formats, one of which being VP8 WebM with Vorbis/Opus audio. VLC can be used to convert MP4 to WebM on Mac or Windows. However, VLC cannot ensure that no quality is lost during conversion.
If you already have VLC on your computer, you may follow these instructions to convert your MP4 file to WebM using VLC.
Here are the step of how to convert MP4 to WebM with VLC:
1

Launch VLC on your computer. To convert or save your media, select "Media" from the main menu.

2

Simply drag and drop your MP4 file into the new window to view it. Select "Convert / Save" to complete the process.

3

To use WebM, go to the Profile menu and pick "Video - VP80 Plus Vorbis (Webm)". To make sure your video codec (VP8), audio codec (Vorbis), and encapsulation (WebM) are all set up properly, click the tool icon.

4

To specify where the output file will be stored, select "Browse" and then enter the filename.

5

Conversion will begin as soon as you press the "Start" button.
3. FFmpeg
When it comes to media file conversion, FFmpeg is the leading name on everyone's list. FFmpeg is a command-line program that facilitates the conversion from MP4 to WebM.
It has a variety of encoders and decoders, allowing it to work with everything from old, long-defunct formats like AVI to cutting-edge, modern formats like MP4 and WebM.
FFmpeg is able to playback media in nearly any format and codec. On the other hand, FFmpeg instructions might be overwhelming for first-timers.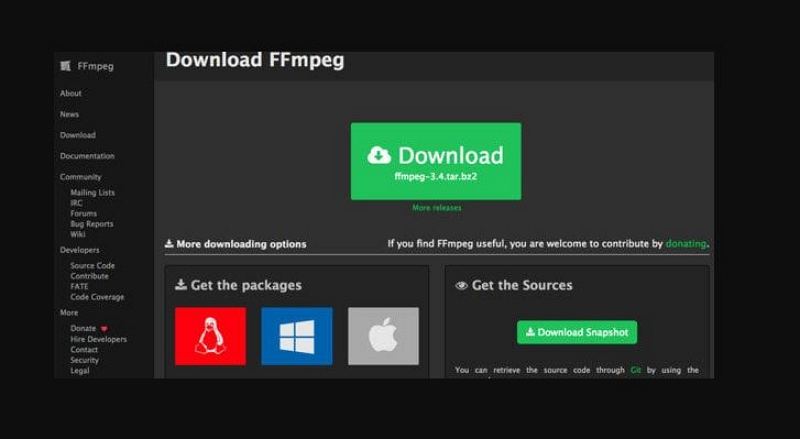 Here is how FFmpeg convert MP4 to WebM:
1

Install FFmpeg on your device after downloading the source code or a build.

2

Launch the command prompt.

3

Convert an MP4 file to WebM format with the command: ffmpeg -i input.mp4 output.webm.

4

If you want to run the command, press the Enter key on your keyboard. It is really simple to convert MP4 to WebM FFmpeg.
Part 4. MP4 to WebM Converter Online
With support for several media types, including video and audio, HitPaw Online Video Converter is a robust tool to convert MP4 to WebM online free and can be used with complete peace of mind.
The use of the HitPaw Online Video Converter is completely unrestricted. There isn't any sort of watermark, and there are no ads either. There is no need to hire expert techs for HitPaw Online Video Converter. It's as simple as 1, 2, or 3 to complete each task.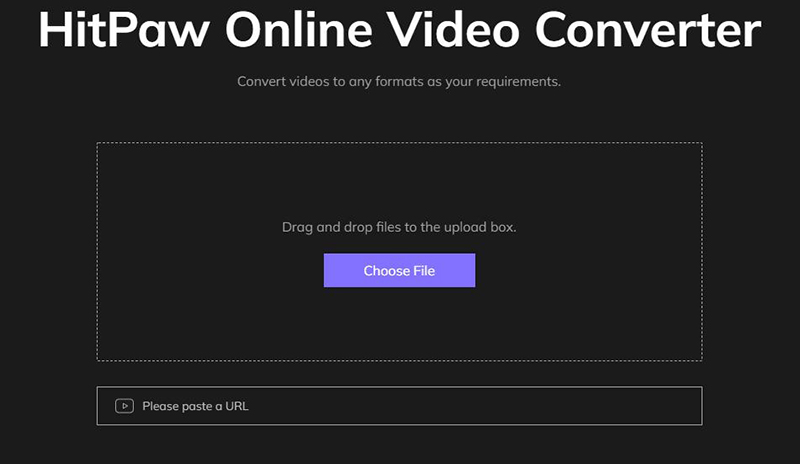 Here is how to convert MP4 to WebM online using HitPaw Online Video Converter:
1

Upload Video. Drag or drop the video to upload it.

2

Select Format. Choose the suitable format to convert your video.

3

Download and Save. Click Download to save the converted video.
If you need other choice, Zamzar is a great MP4 to WebM converter online for free to use. The software can convert between more than 1200 different formats, such as video, audio, eBooks, music, and many more. The design of the converter is uncomplicated and user-friendly, making the process of converting simple and quick.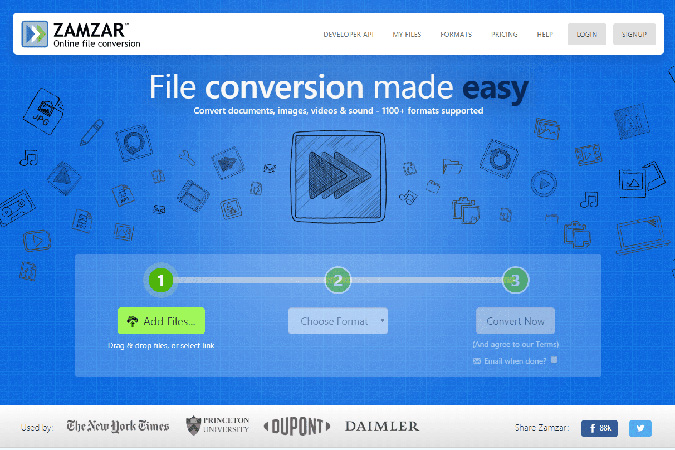 To convert an MP4 to WebM using Zamzar, you need to add the file, select WebM as the output format, and provide your email address. If you enter an email address, the website will send you a link to download the converted file.
With this application, you may pick an appropriate resolution for the converted file before you even begin the process. However, when compared to desktop conversion tools, the number of supported media formats is limited.
Part 5. Conclusion
In this article, we talked about different converters that can help you convert MP4 to WebM. If you need to convert a lot of files at once, HitPaw Video Converter is also a good choice. You should have this MP4 to WebM converter downloaded. I hope this post was helpful in understanding how to convert MP4 to WebM.
HitPaw Video Converter also allows you to edit your converted videos the way you want. So, it is the best option.