6 Great Duke Nukem Voice Generators to Create Fun in 2023
Growing up, many of us, especially the boys, have been inspired by the stern, macho, and heroic personality of Duke Nukem, which was one of the most popular video games of the late 90s era. Boys absolutely loved the game, tried to imitate Duke Nukem's voice and his heroism, and the feeling they got by imitating this exceptional fictional character was thrilling! Things haven't changed much, and people are still as crazy about Duke Nukem as they used to be back in the day. But today's fans have an amazing advantage over earlier fans as they can copy Duke Nukem voice 100% by using Duke Nukem voice generator!!
Part 1: Who is the Duke Nukem Voice Actor?
If you're reading this article, you most probably know a great deal about Duke Nukem, but in case you don't, let's introduce you to this amazing fictional hero and its voice actor.
Duke Nukem is the protagonist of a very famous video game series developed by Apogee Software, first released in 1991. The video game was full of action and thrill, and the protagonist was a macho, humorous and tough hero who wanted to save the world against all odds. Apart from his overall intimidating yet charming personality, his voice got the attention of fans and became their favourite.
Jon St John is the genius behind this voice Duke Nukem character is famous for. Jon St John has gained crazy popularity due to his acting of Duke's voice, and has received commendable appreciation from all around the world.
Part 2: 5 Useful Nukem Voice Generators
As we hinted above, you can use different Duke Nukem voice generators to generate its voice effortlessly. Duke Nukem voice generator text to speech software are one of the ways you can achieve this, but the options are not limited to Duke Nukem text to speech converters, as you'll see. There is a whole variety of Duke Nukem ai voice generators, which come with specialised and advanced voice features which Duke Nukem tts converters may lack, and you can choose the right software for you according to your needs. So, let's discuss the 5 best Duke Nukem voice generators available digitally:
HitPaw Voice Changer is one of the most famous audio modifying software, which allows the users to transform their voice into the voices of fictional characters, animals, aliens, and whatnot! It makes voice changing for entertainment so much easier. Among its audio library consisting of 100s of voice changing options, Duke Nukem voice is also available, making it a great Duke Nukem voice changer. If you're looking for a decent quality voice transformation for entertainment purposes, for example if you want to create Duke Nukem meme voice, this tool will work best for you.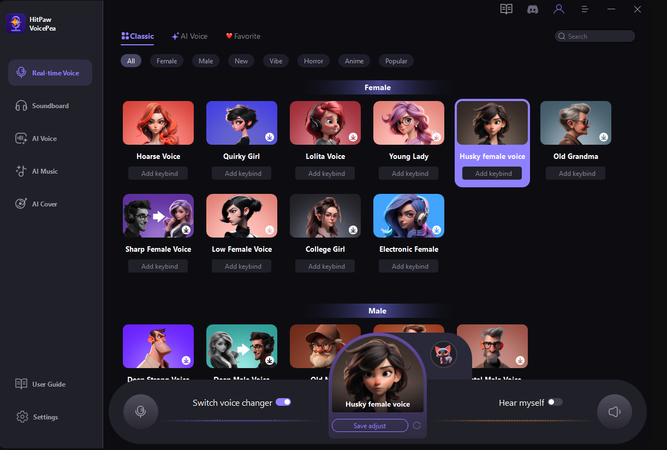 Price: the starting price range of HitPaw Voice Changer is $15.95 onwards, varying according to the advancement level of the voice feature being used.
Pros
It versatility of voice changing options
Its ease of use
Its ability to transform voice in real-time
Its various voice customisation options
Cons
Its lack of ability to create professional level voice modulations
Its limited compatibility options
Voice quality concerns
2. NCH Voxal Voice Changer (Windows & Macos)
NCH Voxal Voice Changer is another software that creates amazing voice transformations for a variety of purposes, including entertainment, voiceovers, live gaming, live conversations, etc. Through this software, the users can apply a number of voice changing effects on their pre-recorded voice, as well as transform their voice in real-time. You can use NCH Voxal Voice Changer to change your voice to that of Duke Nukem with no effort.
Price: This software has a free version with limited voice modulation options, which is perfect for home use and non commercial purposes. However, paid versions for professional uses are also available having advanced voice manipulation features and customisation options. The paid version, called Voxal Voice Changer Plus for commercial uses, is priced at $60.
Pros
The pros of this software include:
Its versatile voice changing options
Its safe and secure voice changing process, ensuring the user's privacy
Its voice customisation features
Cons
The cons of this software include:
Its voice quality concerns, translating into the voice sounding unnatural at times
Its limited usability because of compatibility issues
3. Skype Voice Changer (Windows)
Have you ever wanted to change your voice during a Skype call? Wish no more! Skype Voice Changer is a software that can do just that! It allows you to transform your voice during Skype calls for entertainment purposes, anonymity reasons, etc. By using this amazing voice changer, you can change your voice into that of celebrities, cartoon characters, animals, etc, or simply mould your voice just to sound different. By using this software, you can change your voice into the voice of Duke Nukem.
Price: This software is available for free but to access it full functions it requires you to buy a licence for $29.25.
Pros
Its pros include:
It allows you to stay anonymous during a Skype call
It offers a huge variety of options to change your voice into
It also offers voice customisation options like double tone, pitch adjustment, etc
Cons
Its cons include:
Technical issues like bugs, errors and voice disruption
It may not work seamlessly with all Skype versions
The voice quality may not always be perfect
4. Fakeyou (Online)
Fakeyou is one of the best text-to-speech voice changers available online, boasting a collection of 2400 voices including that of cartoon characters, celebrities, random people, animals and a lot of different voices. One of these 2400 voices is Duke Nukem's voice, which people can turn their voice into in just a few clicks! All you have to do is type whatever you want to say, and the software will convert that text into crisp Duke Nukem voice.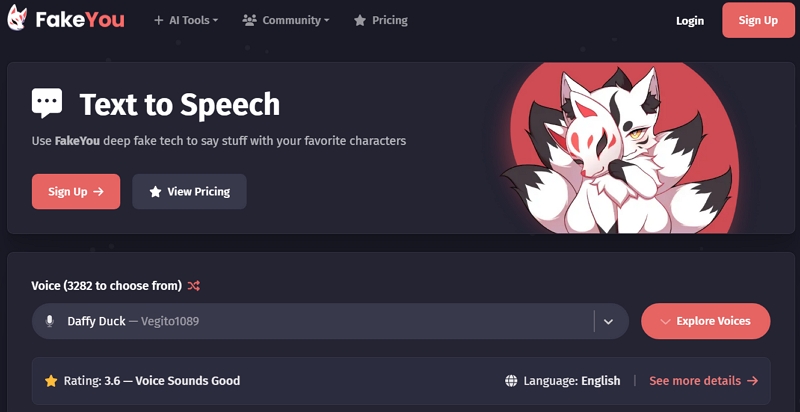 Price: FakeYou provides amazing voice effects for free, and even the more special effects come on a starting rate of $7.
Pros
The pros include:
It's extremely easy to use
Most effects are free
Can be used on any web browser and any OS
Cons
Its cons include:
Only supports text-to-speech
Functionality depends on internet speed
5. Uberduck.io (Online)
Today's world is ruled by AI, so how can we miss out on AI based voice generators? Uberduck.io is an artificial intelligence based voice generator that provides super quick, efficient, seamless and natural voice transformations. Thanks to the power of AI, with uberduck.io you can transform your voice into Duke Nukem ai voice which will leave you awestruck with its precision and quality. Duke Nukem voice ai is just one of the huge variety of AI voices that you can create with uberduck.io.
Price: The voice effects provided by this app start from a minimum price range of $9.99
Pros
Its pros include:
Outstanding voice adjustment options
New and updated voice effects
Extremely user friendly
Cons
Its cons include:
May sometimes make error
Requires an account for signing up
Part 3: Choose the Most Suitable One for You Effortlessly
The following table will help you decide the best voice changer according to your needs
| Voice Changer | Price | Compatibility | Best For |
| --- | --- | --- | --- |
| HitPaw Voice Changer | Starting from $15.95 | Windows/MacOS | Making memes |
| NCH Voxal Voice Changer | Home version= free Commercial version= $60 | Windows/MacOS | Live gaming |
| Skype Voice Changer | Licence costs $29.25 | Windows | Live calls |
| Fakeyou Voice Changer | Starting from $7 | Online | Tts voice changing |
| Uberduck.io | Starting from $9.99 | Online | AI voice cloning |
Part 4: FAQs of Duke Nukem Voice Generators
Q1. Who is the voice of Duke Nukem?
A1. Jon St John is the voice of Duke Nukem.
Q2. What is the best voice changer to AI clone Duke Nukem's voice?
A2. HitPaw Voice Changer is the best voice changer to AI clone Duke Nukem's voice.
Part 5: Final Thought
The above 5 tools are the best Duke Nukem voice generators available on the internet, providing exceptional realtime Duke Nukem voice simulation experience.