5 Great Voice Changers to Get Genshin AI Voice in 2023
If you are a Genshin Player, then you will know that communicating with other players while playing games is important. But what if we told you that you can add more fun and creativity to your conversations? That's right, with the help of the Genshin AI voice generator, you can modify your voice to sound like Genshin characters.
In this guide, we will explore the top 5 voice changers available online with Genshin AI voices. Ensure to read this guide till the end to find out more about Genshin Impact and more.
Basic Info about Genshin Impact
Genshin Impact AI was released in Mid-2020 and developed by miHoYo. After its release, this game has gained immense popularity due to its eye-catching visuals and impressive gameplay.
The game takes place in the world of Teyvat, which has breathtaking landscapes that need to be explored.
This game has 68 playable characters, and each character has its unique abilities, powers, and style. Each Genshin Impact character has its distinct voice, personality, and story.
This game has an impressive cast of voice actors who use their talent to bring Genshin characters to life. The most liked character of this game is Tighnari, who was voiced by a well-known voice actor, Elliot Gindi. In addition, Gindi has also lent his voice to many anime characters, including the anime series Pokémon Journeys: The Series.
5 Best Genshin Impact AI Voice Changer
Here is the list of the top 5 Genshin Impact AI Voice Generators that will allow you to alter your voice into any Genshin Impact character.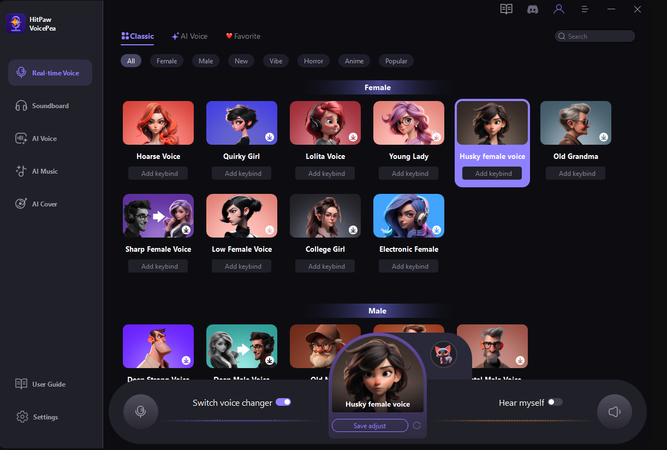 If you want to enhance your gaming experience by transforming your voice into Genshin AI voice, then the HitPaw voice changer is the best option. This program allows you to alter your voice in real-time with realistic voice effects and filters. It offers a wide range of voice effects, which includes voices like Tighnari, Zhongli, chipmunk, alien, robot, monster, and more.
This program is famous among gamers because it allows you to modify your voice while playing games and live chatting. It supports platforms like Discord, Twitch, Zoom, and Skype and games like Genshin, Cod, Fortnite, PUBG, and more.
HitPaw offers a simple and user-friendly interface that allows users to operate and navigate through settings easily.
Pros
Offers high-quality voice effects and filters, including Zhongli AI voice
Real-time voice alteration
Background noise removal to get clear audio
Allows you to review voice effects before applying
Produce High-Quality Outputs
Simple and Easy-to-use interface
Cons
No Free version is available
Price: Starting from $15.95 Per Month
2. VoiceMod (Win &Mac)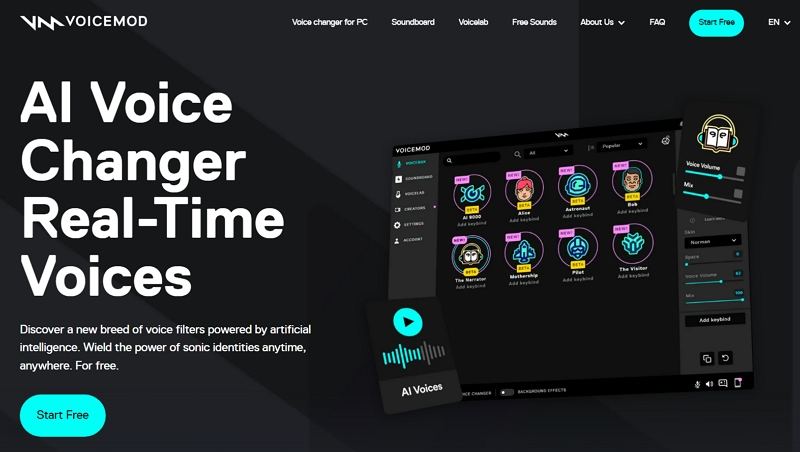 VoicMod is another Genshin voice changer that allows you to transform your voice sound like anything you want. With the help of this spectacular tool, you will get high-quality voice effects that you can use on any streaming, gaming, and chatting platform to alter your voice in real-time.
On top of that, the Voice Lab feature allows you to create your unique sound effects and filters with minimal effort.
Pros
Offers voice changing of the recorded audio files.
Transform your voice into anyone, like anime characters, males, females, robots, and more.
Very simple interface, which is suitable for beginners.
Easy installation process.
It has a very high-quality microphone through which you can speak and have the clearest voice output.
There are so many sound effects to choose from.
Cons
Program crashes while using soundboard
So many ads
Price: VoiceMod Pro $45.00
3. AV Voice Changer Diamond (Win)
AV Voice Changer is a premium quality program that allows you to alter your voice in real time. It's a little bit expensive compared to other voice changers but worth your money because of its advanced features.
The tool includes features like voice modification, editing, mixing, soundboard, audio player, and more.
It is the most suitable voice changer for Genshin Impact because it offers voice effects such as Zhongli voice AI, Scaramouche AI voice, and more. Due to its advanced features and wide range of voice effects, AV voice changer is worth trying.
Pros
Allow you to mix multiple voice effect to create a new one
Offers high-quality voice output
Compatible with many chatting and gaming apps
It has the easiest and simplest interface
Includes functions like voice modification, editing, and mixing
Cons
Works badly with Windows 7 and 8.1
Price: Diamond $99.95
4. Clownfish Voice Changer (Win)
Clownfish is the free Genshin Impact voice Text-to-Speech Voice changer available on the market. The best part of this program is that it is compatible with all the PC programs and games that use the microphone.
It offers various sound effects like Alien, Atari, Clone, Mutation, and more. Clownfish is a very easy-to-use program; you just have to command it to alter your voice into any character. Further, it also allows you to download the modified voice recording into famous audio formats such as WAV and MP3.
Pros
Smooth integration with platforms like Discord, Twitch, and more
Includes features like TTS, Hotkeys, online voice morphing and tuning
Offers a lot of customization options
It has a wide range of voice effects and filters, such as alien, monster, robot, and more.
Allows you to download audio files in MP3 format
Generates high-quality sounds
Cons
No Updates for the program
Price: Free
5. NCH Voxal Voice Changer (Win &Mac)
Voxal Voice Changer is the last Genshin AI voice Text-to-speech program on our list. Many professional gamers and content creators use Voxal because it offers a wide range of features such as voice modification, Text-to-Speech, Noise reduction, and more.
It has a wide range of voice effects, including Genshin impact voice AI, Alien, Monster, robot, and many more. With this program, you will not face any compatibility issues because it's compatible with all PC programs and Games such as Discord, Twitch, Zoom, and games like COD, Genshin, and Fortnite. If you are a beginner with no tech knowledge, then this program is best for you because it offers a simple and easy-to-use interface.
Pros
Best for Gamers and Content creators
Offers a wide range of voice effects, including Genshin voice AI
Support all PC programs and games
Includes functions like TTS, Noise Reduction, voice morphing, and more
Simple and easy-to-use interface, best for beginners
Available on Windows and macOS
Cons
The free version of Voxal voice changer has fewer voice filters.
Price: Home Use only $34.99
FAQs of Genshin AI Voice
Q1. Does Genshin Impact use AI?
A1. Yes, the developers of Genshin Impact have been working on generative AI models, which means that in the near future, they will replace voice actors with AI voices. However, it is in the initial state, and it will take time.
Q2. Who is the new voice actor for Tighnari?
A2. After the death of Elliot Gindi, this iconic character will be voiced by Zachary Gordon, a well-known voice actor who lent his voice to many famous anime shows and games like Final Fantasy XV, Kingdom Hearts 3, and more.
Final Thought
In this guide, we have mentioned the top 5 Genshin Text-to-Speech voice changers that can alter your voice into any Genshin Character. Each tool has its abilities and unique features. With the help of these tools, you can easily modify your voice into any Genshin character while playing games or during live streaming.
If you are someone who uses voice changers regularly, then we will surely recommend you to use the HitPaw voice changer. HitPaw is one of the most advanced and popular voice generators available online. It offers a huge library of realistic voice effects and filters. Further, it supports more than 300 PC programs and Games.
Hope this guide will help you in finding the best Genshin Voice Changer.