Top 5 Apex Legends AI Voice Generators In 2023
After 4 years of its launch, Apex Legend is still one of the most-played games worldwide. Apex is a Battle Royale game in which you collaborate with teammates and survive till the end.
The most intriguing aspect of this game is the voices of the characters. Each Apex Character has its unique voice, and in this guide, we will introduce you to the voice actor behind Apex characters and also introduce you to the top 5 Apex Legends AI Voice Generators available online in 2023.
Basic Info about Apex Legends
Apex Legends is a free-to-play battle Royale game developed by Respawn Entertainment. In this game, players worldwide compete against each other to survive till the end.
All the matches are filled with intense fights, strategies, and more. Many characters are available in Apex Legends, and each character has unique abilities.
Bloodhound is one of the most used character in Apex, and many gamers prefer this character because it can provide enemy positions. The voice actor behind Bloodhound is Allegra Clark. She has given her voice to many game characters, such as Dragon Age: Inquisition and World of Warcraft.
Enough with the introduction. Let us introduce you to the best Apex Legend voice changer to enhance your gameplay.
5 Great Voice Changers for Apex Legends
Here are the list of the 5 Apex Legends AI voice changer.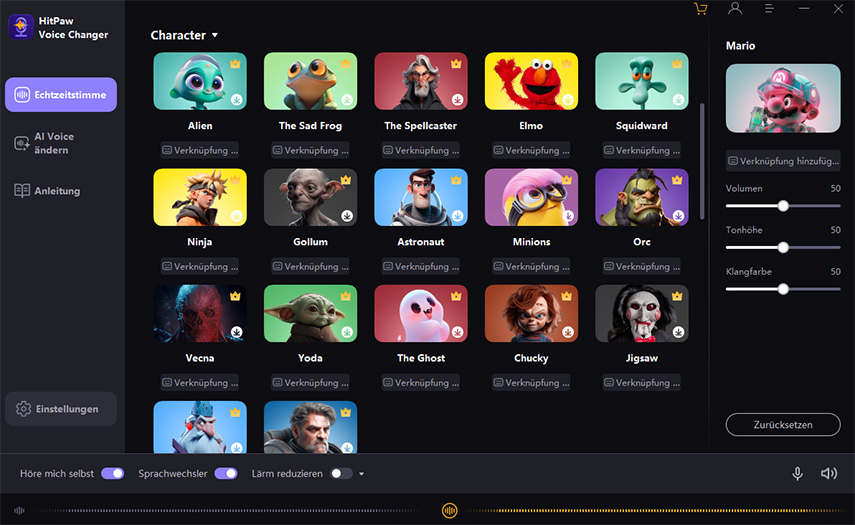 HitPaw is the best Apex Legends Voice Generator on our list because it provides a wide range of voice effects that can be applied to your natural voice while playing games. With this tool, you can apply famous voice effects like Minions, SpongeBob, Darth, and many more.
Furthermore, this tool integrates with famous PC programs and games such as Apex Legend, Fortnite, Call of Duty, Zoom, Skype, TeamSpeak, and more. With this tool, you will get a seamless and user-friendly experience.
Pros
It offers a user-friendly experience
Support popular games, including Apex Legends, Call of Duty, and more.
It has a vast voice-effect library.
It allows you to modify your voice to celebrities' and politicians' voices.
Compatible with Windows and macOS
Supports streaming platforms like, Zoom, Skype, TeamSpeak, etc.
Best Apex Legend AI voice changer
Pricing: $15.95/Month
Here're easy steps that how you can use HitPaw Voice Changer.
1.Go to "Settings", and click the drop-down button to select the input and output you are using.

2.Choose the effects you prefer and click to apply it.

3.Turn on the "Voice Changer", "Hear myself" and try to speak to your microphone to listen how your voice sound like. If the surrounding environment is noisy, you can manually activate noise reduction. Please don't set the noise reduction level too high, as it may filter out some sounds.

4.After selecting the desired sound effects and previewing them, you can adjust the volume according to your preferences.

5.Change Voice on Discord:Open "Discord", Click your "User settings" and go to "Voice & Video, Then select "HitPaw Vitrual Audio Input" from the drop-down list of input device.

2. VoiceMod

VoiceMod is an easy-to-use Apex Legends Text-to-Speech voice generator, allowing users real-time voice transformation while playing games and live streaming. It supports popular chat and gaming apps such as Apex Legends, Call of Duty, Leagues of Legends, and more.

VoiceMod has a vast collection of voice effects that you can use to alter your voice in real-time. These voice effects include robots, aliens, monsters, demons, and more. Many gamers prefer this voice changer because it has a user-friendly interface with customizable hotkeys.

Pros

Offers a wide range of voice effects to choose from
Easy to use and setup with a user-friendly interface
Supports famous games and streaming platforms
Real-time voice transformation
Ability to customize voice effects with voice lab feature
Free voice changer for Apex Legends

Cons

The full version of VoiceMod is too expensive

Pricing: Free

3. MorphVOX

MorphVox AI voice generator Apex Legends comes in two packages: MorphVox Junior and MorphVox Pro. Junior is the program's free version, with only a few voice effects, such as Kid, Female, and Male.

However, if you want the best quality for Apex Legends, we recommend you choose the pro version because it contains many voice effects. With the pro version, you will get the Wraith AI voice.

The pro version also offers amazing features like Noise reduction, background sounds, live vocal visualization, and more.

Pros

This program possesses Ultra-Quiet background cancelation
Junior is a free Apex Legend voice generator
Features of this program are upgrades regularly
Offers features like voice parsing detection, stereo microphone
Has an intuitive interface

Cons

This program is pretty challenging to use for beginners.

Pricing: $39.99

4. Voxal Voice Changer

Voxal Apex Legends change Text to Speech voice changer is a powerful audio editing tool that allows you to modify your voice in real time. Whether you want to add fun or enhance your gaming experience, Voxal has got you covered.

With its extensive voice effect library, this program offers various voice options, including the voice of mirage Apex, robot, girl, boy alien, and more.

With the help of this tool, you can also create your custom voice effects. The best part of this program is that it integrates with almost every program and game available on PC, including Apex Legends, CSGO, COD, GTA, Rainbow Six Siege, and more.

Pros

Modify your voice in real time.
Compatible with popular games such as Apex Legends Voice Changer, CGSO, and more
Use the custom hotkeys to switch between voices easily
Offers background noise effects
With the help of this program, create unique voice effects
Includes voices effects of Alien, Male, Female and more

Cons

Only available for Windows Users

Pricing: $1.11/Month

5. AV Voice Changer

AV voice changer Apex Legends is the last program on our list that provides realistic voice effects to alter your voice in real time. This program offers 30 voice effects and 70 background effects.

Mixing the voice and background effects allows you to create a unique sound effect according to your needs. This tool is not only limited to voice changing, but with this tool, you can also edit, split, and alter your voice.

This voice changer for Apex Legends has a straightforward interface, and it supports various games and chat applications such as Apex Legends, Skype, Discord, Twitch, and more.

Pros

With voice and background effects, you can create your sound
It can record and edit any type of sound
Offers keyboard shortcuts to switch between voice effects easily
It has more than 30 voice effects and 70 background sounds
It has a straightforward interface and supports various Applications

Cons

Ads Pop-up will irritate you a lot

Pricing: $99.95
FAQs of Apex Legend AI Voice Generator
Q1. Who is the voice of the Apex Legends narrator?
A1. Zehra Fazal is the announcer in Apex Legends. Zehra hasn't voiced any legend in the games, but every time you hear dialogue like the champion has been eliminated or any announcement in the game, Zehra Fazal is the voice behind those announcements.
Q2. Who are the apex voice actors?
A2. Currently, there are 24 different playable legends in the game. Each legend has different voice actors, such as Ash, voiced by Anna Campbell; Bloodhound, voiced by Allegra Clark; Catalyst, voiced by Meli Grant; and so on.
Final Thought
Apex Legend Battle Royale is a competitive and fun-to-play game. With the proper communication skills, your winning rate will increase quickly. However, with the help of a voice changer, you can make this game more fun. A voice changer allows you to modify your voice into any character, such as a robot, alien, monster, and more. This guide has mentioned the top 5 Apex Legends AI Voice Generators available online that will enhance your gaming experience. The best Apex Legends change voice program on our list is HitPaw Voice Changer because it allows users to alter their voice in real time. The best thing about this program is that it supports almost all PC games, including Apex Legends, Call of Duty, Fortnite, and more. Further, you can also modify your voice on programs like Discord, Twitch, Skype, and more.