6 Best Mario Voice Changers to Sound Like Mario 2023
Undoubtedly, Mario has been an important part of our childhood and has made our lives better. Whether you were in your 80s or 90s, you definitely have heard about the Mario game and played it as well. So, it won't be wrong to say that one of the unique things about Mario was his voice. Those who have watched Mario definitely remember his voice, and so, in this article, we will tell you about Mario's voice changer. Continue reading the article to find out about voice changer Mario and how they can help you get his voice.
Part 1: Who is Mario, and Who is Mario Voice Actor?
Some interesting and old memories would definitely make you happy when you hear about the name Mario. If you are from the 90s, we are sure that Mario would be your favorite game. Most people remember him because of his voice, and that is why everyone nowadays wants to get this unique voice for their projects, YouTube videos, and even marketing. Besides, there is a movie called Super Mario Bros Movie where Chris Pratt has given his voice to the Mario character. He has also given his voice to different other movies, including Chris Pratt: Jurassic World, Guardians of the Galaxy, Avengers, Passenger, and more. So, if you don't know how to change Mario voice and are looking for the best Mario voice changer, we got you covered. In this article, we will tell you about some of the top Mario Voice generators that you can use in 2023.
Part 2: 3 Great Mario Voice Changer for PC
For those who use a PC and want to know about the top Mario Voice Changer for PC, then here are three amazing tools that you can use. With these Mario Voice AI tools, you will instantly get the Mario voice and modify it according to your requirements. Let's see what these voice changers of Mario are and how you can use them.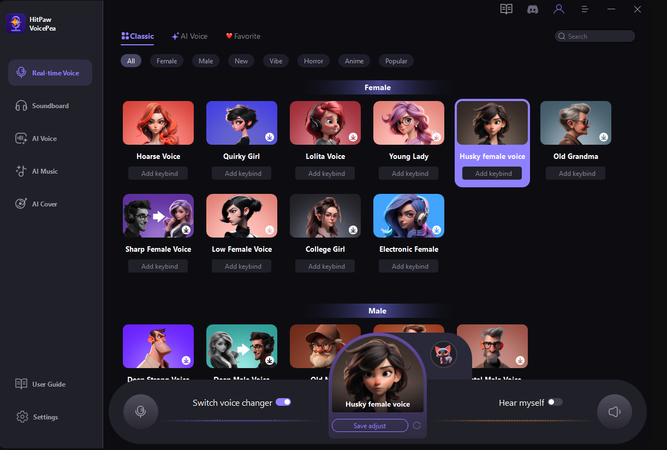 The first free Mario voice changer in our list is HitPaw Voice changer. It is an easy-to-use application and generates Mario voice within minutes. Those who are big fans of Mario and want to add his voice to their projects should definitely use this application. It comes with multiple voice filters, and users can integrate it with different other applications.
How to Get Mario Voice with HitPaw Voice Changer
To get Mario AI voice, you can use HitPaw Voice changer, and for that, you can try the steps mentioned below.
Step 1:Go to "Settings", and click the drop-down button to select the input and output you are using.

Step 2:Choose the Mario effects and Click to apply it.

Step 3:Turn on the "Voice Changer", "Hear myself" and try to speak to your microphone to listen how your voice sound like. If the surrounding environment is noisy, you can manually activate noise reduction. Please don't set the noise reduction level too high, as it may filter out some sounds.

Step 4:After selecting the desired sound effects and previewing them, you can adjust the volume according to your preferences.

Step 5:Change Voice on Discord:Open "Discord", Click your "User settings" and go to "Voice & Video, Then select "HitPaw Vitrual Audio Input" from the drop-down list of input device.
Pros
Easy to use and ideal for novice users
Get Mario voice within minutes
Offers multiple voice filters
Real-time voice-changing option is also available
Integrate it with different apps, such as Zoom, Discord, and more
Cons
Should add more features to adjust global Settings
Should create iOS and Android applications
Compatibility: Windows and macOS
Price: The basic package Starts from $15.95
2. VoiceMod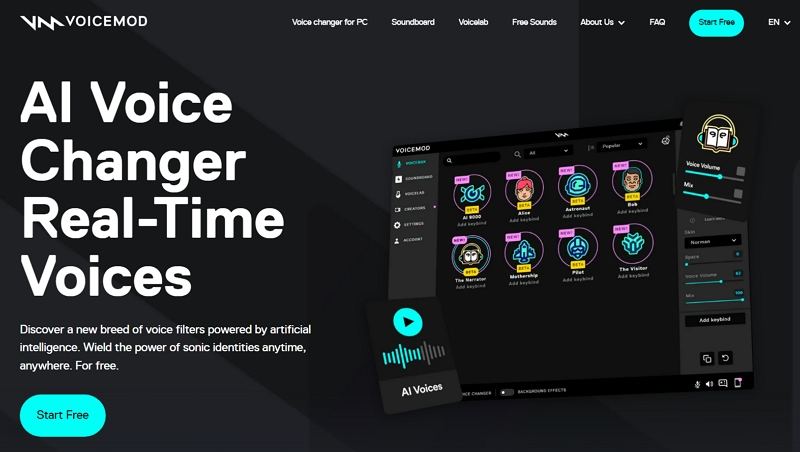 For Mario Voice Change, you can download VoiceMod application because it can help you get Mario voice in no time. It is the best tool for PC and offers different sound effects which you can use on different platforms, such as gaming, streaming, and more. You can also change your voice in real time and alter the voice accordingly. It also has a soundboard, which means you don't have to download separate soundboards from websites. So, if you need Mario Voice for your marketing and YouTube videos, this software would work best for you.
Pros
Change voice of your recorded audio
Transfer your voice into different characters, including Mario
Has a high-quality microphone that offers a clear voice
Has numerous sound effects
Cons
Voice-changing effects are limited
It crashes while using Soundboard
Ads are annoying
Compatibility: Windows
Price: It has both free and paid versions. The paid version starts from $45, which is for a lifetime, and the one-year plan is for $18.
3. Clownfish Voice Changer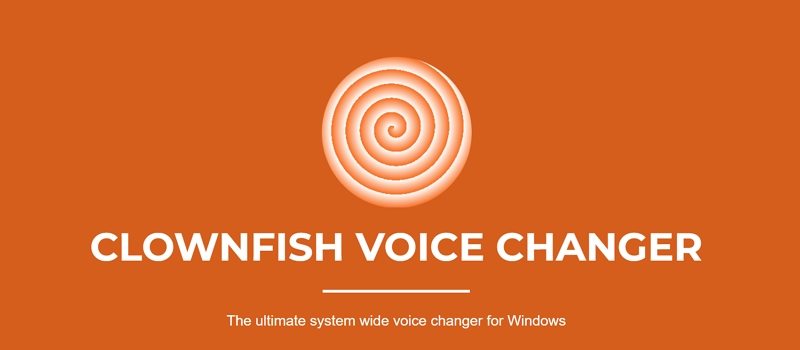 Another Mario Voice Changer on our list is the Clownfish Voice Changer application. It is a simple and easy-to-use application that has an advanced soundboard that can help you get Mario voice in no time. It allows you to add different voice effects, including Mario, Robot, Alien, and more. You can also prank your friends and change voices on different platforms, such as Viber, Discord, and Skype as well.
Pros
Simple and easy-to-use interface
Provide multiple voices, including Mario's voice
Sync with different platforms, such as Discord, Viber, and Skype
Cons
Offers limited sound effects
Doesn't allow you to add new voice effects
Compatibility: Windows
Price: It has a free version that you can use to get Mario voice .
Part 3: 3 Great Mario Voice Changer Online
If you are searching for the best Mario Voice Changer online, here are the three best tools that you can use. All these applications are easy to manage and provide Mario voice without any issues. To use these apps, you don't have to complete the downloading process as you upload your audio file, and you are good to go.
1. Uberduck.ai
The other Mario voice changer online on our list is Uberduck.ai. It has a text-to-speech feature that generates the voice after entering the text. You can create raps, clone voices, and even create Mario voice using the voice filter. It has almost 5000+ voice filters that you can use. It has almost three different packages that are available for both beginners and expert users.
Pros
Get Mario voice using different voice filters
Generate Raps and different other voiceovers
Voice cloning option is also available
Cons
The trial version doesn't have more features
It is a bit expensive application
Price: It has a free version and also two different packages, including creator and enterprise, which start from $96 and $500 per month.
2. Voicechanger.io
Voice AI is another program that helps you get the Mario voice. If you are a big fan of Mario and want to add his voice, you can go to its website, upload the audio file, and it will change the voice for you. Apart from that, you can also create your own custom voice.
Pros
Easy to use and provides different custom voiceovers
Ideal for beginners
Contains different sound effects
Cons
Can't create voices for gaming platforms
Some voice effects are out-dated
Price: It has a free version that users can use.
3. Fakeyou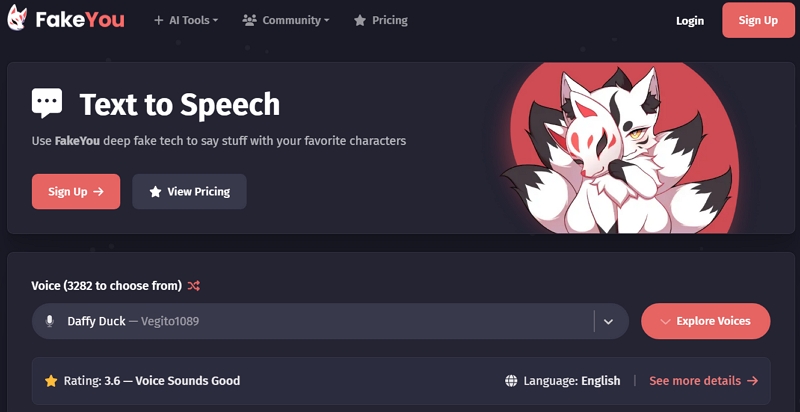 The free Mario voice changer on our list is FakeYou. With this program, you can get Mario's voice by just inputting the text. You can also try it for different platforms, such as WhatsApp, YouTube, Skype, and more. It has around 2400 voices. To get Mario's voice, you don't have to do anything; just choose the voice filter, tweak it, and that's it.
Pros
Straightforward and user-friendly interface
Helps you get Mario voice
Offers different high-quality translation options
Cons
The desktop version is not available
The free version is limited
Price: The Fakeyou starts from $7 per month, and the pro and the elite versions are $15 and $25.
Part 4: FAQs of Mario Voice Changer
Q1. How do you sound like Mario voice changer?
A1. You can use free Mairo voice changer applications to sound like Mario. Above, we have mentioned some of the top Mario Voice changers for PC and online. You can choose the program according to your requirements.
Q2. What language does Mario speak?
A2. He Speaks English with a little bit of Italian accent.
Part 5: Final Thought
To conclude, if you are looking for a reliable Mario Voice generator, we have mentioned some of the top programs that you can use. All these voice changers are perfect for your daily use and allow you to change your voice into Mario. However, if you want a powerful application, we recommend using HitPaw Voice Changer application.