What Twitch Voice Changer Do Most Streamers Use?
Being one of the popular streaming platforms, Twitch is used by millions of users. A number of content creators and gamers use Twitch for different reasons to entertain their audience. Creators and gamers use voice changer for Twitch in order to change their voice for a better user experience for their audience. If you are one of the users looking for such voice changing tools to to make more fun with some strange voices on Twitch, this article will definitely help you.
Part 1. The Ultimate Voice Changer for Twitch Streamers
HitPaw Voice Changer is the ultimate Twitch voice changer that will meet all you need for changing voices on Twitch. It has made life easy for users when it comes to changing voice. The tool easily and effortlessly changes voice offers tons of voice effects to suffice your different needs. Not only this, the tool also allows you to fine tune your voice after uploading, so that it does not have unwanted echo and noise.
Modify voice in real time while streaming on Twitch
Extensive library of voice effects to create unique personas
Intuitive interface and customizable voice options
Elevate Twitch streaming with engaging voice-changing capabilities
Seamlessly integrate with Twitch and other streaming platforms
Follow the below steps to know how to change voice on Twitch with this best voice changer for Twitch.
Step 1: Download, install, and launch HitPaw on your device. From settings, choose main microphone as the input device.

Step 2: Choose the effects you prefer and click to apply it. Speak to your microphone to listen how your voice sound like and you can adjust the volume according to your preferences.

Step 3: After everything is set up . click "Connect" and select the Platform you want to change voice.

Step 4:

On Twtich, under your user name click "Settings" and select the Audio/Video section. Change the microphone to HitPaw Vitrual Audio Input as the input device  Under the Microphone expansion.

Step 5:

Now change the voice on Twitch in real time with the selected effect.
Part 2. Other Twitch Voice Changer You Can Try
This section talks about other voice changer Twitch options that users can try their hands on.
1. Voicemod Twitch Voice Changer
Voicemod is one of the popular free voice changer for Twitch options. It is well compatible most popular services, such as Streamlabs OBS software, Elgato Stream Deck, TikTok Live Studio, Twitch, Omegle, and Gamecaster. If you are a Metaverse users or use a Multiverse service, users can make their own Voice Avatars and Voice Skins. Users can also play sound effects with the soundboard feature while gaming. The tool is compatible with chat, video streaming, and AR filter apps. On the other hand, users will need to use a different software or app to record themselves as it does not support recording.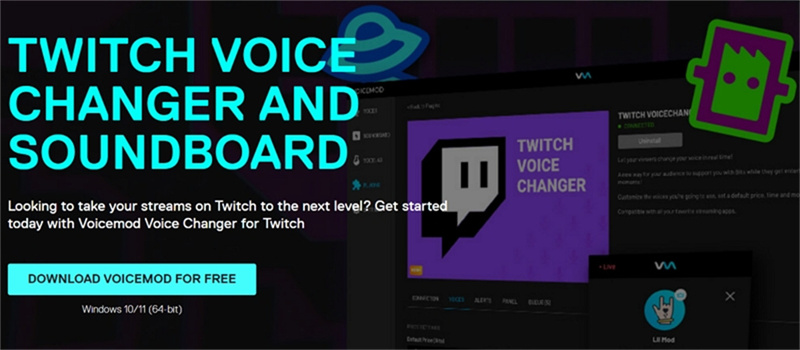 Pros
Voice changing in real-time
Access to tons of sound clips
Cons
No editing features
Need separate tool for recording
2. Clownfish Twitch Voice Changer
Clownfish is the next voice changer for Twitch option that allows you to change a voice in high quality. It comes with lots of exciting voice-changing themes and an easy-to-use interface. This makes it a suitable option for many non-technical consumers. Some of its voice-changing themes comprises mutation, alien, helium pitch, robot, silence, custom pitch, female pitch, clone, and baby pitch. Users can use these effects on Twitch and surprise their followers.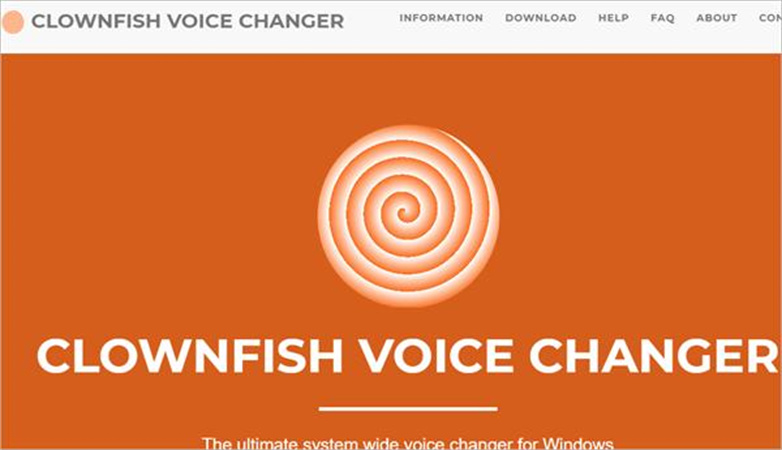 Pros
Real-time voice changer
High compatible with different streaming platforms
Make customization and changes to create your audio
Interactive interface and simple to use
Cons
Limited voice filters
Limited features in the free version
No new voice effects have been added since long time
3. Voice.ai Online Twitch Voice Changer
Voice.ai is yet another Twitch voice changer. This online platform is a suitable tool to alter voice on multiple streams in real time. The voice clone tool enables users to import voice and make it sound like voice of any character. If you have a strong internet connection, it is a great option to consider, making it a powerful AI voice changer. This tool is a great option for those looking for an online platform that is easy to use, free, and provides a huge variety of voice options.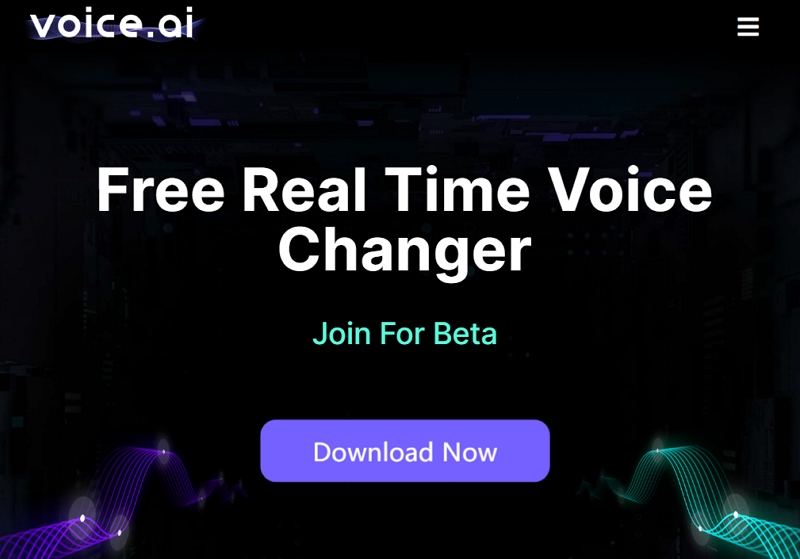 Pros
Comes with voice clone tool
Equipped AI technology that users voices of 15 million unique speakers
Easy to use and needs just few clicks
Cons
Needs strong internet speed
Ads
Part 3. Frequently Asked Questions On Twitch Voice Changer
Q1. Can you use a voice changer on Twitch?
A1. Of course! Users can use voice changers on Twitch to make streaming user friendly and entertaining for audience. This increases the quality of your content as well as makes your content reach more users.
Q2. What do streamers use for voice changing?
A2. Users use voice changer tools for voice chaining. These tools uses advanced algorithms to change your voice and add different effects, thereby making it unrecognizable for other users. And HitPaw Voice Changer is the best Twitch voice changer that you can use.
Q3. What is the best voice changer for Twitch?
A3. As mentioned earlier, HitPaw Voice Changer is the clearer winner when it comes to best voice changer for Twitch. The tool allows users to change voice in real time and makes it simple for user to change voice easily. Apart from Twitch, the tool is compatible with different platforms and can be used for gameplay, content creator, or live streamer.
Conclusion
To sum it up, we just had a look at different voice changer apps for Twitch. Amongst all, the best is HitPaw Voice Changer. The tool is easy to use and offers variety of voice effects to suffice your different needs. Whether you're creating a podcast, doing voice-over, editing a video, or playing games, you can use this tool anytime and disguise your voice.