6 Best Voice Changers for Streaming in 2023
If you are a Streamer and want to entertain your audience by making your live streaming funny and interesting, then you are in the right place. This guide will introduce the top 6 voice changer for Streaming.
These voice changers will allow you to alter your voice in real-time on platforms like Discord, Twitch, Skype, TeamSpeak, and more. Read this guide until the end to learn which voice changer is best for streamers in 2023.
Why you need a Voice Changer for Streaming?
Many Streamers use voice changers to make their live streaming entertaining and interesting. With the help of these voice changers, streamers can add funny voice effects to their stream.
However, some streamer uses these programs for privacy purpose. For Example, if you are a streamer and don't want to reveal your real identity, you can use a voice changer for live stream to hide your natural voice.
There can be many reasons to use a voice changer during live streaming, which is why, in this guide, we have mentioned the top voice changer available online that can help you alter your voice during live streaming.
6 Great Voice Changers for Streaming
A voice changer can add more fun to your streaming. Here is the list of 6 great stream voice changers.
1. HitPaw Voice Changer- Best Voice Changer for Live Streaming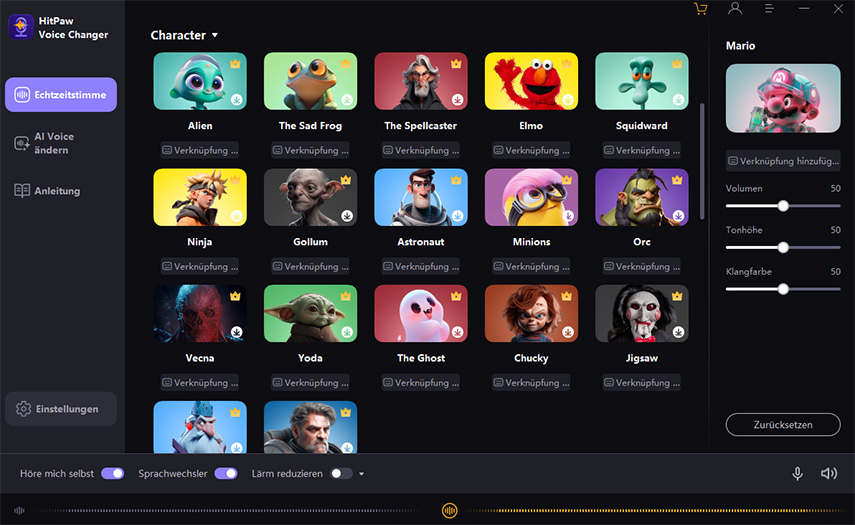 Looking for the best voice changer for live streaming? Then don't look further. HitPaw is a voice changing program that allows you to alter your voice during live streaming, gaming, and more.
This program integrates with many live streaming programs such as Discord, Twitch, Zoom, YouTube Live, and more.
It has a huge library of funny voices, making your streaming entertaining and funny. This program will give you voices like Chipmunk, Helium, Echo, Monsters, Robot Alien, and more. HitPaw is very famous among beginner streamers because it has a straightforward interface, allowing them to alter their voice quickly.
Furthermore, this program offers features like Text-to-Speech, Soundboard, Noise reduction, Pitch and Tone controller, and many more.
Pros
HiPaw is no doubt the best voice changer for streaming
Offers advanced features like Text-to-Speech, Noise Reduction, the option to adjust pitch and tone
Integrates with streaming platforms like Discord, Twitch, Zoom, etc.
It has a straightforward interface
Huge voice effects library with Celebrity voices, Politician's voices, and Singers
Compatibility
Here're easy steps that how you can use HitPaw Voice Changer.
1.Go to "Settings", and click the drop-down button to select the input and output you are using.

2.Choose the effects you prefer and click to apply it.

3.Turn on the "Voice Changer", "Hear myself" and try to speak to your microphone to listen how your voice sound like. If the surrounding environment is noisy, you can manually activate noise reduction. Please don't set the noise reduction level too high, as it may filter out some sounds.

4.After selecting the desired sound effects and previewing them, you can adjust the volume according to your preferences.

5.Change Voice on Discord:Open "Discord", Click your "User settings" and go to "Voice & Video, Then select "HitPaw Vitrual Audio Input" from the drop-down list of input device.
2. VoiceMod
The next streaming voice changer on our list is VoiceMod. This program offers various voice effects to enhance your streaming experience. VoiceMod works seamlessly with streaming platforms like Discord, Twitch, Skype, Zoom, and more.
With this voice changer, you can transform your voice into a Robot, Alien, Monster, Male, Female, Celebrities and more.
The VoiceLab feature allows you to create custom voices that you can use on your stream.
Pros
This program is compatible with all modern streaming and gaming apps
Offers a free version with free voice effects
Includes voice effects like robots, aliens, monsters, and more
TTS feature to create speech from text
VoiceLab feature to create custom voice effects
Cons
Hard to uninstall the program once installed
Compatibility
3. Clownfish Voice Changer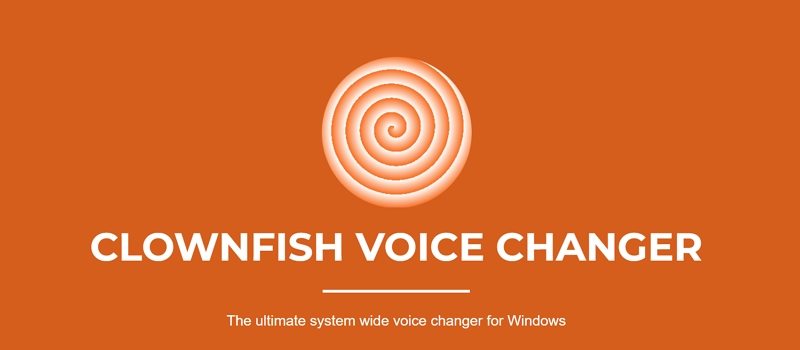 Clownfish is a free streamer voice changer that offers real-time voice-changing capabilities. This program is very popular among streamers due to its advanced features and realistic voice effects.
This program converts your voice into a girl, boy, alien, monster, or robot during live streaming. You can use this voice changer with any streaming platform, such as Discord and Twitch.
It offers a Customization option to create realistic sound effects.
Pros
Straightforward program with customization options
Support any streaming platform that is compatible with a microphone
Multi-Language
Popular program among streamers and content creators
Free to use
Cons
Has limited and old voice effects
Compatibility
4. AV Voice Changer
To make your voice sound deeper, younger, older, or robotic while live streaming, you can use the AV Voice changer, the best voice changer for streaming.
This program offers numerous voice effects such as Pennywise, Monster, Alien, Radio, Clock, and more. This program will also give you 70 background effects to enhance your live-streaming experience.
Further, this program provides voice beautification features that will make you sound realistic and clear.
Pros
Perfectly compatible with Streaming platforms such as Twitch, Discord, TeamSpeak, and more
Allows you to record voices with sound effects
Options to download altered audio clips in famous formats such as MP3, WAV
Offers beautification features
Includes 70 background effects
Cons
It is a bit expensive compared to other voice-changing program
Compatibility
5. NCH Voxal Voice Changer
Another voice changer for streaming is Voxal. A large number of streamers and gamers use Voxal. This program is best for live streaming because it supports almost all live streaming platforms, such as Discord, YouTube Live, Twitch, and more.
With the help of its interactive interface, built-in voice effects, and multiple voice filters, streamers can stream live with unique voices. This software offers a high-quality output without losing its original sound quality.
It has various pre-existing voice effects like robots, aliens, monsters, animals, etc. If you are unsatisfied with its voice effects, you can make your own voice filters with the help of Voice Studio in no time.
Pros
Keep the identity hidden with real-time voice-changing feature
Easy installation process
Allows you to change your voice with a few clicks
Compatible with Streaming and Gaming Applications
Cons
It is not suitable for beginners
Compatibility
6. MorphVOX Pro
MorphVox Pro is another voice changer for live streaming. This program lets you modify your voice on Windows and Mac. MorphVox supports streaming platforms like Twitch, Skype, Zoom, and TeamSpeak.
With the help of this program, you can make your voice sound like a monster, robot, alien, demon, baby, and more.
Besides voice changing, it offers a TTS feature that allows you to generate speech from text in your favorite sound effects.
Pros
Allows you to transform your voice while streaming
Offers a large number of sound effects
Ability to create own sound effects and filters
Offers a free version known as MorphVox Junior
Cons
This program lacks advanced features
Compatibility
Find the Most Suitable One for You Quickly
Suppose you haven't decided which voice changer is the best live-streaming voice changer. Then follow the below table to find out which voice changer is the best.
| Voice Changer | Compatibility | Price | Best For |
| --- | --- | --- | --- |
| HitPaw | Win/Mac | $15.95 | Live Streaming, Gaming, Blogging |
| VoiceMod | Win/Mac | $45.00 | Live Streaming and Gaming |
| Clownfish | Win/Mac | Free | Free voice changing and streaming |
| AV Voice Changer | Windows | $99.95 | Professional Use |
| Voxal | Win/Mac | $29.99 | Content Creators and Bloggers |
| MorphVox Pro | Win/Mac | $39.99 | Streamers |
FAQs of Voice Changer for Streaming
Q1. How can I change my voice while streaming?
A1. Select the streaming voice changer if you want to change voice live streaming. Then, choose the input, output devices and choose any voice effect. Select the platform and start live streaming once the voice effect is added.
Q2. What is the free voice changer for streams?
A2. HitPaw has the best free voice changer for streamers with free voice effects. However, you can always purchase its paid version if you want full access.
Final Thought
Voice Changers has become an essential tool for streamers. With the help of these voice changers, streamers can entertain their audiences. That's why we have introduce the top voice changer for streaming available online in this guide.
We have listed the top 6 voice changers that will allow streamers to alter their voice in real time while live streaming. However, HitPaw is the best among them because it offers a variety of voice effects and filters.