HitPaw Video Enhancer In-Depth Review: Why it is the Best Video Upscaler?
The world is transforming into a digital realm, and customers want fine-tuned and sleek quality videos. In a competitive market of content creators, standing out isn't a piece of cake. You must have flawless videos, enchanting graphics, and enhanced AI capacity in your videos to take your business to the next level. So, how you're going to achieve all these qualities in your videos?
Yes, you may be thinking of a video quality enhancer who can give a refreshing and energetic look to your videos. However, finding a perfect one can become a different type of struggle for you. So, here we are going to take that burden off your shoulders through the introduction of a cutting-edge AI upscaler.
You get it right; we are talking about the HitPaw Video Enhancer.
Part 1. What is HitPaw Video Enhancer?
HitPaw Video Enhancer is a tool that offers countless creative opportunities. The philosophy behind the development of the HitPaw programme is inspiration and creativity. By using HitPaw Video Enhancer, anyone can release their creativity to the fullest extent possible because it features a simple digital user interface.
Since its launch in 2022, HitPaw Video Enhancer has attracted users from more than 160 countries. HitPaw Video Enhancer lets you pick the right tools for the job and do it all with a few simple clicks. Read on to learn about the incredible capabilities of this tool.
With the help of this multimedia software, you can create, share, and enjoy great videos, photographs, and even music on any device. It may be the best video enhancement tool online. This software can be used on both Windows and Mac computers. Hitpaw Video Enhance AI tool is expressively developed to instantly enhance films using artificial intelligence. 
Using this tool, you can upscale videos automatically and even convert them to 8K videos, regardless of how poor the video quality is or how poor the camera you are using is.
Part 2. Why HitPaw Video Enhancer is the Best AI Upscale Tool?
The HitPaw Video Enhancer's cutting-edge features and AI provides an exciting new way to enhance video. The software has other improvement modes, allowing you to edit your videos in various ways. The HitPaw Video Enhancer's quick and simple ai upscaling video process is a huge time saver.
The program's first and most popular feature is Auto Enhancement. With the help of the AI upscaling function of the tool, you can easily enhance the video's resolution and quality without installing any extra tools. HitPaw Video Enhancer also features batch processing to upscale videos in bulk. 
AI from the Face model fixes blurred faces in videos and boosts their quality. Let's quickly go over the review part and talk about the other aspects.
1. Easy Steps
Thanks to the software's built-in AI functions, you can easily improve the appearance of your videos with just one click and upscale low-quality videos to as high as 8K. Unlike other AI tools, you don't have to spend a lot of time figuring your way around. The tool has an easy to use and beginner friendly interface so you can process a crisp and clear video with a few clicks only.
2. Clean Interface
The introduction of the HitPaw Video Enhancer software was built on the idea of being original. Even those who need to improve with technology can reach their full potential when using HitPaw Video Enhancer because it has a simple user interface that was made to encourage creative problem-solving.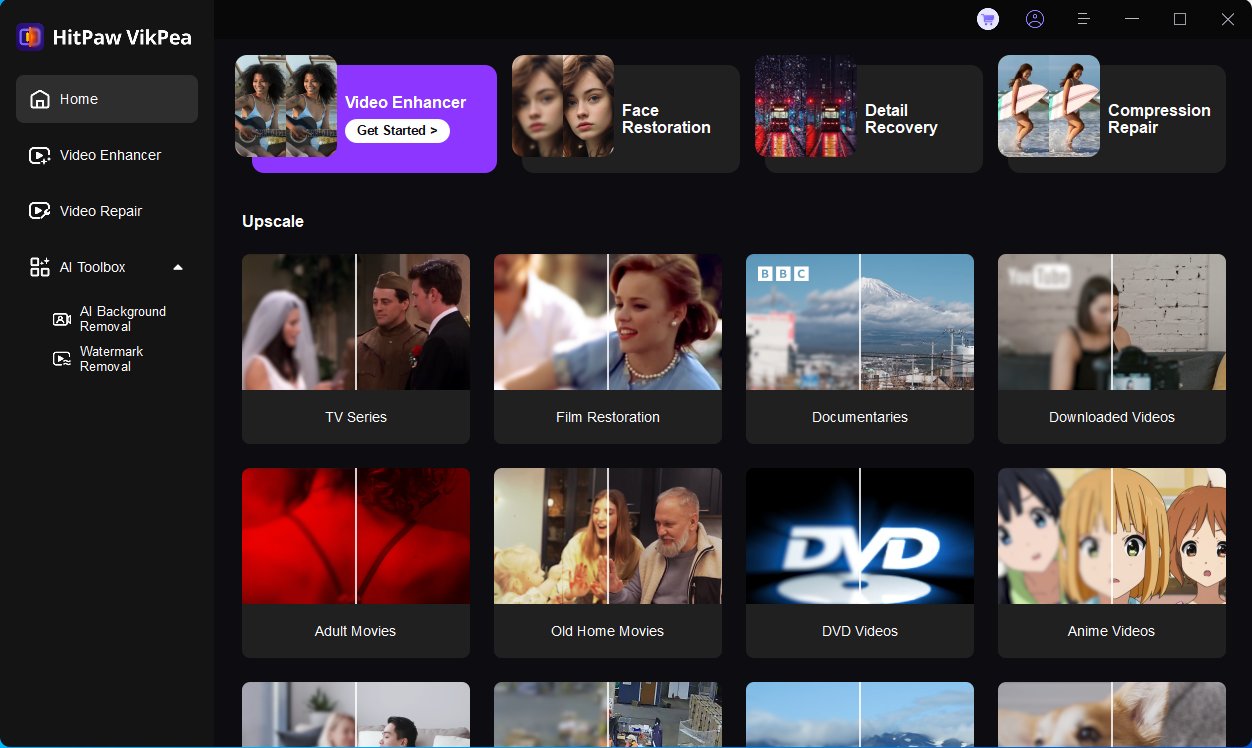 3. Amazing AI Model
There are three different AI models accessible in this pro-level video enhancer AI free that can boost the quality of any video.
I. Animation Model
This cutting-edge AI, video improvement model, can restore clarity and provide AI upscaling animation for you, making this the best video quality enhancer for correcting animation movies.
II. General Denoise Model
This AI Video Enhancer provides a generalized method of improving the quality of videos from various old videos. Its denoise Model can successfully remove video noise, restoring them to almost new conditions.
III. Face Model
When fixing human facial features, this video upscaling will be perfect for you. With its video enhancement features, you can rapidly fix pixelated videos and restore natural-looking facial expressions.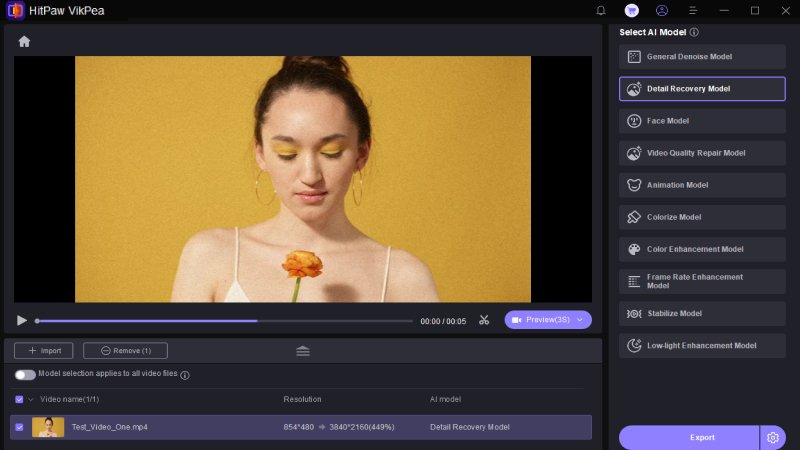 4. Best for What
It is the best video enhancer tool that is currently accessible. It features professional-level functions in addition to three separate models that may improve the overall video quality of any format.
5. Fast Speed
This best AI video resolution enhancer has a quick speed. In other words, you don't have to wait for your task to be finished for hours. Instead, it works swiftly and has a batch conversion function to convert all your improved videos simultaneously.
6. Preview with no Watermark
Previewing the enhanced video is easy using Hitpaw, as there is no watermark. So, you can see the enhanced video without any watermark.
7.Make the Best Choice
Now, let's review of different qualities of HitPaw Video Enhancer which distinguish it from other online tools.
| Video Enhancer Tools | HitPaw Video Enhancer | Topaz Video AI | DVDFab Video Enhancer AI | AVCLabs Video Enhancer AI |
| --- | --- | --- | --- | --- |
| Interface | User-friendly UI and hardware acceleration | Complicated digital user interface. | Complicated User Interface. | Difficult to use. |
| Price | $42.99 one-month payment. | $299 one-time payment. | $59.99 per month. | $39.95 per month. |
| Difficulty Level of Steps | Easy to follow steps. | The ai video upscaling process is slow. | This ai video enhancer is a little hard to use. | Easy to operate. |
| Preview | Quick preview without any watermark. | Preview process is slow. | Preview process is slow. | Preview process is slow. |
Part 3. How to Improve Video Quality to 4K with HitPaw Video Enhancer?
HitPaw Video Enhancer lets you improve the quality of all your favourite videos. Here's how you can do that.
Learn how to upscale video to 4K with HitPaw Video Enhancer from this video:
Here are the detailed steps of how to make video clear:
Step 1.Get Hitpaw Video Enhancer on your computer by visiting the website and clicking the button.

Step 2.Import the video you would like AI to enhance to 4k by selecting a file or importing the gif by dragging and dropping it.

Step 3.Select the AI model that best suits your needs. HitPaw Video Enhancer allows users to select from one of four distinct AI models: the general denoise model, the animation model, and the face model.

Step 4.To examine the result of the effect after it has been applied to the video, use the preview button.

Step 5.When satisfied with the results, click the export button to store the enhanced video.
Part 4. Is it HitPaw Video Enhancer Free?
HitPaw Video Enhancer's demo version allows you to enhance your video without exporting. If you just import video and preview, it is free and without watermark. But if you want to export the enhanced video, you need to pay for it.
Monthly plan costs $42.99
Annual plan costs $99.99
Lifetime plan is available for $349.99
There is a 30-day money-back guarantee on all plans. When comparing the free and premium versions of the HitPaw Video Enhancer, it's clear that the paid version is better. The tool's paid memberships include access to all features, 24/7 technical assistance, and regular performance enhancement updates.
Part 5. What Our Users Said?
Lyon
"For video quality issues, I used to ask some professionals to help me deal with them, but the cost would be too high. Then I found out that I can handle these videos myself, and it doesn't require any skills. Because I choose HitPaw Video Enhancer."
Joe
"I am a retired rural teacher. I used some old equipment to shoot some videos with my students, but they are all blurry now. A friend of mine recommended HitPaw to me. I think it is very great. It is simple, convenient, does not require complicated operations, and the effect is ideal. Love it!"
James
"I just wanted to preview the effect before buying, but I found that I basically couldn't preview it perfectly with other tools, and there was a big watermark blocking it. So in the end I chose HitPaw, just because it allows me to see the effect clearly. Thanks, HitPaw!"
Part 6. Conclusion
After reading this, you should have no issue believing that the latest HitPaw AI Video Enhancer tool is the most effective and advanced tool that can turn your simple and blurry videos into 8k videos. You can become a professional photographer with constant access to an 8k video converter.
The cherries on top are the batch conversion options and the fact that it is so easy to use. Anyone, from experts to amateurs, can benefit from it. To summarise, HitPaw Video Enhancer is the top choice if you want high-quality software to upscale your videos. And it's one of the best ways to improve your videos' quality. So, it is something you should try out.